Monday, 6 January 2020 | Paul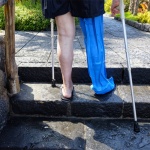 Keeping your cast or surgical dressing dry can be a nightmare. We've all tried DIY tricks or awkward positions in the shower to keep casts dry, but the struggle ends here. These are the Best Waterproof Cast Protectors 2020.
Wednesday, 27 September 2017 | Paul
If your mobility has recently been impaired, it's often difficult to imagine how you'll be able to perform any of the tasks you were previously able to complete with ease. At Health and Care, we sell a range of different products that allow you to get back to living with little or no help.