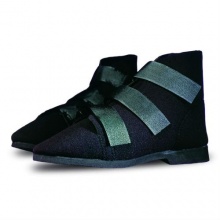 Pair of stretchable and accommodating boots
Suitable for oedematous or bandaged feet
Smooth seams to protect from pressure sores
Washable to ensure cleanliness over long-term use
---
Single wound boot to promote efficient healing

Suitable for post-operative care

Made from ultra-comfortable EVA foam

Adjustable straps for personalised comfort
--- High quality liners for the Procare Podous Boot
Help to keep the boot hygienic over time
Ideal for allowing boot use with multiple patients
Supplied in a pack of three
---
---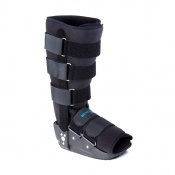 Designed with a rocker sole for increased rehabilitation
Ultra low-profile design eliminates height difference
Lightweight walker boot offers support and comfort
Resistant against impact to prevent further injury
---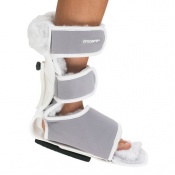 Ideal for a range of injuries and conditions, including trauma
Free from natural rubber latex to prevent allergic reactions
Adjustable toe extension helps protect toes from bedding
Features an anti-rotation bar to prevent painful rotation
---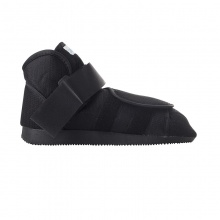 Can accommodate bulky dressings and most fibreglass casts
Ideal for protecting and supporting your foot post-operation
Ankle strap seats foot firmly in shoe to reduce slippage
Pack of two Darco Boots for wearing on both feet
---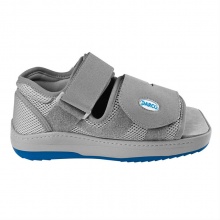 Post-operative shoe to re-distribute pressure
Ideal for after osteotomy procedures
Dual sole provides shock absorption
Can be used with other insoles
---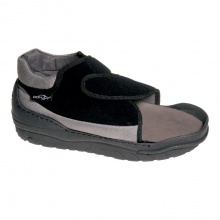 Lightweight and comfortable post-op shoe
Ideal for various post-op and post-traumatic applications
Protects your foot to facilitate healing
Fits either the left or the right foot
---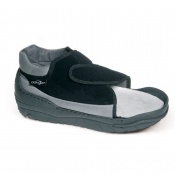 Lined with breathable textile for comfort
Includes a toe piece to cover the toes
Protects your foot to facilitate healing
Fits either the left or the right foot
---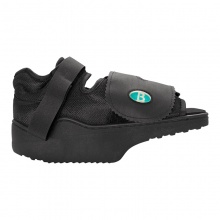 Reduces weight bearing pressure from forefoot;
Promotes healing;
Square toe bumper.
---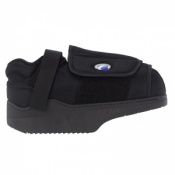 10% angled;
Removable memory foam insole;
Removable toe cap;
Velcro adjustable closure.
---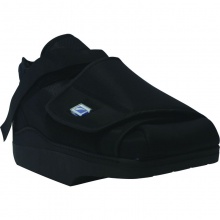 Angled wedge shoe to reduce pressure
Suitable for relieving diabetic ulcerations
Reduced 10° angle to minimise leg strain
Adjustable hook and loop closure
---
---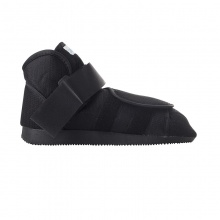 Can accommodate bulky dressings and most fibreglass casts
Ideal for protecting and supporting your foot post-operation
Ankle strap seats foot firmly in shoe to reduce slippage
Can be worn on either the left or the right foot
---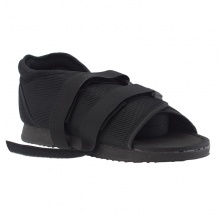 Post-operative single wound shoe
Suitable for general post-surgical needs
Reinforced heel counter for extra stability
Two pack for recovery on both feet
---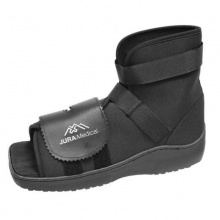 Post-operative shoe with extra ankle height
Ideal for post-op recovery that requires extra support
Rocker-sole encourages a natural gait
Adjustable closure system provides extra room
---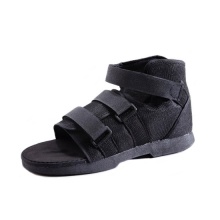 Stabilises the ankle;
Eliminates heel slippage;
Great for elderly patients.
---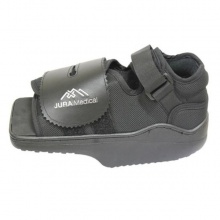 Off-loading shoe designed to take weight off the forefoot
Ideal for people with diabetes related ulcers
Durable padded nylon upper provides great comfort
Extendable forefoot closure panel helps accommodate dressings
---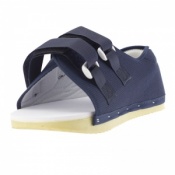 Limits range of motion;
Return loop buckles;
Padded nylon upper;
Firm sole
---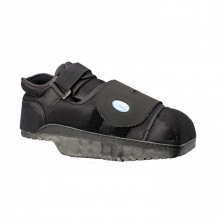 Healing shoe to alleviate heel pressure by at least 26%
Ideal for diabetic ulcerations or post-operative healing
Includes a comfortably padded and customisable insole
Ankle strap seats the foot firmly to reduce heel slippage
---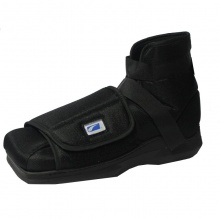 Adjustable boot for post-surgical recovery
Suitable for relieving diabetic foot ulcers
Features an extended heel and greater height
Compatible with the Footshield Hex Insole
---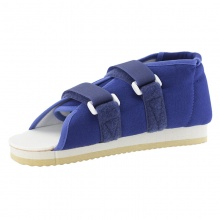 Versatile and lightweight wound shoe
Promotes post-operative healing and accommodates bandages
Lightweight EVA sole with ribbed non-slip finish
Two pack to cover both feet post surgery
---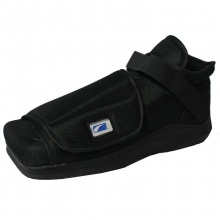 Adjustable shoe for post-operative recovery
Suitable for diabetic foot ulcers
Adjustable hook and loop closure reduces pressure
Compatible with the Footshield Hex Insole
---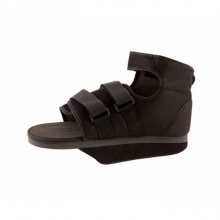 Wound shoe to aid healing
Suitable for stabilising the foot post-operatively
Non-slip sole to ensure safe recovery
Unloads forefoot injuries and ulcers
---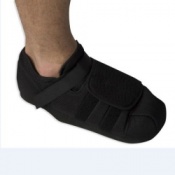 Promotes fast healing;
Reduces heel pressure;
Universal fit;
Hard wearing.
---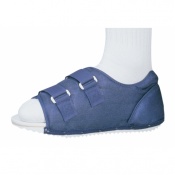 Ideal for post-operative care, metatarsal injuries and soft tissue procedures
Features a loop lock closure for ease of application and adjustability
Constructed with a rigid ethylene vinyl acetate (EVA) rocker sole
Contoured heel improves your comfort throughout use
---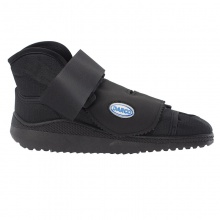 Adjustable shoe to assist with post-operative recovery
Suitable for unna boots, casts and bulky dressings
Fully customisable with removable EVA insole
Reinforced sole under the metatarsal heads
---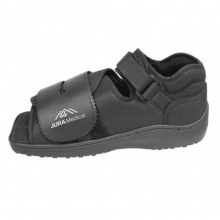 Post operation recovery shoe
Square toe configuration for extra protection
Rocker-sole aids gait and distributes pressure evenly
Non-slip outsole for reduced metatarsal movement
---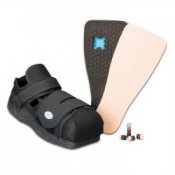 Available in five sizes corresponding to your post-operative shoe size

Removable pegs offload pressure on precise areas of foot

Designed to fit most Darco wound shoes and walkers

Pressure can be reduced by as much as 60%
---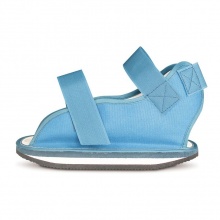 Individual canvas shoe with durable rocker sole
Designed for walking with a cast or bandages
Non-slip grip ensures maximum stability
Absorbs shocks to prevent damage
---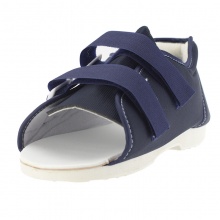 Post-operative shoe to assist with healing
Ideal for recovery from a range of operations
Return loop buckles and removable tongue
Pressure sensitive longitudinal arch support
---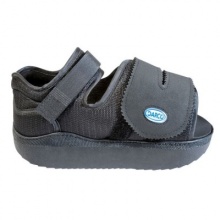 Prevents imbalance resulting from height discrepancy
Lessens height discrepancy and makes walking safer
Designed for a universal left and right foot fit
Matches with a number of Darco products
---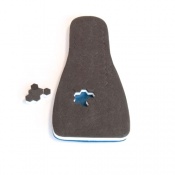 Removable hex pegs allow reduction of plantar foot pressure
Self-adhesive stabiliser board prevents adjacent hex pegs from collapsing
Poron cover for additional comfort
Compatible with the Footshield Shoe, Boot and Wedge Shoe
---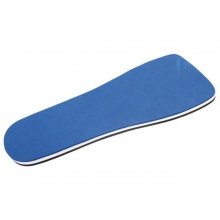 Off-loading pressure-redistributing insole
Ideal for post-operative recovery and diabetes management
Self-adhesive stabilising base board
Greatly reduces pressure on plantar surface
---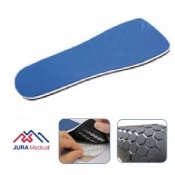 Custom off-loading;
Easily remove sections;
For use with Jura Post-op Shoes;
Reduces pressure on plantar surface.
---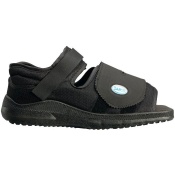 Rocker sole reduces plantar pressure on the forefoot and heel
Includes customisable, double-padded, removable insole
Strapless closure eliminates buckle pressure on forefoot
Has a square-toe design to provide additional protection
---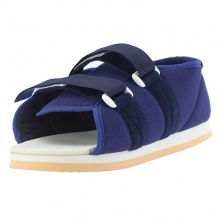 Adjustable post-operative medical shoe with padding
Ideal for those undergoing post-operative healing
Features adjustable straps for thick bandages or swelling
With a rigid, non-slip sole for stability and injury prevention
---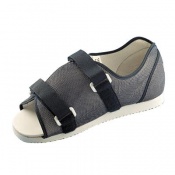 Mesh shoe for protecting the foot following operation
Cushioned insole for added support and comfort
Durable outsole provides reliable protection
Contact closure straps to secure the shoe in place
---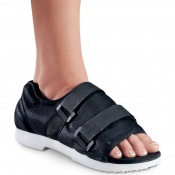 Made with a skid-resistant sole to prevent slips
Ideal for post-operative and post-traumatic applications
Suitable for when some mobility of the foot is allowed
Features a foam mesh upper for improved comfort
---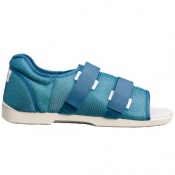 Reinforced padded heel grips the foot and reduces slippage
Features an elastic metatarsal band with soft toe straps
Extra-long straps accommodate bulky dressings
Post-operative shoe for stability and offloading
---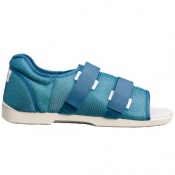 Extra long straps accommodate even the bulkiest dressings
Reinforced padded heel grips foot and reduces slippage
Ensures post-operative healing remains undisturbed
Provides superior control of forefoot motion
---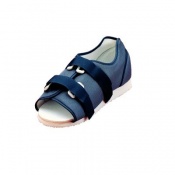 Semi-durable shoe for protecting the foot following operation
Durable upper section for improved support and protection
Soft padded lining for enhanced comfort
Grooved non-slip sole and hook-and-loop fastening for safety
---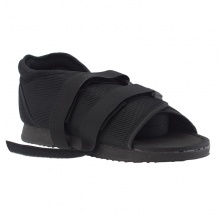 Post-operative single wound shoe

Suitable for general post-surgical needs

Reinforced heel counter for extra stability

Available in two widths for personalised comfort
---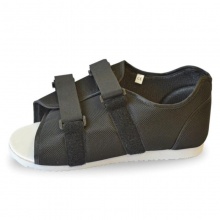 Padded nylon post-operation shoe
Ideal for recovery and rehabilitation
Return-loop buckles for easy fastening
Semi-flexible non-slip sole for normal gait
---
Post-operative wound shoe
Suitable for diabetic ulcers
Fully tested for strength and quality
Supplied as a single shoe only
---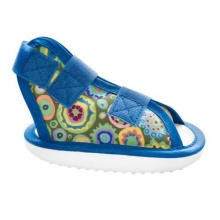 Paediatric boot for post-injury protection
Suitable to wear with various casts and dressings
Can be worn on either the right or left foot
Cheerful multicoloured design for children
---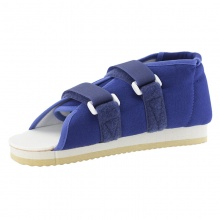 Versatile and lightweight wound shoe
Promotes post-operative healing and accommodates bandages
Lightweight EVA sole with ribbed non-slip finish
Durable soft padded upper and tongue
---