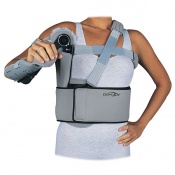 Suitable for a number of different conditions
Immobilises the area to facilitate healing
Universal size fits both the left and right
Offers controlled range of motion
---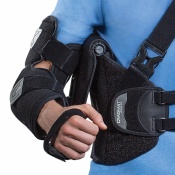 Innovative shoulder immobiliser for quick and comfortable recovery
Suitable for post-operative immobilisation in a least 15 degrees of abduction
Precision-based system allows the patient to flex and extend their arm
Provides four angles of immobilisation in one brace for optimal versatility
---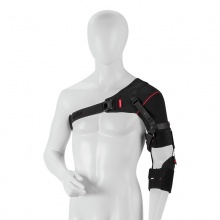 Designed for single-handed application (hemiplegic use)
Repositions your shoulder to reduce shoulder pain
Particularly suitable if you've suffered from a stroke
Ideal for rehabilitation and improving posture
---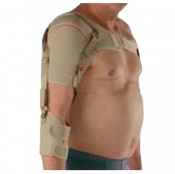 Subluxation and Brachial Plexus injuries

Improves posture and gait

Smart material regulates temperature
---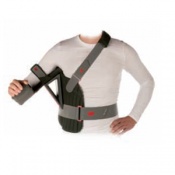 Post anterior dislocation

Abduction of 0°, 15°, 30°, 60° + 90° degrees

External Rotation 10°, 20º and 30°

Easy to fit + washable covers
---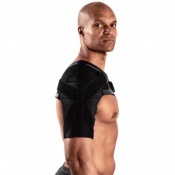 Provides heat and compression to soothe shoulder pain
Optional accessories for additional targeted support
Available for both the right and left shoulder
Choice of sizes for a more optimal fit
---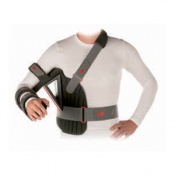 Post-Op/ Post Trauma of Shoulder

Subcapital Fractures of Humerous

Abduction of 0°, 15°, 30°, 60° + 90° degrees

Easy to fit/ washable covers
---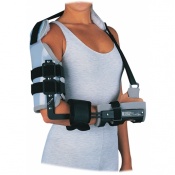 Crafted with three points of stabilisation to support you
Low-cost and time-efficient alternative to serial casting
Designed with full-circumference shells and padding
Ideal for immobilising your arm following an injury
---
Enables full range of motion at elbow

Sleeve can be trimmed for perfect fit

Shoulder cap increases stability

Hook and loop straps maintain compression
---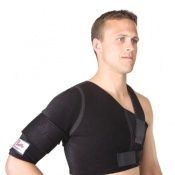 Controls shoulder range of motion to prevent pain
Straps can be altered according to your needs
Perforated and breathable for added comfort
Stabilises, assists or restricts movement
---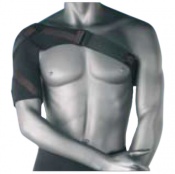 Acute/ Chronic Shoulder Pain

Provides support during sport

Smart material regulates temperature

Similar to Physio shoulder taping method
---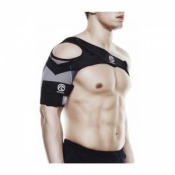 High mobility shoulder support
Helps treat shoulder injury, instability and tension
Stabilises and warms affected area
Great companion for sports e.g. tennis
---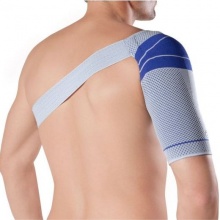 Active support for muscle stabilisation of the shoulder joint
Ideal for pain relief, active recovery and help with chronic conditions
Helps to avoid painful postures while promoting joint mobilisation
Removable massage pad has a targeted effect on pain spots
---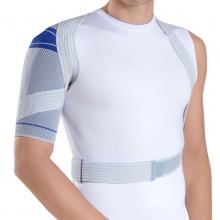 Supportive shoulder brace to stabilise the shoulder and relieve pain
Ideal for aiding recovery from dislocation, surgery or arthritis
Made of a breathable and comfortable material – ideal for exercise
Can be worn on either the left or right shoulder
---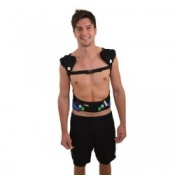 Breathable fabric;
Comfortable for long term wear;
Comfortable shoulder retraction;
Offers optimal position for healing.
---
Suitable for Proximal Humeral Shaft Fractures
Sleeve can be trimmed and heat moulded to best fit
Ventilated design for improved comfort
Please note: this item is sold as seen (i.e. without straps)
---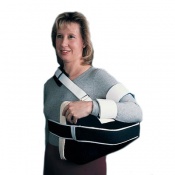 Latex-free pillow providing 45 or 70 degrees of abduction
Foam pillow sculpted to conform to the shape of the body
Padded wrist and humeral cuffs can be adjusted
Suitable for either left or right side
---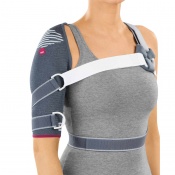 Individual adjustment straps
Prevents movement of the shoulder
Conservative treatment osteoarthritis of the shoulder
Suitable for post-operative treatment and anterior dislocation
---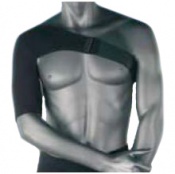 Tendomyopathies of shoulder

Stress-related shoulder pain (sport)

Degeneration of Shoulder Cuff

Neoprene material
---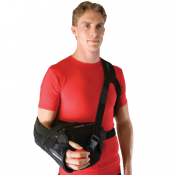 Maintains shoulder and arm in an externally rotated position
Includes a comfortable foam pillow for added compliance
Designed with moisture-wicking fabric for long-term use
Derotational shoulder strap holds the sling in place
---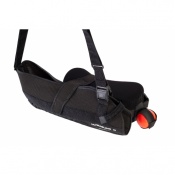 Thumb straps are included for functional hand positioning
Easy-open panel allows you to perform arm exercises
Moisture-wicking technology provides greater comfort
Immobilises your shoulder in a neutral position
---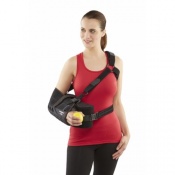 Three point strapping system prevents neck pain
Provides 15° of abduction for added protection
Designed with soft and breathable material
Comfortable and convenient to apply
---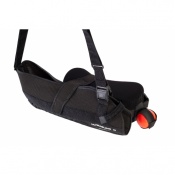 Promotes auxiliary air exchange to reduce risk of infection
Effectively immobilises the shoulder in a neutral position
Panel can be opened easily to perform arm exercises
Moisture-wicking technology provides greater comfort
---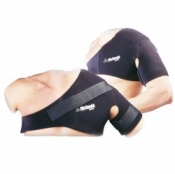 For relief of sprains and strains;
For bursitis, tendonitis;
Pockets over AC joint for ice pack;
Can also hold hot pack/extra padding.
---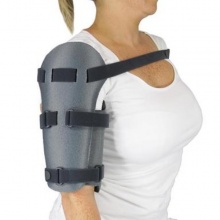 Lightweight brace designed to support humeral fractures
Ideal for treatment of humeral fractures and breaks
Inner lining treated with Coolmax to reduce perspiration
Purchase includes humeral sock liner
---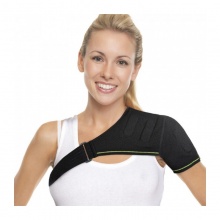 Magnetic therapy shoulder support
Ideal for injury, wear and tear or inflammation
Includes 16 pre-positioned powerful neodymium magnets
Natural pain relief for those seeking drug-free recovery
---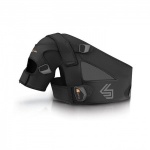 ---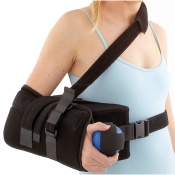 Provides 30° abduction;
Complete with exercise ball;
Soft velour material for comfort;
Ideal for use after surgery or trauma.
---
Elasticated shoulder support suitable for a range of conditions
Three-dimensional flat knit technology for even compression
Adjustable strap for variable limitation of movement in the shoulder joint
Viscoelastic gel pads provide massage to stimulate circulation
---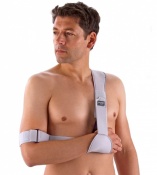 Each fixation point is fully adjustable for an optimum fit
Additional strap to support hand and wrist
Offers immobilisation in the case of hemiparesis
Relieves strain from shoulders and neck
---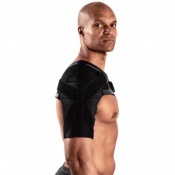 For use with the ErixTwo Shoulder Support
Optional accessory to provide shoulder abduction and rotation
Helps to encourage healing and reduce pain
Available in a choice of sizes for maximum benefit
---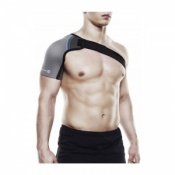 Pain relieving brace

Warms shoulder, chest and neck

Increases blood circulation

Ideal for use during sports
---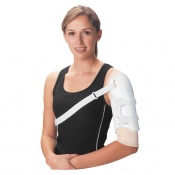 Preformed orthopaedic-grade construction for excellent support
Ideal for managing mid-shaft and distal third humeral fractures
Includes two extra-thick stockinettes for added comfort
Designed with adjustable straps for a more tailored fit
---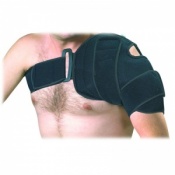 Meets the two main points of the R.I.C.E theory
Designed to reduce pain and swelling by combining compression and cold therapy
Strong velcro straps and shut off valve ensures the desired compression remains constant
Ice gel pack included
---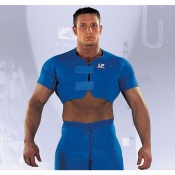 Provides comfortable compression to both shoulders
Supports the shoulders to aid the healing process
Provides therapeutic warmth to the shoulder joints
Velcro strapping makes for easy adjustment and fit
---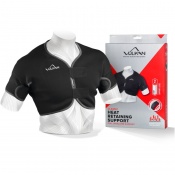 Support for the shoulders and upper torso
Alleviates bursitis and tendonitis
Adjustable closures for an optimal fit
Available in a choice of sizes
---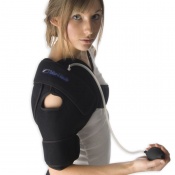 Gel cold pack with frost-free liner to allow direct application to the skin
Adjustable chamber provides contouring and compression to injury site
Delivers both cold and compression therapy simultaneously
Effective way to control pain and swelling in the shoulder
---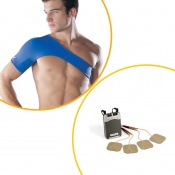 Bundle of a TENS machine and shoulder support to relieve your pain
TPN 200 allows you to control the level and intensity of your treatment
Support is made from the highest grade of closed-cell neoprene
Machine is an excellent alternative to invasive pain treatments
---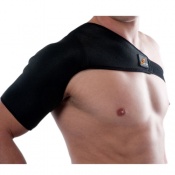 Aids recovery;

Stabilises joints;

Offers heat therapy;

Provides support following injury.
---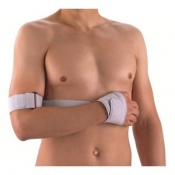 Offers immobilisation of the arm for a number of shoulder injuries
Each fixation point is adjustable for an optimal fit
Leaves neck and shoulders strain free
Can be easily applied by patients themselves
---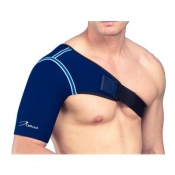 Provides stability and focused compression for injured shoulders
Neotex material provides enhanced performance and function
Unique strapping design ideal for both right and left shoulder
Available in a choice of sizes for the best possible fit
---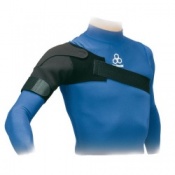 Relieves shoulder strains;
Adjustable straps;
Fits either shoulder;
Lightweight.
---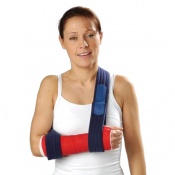 Designed to support arm in combination with a cast
Comfortable immobilisation system for the arm
Suitable for wrist, elbow or shoulder trauma
Easy to use, versatile and effective support
---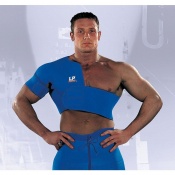 Provides comfortable compression to the shoulder
Supports the shoulder to aid the healing process
Provides therapeutic warmth to the shoulder joint
Velcro strapping makes for easy adjustment and fit
---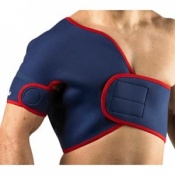 Half shoulder support protects and supports the shoulder joint
Ideal for use following an injury or when returning to physical activity
Provides warmth to help encourage healing and reduce pain
Adjustable closures offer a more comfortable fit
---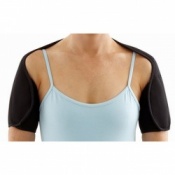 Provides warmth and support;
Ideal for use after surgery, stroke or injury;
Durable, comfortable neoprene construction;
Aids the healing process and reduces shoulder pain.
---
Suitable for shoulder instabilities;

Two part touch and close;

Coolmax/Neoprene;

Available in four sizes.
---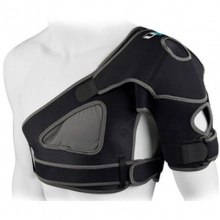 Adjustable shoulder brace with added compression
Ideal for people with shoulder injuries and strains
Prevents over rotation and abduction of muscles
Therapeutic neoprene heat compression for healing and recovery
---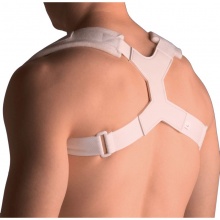 Provides clavicle support and corrective positioning
Suitable for fracture and weakness in the clavicle
Adjustable strap and padding for your comfort
Available in four sizes
---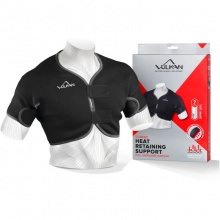 Provides adjustable levels of compression, support and heat retention
Made of neoprene that promotes air flow for greater breathability
Designed to minimise the risk of strain to the rotator cuff muscles
Available in four sizes, from Small to Extra Large
---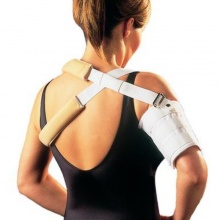 Humeral subluxation support with webbing strap
Ideal for a dislocated or otherwise injured shoulder
Lined with soft cotton for a luxurious feel
Hook-and-loop fastenings are adjustable and secure
---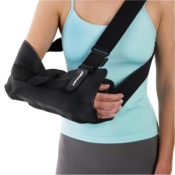 Available with an abduction pillow for angled support
Limits posterior arm mobility to reduce discomfort
Ideal for injuries to different areas of the arm
Provides secure arm and shoulder support
---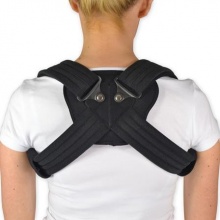 Supportive and comfortable clavicle brace
Ideal for broken or fractured collarbones
Position of the comfortable pads can be altered
Straps can be easily trimmed for a personalised fit
---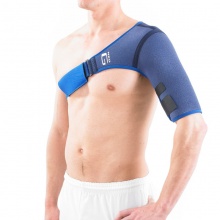 Suitable for a variety of shoulder injuries
Adjustable shoulder support allowing variable compression
Enabling you to customise the level of support
Supplied in a universal size for both left and right arms
---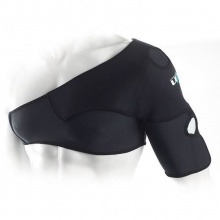 Anatomically shaped, neoprene shoulder support
Ideal for people with rotator cuff tendonitis or shoulder instability
Neoprene compression promotes therapeutic healing
Durable, lock stitched seams for additional stability and security
---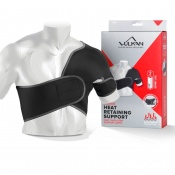 Adjustable levels of compression, support and therapeutic heat retention
Helps to relieve symptoms of strains, sprains, arthritis and muscle pain
Combines therapeutic benefits of heat retention with breathability
Ideal for returning to physical activity following an injury
---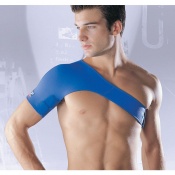 Provides protection, heat and support to the shoulder
Recommended for the relief of discomfort after injury
Suitable for pain relief related to chronic shoulder conditions
Easy to fit with an adjustable hook-and-loop strap
---
Breathable mesh;

Touch and close fastening;

Padded shoulder straps;

Available in three sizes.
---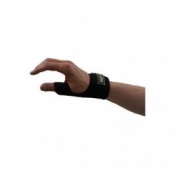 Fits both the left and right hands
Breathable material
Aluminium stay
Universal size
---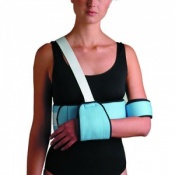 Soft and comfortable;
Foam padded sling;
Body and upper arm band;
Excellent shoulder control.
---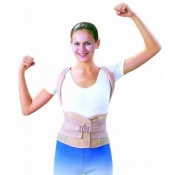 Straightens back;
Corrects posture;
Light weight & breathable;
Flexible stainless steel stays.
---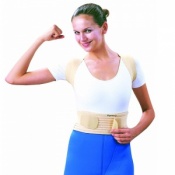 Corrects posture;
Ideal for fracture or injury;
Neat comfortable and stylish;
Immobilises & supports clavicle.
---
Supports the shoulder following shoulder subluxation or rotator cuff injury

Made from Coolmax/Airprene

Fits either the left or right shoulder

Light and comfortable
---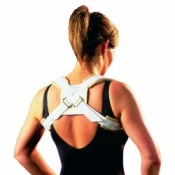 Assists shoulder retraction;
Two padded webbing straps;
Pad over scapulas;
Figure of eight design.
---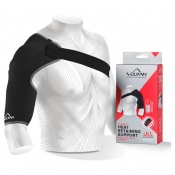 Light compression and support without restricting movement
Neoprene build offers heat retention while promoting air flow
Adjustable and removable strap applies direct pressure
Suitable for use on the left or the right shoulder
---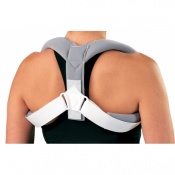 Easily adjustable construction for an improved fit
Comfortable foam and nylon cotton construction
Suitable for clavicle fractures and dislocations
Universal size fits a wide range of patients
---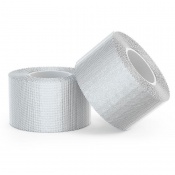 Add stability, strength, support or immobilisation to any area
EasyRip, so no scissors needed
Super sticky and non-latex
Available in 1.25cm (split), 2.5cm and 3.8cm sizes
---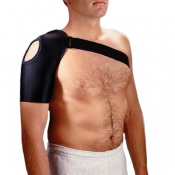 Ideal for shoulder injuries following sports and physical activity
Supports weak shoulder muscles and strained tendons or ligaments
Limits shoulder motion while maintaining correct positioning
Lycra and spandex material for improved comfort and conformability
---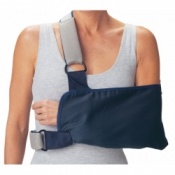 Ideal for use after surgery for rotator cuff injuries and shoulder dislocations
Plush foam shoulder and waist straps ensure comfort during wear
Exerts upward pressure to immobilise the arm and shoulder
Made from soft cotton and poly for comfort and breathability
---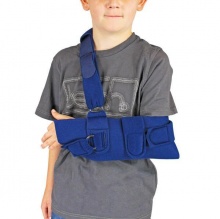 Universal, adjustable sling with shoulder strap and body wrap
Ideal for children with shoulder sprains, dislocations or subluxations
Fully adjustable shoulder strap with comfortable padded sleeve
Arm envelope can be trimmed with scissors for a custom fit
---
Shoulder Subluxation;

Comfortable padded straps;

Universal left/right application;

Available in four sizes.
---
Aids recovery;
Supports the area;
Comfortable to wear;
Protects the area during exercise.
---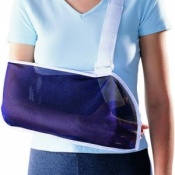 Immobilises the arm and shoulder to promote healing
Includes a deep breathable pocket for great comfort and fit
Features a hook and loop closure to allow adjustment
Made with special netting material to prevent overheating
---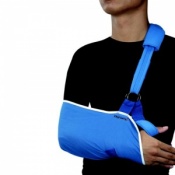 Foam padded straps prevent chafing and rubbing on neck
Luxury nylon fabric remains comfortable against skin
Immobilises the shoulder, elbow and arm during use
Fully adjustable in design for an improved fit
---
Suitable for clavicle fractures and mild kyphosis;

Secure fit and alignment;

Available in four sizes;

Beige only.