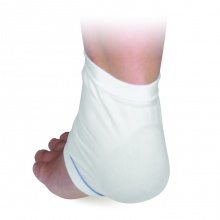 Can be positioned anywhere on the foot, heel or elbow;

Aids in the healing and skin conditioning of dry cracked heels and elbows;

Effective in helping to prevent pressure ulcerations;

Softens and moisturises the skin.
---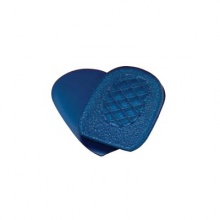 Offers superior protection from the impact of the heel on hard surfaces
Designed to protect the foot and skeletal system from the jarring effects of heel strike
Absorbs and dissipates energy generated by heel strike
Redistributes underfoot pressure so pressure isn't focused on one area
---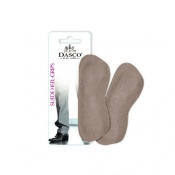 Suede heel grips to improve shoe fit
Prevents slippage and rubbing at the heel
Strong self-adhesive backing for secure fit
Will fit most boots and closed-back shoes
---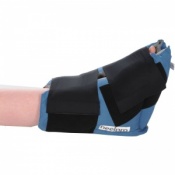 Generous, low-friction cushioning for effective protection
Heel aperture for offloading and skin inspection
Secure strapping options for optimal positioning and prevention of foot drop
Universal sizing for easy application
---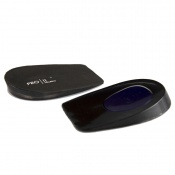 Shock-absorbing silicone heel pads
Reduce heel pain and prevent injury
Alleviate plantar fasciitis and achilles tendinitis
Antibacterial velour cover for reduced odour
---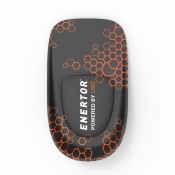 Endorsed by athletic champion Usain Bolt
Designed by leading podiatrists
Helps to reduce heel pain
Contoured for a better fit
---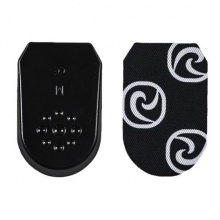 Pair of heel wedges to reduce load and relieve discomfort
Ideal for athletes who suffer from pain caused by Achilles tendon issues
Innovative and unique Technogel material absorbs shock
Prevents injuries, improves existing injuries and increases stability
---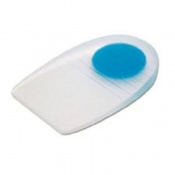 Shock absorption and pressure relief for the heel
Suitable for walking, running or standing still
Long-lasting comfort and support
Helps ease discomfort and pain
---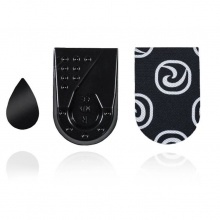 Durable heel wedges relieve pain from heel spur and plantar fasciitis
Offers all-around support and shock absorption for athletes
Uses a unique PU-based gel for additional comfort and support
Self-adhesive for easy fixation in the shoes
---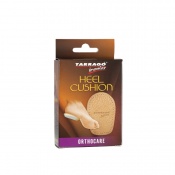 Leather heel pads with long-lasting latex base
Cushion the heels against impact
Reduce heel pain and prevent heel injury
For everyday activities and low-impact sports
---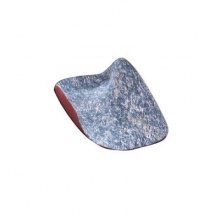 Increased comfort with textile covering on foot side
Corrects medial calcaneal (i.e. flatfoot)
Thin sides with no compression points
Sold in pairs and available in ten sizes
---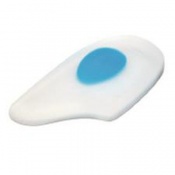 Shock-absorbing and pressure-relieving capabilities
Added comfort while standing, walking or running
Helps flat feet, high arches and knee conditions
Suitable for use in daily life or while running
---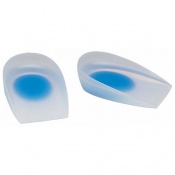 Helps reduce discomfort caused by shock and vibration
Heel cups are sold in pairs to protect both your heels
Medical-grade soft silicone for added comfort
Softer centre in heel region to reduce strain
---
Pair of heel cups

Extra soft silicone construction

Provide support and impact absorption

Keeps fat pad in optimal position
---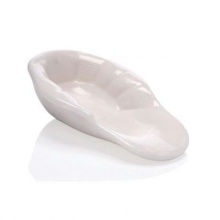 Pair of DermisPlus pressure redistribution heel pads
Also suitable for relieving pressure on soles and elbows
Durable yet suitable for cutting to size without fibre shedding
Suitable for washing with soap and water for hygiene control
---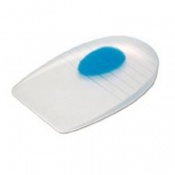 Shock-absorbing and pressure-relief capabilities
Helps align the foot into a natural position
Cushions and supports foot from impact
Fits comfortably into most footwear
---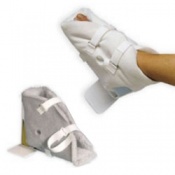 Fleece lined;
Prevents drop foot;

Removable lining;
Simple foot support.
---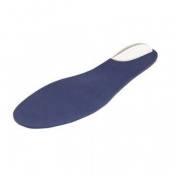 Helps correct excess foot pronation
Protects against the jarring effects of heel strike
Absorbs and dissipates energy generated by heel strike
Available in two different sizes and heights
---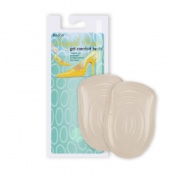 Lightweight gel heel pads
Advanced cushioning technology
Protect heels against impact
Suitable for most shoe styles and sizes
---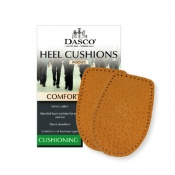 Genuine leather heel pads
Cushions the heel against impact
Suitable for all shoe types
For everyday wear and light sports
---
Pressure relief boots to minimise the risk of pressure damage
Ideal for bed-ridden and immobile patients
May be used in bed or with feet elevated
Easy to clean for essential hygiene maintenance
---
Pressure relief boots to minimise the risk of pressure damage
Easy to clean, ideal for bed-ridden and immobile patients
May be used in bed or with feet elevated
Adjustable strap for secure and comfortable use
---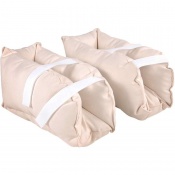 Offers a high degree of patient comfort and protection
Protects the heel area from pressure damage
Protects the patient while they are seated or in bed
Edges are fixed with Velcro strapping for secure support
---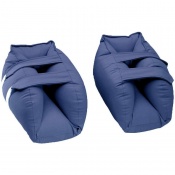 Offers a high degree of patient comfort and protection
Protects the heel area from pressure damage
Protects the patient while they are seated or in bed
Edges are fixed with Velcro strapping for secure support
---
Generous, low-friction cushioning for effective protection
Wipe-clean ripstop material for care of existing wounds
Heel aperture for offloading and skin inspection
Secure strapping options for optimal positioning and prevention of foot drop
---
Pressure relief boots to minimise the risk of pressure sores
Ideal for bed-ridden and immobile patients
May be used in bed or with feet elevated
Easy to clean for essential hygiene maintenance
---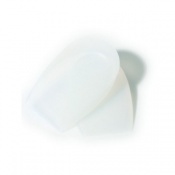 Pair of impact absorbing heel cups

Anatomically designed

Extra soft silicone construction

Keeps fat pad in optimal position
---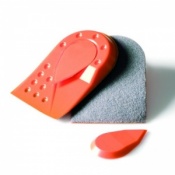 Pair of heel wedge support pads

Provide shock absorption and pain relief

Aids healing of heel spur and plantar fasciitis

Separate plug included
---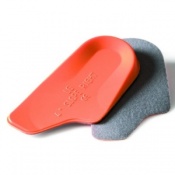 Pair of heel support pads

Excellent shock absorption

Relieves pain

Aids healing of ruptured fat pad
---
Pressure relief boots to minimise the risk of pressure sores
Ideal for bed-ridden and immobile patients
May be used in bed or with feet elevated
Easy to clean for essential hygiene maintenance