(16)
Donjoy Armor Professional Knee Brace With Fourcepoint
£499.00
more info
The ultimate ACL knee brace providing support to the knee joint

Designed specifically for skiing, motorcross, extreme sports and contact sports

Suitable for moderate to severe ACL instabilities, reconstruction and deficiencies

Provides unbeatable supports and prevents hyperextension of the knee
---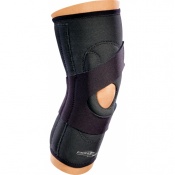 Donjoy Lateral-J Knee Brace
£42.99
more info
Provides additional lateral-to-medial support
Crafted with a J-shaped buttress for stability
Designed with cool and breathable Drytex
Stabilises the patella to reduce irritation
---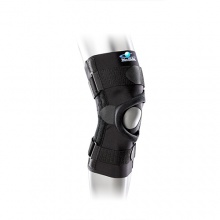 (1)
BioSkin Q Brace Knee Support
£68.99
-
£71.99
more info
Soft against skin for comfortable all-day wear and support
Low-profile pull-on knee support for ease of application
Lightweight to improve your comfort during use
Uses a strapping system for a more secure fit
---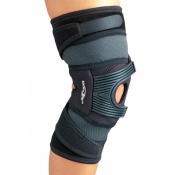 Donjoy Tru Pull Advanced Knee Support
£84.99
more info
Dynamically pulls the patella during extension
Available with hinges for additional support
Breathable materials makes the brace light
Helps to reduce anterior pain during use
---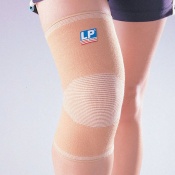 LP Ceramic Knee Support
£10.99
more info
Provides support and compression to weak or injured knees
Emits far infrared rays that provide heat deep below the skin
Helps to improve blood circulation and encourages healing
Therapeutic effect continues up to 20 minutes after removal
---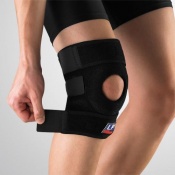 LP Extreme Knee Support with Open Patella
£22.99
more info
Provides comfortable compression to the knee joint
Retains body heat to help with arthritis and stiffness
Open patella design prevents abnormal patellar tracking
Stretch fabric ensures comfort and easy application
---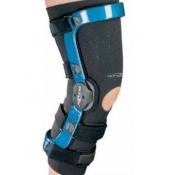 Neoprene Undergarment Sleeve for the Donjoy Knee Braces
£23.99
more info
Suitable for use with a range of Donjoy Knee Braces
Improves your confidence to help you return to sports
Prevents your support from digging into your skin
Made from neoprene to prevent allergic reactions
---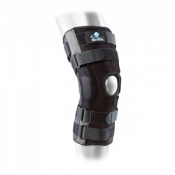 BioSkin Gladiator DT Front Closure Knee Support
£161.99
more info
Low profile knee support
Soft against skin for comfortable all-day wear
Lightweight and easy to apply
Strapping system for secure fit
---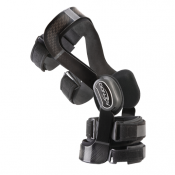 Donjoy Full Force Knee Brace with Fourcepoint
£337.99
more info
Uses four-points-of-leverage technology for support
Ideal for active patients, leisure sports or daily living
Mouldable frame provides a custom fit for comfort
Low profile and lightweight for prolonged use
---
Paediatric Post Operative Pin Knee Brace
£187.99
more info
Incredibly versatile design for different needs
Foam wrap provides increased comfort
Flexion and extension control at 7.5° increments
Suitable for ACL and PCL injuries and more
---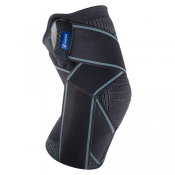 Thuasne Ligastrap Genu Knee Brace
£44.99
more info
Integrated comfort zones around kneecap and behind knee
Provides firm compression of around 26mmHg
Brace is easy to fit thanks to patented pull tabs
Anatomically shaped elastic knit knee brace
---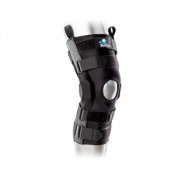 BioSkin Gladiator XT Knee Support
£152.99
more info
Low profile pull-on knee support
Soft against skin for comfortable all-day wear
Lightweight and easy to apply
Strapping system for secure fit
---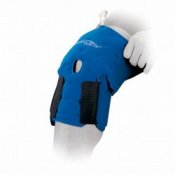 (3)
Donjoy Arcticflow Knee Wrap
£47.99
more info
Combines cold therapy and compression to aid recovery
Designed for use with the Cryo Cuff Cooler Unit
Provides targeted cold therapy to the knee
Dramatically reduces pain and swelling
---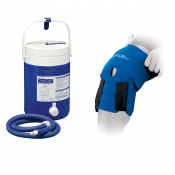 Donjoy Arcticflow Knee Wrap with Cooler Unit
£115.99
£91.54
more info
Provides a combination of cold therapy and compression
Helps to reduce pain and swelling following an injury
Specifically designed to wrap around the knee
Allows you to walk around with the wrap on
---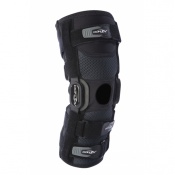 Donjoy Playmaker II Wraparound
£149.99
more info
Moulded strap tabs allow for quick and easy adjustments
Offers unrivalled comfort and fit for your peace of mind
Made with advanced spacer fabric for added comfort
Designed to control ACL, MCL and LCL instabilities
---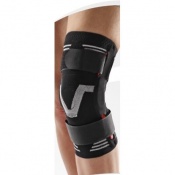 Donjoy Stabilax Elastic Knitted Knee Sleeve with Removable Hinges
£39.99
more info
Uses breathable and biocompatible materials
Stabilises the knee to improve confidence
Features removable hinges for versatility
Compresses the area to reduce swelling
---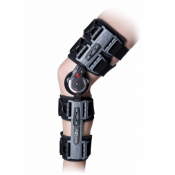 Donjoy X-Act ROM Knee Brace
£105.99
more info
Contoured design provides you with a high level of support
Provides immobilisation and protects your range of motion
Extremely light so you remain comfortable throughout use
Features aluminium hinges to stabilise the knee
---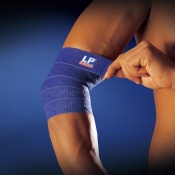 LP Hand, Elbow or Patella Max Wrap
£11.99
more info
Provides comfortable compression to promote healing
Suitable for treatment of the hand, elbow or patella
Can be used for both athletic activity and everyday use
Non-tear cohesive fabric can be applied in overlapping layers
---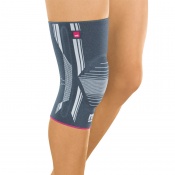 Medi Genumedi Knee Support
£69.99
more info
Provides superb stability and compression
Massaging affect of the fabric and silicon insert improves circulation
Suitable for osteoarthritis and arthritis of the knee
Suitable for patellofemoral pain syndrome
---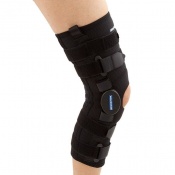 Pace Long ROM Knee Brace
£137.99
more info
Ergonomically designed for comfortable fit
ROM hinge for flexion & extension control
Padded patella for increased comfort
Suitable for ACL, PCL instabilities, arthritis and more
--- (1)
Pack of 5 Knee Pads for Donjoy Armor Professional Knee Brace With Fourcepoint
£26.99
more info
Five knee pads for the Donjoy Armor Professional Knee Brace with Fourcepoint

Helps support the knee when worn with the knee brace

Ideal for extreme and contact sports

Can be purchased as spares or replacements
---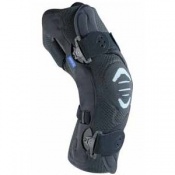 Thuasne Genu Ligaflex Open Hinged Ligament Knee Brace
£79.99
-
£99.99
more info
TM5 hinge reproduces natural knee movement
Brace provides comfort, stability and support
Open knee support for improved aeration
Weave stretch for easy application
---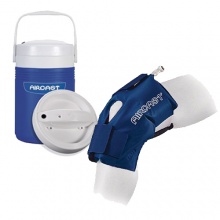 (1)
Aircast Knee Cryo Cuff with Automatic Cold Therapy IC Cooler Saver Pack
£161.99
more info
Cooler provides up to eight hours of cryotherapy
Helps to minimise swelling and reduce pain
Includes a Knee Cryo Cuff and IC Cooler
Ideal for home or professional use
---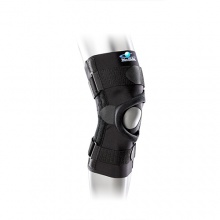 BioSkin Q Brace Front Closure Knee Support
£72.99
more info
Low profile front closure knee support
Soft against skin for comfortable all-day wear
Lightweight and easy to apply
Strapping system for secure fit
---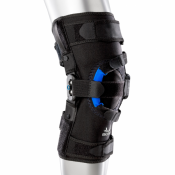 BioSkin QLok Patella Support
£142.99
more info
Low profile pull-on knee support
Soft against skin for comfortable all-day wear
Lightweight and easy to apply
Strapping system for secure fit
---
BioSkin QLok Patella Support with Front Closure
£152.99
more info
Low profile knee support with front closure
Soft against skin for comfortable all-day wear
Lightweight and easy to apply
Strapping system for secure fit
---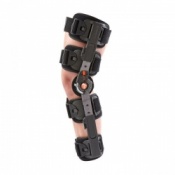 Breg T Scope Premier Post-Op Knee Brace
£127.99
more info
Provides protected, controlled range of motion.
Ideal for post surgery use.
Adjustable for a personal fit.
Comfortable and light-weight. 
---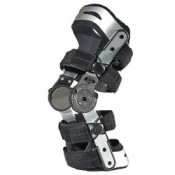 Carboflex Advance Functional Knee Brace
£244.99
more info
Adjustable ROM hinge;

Anterior and posterior control;

Rigid frame;

Strong de-rotational strapping system.
---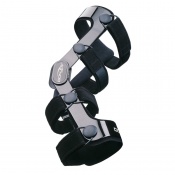 Donjoy 4Titude Knee Brace
£369.99
more info
Suitable for daily use and contact or non-contact sports
Low profile and lightweight for improved comfort
Designed for sedentary and active lifestyles
Ideal for a range of knee instabilities
---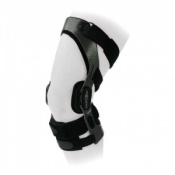 (1)
Donjoy Armor Professional Knee Brace
£498.99
more info
One of the strongest functional knee braces on the market
Made of lightweight but strong aircraft-grade aluminium
Ideal for ACL, PCL and combined instabilities
Designed for skiing and contact sports
---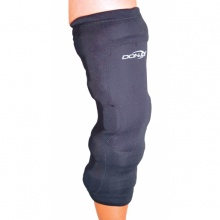 Donjoy Armor Sports Cover
£33.99
more info
Prevents painful injuries sustained to your opponents
Features additional padding around the hinges
Ideal when you're competing in contact sports
Protects your knee brace against damage
---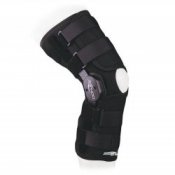 (2)
Donjoy Drytex Wraparound Playmaker Knee Brace
£182.99
more info
Ideal for ACL and/or PCL, MCL and LCL instabilities.

Suitable for skiing and other sports.

Provides excellent varus/valgus support.

Easy to put on wraparound style
---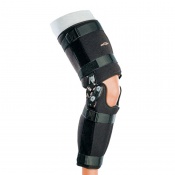 Donjoy Fastfit TROM Post Operative Knee Brace
£104.99
more info
Ideal for a wide range of knee injuries and conditions
Simple one-piece design improves client compliance
Offers complete range of motion control for comfort
Brace is sized and ready to fit for easy application
---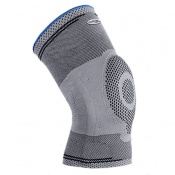 Donjoy Genuforce Elastic Knitted Knee Support
£48.99
more info
Ideal for swelling, instability and discomfort
Suitable for post-operative and injury use
Compresses and supports the kneecap
Slip-on design for easy application
---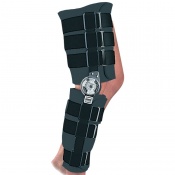 Donjoy IROM Post Operative Knee Brace
£101.99
more info
Malleable hinge bars allow for varus/valgus positioning
Provides range of motion control in 10° increments
Available in short and long versions for a better fit
Suitable for ACL, PCL, MCL and LCL surgeries
---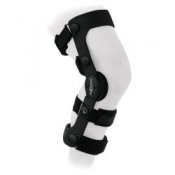 (1)
Donjoy Legend Knee Brace
£344.89
more info
Ideal for moderate to severe ACL/PCL/CI/LCL and MCL instabilities.

Superb support for amateur sports people, for everyday use and for rehabilitation

Low profile desgin.

Strong and durable.
---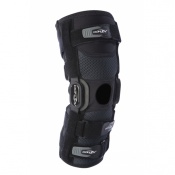 Donjoy Playmaker II Pull On Sleeve
£149.99
more info
Features moulded strap tabs for easy adjustment
Designed for ACL, MCL and LCL instabilities
Allows you to get back on your feet quickly
Offers an exceptional fit for your comfort
---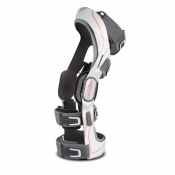 Donjoy Renegade Ligament Knee Brace
£323.99
more info
Perfect if you want to return to sporting activities
Designed with a lightweight aluminium frame
Significantly reduces strains on the ACL
Stabilises your knee to prevent injuries
---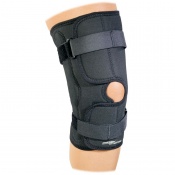 (1)
Donjoy Sports Hinged Knee Brace Wraparound
£42.99
more info
Features removable hinges and uprights for tailored support
Constructed from Drytex as an alternative to neoprene
Provides mild medial and lateral support to the knee
Low-profile construction for improved comfort
---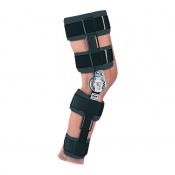 (1)
Donjoy Telescoping Cool IROM Post Operative Knee Brace
£91.99
more info
Immobilises and controls your range of motion
Ideal for ACL, PCL, MCL and LCL surgeries
Buckles allow for fast and easy strapping
Keeps you cool even in warmer climates
---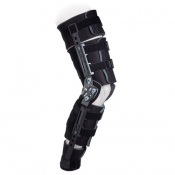 Donjoy Telescoping TROM Knee Brace
£121.99
more info
Designed with a quick-lock mechanism
Helps you control motion in the knee
Ideal for a wide range of indications
Provides you with a custom fit
---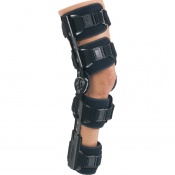 (2)
Donjoy TROM Advance Cool Post Operative Knee Brace
£101.99
more info
Cool and breathable brace for added comfort
Adjustable length and angle for most protocols
Allows full control of your range of motion
Ideal for post-surgical immobilisation
--- Full Replacement Pad Kit for the Breg T Scope Premier Post-Op Knee Brace
£44.99
more info
---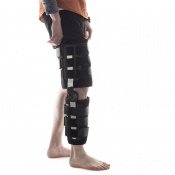 Genutec Long and Short Post-Operative Knee Brace
£102.99
£74.99
more info
Fixed short or long length
High quality foam liners for comfort
Full circumferential straps for a secure fit
Touch-and-close fastenings for easy application
---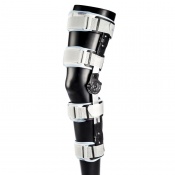 Genutec Telescopic Post-Operative ROM Knee Brace
£69.99
more info
Four panel design for a comfortable, contoured fit
Superb ventilation provides heat dissipation for improved user comfort
Adjustable ROM hinge can be locked into position
Supplied in a universal size
---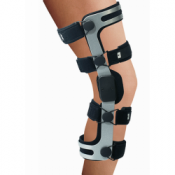 Lenox Hill Precision Pro Knee Brace
£178.99
more info
---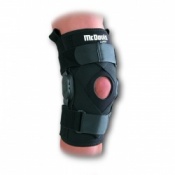 McDavid Hinged Knee Brace With Crossing Straps
£84.99
more info
Professional quality hinged brace

4 point velcro crossing straps

Neoprene fabric construction

Advanced polycentric hinges
---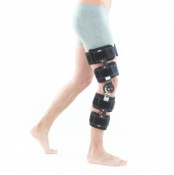 Neo G Hinged Post-Operative Knee Brace
£119.99
more info
Effective post-operative brace for ACL, PCL, MCL and LCL injuries
Stabilises movement and can be used as a pre- or post-surgery aid
Adjustable easy-push dials to change the range of motion
Universal size, fits the left or right leg and is unisex
---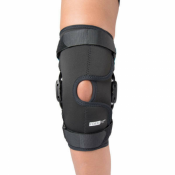 Ossur Form Fit Knee Hinged Brace
£67.99
-
£84.99
more info
Provides excellent stability and compression during recovery
Made from strong and breathable material
Easy to wrap around and secure in place
Available in seven sizes, from Extra Small to XXX-Large
---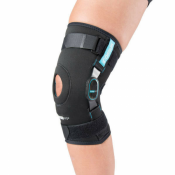 Ossur Form Fit Knee Hinged Brace (Sleeve)
£67.99
-
£84.99
more info
Designed for users with mild to moderate sprains, strains and ligament tears
Provides excellent stability, protection and compression during recovery
Made from strong and breathable materials
Available in six sizes, from Extra Small to XX-Large
---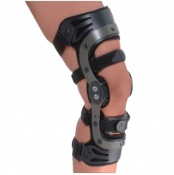 (1)
Ottobock Genu Arexa Knee Brace
£363.99
more info
3 x award-winning Ottobock knee brace

Covers ACL, PCL, MCL, and LCL njuries

Lightweight, flexible, and adaptable

Suitable for pre- and post-operation
---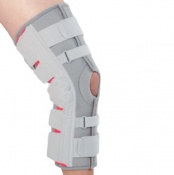 Ottobock Genu Direxa Stable Long Wraparound Knee Brace
£155.99
more info
Four strap stabilisation

Collateral stabilisation

Protects from hyperextension

Wraparound for easy application
---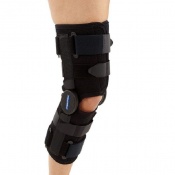 Pace Front Entry ROM Knee Brace
£145.99
more info
Ergonomically designed for comfortable fit
ROM hinge for flexion & extension control
Padded patella for increased comfort
Suitable for pre-op use, arthritis and more
---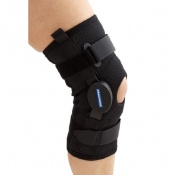 Pace Short ROM Knee Brace
£127.99
more info
Ergonomically designed for comfortable fit
ROM hinge for flexion & extension control
Padded patella for increased comfort
Suitable for ACL, PCL instabilities, arthritis and more
---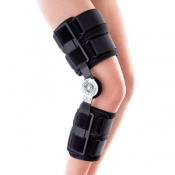 Post-Operative Knee Brace
£83.99
more info
Provides post-operative immobilisation and ROM control
For injured or post-surgery collateral and cruciate ligaments
Adjustable dial lock hinges prevent hyperextension
Soft foam material provides additional comfort during recovery
---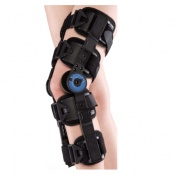 Post-Operative Knee Brace
£126.99
more info
Provides post-operative immobilisation and ROM control
For injured or post-surgery collateral and cruciate ligaments
Adjustable dial lock hinges prevent hyperextension
One-push bottom can be released for length adjustment
---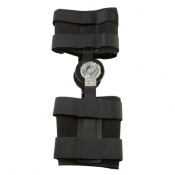 Post-Operative Knee Brace Lite
£68.99
more info
Provides post-operative immobilisation and ROM control
For injured or post-surgery collateral and cruciate ligaments
Adjustable dial lock hinges prevent hyperextension
Soft foam material provides additional comfort during recovery
---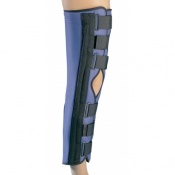 (1)
ProCare Super Knee Splint
£30.99
-
£33.99
more info
Ideal for immobilising your knee joint following an injury or operation
Designed with three double-bend posterior stays for immobilisation
Made with a comfortable but sturdy foam and mesh construction
Features alternating web straps and loop lock contact closure
---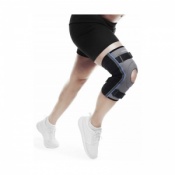 Rehband Hyper-X Knee Support
£114.95
more info
---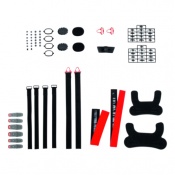 Service Set for the Ottobock Genu Arexa Knee Brace
£232.99
more info
Service Set for the Ottobock Genu Arexa Knee Brace
Low-profile, poly-centric hinges adjust without tools
Flexible upper and lower cuffs for a customised fit
Ideal for those with smaller calf-to-thigh ratios
---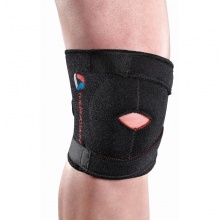 Thermoskin Sports Adjustable Knee Support
£27.99
more info
Provides compression, support and warmth
Ideal for increased activity
Moisture-absorbing for comfort
Adjustable design tailors to your needs
---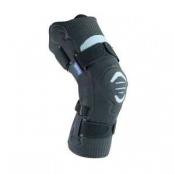 Thuasne Genu Ligaflex Closed Hinged Ligament Knee Brace
£79.99
-
£99.99
more info
TM5 hinge reproduces natural knee movement
Provides comfort and stability to your knee
Hinged knee brace offers rigid support
Weave stretch for easy application
---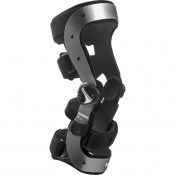 (1)
Thuasne Rebel Ligament Pro Knee Brace
£349.99
more info
Features an exclusive synergistic suspension strap
Ideal for heavy users and contact sports
Uses Townsend motion TM5+ hinges
Has a rigid aircraft aluminium frame
---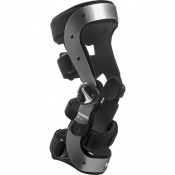 Thuasne Rebel Ligament Standard Knee Brace
£299.99
more info
Ideal for those who've had ligament injuries and/or reconstructive knee surgery
Rotation control tibial shell contour helps make sure the brace is comfortable
Rigid aircraft aluminium frame ensures your knee is protected and stabilised
Uses an exclusive synergistic suspension strap to help support your knee
---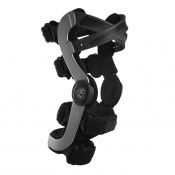 VQ Catalyst Elite Active Cuff Knee Brace
£642.99
more info
Adjustable active thigh cuff for ultimate suspension and protection
Posterior calf cuff reduces tibia pressure
Medial relief reduces clearance issues and improves thigh comfort
Aerospace grade aluminium frame is strong yet allows customisation
---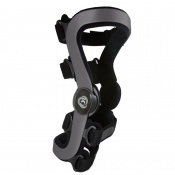 VQ Catalyst Elite Rigid Cuff Knee Brace
£642.99
more info
Rigid anterior thigh cuff for firm support
Posterior calf cuff reduces tibia pressure
Medial relief reduces clearance issues and improves thigh comfort
Aerospace grade aluminium frame is strong yet allows customisation
---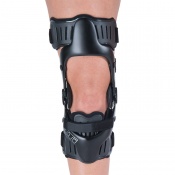 Össur CTi OTS Knee Brace
£469.99
more info
Durable design ideal for use with extreme sports
Suitable for ACL, LCL and MCL sprains and tears
Stabilises and protects ligaments and cartilage
Carbon fibre construction for rigid support
---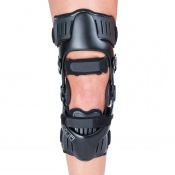 Össur CTi OTS PCL Knee Brace
£520.99
more info
Designed for extreme sports for durability
Suitable for ACL, LCL, MCL and PCL sprains and tears
Stabilises and protects ligaments and cartilage
Carbon fibre construction for rigid support