Pressure relief risk rating: High risk
Viscoelastic foam for great pressure distribution
Conforms to user's body and weight for improved comfort
Available in two sizes and two depths to suit your needs
---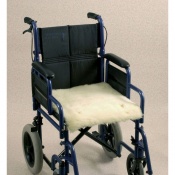 Prevents pressure sores for wheelchair and scooter users
Real lamb's wool prevents perspiration, allows skin to breathe
Both versions fit wheelchairs and mobility scooters
Wool's exothermic quality prevents dampness and cold
---
Cushion air alternates to relieve pressure on the buttocks
Supports a maximum user weight capacity of 18.9 stone
Water-resistant cover protects against spills and urine
Made for patients at high risk of pressure sores
---
Includes the cushion and pump for the full pressure-relief system
Made with a water-resistant cover to protect against spills
Alternating air cushion system relieves pressure
Ideal for patients at high risk of pressure sores
---
Reduces pressure for low-risk wheelchair users
Viscous gel provides maximum support and comfort
Cover features a waterproof nylon top for convenience
Carry handle at bottom for easier transportation
---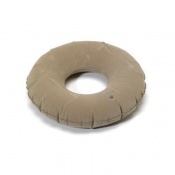 Durable inflatable PVC doughnut cushion
Enhances sitting comfort and relieves pressure
Reduces the occurrence of pressure sores
Inflatable by mouth for added convenience
---
Pressure relief rating: Very high risk
Alternating air wheelchair cushion for dynamic pressure care
Simple controls allow easy adjustment to meet patient needs
Supplied with a two-way stretch, waterproof cover for hygiene
---
Wheelchair cushion made of thick foam for comfort
Velcro strips secure the cushion into place
Cover provided in either vinyl or canvas
Available in a choice of four widths
---
Pressure relief rating: Medium risk
Castellated CMHR for supportive pressure relief
Includes waterproof cover for protection and comfort
Available in a wide range of sizes to suit your needs
---
Battery-powered wheelchair pressure relief cushion for high risk users
Features dynamic air cells that alternate to provide pressure relief
One in two cell cycle provides excellent relief to the sacral area
Up to 12 hours of battery life to provide mobility and freedom
---
Pressure relief rating: Low to medium risk
Made with modular cut foam for even pressure distribution
Versatile design suitable for wheelchairs and lounge chairs
Available in two sizes and two depths to suit your needs
--- ---
T shaped wheelchair pillow cushion;

Fits most standard wheelchairs;

Durable and heard wearing;

Flame retardant.
---
Assists patient movement and management of existing sores
Suits users at high risk of developing pressure sores
Gives specific ischial and perineal pressure protection
Provides excellent pressure relief and stability
---
Ideal for most situations including scooter and wheelchair seating.

Lightweight and easy to carry cushion.

Wipe clean covers.

For users at low risk of developing pressure sores.
---
Provides relief for those at a low risk of pressure ulcer development
Slimline cushion ideal for use in most chairs or wheelchairs
Contoured surface provides excellent support and stability
Particularly suited to smaller or paediatric clients
---
Pressure relief rating: At risk
Made with soft CMHR foam for pressure relief
Includes a waterproof cover for protection and comfort
Available in a wide range of sizes to suit different users
---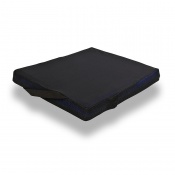 Fits over the StimuLite Contoured and Contoured XS wheelchair cushions
Durable and rugged for outdoor use
Keeps your cushion comfortable and safe in the outdoors
Machine washable and dryer safe
---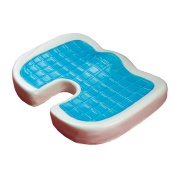 Horseshoe-shaped memory foam cushion
Enhances support and promotes comfort
Gel layer provides cooling effect
Suitable for most chairs and seats
---
Pressure relief rating: High risk
Designed to "remember" the shape of the user, providing greater comfort
High levels of pressure relief delivered using dry flotation technology
Features a thickness of 10cm and is available in 19 different sizes
---
Suitable patients at high risk of skin breakdown
Excellent pressure relief, comfort and stability
Three layers of StimuLite honeycomb for superior comfort
Machine washable and naturally antibacterial
---
Suitable for patients at low to medium risk of pressure sore development
Features a combination of highly resilient foam and two types of gel
Fluid and high-reticulation gels work together for comfort and pressure relief
Impermeable design makes this cushion suitable for incontinent users
---
Reduces pressure in key problem areas for every day wheelchair users
Multi-bearing surface enables greater pressure relief and comfort
Prevents forward sliding and maintains good posture
Reduces pressure to the shoulders and shoulder blades
---
Pressure relief risk rating: High risk
Viscoelastic foam for great pressure distribution
CMHR foam gives extra support and prevents foam fatigue
Available in two sizes to suit different patients and seats
---
Fully rotational, no top or bottom
Suitable for incontinent users
Uses foam and gel to relieve pressure
Conforms to the shape of the user
---
Available with a mesh or incontinence cover with breathable four-way-stretch material
Unique self-inflating valve ensures adjustments are constant and automatic
The wheelchair cushion for people who have a moderate risk of tissue breakdown and moderate positioning needs
Rugged non-slip underside with hook and loop for additional security (NHS Discount Available)
---
Portable alternating pressure relief cushion for high risk users
Ideal for wheelchair users who need dynamic relief on the go
Powered by a lithium-ion battery to provide over 24 hours of operation
Easy-to-use settings allow carers to set up the cushion in minutes
---
Modular foam inner;
43 x 41 cm/ 17 x 16 inches;
Excellent pressure reduction;
Either wipe clean or washable cover.
---
Modular foam inner;
Natural pressure relief;
100% wool pile cushion cover;
43 x 41 x 10 cm/17 x 16 x 4 inches.
---
For users who have low to medium risk of pressure sores
Improves comfort on chairs and wheelchairs
Designed to evenly distribute pressure
Easy to clean polyurethane nylon cover