Cushion air alternates to relieve pressure on the buttocks
Supports a maximum user weight capacity of 18.9 stone
Water-resistant cover protects against spills and urine
Made for patients at high risk of pressure sores
---
Includes the cushion and pump for the full pressure-relief system
Made with a water-resistant cover to protect against spills
Alternating air cushion system relieves pressure
Ideal for patients at high risk of pressure sores
---
Pressure relief rating: High risk
Memory foam adjusts to user's body type for custom support
Includes waterproof cover for protection and comfort
Available in a wide range of sizes to suit your needs
---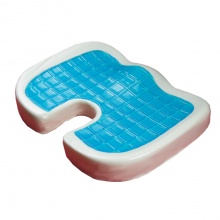 Horseshoe-shaped memory foam cushion
Enhances support and promotes comfort
Gel layer provides cooling effect
Suitable for most chairs and seats
---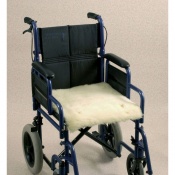 Prevents pressure sores for wheelchair and scooter users
Real lamb's wool prevents perspiration, allows skin to breathe
Both versions fit wheelchairs and mobility scooters
Wool's exothermic quality prevents dampness and cold
---
Battery-powered wheelchair pressure relief cushion for high risk users
Features dynamic air cells that alternate to provide pressure relief
One in two cell cycle provides excellent relief to the sacral area
Up to 12 hours of battery life to provide mobility and freedom
---
Pressure relief rating: Low to medium risk
Made with modular cut foam for even pressure distribution
Versatile design suitable for wheelchairs and lounge chairs
Available in two sizes and two depths to suit your needs
---
Ideal for most situations including scooter and wheelchair seating.

Lightweight and easy to carry cushion.

Wipe clean covers.

For users at low risk of developing pressure sores.
---
Pressure relief risk rating: High risk
Viscoelastic foam for great pressure distribution
Conforms to user's body and weight for improved comfort
Available in two sizes and two depths to suit your needs
---
Reduces pressure for low-risk wheelchair users
Viscous gel provides maximum support and comfort
Cover features a waterproof nylon top for convenience
Carry handle at bottom for easier transportation
---
Pressure relief rating: High risk
Designed to "remember" the shape of the user, providing greater comfort
High levels of pressure relief delivered using dry flotation technology
Features a thickness of 10cm and is available in 19 different sizes
---
Suitable for patients at high risk of pressure sore development
Anatomically moulded foam base with a two-part gel top layer
High and low density gels work together for stability and comfort
Supplied with a waterproof, breathable cover with non-slip base
---
Portable alternating pressure relief cushion for high risk users
Ideal for wheelchair users who need dynamic relief on the go
Powered by a lithium-ion battery to provide over 24 hours of operation
Easy-to-use settings allow carers to set up the cushion in minutes
---
Wheelchair cushion made of thick foam for comfort
Velcro strips secure the cushion into place
Cover provided in either vinyl or canvas
Available in a choice of four widths
---
Basic pressure relief for wheelchair and seated users
Ideal for those with low risk of developing pressure sores
Distributes the user's weight evenly to reduced pressure
Covered in a wipe clean nylon stretch material
---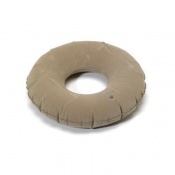 Durable inflatable PVC doughnut cushion
Enhances sitting comfort and relieves pressure
Reduces the occurrence of pressure sores
Inflatable by mouth for added convenience
---
Deep leg troughs;
Medial thigh support;
Enhanced comfort;
Durable support.
---
Provides pressure relief for those at very high risk of pressure sores
Contoured to conform to the body while improving comfort and posture
Maximises contact surface area for excellent pressure distribution
Firm density to suit users up to a maximum weight of 108kg (17 stone)
---
Low profile slimline cushion for convenient daily use
Suitable for those at very high risk of pressure ulcer development
Made with a slim shaped foam base topped with dual gel sacs
Gel sacs provide relief for the ischial and sacral area
---
Pressure relief rating: At risk
Made with soft CMHR foam for pressure relief
Includes a waterproof cover for protection and comfort
Available in a wide range of sizes to suit different users
---
Provides relief suitable for those at high risk of pressure ulcer development
Features dual layer foam for improved support and longevity
Made with castellated foam on top of a high density foam base
Moves with the client to reduce shear and friction forces
---
Saver pack containing a Roho Pressure Cushion and Smart Check Monitor
High profile design suitable for high pressure risk patients
Smart Check Monitor allows user to check the cushion's air pressure
Ensures that the patient always receives the right level of pressure relief
---
Pressure relief cushion for high risk pressure patients
Best suited to individuals with skin and soft tissue integrity issues
Suitable for use with the Roho Smart Check Inflation Monitor
Hand inflation pump offers catered pressure relief
---
Pressure relief cushion for very high risk pressure patients
Moulded viscoelastic foam and ergonomic insert mould to the body
Even pressure prevents pressure sores developing and lets them heal
Facilitates blood circulation to enable comfort, prevention and recovery
---
Budget foam pressure relief cushion for medium risk patients
Ideal for use in hospital and care home environments
Castellated foam reduced friction to prevent pressure sores
Supplied with an antimicrobial two-way stretch cover
---
Modular foam inner;
43 x 41 cm/ 17 x 16 inches;
Excellent pressure reduction;
Either wipe clean or washable cover.
---
Modular foam inner;
Natural pressure relief;
100% wool pile cushion cover;
43 x 41 x 10 cm/17 x 16 x 4 inches.
---
For users who have low to medium risk of pressure sores
Improves comfort on chairs and wheelchairs
Designed to evenly distribute pressure
Easy to clean polyurethane nylon cover
---
Alternating cushion suited to community environments
Suitable for those at high risk of developing bedsores
Moulded foam base to ensure stability and comfort
Cover can be removed and laundered up to 95°C
---
Automated compressors that maintain support pressure
Suited for patients at high risk of developing bedsores
Removable cover can be machine washed up to 95°C
Moulded foam base to ensure stability and comfort