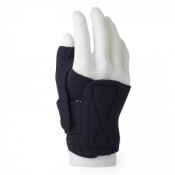 Great for treating osteoarthritis, tendonitis and many more conditions
Allows full finger function so you can carry out daily tasks with ease
Procool material offers excellent stability without bulk
Comes in a range of sizes, with infant and child models
---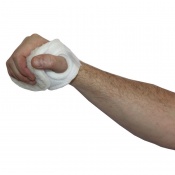 Synthetic sheepskin construction for excellent comfort
Closed-cell foam separator to protect the palm
Touch-and-close fastening for an easy fit
Supplied in a universal size
---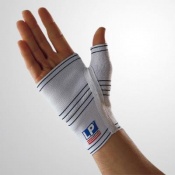 Provides support and relieves pain in the palm and wrist
Suitable for use on injured, swollen and damaged palms
Firmly supports joint structures with gentle compression
Conforms to palm's contours for a slip-free fit during sports
---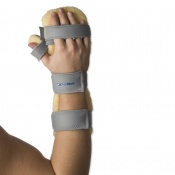 Malleable frame allows static progressive splinting
No tools or heat required to adjust
Padded frame with removable, washable cover
Cover lined with synthetic sheepskin and velour for optimum comfort
---
---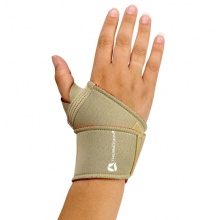 Provides protection and support for the wrist
Ideal for use during activities or for RSI
Velcro closures for adjustable, comfortable fit
Available in a range of sizes
---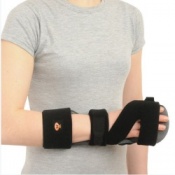 Adjustable;

Various fitting options

;
Comfortable foam padding;
Malleable aluminium core.
---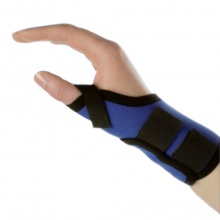 Mouldable plastic insert for firm support
Functional treatment for Rhizarthrosis
Stable support and comfortable to wear
Suitable to treat 'Skier's Thumb'
---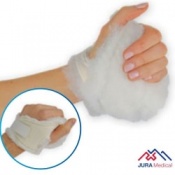 Fleece lined;
Lightweight palm cover;
Reduces finger contractures;
Reduces damage to the palm.
---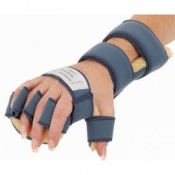 Easy to form and remould;
Maintains fingers in extension;
Ideal for MS & Rheumatoid Arthritis;
Thumb abduction & finger flexion control.
---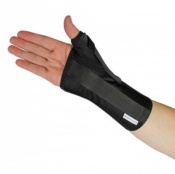 Slip-on design with D-ring closure straps makes putting it on easy
Breathable, high compression material for both comfort and support
Medium stability palmar support can be moulded to fit perfectly
Comes in a range of sizes, in a choice of black or beige
---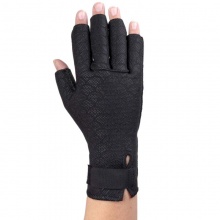 Provides soothing warmth and compression
Perfect for managing arthritic pain
Reduces swelling and pain
Velcro clasp ensures an easy fit
---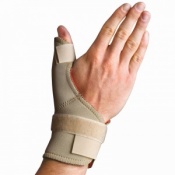 Supports the CMC (carpometacarpal) joint

Reduces the effects of thumb hypertension

Useful for UCL (ulnar collateral ligament) injuries

Easy to apply for extra convenience
---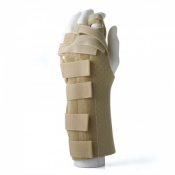 Wrist support for Rheumatoid Arthritis;
To correct early MCP U.D.;
Ventilated neoprene with towelling;
Malleable aluminium palmar bar.
---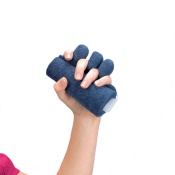 Separates fingers to prevent skin breakdown
Conforms to hand's natural shape for added comfort
Cotton terry cloth for perspiration absorption
Elastic strap secures cushion to patient's hand
---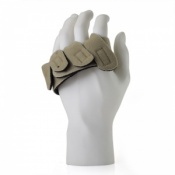 Helps support MCP joints;
Reduces ulnar drift;
Allows functional use of fingers;
Neoprene for warmth and support.
---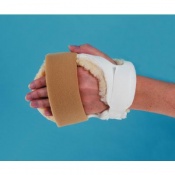 Protects the palm from fingers bending towards the palm
Vinyl pocket and Ezeform insert for a custom fit
Softstrap strapping secures protector in place
Available for left and right hand
---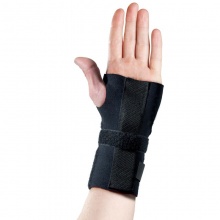 Comfortable, supportive wrist/hand brace
Provides protection and support
Ideal for Carpal Tunnel Syndrome
Features a metal splint at 25° for stabilisation
---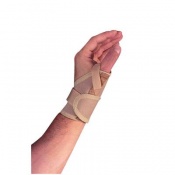 For rheumatic pain, degenerative diseases and thumb joint weakness
Supports the wrist and thumb while providing relief from pain
Choice of sizes and wrist side for a more accurate fit
Lightweight and elasticated support for ease of use
---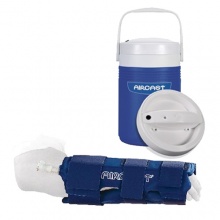 Includes the Hand and Wrist Cuff and IC Cooler
Cooler provides up to eight hours of cryotherapy
Helps minimise swelling and reduce pain
Semi-automated system is easy to use
---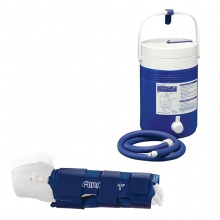 Combines the Hand and Wrist Cuff with the Cooler Unit
Cooler provides up to eight hours of cryotherapy
Helps minimise swelling and reduce pain
Cooler uses a simple gravity-fed system
---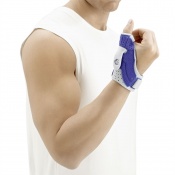 Thumb support for stabilising the thumb after injury
Great for skier's thumb, arthritis and more
Ideal for preventing re-injury and accelerating the healing process
Comes in a choice of two sizes, in left and right hand versions
---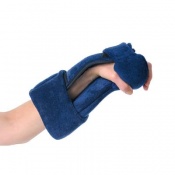 For positioning weak or deformed hands
Enables progresses increases in range of motion
Adjustable frame for for increased tension
Removable stiffener for controlled flexion and resistance
---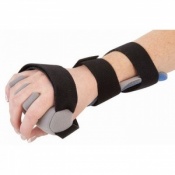 Lightweight & heat mouldable;
Washable, breathable wicking foam liner;
Wrist extension can be progressively increased;
Finger separators promote finger abduction & skin integrity.
---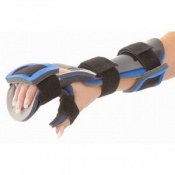 Allows for greater tone inhibition;
Can be moved into tone reducing positions;
Dorsal arm platform frees the palmar area;
For treatment of spasticity & contracture.
---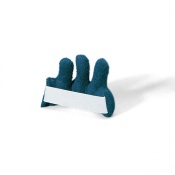 Pack of three contracture cushions for separating figures
Helps to prevent complete closure of the hand
Polyester-filled cushion and cotton terry cloth for comfort
Elastic strap secures cushion to patient's hand
---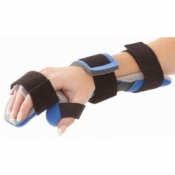 Adjustable palmer web space abduction roll;
For the severely abducted thumb;
Provides stable wrist and finger positioning;
Ideal for Cerebral Vascula Accident CVA, Arthritis & injuries.
---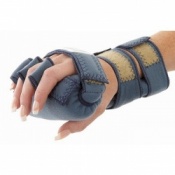 Easy to form and remould;
Lightweight with comfort linings;
Ideal for MS & Rheumatoid Arthritis;
Maintains hand in functional "C" position.
---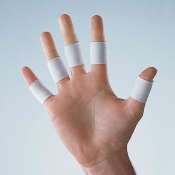 Provides support for weakened fingers
Helps to prevent injury to finger joints
Protects against ligament damage
Suitable for sporting and everyday use
---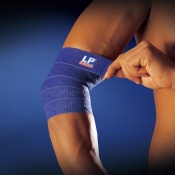 Provides comfortable compression to promote healing
Suitable for treatment of the hand, elbow or patella
Can be used for both athletic activity and everyday use
Non-tear cohesive fabric can be applied in overlapping layers
---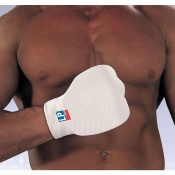 Protect the hands and knuckles from impact
Provide firm, close fitting protection
Allows the fingers to move freely for dexterity
Ideal for boxing, workouts and hockey players
---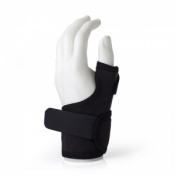 Removable flexible stay restricts movement at CMC and MCP joints
Unique construction makes the material perfect for orthopaedic bracing
Innovative material keeps you warm when it's cold and cool when it's warm
Sizes from extra small to extra large, in left and right hand models
---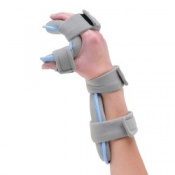 Adjustable;

Various fitting options

;
Comfortable foam padding;
Malleable aluminium core.
---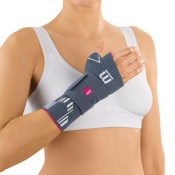 Splint stabilises and reduces stress on the wrist
Circular strap provides support and stress relief
Suitable for sprains strains and instability
Also used for osteoarthritis and tenosynovitus of the wrist
---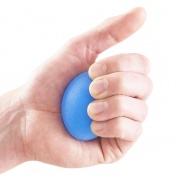 Fits the left or right hand and comes in a choice of three resistances
Improves grip, flexibility, function and mobility following surgery
Helps strengthen fingers, hands, wrist and forearm muscles
Quality silicone ball for hand rehabilitation or stress relief
---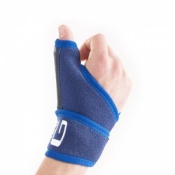 Malleable metal splint provides partial thumb immobilisation
Heat-therapeutic neoprene helps warm muscles and joints
Adjustable thumb support provides variable compression
Allows you to customise the level of support you receive
---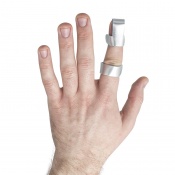 Aluminium splint for use on finger or thumb
Holds fingers at an exact degree of flexion or extension
Provides firm support and stabilises phalangeal joints in position
For finger fractures, ligament strain, finger deformity, and arthritis
---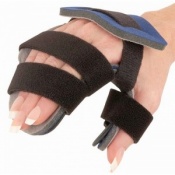 Supports palmar arches of the hand;
Allows free wrist movement;
Constructed of lightweight Kydex plastic;
Washable, breathable wicking foam liner.
---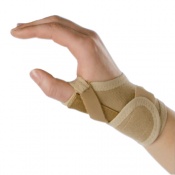 Stabilises the thumb joint effectively
Constructed from flexible material
Treatment for Rhizarthrosis
Flexible coil spring for firm support
---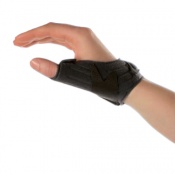 Stabilizes metacarpophalangeal joint
Functional treatment of Rhizarthrosis
Light and comfortable design
High stability moulded plastic core
---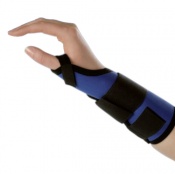 Extra long size 4 cm longer than standard
Individually mouldable firm plastic insert
Treats wide range of wrist conditions
Excellent stability and limits wrist movement
---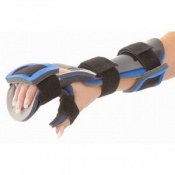 Padded lining for hand brace
Keeps brace functional and comfortable
Great as a spare or replacement
Ensures hygienic use
---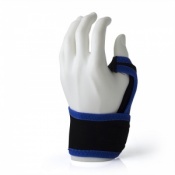 2-way stretch material;
Thermoplastic insert;
Durable outer material;
Supports wrist and thumb.
---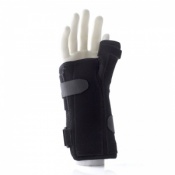 Slip on design with D-ring closures;
Thumb extension for MCP & CMC control;
Adjustable aluminium palmar bar;
Adjustable aluminium thumb stay.
---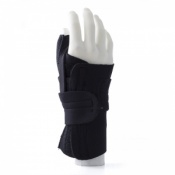 Extended thumb restriction splint;
For wrist & thumb conditions;
Wide 'pull through' wrist strap;
Easy application & adjustment.
---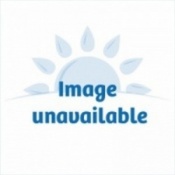 To be used with SaeboStretch Hand Splint
Left and right arm supplied separately
Available in three sizes
Can be used as spare or replacement parts
--- Replacement foam liners
For the Resting Hand Orthosis
Maintain comfort for longer
Available in seven sizes to match original orthosis
---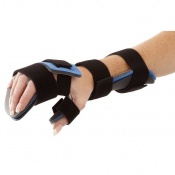 Finger separators for proper positioning
Raised edges accomodate lack of muscle tone
Lightweight and heat-mouldable construction
Suitable for arthroplasty, rheumatoid arthritis and more
---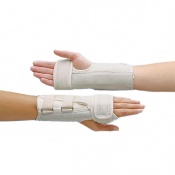 Splint for wrist and MCP support
Ideal for carpal tunnel syndrome, athritisis, and tendonitis
Moulded foam pad flexible for functional hand use
Available in a choice of sizes for more accurate fit
---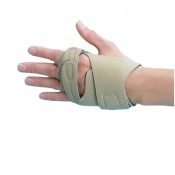 Strap for supporting MCP joints
Reinforced neoprene for preventing overstretching
Thin yet reliable fabric to reduce bulkiness
Retains warmth to increase comfort
---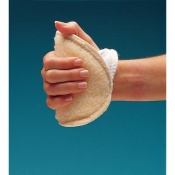 Protects the palm from fingers bending towards the palm
Pre-rolled and attached for simple use
Made from closed-cell foam with a pile fabric lining
Free from latex for wider suitability
---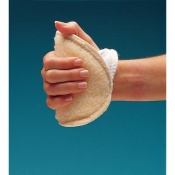 Protects the palm from fingers bending towards the palm
Pre-rolled and attached for simple use
Made from closed-cell foam with a pile fabric lining
Free from latex for wider suitability
---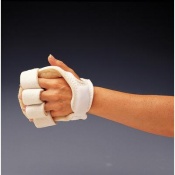 Protects the palm from fingers bending inwards
Abducts fingers to decrease tone
Soft finger strap can be cut for a better fit
Free from latex for wider suitability
---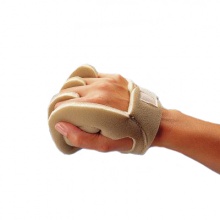 Palm shield that prevents skin breakdown
Ideal for patients with moderate to severe hand tightness
Extra-large thumb pad ensures good thumb positioning
Can be customised to provide an optimal fit
---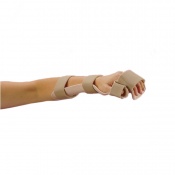 For positioning hand with arthritis or mild hypertonicity
Made from low-temperatre thermoplastic materials
Can be modified by a healthcare professional for a custom fit
Available in a choice of sizes for a comfortable fit
---
Prevents skin breakdown in palm and between fingers
Gel in finger separators is long lasting for extended use
Helps to prevent finger contractures
Ideal for moderate to severe hand tightness
---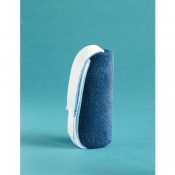 Protects the palm from fingers bending towards the palm
Conforms to hand's natural shape for added comfort
Cotton terry cloth for perspiration absorption
Elastic strap secures cushion to patient's hand
---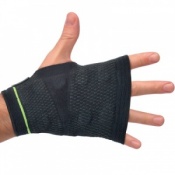 Provides excellent support to painful wrists and hands
16 powerful integrated neodymium magnets
Bicomponent highly breathable knitting
Ideal for tendinitis, arthritis & rheumatism
---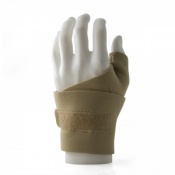 Comfortable and protective wrap for the wrist and thumb
Suitable for arthritis, CMC instability, skier's thumb and more
Lightweight, compact design won't impact on your daily life
Comes in a range of sizes, to suit everyone