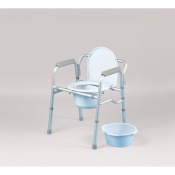 Aluminium commode for assisting with toileting
Suitable for use over toilets as a supportive surround
Clip-on toilet seat can be easily removed for convenience
Adjustable height to suit most users
---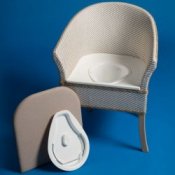 Traditional wooden frame;

Padded removable seat;

High sides for stability;

Easy to use and clean.
---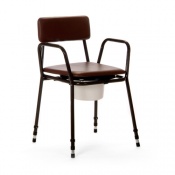 Free-standing commode with toilet seat and removable commode pan
Made from high quality steel with a tough powder coating
Cushioned seat and back covered in flame-retardant vinyl
Available in fixed and height-adjustable versions
---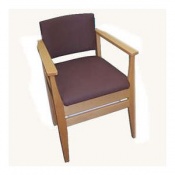 ---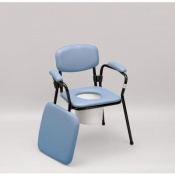 Deluxe metal commode with padded vinyl upholstery
Adjustable height designed to suit most users
Easy to clean for ongoing hygiene maintenance
Supplied with a commode pan and splash chute
---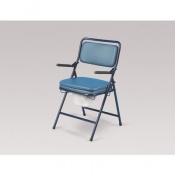 Deluxe metal commode with padded vinyl upholstery
Foldable design ideal for use in minimal space
Easy to wipe down and clean in between use
Supplied with seat and pan lids for hygiene
---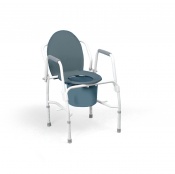 Adjustable-height commode with padded armrests
Armrests provide support with lowering and rising
Drop-down arms for enabling side transfers
Supplied with a toilet seat and commode pan
---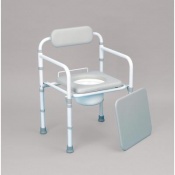 Metal commode with padded upholstery
Folds flat for convenient storage and transport
Can be adjusted in height to suit most users
Non-slip feet and padded backrest for extra support
---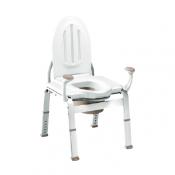 Bedside commode for convenient placement and easier access
Spacious seat base and wide platform for added support and comfort
Handles with rubber grip for increased stability with standing and sitting
Anti-slip rubber feet to help keep the seat secure and in place
---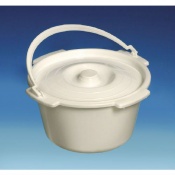 Potty for Luxury Commode Chairs
With lid and handle for easier transportation
Easy to clean for improved hygiene
White in colour for discretion
---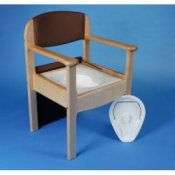 Polished hardwood frame;

Padded vinyl upholstery;

Removable seat tray;

Multi use chair.
---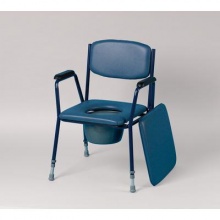 Spare round bowl for select Homecraft commodes
Enables patients with low mobility to regain independence
Helps ease the process of waste disposal
Ideal as a spare or replacement for peace of mind
---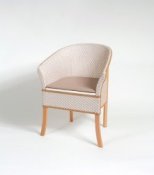 Traditional wooden frame;

Woven fibre upholstery;

Removeable seat;

High chair sides provide support.