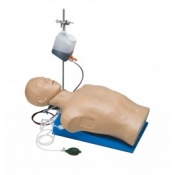 Unique model which combines the most important procedures in thorax trauma treatment
Crafted from realistic silicon material
Creates a life-like experience for students and trainees
Various different procedures can be trained using this simulator
---
Can be used for ultrathin bronchoscope insertion training and endobronchial ultrasound-guided transbronchial needle aspiration training
Bronchi main body and support stand can be removed from black case
peripheral parts of bronchi can be opened and washed
Made of a special silicone rubber for added life-like feel
---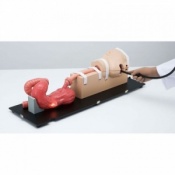 A simulator for inserting an endoscope into the upper gastrointestinal tract and performing an examination
Made of silicone rubber
Transoral and transnasal insertion can be performed
The face portion can be opened at the middle
---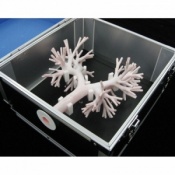 Can be used for insert training of ultrafine bronchoscopy and existing bronchoscopy.
Made of specialized silicone rubber
Internal bronchial tube is human-like colour
Bronchus is detachable and washable
---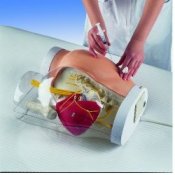 Two-in-One i.m. Injection Model of Buttock
---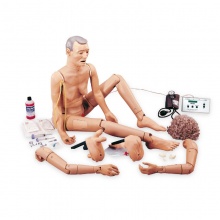 Geriatric anatomical model for medical training
Ideal for teaching nursing care
Lifelike range of motion enables more realistic training
Simulates over 35 nursing and medical procedures
---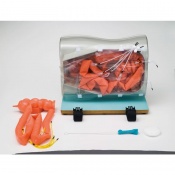 Model for practicing colonoscopy insertion
Made from rubber which feels like a living body
Enables training in endoscopic interventions
Includes laterally-spreading tumor reproduction
---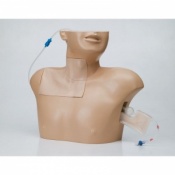 Ideal for practising ultrasound guided central venus puncture and landmark puncture
Perfect for practising exploratory puncture
Simulated blood can be obtained when a needle is inserted into the vain for added authenticity
Ultrasonography imaging system for practising numerous types of venous punctures
---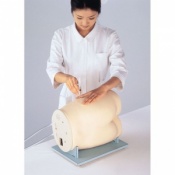 A detailed injection simulator
Includes all anatomical landmarks
Includes drainage system that allows for fluid injection
Ideal for use with medical trainees
---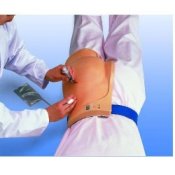 Buttockmate – I.M. Injection Simulator
---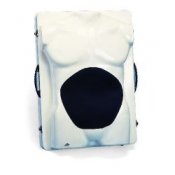 Surgery and Laparoscopy Torso
---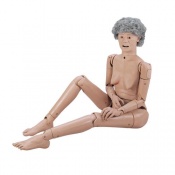 Manikin has a realistic appearance
Simulates a range of techniques
Easily converts to a male model
Has a realistic range of motion
---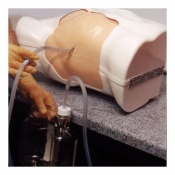 Combines simulated tactile soft tissue within a practical and durable plastic casing
Allows for the realistic practice and training of clinical and surgical techniques
Possible to make surgical incisions through the simulated soft tissue
Accessible and easy to handle
---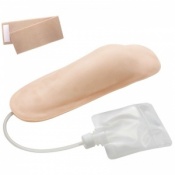 Straps onto the patient arm for realistic treatment practice.
Realistic feel creates patient-like experience.
Built-in sensors indicate correct puncture site and depth of injection.
Fluid can be injected into the model for further realism.
---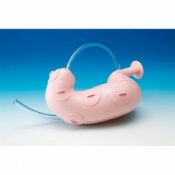 Represents a similar figure to the human stomach
Can be used for the training of ESD
Numerous locations can be used to place tissue
Comes equipped with useful transport case
---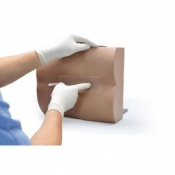 A detailed lumbar puncture trainer
Incredibly lifelike
Can be used to practise a number of procedures
Ideal for use in medical training scenarios
---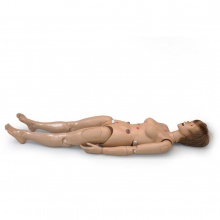 Adult patient care manikin for nurse training
Ideal for teaching basic nursing procedures
Bends at the waist for improved realism
Features different sculpted stomas
---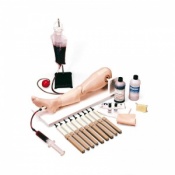 Mounted on a stand for use as an independent skills station
Numerous features for intraosseous infusion practice
Various features for femoral access
Includes useful case
---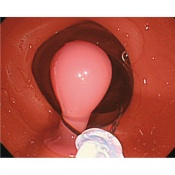 For use with the Colonoscopy Simulator
Train procedures such as snare resection
Will bleed when resected
Yamada classification type IV polyp
---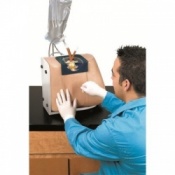 Spinal Injection Simulator
---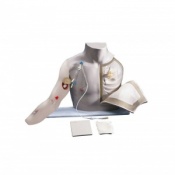 Life-like model of the human torso
Allows the user to practice the most common types of long term vascular access devices
Unique material creates the feel of human tissue
External jugular or subclavian catheters can be added through ports on the Chester Chest
---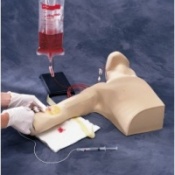 Ideal teaching model for learning about the Peripherally Inserted Central Catheter insertion
Portable and lightweight
Anatomically correct veins
Gain confidence and master the techniques of PICC insertion
---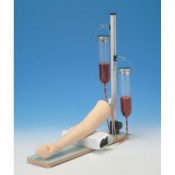 A detailed representation of an arm for use in injection training
Lifelike skin
Can be used repeatedly
Ideal for use in medical training scenarios
---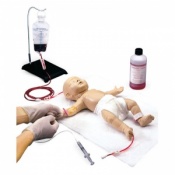 A detailed representation of a newborn female
For use in venous access, injection, and blood sampling practice
Incredibly detailed
Ideal for use in medical training scenarios
---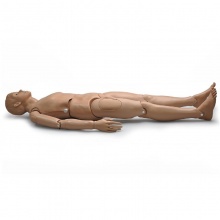 Life-sized patient care simulator
Ideal for teaching care and medical procedures
Articulated joints for enhanced realism
Choice of male or female manikin
---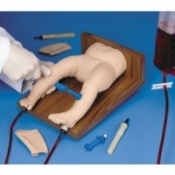 Fantastic trainer for Intraosseous Infusion
Life-like model
Bones are connected with a tubing system which allows aspiration of blood
Includes useful transport case and numerous replacement parts
---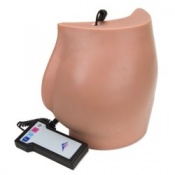 Buttock Injection Simulator
---
Vascular access medical trainer
Ideal for teaching medical staff or patients
Improved rotation and extension compared to basic model
Can be used in upright or horizontal positions
---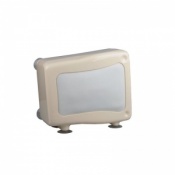 A simulator for use in practising anaesthetic epidural injection
Incredibly lifelike
Anatomically accurate
Ideal for use in medical training environments
---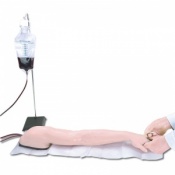 A detailed injection trainer
Includes a wide range of veins of the arm
Movable to allow for manipulation practice
Ideal for use in medical training scenarios
---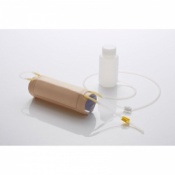 A set of 5 injection trainers
Can be worn by patient
Replaceable veins
Ideal for use in medical training environments
---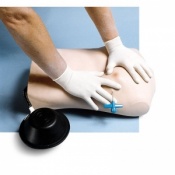 Recommended by EMT instructors
Ideal for learning the procedure for managing chest wounds in which a collapsed lung interferes with the patient's respiration and blood flow
Realistic training aid
Includes foot pump, replacement pleural cavity and carrying bag
---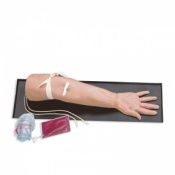 A detailed representation of a geriatric arm
Made from live cast
Incredibly realistic
Ideal for use in medical training scenarios
--- Very useful consumable for Thorax Trauma Simulator
The Thorax Trauma Simulator is a life-like and realistic model and this is very a helpful spare part for it
Allows user to continue performing the Pericardiocentesis procedure on the Thorax Trauma Simulator
Light weight and portable
---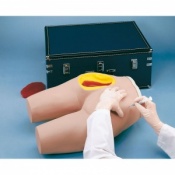 A detailed injection simulator
Includes detailed palpable bony structures
Lifelike feel
Ideal for use with medical trainees
---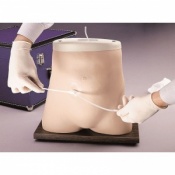 Realistic replica of a belly/pelvis torso for increasing knowledge
Can be used for demonstrating continuous ambulant peritoneal dialysis
Includes useful transport case
Includes Tenckhoff catheter
---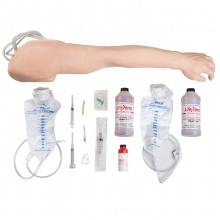 Model arm for injection training
Ideal for practising injections on adult males
Replicates the look and feel of a full-sized adult arm
Offers complete venous access
---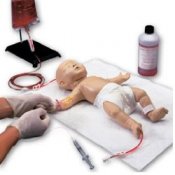 Infant Venous Access Simulator
---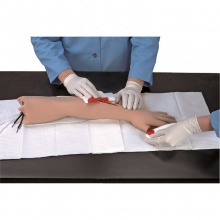 First aid training arm with wounds
Ideal for first aid trainers, medical students and paramedics
Provides life-like training to treat severe bleeding
Includes severed thumb, wounded vinyl arm and venous bag
---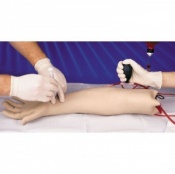 Perfect for practicing and demonstrating drawing blood samples.
Authentic feel creates patient-like experience.
Realistic back-flow of blood in the syringe confirms proper needle location in the artery.
Delivered with spare parts to further your training experience.
---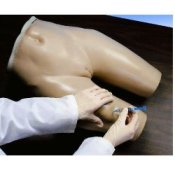 ---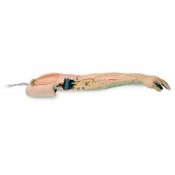 Advanced Venipuncture and Injection Arm, White
---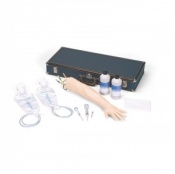 Used to demonstrate preparing the patient's arm for hemodialysis
Simple to set up and use
Actual realistic flashback when a needle is introduced for a realistic feel
Artificial blood is a similar shade to the blood common in dialysis patients for added authenticity
---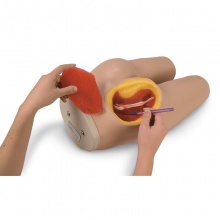 Intramuscular injection simulator with realistic skin and muscle
Ideal for medical students and healthcare professionals
Used to teach gluteus medius, ventrogluteal and vastus lateralis injections
Made of durable materials and comes with five year warranty
---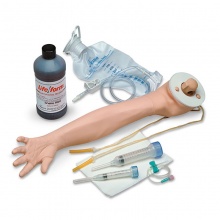 Replica of a five-year-old child's arm for venipuncture and intramuscular injection
Realistic vinyl skin and latex veins for realistic practise
Ideal training aid for students, doctors and teachers
Supplied with fluid bags, syringes, needles and Life/form blood
---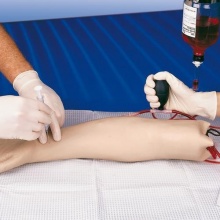 Incredibly realistic model arm for injection training
Ideal for use in medical training settings
Allows students to practise arterial blood drawing
Supplied with replacement arterial sections
---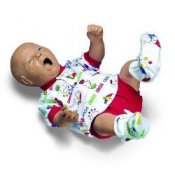 Newborn Patient Care Baby
---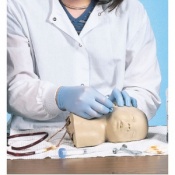 A detailed representation of a 6 month old infant's head
Includes jugular and temporal veins
Incredibly detailed
Ideal for use in medical training scenarios
---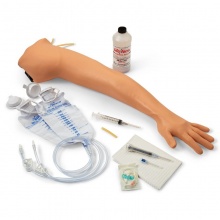 Training aid to practise venipuncture in adults
Ideal for medical students and practitioners
Easy to use injection trainer with realistic vinyl skin
Durable construction with five year warranty
---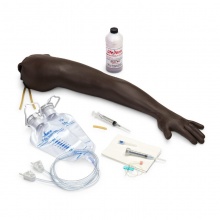 Training aid to practise venipuncture in adults
Ideal for medical students and practitioners
Realistic feel of puncture through vinyl skin and latex veins
Durable construction with five year warranty
---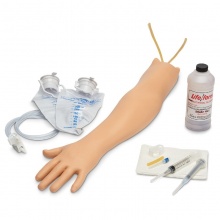 Training tool to practise haemodialysis on arm
Ideal for medical students, nurses and health practitioners
Designed with replaceable skin and vascular system
Realistic training tool with flashback on needle insertion
---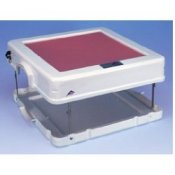 ---
Very useful consumable for Thorax Trauma Simulator
Allows user to continue training on neck of Thorax Trauma Simulator
Realistic neck cover
Light weight and portable
---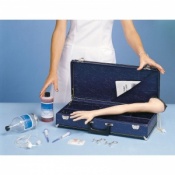 A detailed representation of the arm of a six year old child
Can be used for intravenous and intramuscular injection
Incredibly detailed
Ideal for use in medical training scenarios
---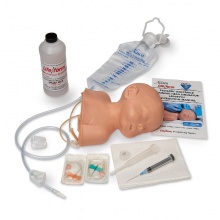 Paediatric injection head to represent a 6-month-old baby
Ideal for medical students, midwives and nurses
Life-like vinyl skin rolls for easy vein location
Head is accessible for IV infusions
---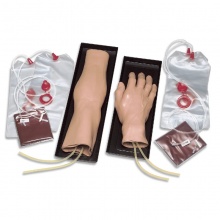 Training aid to practise IV therapy and venipuncture
Ideal for medical students and practitioners
Life-like vein rollover and palpation of vein for location
Durable construction for repeated use
---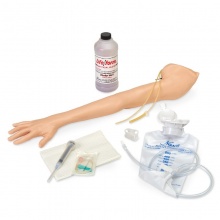 Training aid to practise venipuncture in children
Ideal for medical students and practitioners
Life-like vinyl skin and palpation of vein for location
Durable construction with five year warranty
---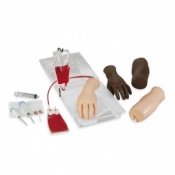 A detailed trainer for use in practising IV injection of the arm and hand
Includes all injection paraphernalia
Incredibly lifelike
Ideal for use in medical training scenarios
---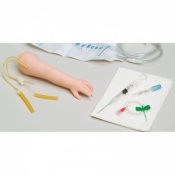 A detailed representation of an infant arm
For use in practising IV injection
Incredibly detailed
Ideal for use in medical training environments
---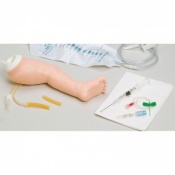 A detailed representation of a infant leg
For use in training infant IV injection techniques
Incredibly detailed
Ideal for use in medical training environments
---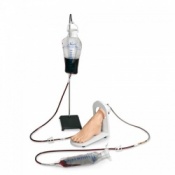 Highly detailed leg model
For use in training foot IV injection
Made from lifelike synthetic materials
Ideal for use in medical training scenarios
---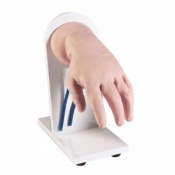 A detailed representation of the hand
For use in IV injection training
Incredibly detailed
Ideal for use in medical training environments
---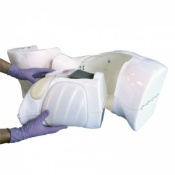 Very useful option for the Chest Drain Simulator
Enables practice of pleural aspiration/tap.
Can be filled with different coloured fluids to demonstrate variable conditions
Fantastic spare part
---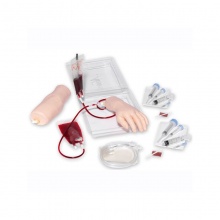 Lifelike I.V. trainer for medical students and professionals
Hand and arm combo for practising IV skills
Designed using soft material and realistic veins
Ideal way to teach venipuncture techniques
---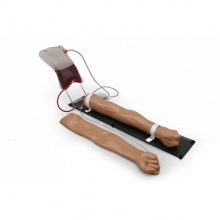 Intravenous training arm for students and professionals
Features a prominent venous network for versatile practise
Simulated cephalic, basilic, antecubital, radial and ulnar veins
Blood collection exercises with simulated blood
---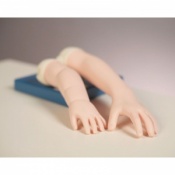 Detailed representation of a child's arm
Available in 1 and 3 year old options
Incredibly lifelike
Ideal for use in medical training environments
---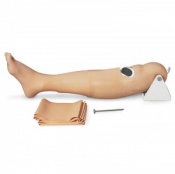 Realistic lower leg of an adult which allows for intraosseous access training.
Improve your knowledge of the whole procedure of intraosseous access
Ideal for students and trainees
Bone and skin are replaceable
---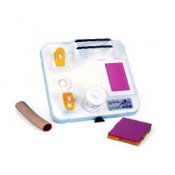 ---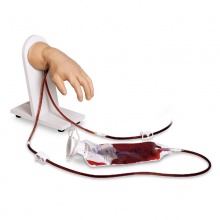 Advanced IV injection hand trainer
Ideal for medical students, nurses and other health practitioners
Injectable metacarpal, digital and thumb veins
Soft, flexible fingers with realistic fingerprints
--- Very useful consumable for Thorax Trauma Simulator
Allows user to continue performing the Thoracentesis procedure on the Thorax Trauma Simulator
Realistic puncture site
Light weight and portable
--- Very useful consumable for Thorax Trauma Simulator
Allows user to continue performing the Thoracentesis procedure on the Thorax Trauma Simulator
Realistic puncture site
Light weight and portable
--- Very useful consumable for Thorax Trauma Simulator
Allows user to continue performing the Thoracic drainage procedure on the Thorax Trauma Simulator
Includes cut for ease of use
Light weight and portable
--- Very useful consumable for Thorax Trauma Simulator
Allows user to continue performing the Thoracic drainage procedure on the Thorax Trauma Simulator
Includes cut for ease of use
Light weight and portable
---
---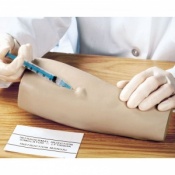 A lifelike representation of a forearm for use in intradermal injection training
Incredibly detailed
Includes sealant, a syringe, and a storage box
Ideal for use in medical training scenarios
---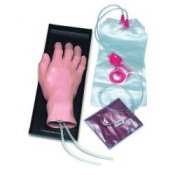 --- Very useful consumable for Thorax Trauma Simulator
Allows user to continue training on neck of Thorax Trauma Simulator
Realistic neck cover
Light weight and portable
---
--- Very useful consumable for Thorax Trauma Simulator
Includes 5pcs
Allows user to continue performing the Thoracic drainage procedure on the Thorax Trauma Simulator
Light weight and portable
--- Very useful consumable for Thorax Trauma Simulator
Includes 5pcs
Allows user to continue performing the Thoracic drainage procedure on the Thorax Trauma Simulator
Light weight and portable
---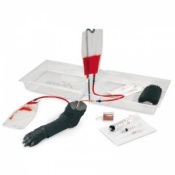 Fully functional canine i.v. leg trainer
Life-like representation of the left foreleg of a medium-sized dog
Replaceable vein system offers actual blood flashback for added realism
Great educational tool
---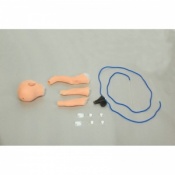 Replacement parts for the Nita Newborn - Venous Vessel Access Simulator
Include skin and vein
Incredibly detailed
Ideal for use in medical training scenarios
---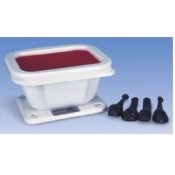 Abdominal Open and Closure Trainer
---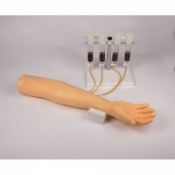 A detailed injection trainer
Specifically designed for the Swiss army
Allows for blood sampling, injection, and infusion
Ideal for use in medical training scenarios
---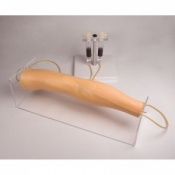 A detailed injection training arm
Incredibly lifelike
Includes interchangeable parts
Ideal for use in medical training scenarios
---
---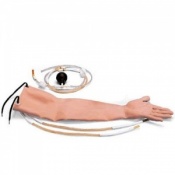 Ideal replacements for the Arterial Puncture Arm
Perfect for furthering arterial puncture education
Life-like skin for an authentic feel
Fantastic spare parts to continue practicing and demonstrating of drawing arterial blood samples
---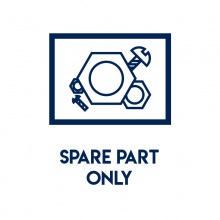 Spare parts for the Injection Trainer Arm
Includes replacement veins and skin
Incredibly lifelike
Ideal for training environments
---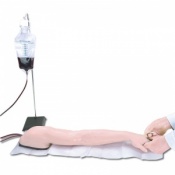 Spare parts for the Training Arm for Intravenous Injection
Incredibly detailed
Either vein and skin set or individual vein
Ideal for use in medical training scenarios
---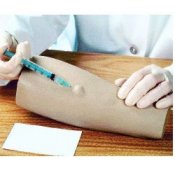 Intradermal Injection Simulator
--- Replacement skin for the Central Venous Cannulation Simulator
Enables your to replace damaged and worn skin
The ideal trainer for ACLS and ATLS participants
Ensures you are never left without your simulator
--- Very useful consumable for Thorax Trauma Simulator
Allows user to continue performing the Thoracentesis procedure on the Thorax Trauma Simulator
Realistic puncture site
Light weight and portable
--- Replacement veins for use with the Fit-On Type IV Injection Trainer only
Includes 100 veins
Easy to install
Ideal for medical trainees
---
--- Replacement parts for the Child Injection Training Arm
Includes replacement skin and vein
Incredibly detailed
Ideal for use in medical training scenarios
---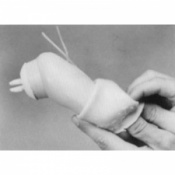 Replacement parts for the Baby IV Leg
Skin and vein available
Incredibly detailed
Ideal for use in medical training scenarios
--- Extremely helpful spare part for Peter PICC Line
Perfect for furthering PICC learning
Ideal if Peter PICC Line body skin needs replacing
Lightweight and portable spare part
--- Parts for use with the Geriatric IV Training Arm
Includes vein and skin set
Incredibly detailed
Ideal for use in medical training scenarios
---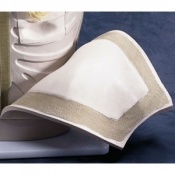 Extremely useful spare part for the Chester Chest
Ideal for furthering your knowledge of the most common types of long term vascular access devices
Perfect if the outer tissue flap needs replacing
Lightweight and portable spare part
---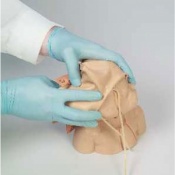 Replacement parts for the Paediatric Head Injection Trainer
Includes replacement skin and veins
Incredibly detailed
Ideal for medical training scenarios