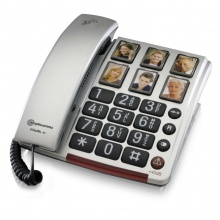 Adjustable volume for louder ringing and receiver
Larger button sizes suitable providing easier dialling
Flashing light increases awareness of incoming calls
Programmable photo buttons to help with memory loss
---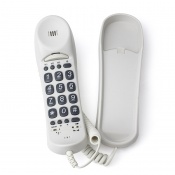 Adjustable volume ideal for the hard of hearing
Visual ringer indicator providing additional prompt
Wall mountable for improved convenience
Thirteen number memories providing easier dialling
---
Fully adjustable volume from a normal receiver volume to 60dB
Ringing volume is adjustable to meet your individual requirements
Smart and simple design makes answering a call quick and easy
Large buttons with high contrast numbers enable easy dialling
---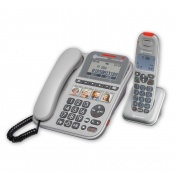 Cordless handset and corded phone with built-in answer machine
Amplified volume of 40dB and an extra-loud 90dB ring volume
High-definition DSL sound for clearer conversations
User-friendly design with hearing aid compatibility
---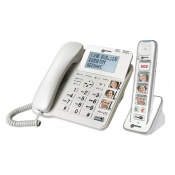 Possibility to pair up to five handsets
Adjustable receiving volume control
Suitable for use with hearing aids
Allows you to store 50 numbers
---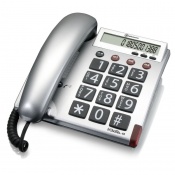 Adjustable volume for louder ringing and receiver
Larger button sizes providing easier dialling
Screen displaying phone numbers dialled
Three programmable speed-dial buttons ideal for emergency use
---
Amplified telephone with adjustable volume and tone settings

Ideal if you struggle to hear conversations with your current phone

Enjoy clearer conversations with a receiver volume of up to 40db

Dial numbers more easily with large and clear buttons
---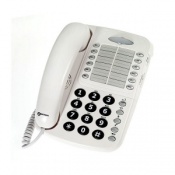 Amplifies up to 30dB
Tone control +/- 10dB for more clarity
Twelve direct memories for easy dialing
Big buttons for additional clarity
---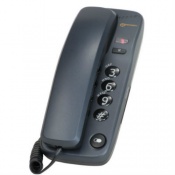 ---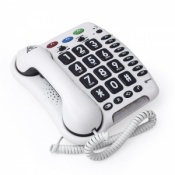 Enables a speech volume range of +/-4dB
Includes a visual ringer indicator for the hard of hearing
Nine emergency memories and three direct memories
Compatible with most hearing aids
---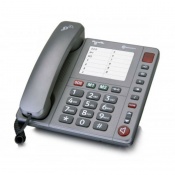 Adjustable volume for louder ringing and receiver
Larger button sizes suitable providing easier dialling
Flashing LED increases awareness of incoming calls
Three programmable speed-dial buttons ideal for emergency use
---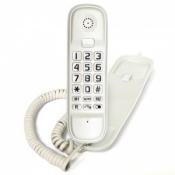 Compatible with hearing aids
Two direct memories for super-quick calling
High-contrast keypad for easy use
Ringer volume up to 75dB
---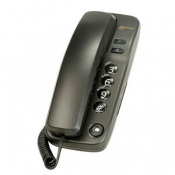 ---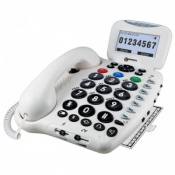 Adjustable receiver volume up to 50dB
Compatible with hearing aids
Answering machine for recording messages
Large LCD screen for easier reading
---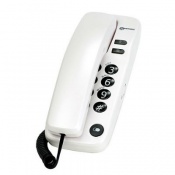 ---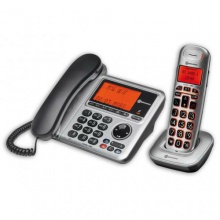 Ringer volume of up to 80dB
Amplified receiver volume of up to 30dB
Extra-large dot-matrix LCD screen is easier to see
Adjustable settings to benefit individual users
---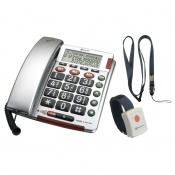 Adjustable volume for louder ringing and receiver
Larger button sizes providing easier dialling
Splash-proof alarm transmitter suitable for wearing on wrist or around neck
Three programmable speed-dial buttons ideal for emergency use
---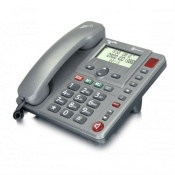 Adjustable volume for louder ringing and receiver
Larger button sizes providing easier dialling
Large screen display with LCD backlight
Three programmable speed-dial buttons ideal for emergency use
---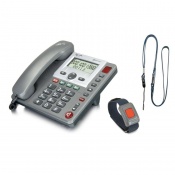 Adjustable volume and larger buttons for easier use
Large screen display with LCD backlight
Three programmable speed-dial buttons ideal for emergency use
Wireless remote SOS pendant enables distant emergency button activation
---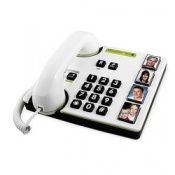 Easy to operate;
Ergonomically designed;
Handset volume up to 35dB;
One touch photo memory buttons.
---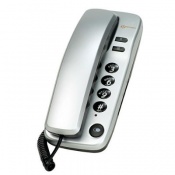 ---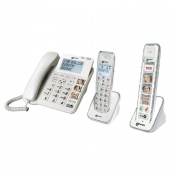 Includes a corded phone, a cordless handset and a cordless photo phone
Easily adjustable receiving volume of the corded phone and both handsets
Fully hearing aid compatible for clearer conversation
Adjustable speaker volume allows clear communication
---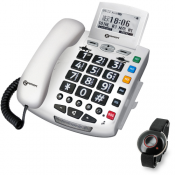 Up to 30dB receiver volume
Five one-button memories
Includes emergency response transmitter
Dials five numbers when pressed
---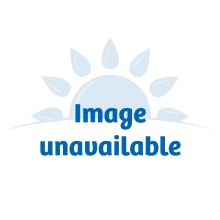 ---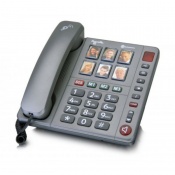 Adjustable volume for louder ringing and receiver
Larger button sizes suitable providing easier dialling
Flashing LED increases awareness of incoming calls
Programmable SOS and photo buttons to help with memory loss
---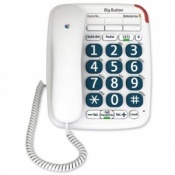 Features a large keypad for the visually impaired
Programmable with 13 numbers for fast dialling
Hearing aid compatible for the hearing impaired
Includes a receiver with sound up to 14dB
---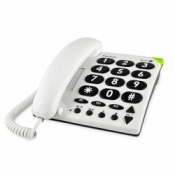 Easy to use, big buttons;
Hearing Aid Compatible;
Easily adjustable volume;
3 speed dial memories.
---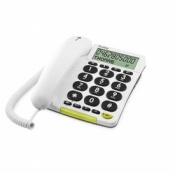 Large & clear display;
Extra high contrast;
Speakerphone;
Visual ring indicator.
---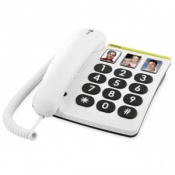 Big button telephone
Three photo memory buttons for fast dialling
Hearing aid compatible
Receiver volume up to 18dB
---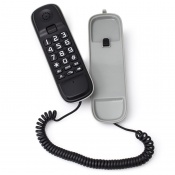 Compatible with most hearing aids
Two direct memories for super-quick calling
High contrast keypad for easy use
Ringer volume up to 75dB
---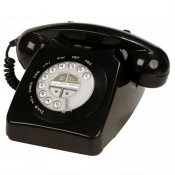 Adjustable ringer volume and pitch for optimum sound
Push button operation for easy dialling
Stylish retro imitation rotary dial to complement most decors
Compatible with most PABXs
---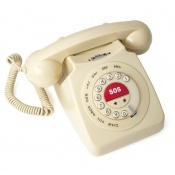 Rotary style phone that is easy to use
Adjustable receiving volume control of up to 30dB
Compatible with most hearing aids
One emergency memory button
---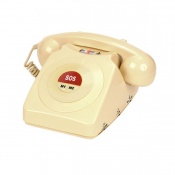 Adjustable receiving volume control of up to 30dB
Compatible with most hearing aids
Three one-touch memory numbers
Dimensions (LxDxW): 15.5 x 8.5 x 18.5cm
---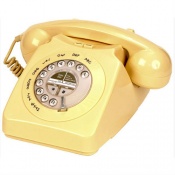 Adjustable ringer volume and pitch for optimum sound
Push button operation for easy dialling
Stylish retro imitation rotary dial to complement most decors
Compatible with most PABXs
---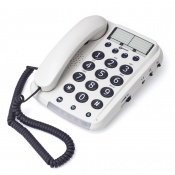 Easy to use, large keypad
Slide control amplified receiver up to 15dB
Visual ring indicator
Hearing aid compatible
---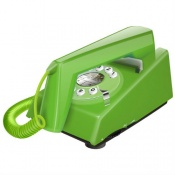 Adjustable ringer level for optimum sound
Push button operation for easy dialling
Stylish retro design to complement most decors
Convenient shape for easily holding onto the receiver
---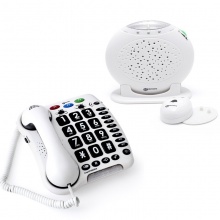 Money saving bundle to allow you to reach those hard of hearing
Easy to use Geemarc Telephone is 4 to 5 times as loud as normal phone
Extra loud adjustable Geemarc Doorbell Amplifier reaches 95db
Ensures you can always reached loved ones when needed
---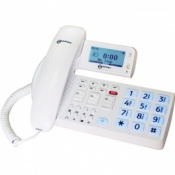 Amplifies phones calls up to 30dB
Compatible with hearing aids
High contrast keypad for easy reading
Speaks incoming numbers and names
---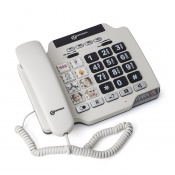 Amplified phone with quick dial photo buttons

Ideal for children and older people who struggle to remember numbers.

Receiver volume up to 30db, 3 to 4 times as loud a normal phone

Suitable for people with high frequency hearing loss
---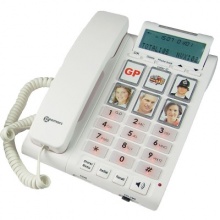 Amplified telephone with loud handset and picture speed-dial buttons
Ideal for those who have trouble remembering numbers and hearing the phone
One of the loudest amplified telephones on the market
Receiver volume up is adjustable up to 40dB with a 90dB ringer
---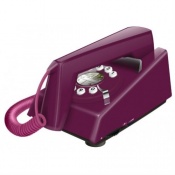 Adjustable ringer level for optimum sound
Push button operation for easy dialling
Stylish retro design to complement most decors
Convenient shape for easily holding onto the receiver
---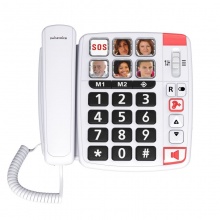 Amplified telephone with ringer volume up to 85dB
Designed especially for the hard of hearing
Six photos buttons for that make it easier to call your loved ones
Volume is adjustable with four levels and an audio-boost key
---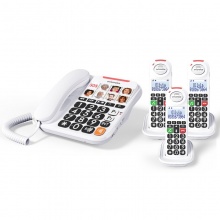 Easy-to-use amplified telephone with ringing volume of up to 85 dB
Suitable even for the elderly suffering from memory loss
Combines corded and cordless handset for greater versatility
Compatible with your hearing aid
---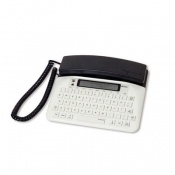 Sends and receives textcalls for those with hearing loss
Calls can comprise both speech and text for maximum benefit
Flashing light indicator when calls are received
Adjustable volume ideal for anybody with limited hearing