Coccyx Pressure Relief Cushions
The coccyx, or tailbone, is one of the most vulnerable areas to pain and pressure sores. Coccydynia, or frequent tailbone pain, can be caused by a variety of factors, and once developed should be treated with a cushion with a coccyx cut-out for complete pressure relief of the area. Out Coccyx Pressure Relief Cushions are designed for maximum relief of the tailbone area, making them vital for anyone suffering from coccyx pain or coccydynia.
Chair cushion for comfortable and upright sitting
Relief from pressure across the sacrum and coccyx
Can be used after injuries or for post-operative recovery
Available in two colours to choose from
---
Pressure relief rating: Medium risk
Made with castellated foam for pressure reduction
Removable coccyx insert for extra coccyx pressure relief
Ideal for wheelchairs and/or day care chairs
---
Nodular foam cushion
Cut out relieves pressure on coccyx
Lightweight and comfortable
Luxury suedette cover included
---
Great all round cushion.

Coccyx cut out provides extra comfort at base of spine.

Allows air to circulate to relieves pressure.

For users at low risk of developing pressure sores.
---
Polyester and cotton cover for seat wedge
Designed specifically for the Sissel Sit Special Coccyx Wedge
Machine washable for lasting hygiene
Available in 2 colours to choose from
---
Comfortable foam cushion with cut-out in the coccyx area
For users at low risk of developing pressure sores
Ideal for reducing tailbone and coccyx pain
Foam pockets allow air to circulate to reduce friction
---
Chair wedge for comfortable and upright sitting
Ideal for promoting proper posture and reducing tension
Relieves stress on spine and inter vertebral discs
Available in two professional colours to choose from
---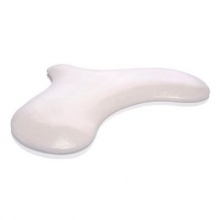 DermisPlus pressure redistribution pad for the sacral area
Also suitable for relieving pressure on the ankle or shoulder
Durable yet suitable for cutting to size without fibre shedding
Suitable for washing with soap and water for hygiene control
---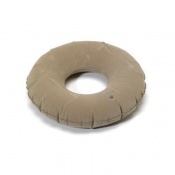 Durable inflatable PVC doughnut cushion
Enhances sitting comfort and relieves pressure
Reduces the occurrence of pressure sores
Easy to inflate for convenience
---
Tilts pelvis forward;

Restores the backbone's natural curve;

Helps prevent pain by suspending coccyx over cut out section;

Machine washable zip-up cover;