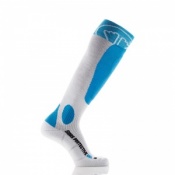 Gel padding to protect shin
Ideal for skiing
Thermal regulation
Ultimate comfort
---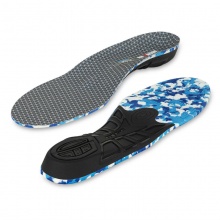 Rigid orthotic insoles with heel cup
Ideal for use during intensive training
Flexalign material converts impact into energy
Designed specifically for high arches
---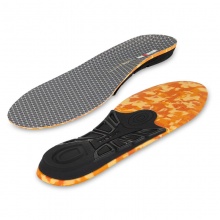 Rigid orthotic insoles with heel cup
Ideal for use during intensive training
Flexalign material converts impact into energy
Designed specifically for low arches
---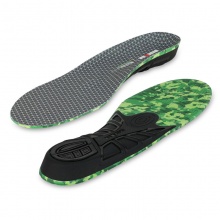 Rigid orthotic insoles with heel cup
Ideal for use during intensive training
Flexalign material converts impact into energy
Designed specifically for medium arches
---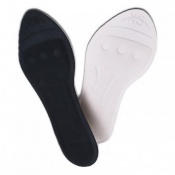 Made with high quality, food-grade glycerin
Naturally relieves pain in the feet and legs
Clinically proven to increase circulation
Massages and cushions your feet
---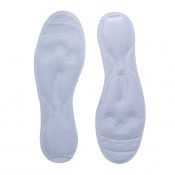 Class 1 Medical Device orthotics to prevent diabetic foot ulcers
Offloads foot pressure and increases lower leg circulation
Prevents the two main causes of diabetic foot ulcers
Matches foot structure for directional stability
---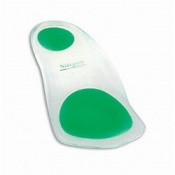 Dual density silicone construction

Designed for maximum shock absorbtion

Ideal for sporting use

Latex free and hypoallergenic
---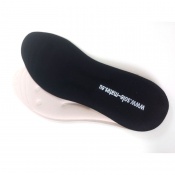 Massages your feet with every step you take
Improves circulation and relieves pain
Moulds to the shape of your feet
Ideal for a number of conditions
---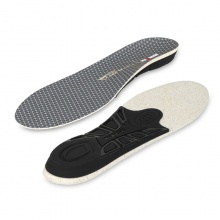 Impact cushioning outdoor gel insoles
Designed for training in diverse environments
Comprehensive heel cup reduces heel impact
Improves foot posture for comfort and performance
---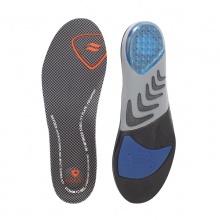 Pair of shoe insoles with stabilising arch and heel plate
Designed to reduce impact and improve comfort
Shock absorption provided by a polymer gel layer
Keeps feet fresh with COOLMAX moisture-wicking layer
---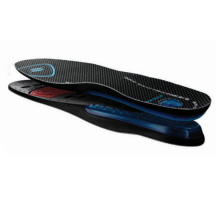 Pair of insoles with a firm heel and gel contouring
Designed to reduce impact and improve comfort
Gel-cushioned footbed for impact reabsorption
Firm arch and heel contouring for support
---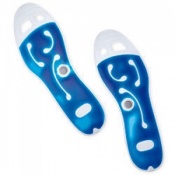 Combined gel and magnetic supportive insole
Absorbs shock and pressure to the foot
Carefully placed neodymium magnets for pain relief
Easily trimmed to fit any shoe
---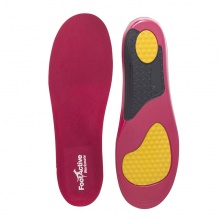 Orthotic shoe insoles designed for work shoes
Ideal for anyone who works on their feet
Gel heel and padded forefoot to protect against impact
Helps to correct alignment for better foot and leg comfort
---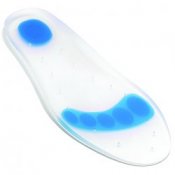 Provides relief for heel, arch and forefoot problems

Clear silicone construction

Innovative design

Supplied in pairs
---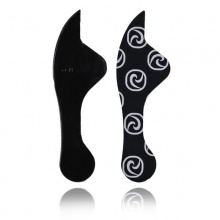 Highly durable insoles compensate for pronation or supination
Ideal for athletes who struggle with foot rolling
Encourages a natural walking position for improved comfort
Unique polyurethane-based gel absorbs high levels of shock
---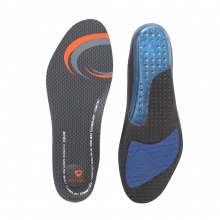 Pair of insoles with a comfortable gel forefoot
Designed to reduce impact and improve comfort
Shock absorption provided by a polymer gel layer
Keeps feet fresh with COOLMAX moisture-wicking layer
---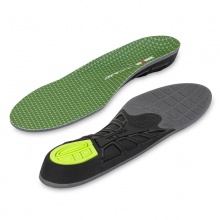 Gel insoles with impact reducing heel cup
Designed for sports training and recovery
Flexalign material converts impact to energy
Improves foot posture for performance and comfort
---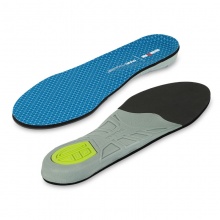 Gel insoles design to reduce impact and boost performance
Ideal for use during intensive training or recovery
Heel cup supports foot and prevents impact injury
Pwr-Thane design converts impact to energy
---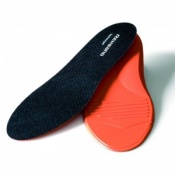 Pair of shock absorbing insoles
Optimal fit for football boots
Lightweight and narrow fit
Anatomic design
---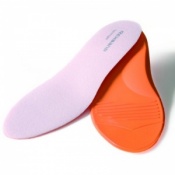 Pair of shock absorbing insoles
Especially suitable for indoor shoes
Narrow shape for easier fit
Comfortable, anatomic design
---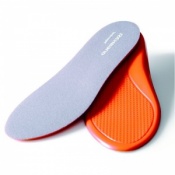 Pair of anatomically shaped insoles
Fit comfortably in leisure shoes
Excellent shock absorption
Decrease strain during activities
---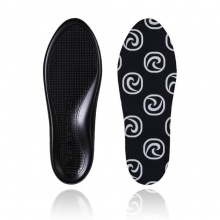 Highly durable shock-absorbing full length insoles
Ideal for athletes suffering from foot, knee, hip or back strain
Anatomically shaped and lightweight for a better fit and comfort
Made with a unique PU-based gel that supports and stabilises your feet
---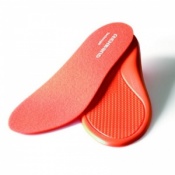 Pair of anatomically shaped insoles
Designed for running shoes
Reduce impact whilst running
Reduce risk of injury
---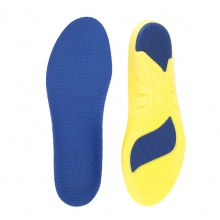 Pair of shoe insoles for sports and athletic activities
Designed to improve footwear performance and comfort
Gel drops in heel and forefoot absorb shock
Implus and Hydrologix technologies for comfort and freshness
---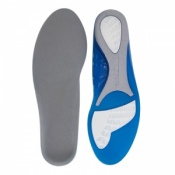 Provides maximum cushioning

Anatomical Cushioning System

Heel cupping provides optimal fit

Correct arch placement
---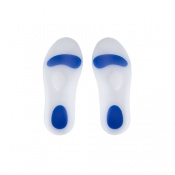 Full-length hypoallergenic silicone gel insoles
Provide shock absorption to reduce impact to feet
Cushion the metatarsals and provide heel support
Can be trimmed at the forefoot for a customised fit
---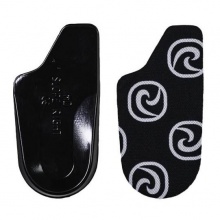 Highly durable heel pads to absorb shock and unload pressure
Ideal for athletes suffering from heel issues like a ruptured fat pad
Supports the midfoot and unloads heel-related issues
Made with Technogel to absorb high levels of shock
---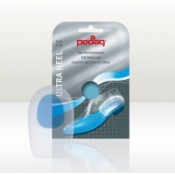 Ultra soft gel heel cup
Relieves symptoms of heel spurs
Two shock absorbent zones
Reusable and washable
---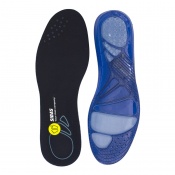 Offer maximum protection due to Sidas's cushioning gel concept
Special micro-bubbles absorb impact
Feature micro-perforations that ensure breathability
Fitted with microbial resistance for enhanced freshness
---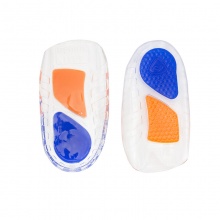 Pair of men's insoles for targeted arch support
Suitable for most footwear types for versatile use
Dual-density Sof Gel for improved comfort
Gel cushioning cradles heel to reduce impact
---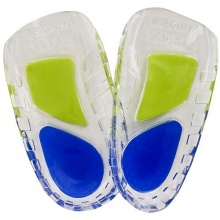 Pair of women's insoles for targeted arch support
Suitable for most footwear types for versatile use
Dual-density Sof Gel for improved comfort
Gel cushioning cradles heel to reduce impact
---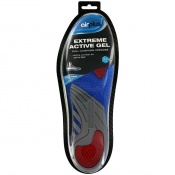 Absorbs shock with gel at heel and ball-of-foot
Breathable gel provides enhanced cushioning
Arch support helps to increase stability
Can be trimmed to size for optimal fit in most shoes
---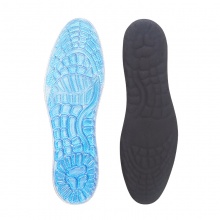 Pair of men's insoles with massaging gel cells
Suitable for most footwear types for versatile use
Ideal for improving comfort while walking
Improves blood flow and soothes heavy leg sensation
---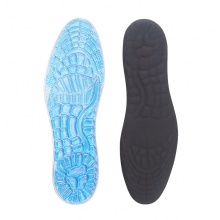 Pair of women's insoles with massaging gel cells
Suitable for most footwear types for versatile use
Ideal for improving comfort while walking
Improves blood flow and soothes heavy leg sensation
---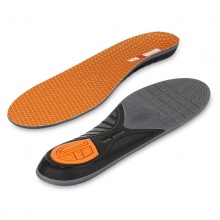 Lightweight gel insoles with impact heel cup
Suitable for training or simply daily wear
Flexalign material converts impact to energy
Trimmable to perfectly fit most foot sizes
---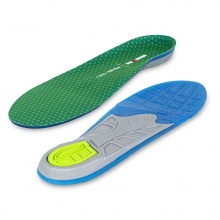 Lightweight impact reducing gel insoles
Suitable for everyday use or training
Reduces heel impact and improves gait
Available in six sizes for most feet
---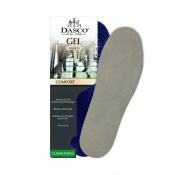 Insoles to enhance everyday comfort
Advanced cushioning technology
Will fit most shoes and boots
Trim-to-fit design
---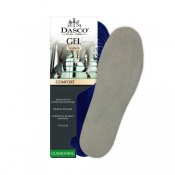 Insoles to enhance everyday comfort
Advanced cushioning technology
Will fit most shoes and boots
Trim-to-fit design
---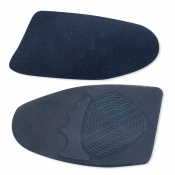 Protects against shock and friction
Reduces ball of foot pain and lessens aching and fatigue
Ideal for high-impact activities
Supplied in a single universal size
---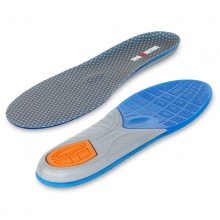 Gel insoles with an impact reducing heel cup
Perfect for daily wear or during training
Soothes heel and plantar fascia while improving gait
Trimmable to reach a perfect fit to most feet
---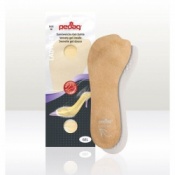 Made from vegan-friendly materials for peace of mind
Extra thin cushion for use in stilettos and high heels
Velvety soft gel insoles so you remain comfortable
Relieves discomfort in heel and forefoot
---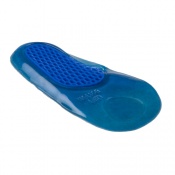 Gel comfort insoles for everyday activities
Absorb shock to shield the heels against impact
Reduce pressure on the balls of the feet
Enhance stability and reduce foot fatigue
---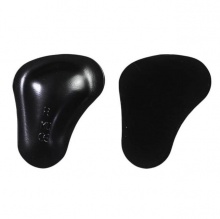 Metatarsal pads for relieving anterior arch pain
Ideal for athletes looking for all-around support
Made with Technogel, a unique gel that absorbs shock
Anatomical T-shape improves fit and function of inserts
---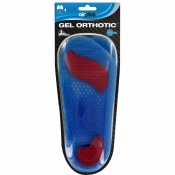 Absorbs shock with gel at heel and ball-of-foot
Breathable gel provides enhanced cushioning
Arch curvature helps to increase stability
Three-quarter insoles can be trimmed to fit most shoes
---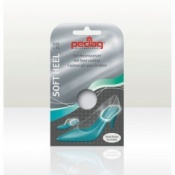 Wedge shaped gel heel cushions;
Alleviates pain in the Achilles tendon;
Shock absorbent;
Reusable & washable.
---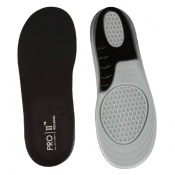 Sports insoles with revolutionary air and gel technology
Absorb shock to protect the heels and arches from impact
Breathable material reduces foot odour and keeps feet cool
Rough pattern massages sore feet and improves circulation
---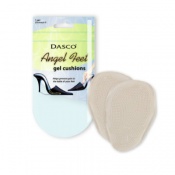 Ultra-thin gel ball-of-foot cushions
Prevent pain when wearing high heels
Washable for better hygiene
Will fit most high heels and sandals
---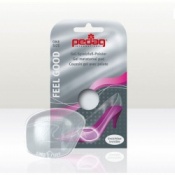 Gel pad with integrated metatarsal support;
Padded wings to cushion the toes;
Ideal for high heeled shoes;
Reusable & washable.
---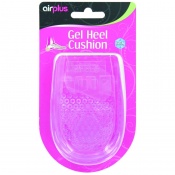 Cradles the heel for stability and support
Ideal for providing relief from heel spurs
Breathable gel provides enhanced cushioning
Lightweight and flexible for a slim fit in most shoes
---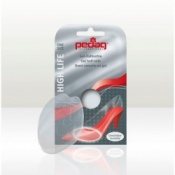 Anatomically shaped gel half sole;
Cushions the ball of the foot;
Improves fit of intermediate sizes;
Removable & washable.
---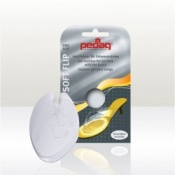 Gel pad for flip flops;
Protects skin between the toes;
Relieves pain in the forefoot;
Reusable & washable.
---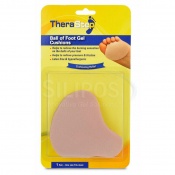 Protects against rubbing, friction, abrasion and pressure

Excellent for relieving the burning sensation on the ball of the foot

Gently massages the bottom of the foot

Supplied in pairs for ease of use
---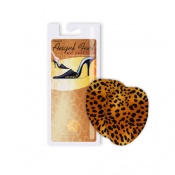 Ultra-thin gel ball-of-foot cushions
Prevent pain from wearing high heels
Soft fabric cover for added comfort
Will fit most high heels and sandals