Proven to be comfortable and provide effective pressure redistribution
Designed for use on a standard static chair with armrests
Easy to clean and will deflate down to a compact size
Inflated dimensions (LxW): 45 x 45cm
---
Cushion air alternates to relieve pressure on the buttocks
Supports a maximum user weight capacity of 18.9 stone
Water-resistant cover protects against spills and urine
Made for patients at high risk of pressure sores
---
Pressure relief rating: High risk
Distributes weight, reduces irritation and prevents friction
High levels of pressure relief delivered using dry flotation technology
Available in 20 sizes with 10cm thickness
---
Pressure relief rating: Very high risk
Alternating air wheelchair cushion for dynamic pressure care
Simple controls allow easy adjustment to meet patient needs
Supplied with a two-way stretch, waterproof cover for hygiene
---
For patients at very high risk of developing pressure sores
Allows patients to experience pressure relief while sitting down
Uses alternating air technology to maintain even pressure
Available with or without a pump
---
Pressure relief rating: Low risk
Suitable for low risk pressure risk patients
Easy to set-up, inflate and adjust
Choice between a standard and incontinence cover
---
Pressure relief rating: High risk
Superb pressure relief cushion
High levels of pressure relief due to dry flotation technology
Features a thickness of 6cm and is available in 20 different sizes
---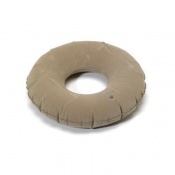 Durable inflatable PVC doughnut cushion
Enhances sitting comfort and relieves pressure
Reduces the occurrence of pressure sores
Inflatable by mouth for added convenience
---
Designed to relieve pressure on soft tissue areas
Suitable even for those assessed as very high risk
May be used in bed or with feet elevated
Can be used with patients weighing up to 139kg
---
Portable alternating pressure relief cushion for high risk users
Ideal for wheelchair users who need dynamic relief on the go
Powered by a lithium-ion battery to provide over 24 hours of operation
Easy-to-use settings allow carers to set up the cushion in minutes
---
Battery-powered wheelchair pressure relief cushion for high risk users
Features dynamic air cells that alternate to provide pressure relief
One in two cell cycle provides excellent relief to the sacral area
Up to 12 hours of battery life to provide mobility and freedom
---
---
Uses the latest injection moulding technology

Offers a superior pressure relieving system.

Includes pump and repair kit.

For users at high risk of developing pressure sores.
---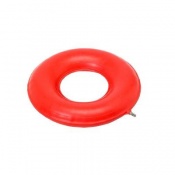 Inflatable ring cushion perfect for travelling
Able to be inflated by mouth or bicycle pump
Patterned surface to avoid user from slipping
Takes pressure off the lower back and tailbone
---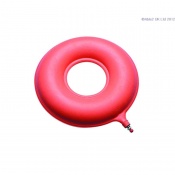 Ideal for the prevention and healing of pressure sores
Inflatable cushion provides excellent comfort
Easy-clean rubber surface for lasting hygiene
Available in 16" and 18" versions
---
Designed for static chairs and general purpose wheelchairs
Ideal for prevention and treatment of pressure ulcers
Suitable for patients up to 139kg (approximately 21 stone)
Latex-free and hypoallergenic for reduced skin irritation
---
Inflatable cushion for comfortable and effective pressure redistribution
Designed for use on a standard static chair with armrests
Easy to clean and will deflate down to a compact size
Inflated dimensions (LxW): 45 x 45cm
---
Designed to aid positioning and to off-load pressure from the heels
Can be used whenever support or elevation of the lower legs is required
Aids vascular conditions and is useful in posture support
Inflated dimensions (LxW): 69 x 45cm
---
Pressure relief rating: Medium to high risk
Features a sealed Air Flotation component
Provides basic posture support and comfort
Available in 11 different sizes
---
Superb pressure relief cushion;
Suitable for high risk pressure risk patients;
No maximum weight limit (subject to cushion size being appropriate);
Available in 13 different sizes.
---
Pressure relief rating: High risk
Roho dry floatation full-width insert offloads pressure
Single or dual valve options available
Available in 23 different sizes
---
Pressure relief rating: Low risk
Significant absorption of shock and impact
Excellent for sporting activity
Available in 4 sizes
---
Pressure relief rating: High risk
Provides protection to the ischia, sacrum and coccyx
High levels of pressure relief delivered using dry flotation technology
Available in nine different sizes to suit a range of uses
---
Pressure relief rating: Low risk
Suitable for short term active use
Designed to absorb shock and impact
Available in a single size
---
Pressure relief rating: High risk
Designed to "remember" the shape of the user, providing greater comfort
High levels of pressure relief delivered using dry flotation technology
Features a thickness of 10cm and is available in 19 different sizes
---
Pressure relief rating: Low risk
Designed for shower chairs and commode seats
Lightweight design is simple to use
Supplied in four different sizes
---
Pressure relief rating: High risk
Provides excellent weight distribution and relief
High levels of pressure relief delivered using dry flotation technology
Available in 20 different sizes with 6cm thickness
---
Suitable for patients at very high risk of pressure sore development
Multitude of air cells work together for even weight distribution
Laxprene air cells are durable with excellent tear resistance
Best suited to smaller more active patients who require little assistance
---
Suitable for patients at very high risk of pressure sore development
Multitude of air cells work together for even weight distribution
Laxprene air cells are durable with excellent tear resistance
Best suited to smaller more active patients who require little assistance
---
Effective pressure relief cushion for wheelchairs
Unique combination of air and cooling gel technology
Provides soothing cooling as well as pressure relief
Suitable for high risk patients