How to Stop Bites Itching Fast
Tuesday, 2 June 2020 | Eugene
If you're finding this article, there's a good chance you're dealing with the itching, stinging sensation of a bug bite. Whether you've fallen victim to a midge, mosquito or another vile adversary, one thing is for sure: the sooner the itching stops, the better. To help put a cap on your discomfort, we at Health and Care have sorted through the avalanche of home remedies and questionable concoctions, and put together a quick guide to tell you How to Stop Bites Itching Fast.
Our High-Tech Solution
The remedies we list below all have their place – but at Health and Care, we love a high-tech solution. The Beurer BR60 Electronic Insect Bite Healer is an instant eye-catcher, and can 'zap' the itch away from each insect bite in 3 - 6 seconds. After years of trial and error with home remedies, we were more than interested, as you can keep this little device on you for instant treatment the moment you're bitten.

How Does the BR60 Work?
The BR60 Bug Bite Healer uses a heated ceramic tip to direct heat to the bitten area at 50°C, instantly zapping the itch away while breaking down the protein-based toxins that cause itchiness, stinging and swelling. This accelerates the overall healing process, while leaving the site feeling a whole lot better. The diagram below shows how the Beurer BR60 breaks down those toxins in the skin, leading to a much healthier bitten or stung area.


The Beurer BR60 breaks down protein-based toxins after a bite to reduce itching and swelling
How Do I Stop Bugs from Biting?
We know it's easier said than done, but the first line of defence is stopping insects from biting in the first place. Insect repellent can be useful, but we recommend ditching the natural remedies for a commercially-available version when the bugs really start to swarm. While your environment is the top factor, here are three things to look out for that can be attracting pesky biting critters:
Sweat and Odour – Rather disgustingly, flies love the stench of a sweaty human. If you get an opportunity to wash before heading into a high-risk region like a heavily-wooded area, do so. Where available, a quick swim can also be a huge help!
Light – It's no secret that flies are attracted to lights, so act accordingly. There's no substitute for a good mosquito net in a tent. If you have a door, close it!
Heat – When the summer nights get chilly, everyone loves the heat of a good fire – including flies. While they won't get too close, be prepared for their presence around the outskirts.
How Do I Stop Bites from Itching?
Now that you've been bitten, it's time to solve the problem. While there are plenty of claims of 'home remedies' that involve raiding your spice drawer to whip up a potion, these usually fall short of true efficacy. To save you some time (and ingredients) we've put together our conclusive top 5 solutions for itchy bug bites, in no particular order:
Ice – When bites are minor, the simplest solution is often the one to choose. Icing the area for 10 - 15 minutes can be surprisingly effective, taking the edge off that itch
Antihistamines – When the itch is more long-term or severe, a topical antihistamine like Benadryl is a great option.
Oatmeal Bath – If you have plenty of time to kill, and don't mind sacrificing your breakfast, an oatmeal bath can soothe your itchy skin and help you relax.
Hydrocortisone Cream – These over-the-counter solutions can be very effective, but they come with a risk of side effects, so ask your doctor first.
Once Bitten, Twice Shy
However you choose to treat your bug bites and stings, the important thing is that whatever treatment you use works as quickly as possible. For many, a combination will be the right answer, such as keeping a bite healer like the BR60 on hand, and using one of the other treatments at home when you have the chance. Either way, we know how we'll be treating our bug bites in the future, and we hope we've helped with your strategy!
Has this article provided you with the information you were looking for? Let us know in the comments below or via our Facebook or Twitter!
Tags: General Health, Product Focus, Skincare, Travel Aids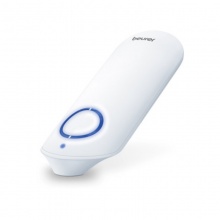 Electronic insect bite healer with hotplate
Relieves itching, swelling and inflammation from insect bites
Chemical-free solution to insect bites
Compact, convenient and easy to use