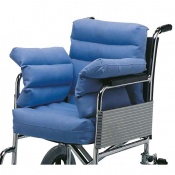 Side and back pads to support wheelchair users
Alleviates pressure to prevent the development of sores
Universal fit for most models of wheelchairs
Pads are fully machine washable
---
Suitable for patients at high risk of pressure sore development
Improves comfort and pressure distribution for the patient
Features a 10mm gel layer on a 35mm polyurethane foam base
Impermeable membrane makes it suitable for incontinent users
---
Pressure relief cushion for very high risk pressure patients
Moulded viscoelastic foam and ergonomic insert mould to the body
Even pressure prevents pressure sores developing and lets them heal
Facilitates blood circulation to enable comfort, prevention and recovery
---
For patients at low to medium risk of pressure sore development
Cushion surface moulds to body shape in the sacral area
Suitable for use on wheelchairs and a wide range of chairs
Increases pressure distribution without sacrificing posture
---
---
Replacement cover for the Roho Single Valve Cushion
Cushion uses dry flotation technology to relieve pressure
Stretches two ways to improve your client's comfort level
Ideal for clients at risk of sustaining pressure sores
---
Pressure care cushion for those at high risk of pressure sore development
Available at a discounted price to clear for a limited time only!
Lower rear contour allows the user to sit further back in seat
Contouring and support under the thighs provides stabilisation
---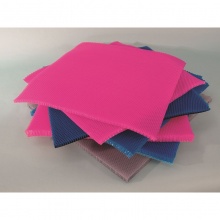 Versatile pressure relief sheets made with StimuLite honeycomb
Adaptable for virtually any seating surface or cushion
Available in a variety of thicknesses and styles
Suitable for all uses from medicine to interior design
---
Suited for those with medium to high risk of developing bedsores
Cover can be wiped clean or removed and laundered up to 95°C
Visco-elastic foam redistributes weight for pressure reduction
High frequency welded seams reduces the risk of fluid access
---
Ideal for day care chairs or wheelchairs in community and domestic settings
Cover has been treated against bacteria like MRSA and house dust mites
Ideal for those who are at high risk of developing pressure ulcers
Silicone gel sac aids pressure dissipation in high-loading areas
---
For users with a high risk of developing bedsores
Made from memory foam with an anti-slip base
Suitable for wheelchairs and day-care chairs
Removable, waterproof wipe-clean cover
---
Provides relief for those at a low risk of pressure ulcer development
Slimline cushion ideal for use in most chairs or wheelchairs
Contoured surface provides excellent support and stability
Particularly suited to smaller or paediatric clients
---
Provides exceptional comfort and pressure distribution
Made with viscoelastic foam that conforms to the user's shape
Low profile is ideal for both chair and wheelchair use
Firm density foam for users up to 100kg
---
Provides exceptional comfort and pressure distribution
Made with viscoelastic foam that conforms to the user's shape
Low profile is ideal for both chair and wheelchair use
Medium density foam for users up to 51kg
---
Provides exceptional comfort and pressure distribution
Made with viscoelastic foam that conforms to the user's shape
Low profile is ideal for both chair and wheelchair use
Soft density foam for users up to 32kg
---
Mildly contoured cushion;
Provides stability and comfort;
Durable support;
Molded foam increases sitting tolerance.
---
Hollow fibre filled;
Comfortable cotton outer;
Hook and loops prevent sliding;
Base, back piece and arm cushions.
---
Ideal for those at risk of pressure sores
Doesn't require a pump or electricity
Cushion is extremely light in weight
Available in two different sizes
---
Pressure relief risk rating: High risk
Viscoelastic foam for great pressure distribution
CMHR foam gives extra support and prevents foam fatigue
Available in two sizes to suit different patients and seats
---
Suitable for the medium risk of developing bedsores
Withstands a maximum user weight of 159kg (25st)
Can be used in a wheelchair or day care chair
Provides ultimate comfort and support
---
Three layer combination of memory foam and high density polyurethane foam;

Available in 9 sizes;

Helps with the reduction and prevention of pressure sores and ulcers;

Superb pressure relief cushion for high risk users.
---
Pair of black foam wheelchair arm covers
Comfortable support of elbows and forearms
Effective in preventing the formation of sores
Lightweight and easily fastened on wheelchairs
---
Replacement cover for the StimuLite Contoured Cushion
Same quality as the original supplied with the cushion
Machine washable and hygienic
Increase the life and quality of use of your cushion
---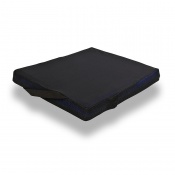 Fits over the StimuLite Contoured and Contoured XS wheelchair cushions
Durable and rugged for outdoor use
Keeps your cushion comfortable and safe in the outdoors
Machine washable and dryer safe
---
Provides relief suitable for those at high risk of pressure ulcer development
Features dual layer foam for improved support and longevity
Made with castellated foam on top of a high density foam base
Moves with the client to reduce shear and friction forces
---
Comfortable and secure.
Made with foam and gel.
Fits most standard wheelchairs.
Waterproof underside.
---
Pressure relief rating: High risk
Memory foam adjusts to user's body type for custom support
Includes waterproof cover for protection and comfort
Available in a wide range of sizes to suit your needs
---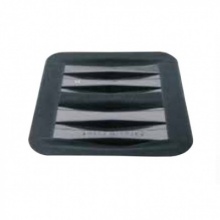 Rigidiser to provide a firm base for your cushion
For use with the Matrx Flo-Tech Solution Xtra Cushion
Ideal for use on slung canvas wheelchairs to provide stability
Maximises the effect of stabilising and posture-assisting accessories
---
Provides pressure relief for those at high risk of pressure ulcers
Made with castellated foam that move with the user
Helps to reduce shear and friction forces while seated
Supplied with a choice of two-way stretch water-resistant covers
---
Cover for Matrx Flo-tech Contour Wheelchair Cushion
Available in the sizes and fabrics of original covers
Ensures hygiene after extended periods of use
Ideal as a spare or replacement for your existing cover