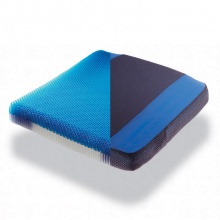 Low profile wheelchair cushion for shock absorption and stability
Heavily ventilated to provide maximum comfort for active users
Made with StimuLite honeycomb for excellent comfort
Machine washable, antibacterial and allergen-free
---
Pressure relief level: At risk
Can be adjusted to follow the contours of the spine
Filled with innovative SoftCells for body-conforming relief
Available with or without back straps
---
Alternating cushion suited to community environments
Suitable for those at high risk of developing bedsores
Moulded foam base to ensure stability and comfort
Cover can be removed and laundered up to 95°C
---
Paediatric pressure relief cushion for positioning and comfort
Designed for children at high risk of pressure sore development
Soft top layer fused to firmer bottom layer of StimuLite honeycomb
Provides positioning with adductors, abductors and an ischial dish
---
Suitable for those at high risk of pressure ulcer development
Made with a combination of shaped foam and gel
Gel sack covers the sacral area to improve weight distribution
Provides immersion of the ischial tuberosities for greater comfort
---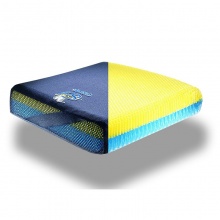 Pressure relief cushion to reduce shear while improving ventilation
Designed to meet the pressure care needs of children
Available in a sling versions for canvas seat wheelchairs
Suitable for wide variety of anatomies and diagnoses
---
Available with a mesh or incontinence cover with breathable four-way-stretch material
Unique self-inflating valve ensures adjustments are constant and automatic
The wheelchair cushion for people who have a moderate risk of tissue breakdown and moderate positioning needs
Rugged non-slip underside with hook and loop for additional security (NHS Discount Available)
---
Suitable for those at high risk of pressure ulcer development
Combines contoured foam with a gel sac at the rear
Gel sac helps to reduce pressure on the ischial tuberosities
Castellated contoured surface provides stability and support
---
Inflatable cushion for At Risk to Very High Risk users
Designed for use in static chairs and general wheelchairs
Redistributes pressure to prevent pressure ulcer development
Securely straps in place for safer use
---
Fully rotational, no top or bottom
Suitable for incontinent users
Uses foam and gel to relieve pressure
Conforms to the shape of the user
---
Lightweight and portable pressure relief cushion
Ideal for those at low risk of pressure sores
Ideal travel cushion for wheelchairs, stadium seats or recliners
Machine washable, antifungal and odour resistant
---
Suitable for patients at high risk of pressure sore development
Anatomically moulded foam base with a two-part gel top layer
High and low density gels work together for stability and comfort
Supplied with a waterproof, breathable cover with non-slip base
---
Economical cushion;
Durable moulded foam;
Sacral notch;
Lateral and medial thigh contours.
---
Includes the cushion and pump for the full pressure-relief system
Made with a water-resistant cover to protect against spills
Alternating air cushion system relieves pressure
Ideal for patients at high risk of pressure sores
---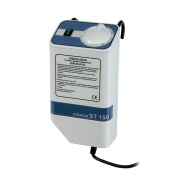 Quiet so you can get the rest you need throughout use
Helps prevent you from developing pressure sores
Analogue pump for BOS cushions and mattresses
Pump has eight settings for adjustable air flow
---
Cushion air alternates to relieve pressure on the buttocks
Supports a maximum user weight capacity of 18.9 stone
Water-resistant cover protects against spills and urine
Made for patients at high risk of pressure sores
---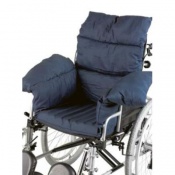 Eases pressure to prevent the development of sores
Quilted pads to cover wheelchairs and day chairs
Provides comfort for those with mobility issues
Pads are fully machine washable
---
Deep leg troughs;
Medial thigh support;
Enhanced comfort;
Durable support.
---
Comes with incontinence, water-resistant cover
Recommended for users with moderate risk of skin breakdown
Valued for its simplicity and ease of use
Constructed from varying density of foam to form the thigh troughs and pelvic bucketing.
---
Pressure relief level: At risk
Provides comfort for both chairs and wheelchairs
Filled with innovative SoftCells for body-conforming relief
Auto-adjusting valve adapts to weight and shape for optimal cushioning
---
Provides the user with the ultimate in comfort

Ideal for wheelchair users and those seated for long periods

Made with a combination of high resilience foam and silicon gel

For users at high risk of developing pressure sores
---
Assists patient movement and management of existing sores
Suits users at high risk of developing pressure sores
Gives specific ischial and perineal pressure protection
Provides excellent pressure relief and stability
---
Four independent sections of FloGel
Viscoelastic foam upper layer, recovery foam base
Ideal for pressure relief in medium risk patients
Lightweight and easy to transport
---
Provides pressure relief for those at very high risk of pressure sores
Contoured to conform to the body while improving comfort and posture
Maximises contact surface area for excellent pressure distribution
Firm density to suit users up to a maximum weight of 108kg (17 stone)
---
Provides pressure relief for those at very high risk of pressure sores
Contoured to conform to the body while improving comfort and posture
Maximises contact surface area for excellent pressure distribution
Medium density to suit users up to a maximum weight of 76kg (12 stone)
---
Provides pressure relief for those at very high risk of pressure sores
Contoured to conform to the body while improving comfort and posture
Maximises contact surface area for excellent pressure distribution
Soft density to suit users up to a maximum weight of 51kg (8 stone)
---
Provides pressure relief for those at very high risk of pressure sores
Contoured to conform to the body while improving comfort and posture
Maximises contact surface area for excellent pressure distribution
Very firm density to suit users up to a maximum weight of 127kg (20 stone)
---
Ideal for those at risk of pressure sores
Doesn't require a pump or electricity
Cushion is extremely light in weight
Available in four different sizes
---
Suitable for those at high risk of pressure ulcer development
Contoured into sections for ergonomic weight distribution
Provides an effective combination of improved posture and support
Moulded to provide a three-dimensional castellated form
---
Pressure relief rating: Medium to high risk
Contains silicone gel for weight distribution
Provides excellent comfort by conforming to contours
Supplied with a support strap to ensure it stays in place