How To Choose a Bath Lift. The Best Deals From Health and Care
5 Comments
Tuesday, 19 September 2017 |
Eugene
Health and Care provide an excellent selection of Bath Lifts, so there's no doubt we stock the right bath lift for your requirements. Choosing a bath lift can often be a difficult process, but here at Health and Care we try to make the process as easy as possible, with free fast delivery on all items.
In this guide, we will break down all of the basics you need to know before choosing the ideal bath lift for you. Among other things, we'll explain:
How bath lifts work
How to use a bath lift
Which bath lifts are our most popular
Which types of bath are compatible with bath lifts
How easy our bath lifts are to clean
How to get VAT relief on your bath lift
Anything else you need to know
Now that you know what you're here for, let's get started.
Why Do I Need A Bath Lift?
Many people love to relax in the bath, swishing around in the bubbles in the company of a bright yellow duck called Norman. However, for some people, bathing can be a difficult occasion. If you experience trouble getting in and out of the bath, have limited motion, or are disabled, a bath lift may be for you. Our bath lifts lower you into, and raise you out of, the water in a controlled motion making bathing a pleasure.
How Exactly Do Bath Lifts Work?
Bath lifts provide that extra helping hand and assurance when bathing. Our bath lifts are powered, so you don't need to use any strength to lower yourself into the water by hand. Each bath lift is supplied with a hand controller unit, which is similar to a large television remote control but easier to use and has fewer buttons. The hand controllers are designed to make it easy to press the "Up" and "Down" buttons with ease, even when the controller unit is wet or you have limited dexterity in your hands and fingers.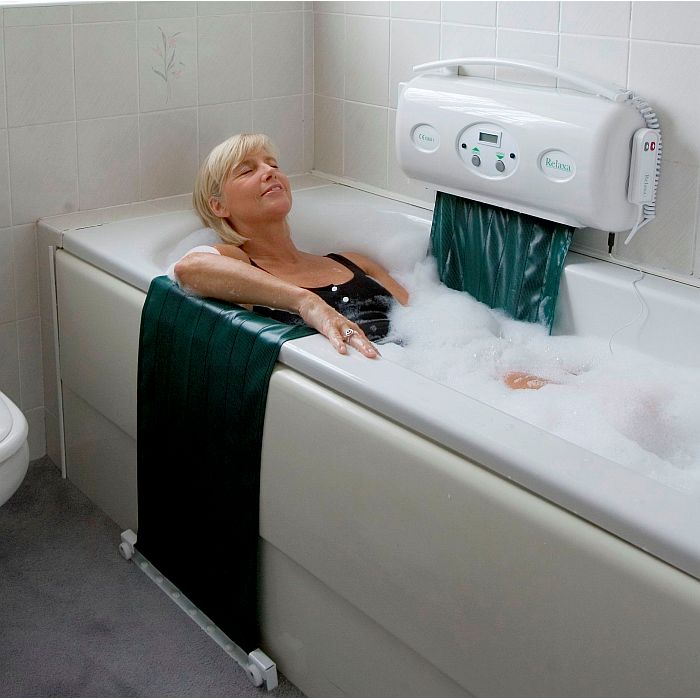 Woman enjoying the Relaxa Easy Lifting Bath Lift
How Do I Power My Bath Lift?
The power to the bath lift is supplied through the hand controller. There is no need to plug the bath lift into a socket, so it will be safe to use in a wet bathroom environment. Instead, the power comes from the rechargeable battery enclosed with the hand controller. This means that there is no need for a plug socket, nor for electrical wires. Simply attach the hand controller to the waterproof cord that runs to the bath lift and the bath lift will be safely powered.
Bath lift hand controllers are easy to recharge, and extremely convenient to use. Simply unplug the hand controller from the bath lift and plug it into the recharging cable, which can be placed elsewhere in the house. Leaving the hand controller on charge for a few hours will often recharge the battery fully, leaving you ready for the next day's bath.
How Safe are Bath Lifts?
Most of our bath lifts have a safety feature that does not allow the bath lift to lower you into the bath if there is not enough charge in the hand controller to raise you back out again. This enables you to have a worry-free bath, safe in the knowledge that you can get back out after a long and well earned soak.
Our bath lifts raise and lower you using a scissor frame underneath the seat. This allows a smooth and stable lowering and raising motion and enables the bath lift to function in small spaces as most of our bath lifts take up only a small "footprint" in your bath.
Will a Bath Lift Slip in the Bath?
Talking of footprints, the bath lifts are fitted with suction cups at the bottom which attach to the bath for stability. It is important that the suction cups make good contact with the surface of the bath to keep the lift in place. For instance, popular bath lifts like the Bathmaster Deltis Bath Lift and the Aquila Bath Lift have four suction cups, ensuring you'll be supported in every direction, without any need to worry.
Most of the bath lifts that we stock, including the two we just mentioned, are reclining bath lifts. This means that the back of the bath lift is adjustable, enabling you to lie down in the bath rather than sit up straight. Although the bath lifts do not fully recline to a horizontal position, they do recline into a comfortable and safe position enabling most of your upper body to submerge in the bubbles.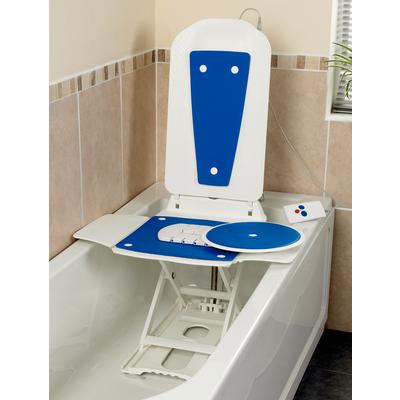 The stable and comfortable Bathmaster Deltis Reclining Bath Lift
Are Bath Lifts Suitable For All Baths?
Our bath lifts are designed to fit into a wide range of baths, even very narrow baths. The Aquila Bath Lift is especially good at fitting into narrow baths as the suction cups pivot and swivel to make a good contact even on the sloping sides near the bottom of the "V" or "U" shape of the bath. Each bath lift on the website will give dimensions allowing you to calculate whether your bath is large enough to accommodate the bath lift. As a good frame of reference, the Aquila Bath lift provides more than enough leg room to stretch out in the bath.
If you have a corner bath, the options for a bath lift do narrow. The Neptune Bath Lift is a great option, however this is not a reclining bath lift. It lowers the user into the bath in a sitting position, as though you were sitting upright in a high back chair. This bath lift is ideal for carers and is a firm favourite with occupational therapists. If using this item in a corner bath, ensure that the dimensions are suitable for your requirements before purchasing.
Are Bath Lifts Easy To Clean?
All of our bath lifts are designed to be easy to clean, but probably the easiest is the Aquila Bath Lift. It is made with antimicrobial materials which protect against harmful bacteria, and the smooth surfaces stop any dirt getting trapped. This makes it hygienic and easy to keep clean, using only simple cleaning products. The Aquila Bath Lift can also be divided into two pieces, allowing it to be cleaned easily, as well as enabling it to be removed from the bath in two easy to manage parts without a struggle.
Our Best-Selling Bath Lifts
The Bathmaster Deltis Reclining Bath Lift, Relaxa Easy Lifting Bath Lift and the Aquila Bath Lift are some of our favourite and best-selling bath lifts, however other bath lifts may be more suitable for your needs. The Aquajoy Premier Plus Bath Lift is also a fantastic item which can hold much heavier users and has a very strong motor (called an actuator).
The Aquila Bath Lift in particular is offered with a great deal, including free fast delivery and VAT costs. There is no need for bath lift voucher codes or bath lift coupons, and our prices are permanently low, giving you the best deal possible. Here's what our customers have said about the Aquila bath lift:
"A simple to use, easy to manage lift which fits most domestic baths. Very prompt despatch from suppliers with excellent customer support. Staff, when contacted, were knowledgeable and helpful. Good value for money. Recommend to those who find difficulty in accessing the bath."
"Excellent bath seat. Couldn't believe the delivery time - arrived less than 36 hours after I'd clicked the order button on Sunday night - amazing (and free delivery!). Great price for this type of seat."

A fully installed Aquila Bath Lift
Can I Get VAT Relief On My Bath Lift?
Health and Care offer VAT relief if you are eligible. The important thing to note about bath lifts is that they are designed for the elderly or those with limited mobility, and VAT relief is therefore available on these items. The person claiming the VAT or the person claiming the VAT on behalf of the eligible person must consider whether the disability or chronic condition means that a bath lift is needed.
To use an example, someone who does not have the use of their legs will almost certainly be able to claim VAT relief on the item. However, someone who is deaf but does not have limited mobility or another condition that necessitates the use of a bath lift, would not be able to claim VAT relief for a bath lift. They may, however, be able to claim VAT relief on our vast range of amplified telephones. For further information about VAT relief, visit our VAT Relief Page or contact HMRC for guidance.
Can I Install The Bath Lift Myself?
Our bath lifts are all very easy to install and operate. Normally, they will be able to work straight out of the box, without the need for tools and screwdrivers. Before using the bath lift, the rechargeable hand controllers will require a long charge which normally takes about eight to twelve hours to ensure that the battery life is kept at its optimum. After that, simply plug the hand controller into the bath lift and away you go.
We would recommend fully reading the instructions that are supplied with your bath lift before operation. If you feel that you may need assistance with the installation or with setting the item up, we would recommend getting the help of a friend, family member or neighbour just to get going. The bath lifts are designed to be easy to operate and use on your own but a helping hand at the beginning can often be very useful.
More Information
If you need any further information about the bath lifts we stock here on the Health and Care website, please contact us directly by telephone at 020 7720 2266, and a member of the Health and Care Customer Care Team will be happy to assist you with your enquiry. You can also get in touch with our Customer Care team via Facebook and Twitter.
We hope you have found this introductory guide to our bath lifts helpful. If you have anything you'd like to add, let us know in the comments section below!