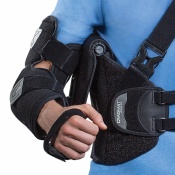 Innovative shoulder immobiliser for quick and comfortable recovery
Suitable for post-operative immobilisation in a least 15 degrees of abduction
Precision-based system allows the patient to flex and extend their arm
Provides four angles of immobilisation in one brace for optimal versatility
---
Includes the Shoulder Cuff and IC Cooler
Made with an integrated pump for easy use
Provides targeted pain relief in the area
Designed to fit the shoulder properly
---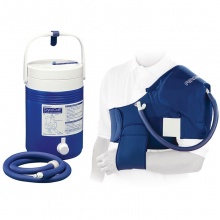 Ideal for a wide range of conditions, including sporting injuries
Compresses the shoulder while administering cold therapy
Anatomical design covers the shoulder area completely
Helps reduce swelling and discomfort in the area
---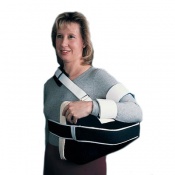 Latex-free pillow providing 45 or 70 degrees of abduction
Foam pillow sculpted to conform to the shape of the body
Padded wrist and humeral cuffs can be adjusted
Suitable for either left or right side
---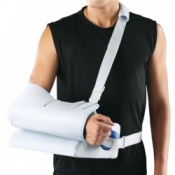 Comfortable
Foam padded strap
45° abduction pillow
Fits left or right hand
---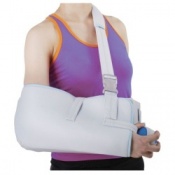 Comfortable
Foam padded strap
15° abduction pillow
Fits left or right hand
---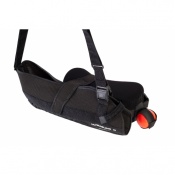 Thumb straps are included for functional hand positioning
Easy-open panel allows you to perform arm exercises
Moisture-wicking technology provides greater comfort
Immobilises your shoulder in a neutral position
---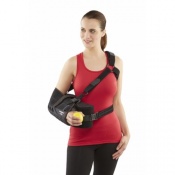 Three point strapping system prevents neck pain
Provides 15° of abduction for added protection
Designed with soft and breathable material
Comfortable and convenient to apply
---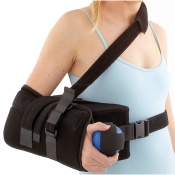 Provides 30° abduction;
Complete with exercise ball;
Soft velour material for comfort;
Ideal for use after surgery or trauma.
---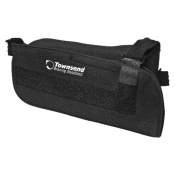 Includes universal left or right arm abduction pillow
Adjustable padded strap for improved comfort
Immobilises and supports arm and shoulder
Ideal for upper extremity injuries or surgery
---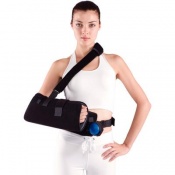 Soft shoulder immobiliser for either left or right side
Foam pillow providing 45-degree abduction
Shoulder and waist straps can be trimmed for an optimal length
Exercise ball packed with product for instant and convenient use
---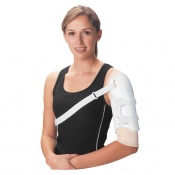 Preformed orthopaedic-grade construction for excellent support
Ideal for managing mid-shaft and distal third humeral fractures
Includes two extra-thick stockinettes for added comfort
Designed with adjustable straps for a more tailored fit
---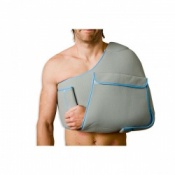 Lightweight breathable support

Reversible design for either shoulder

Suitable for many shoulder conditions

Six sizes available
---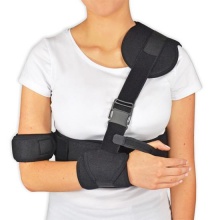 Arm/shoulder immobilising sling
Suitable for dislocations, breaks and fractures
Large, comfortable shoulder pads
Buckle fastenings securely immobilise the arm
---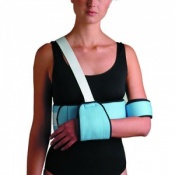 Soft and comfortable;
Foam padded sling;
Body and upper arm band;
Excellent shoulder control.
---
Effective immobilisation;

Comfortable materials;

Universal size for left/right application;

Foam/Loop pile laminate.
---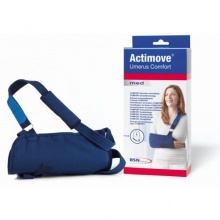 Limits shoulder and arm movement;

Following shoulder surgery, fractures and soft tissue damage;

Adjustable neck and waist strap;

Cushioned neck band.
---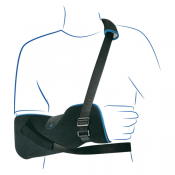 Velcro on abdominal strap allows sling to be fitted easily
Provides immobilisation of the elbow and shoulder
Has adjustable protective pads for optimal comfort
Additional abdominal strap for improved support
---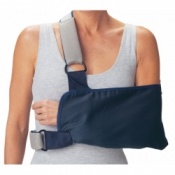 Ideal for use after surgery for rotator cuff injuries and shoulder dislocations
Plush foam shoulder and waist straps ensure comfort during wear
Exerts upward pressure to immobilise the arm and shoulder
Made from soft cotton and poly for comfort and breathability
---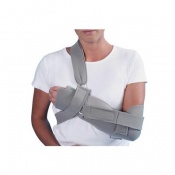 Shoulder immobiliser with a comfortable design

Reversible and comfortable for optimal wear

Lightweight material to reduce unnecessary strain

Universal size suitable for most wearers
---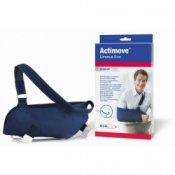 Limits shoulder and arm movement;

Following shoulder surgery, fractures and soft tissue damage;

Cushioned neck band;

Lightweight support.
---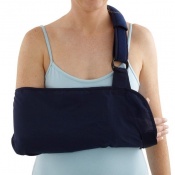 Shoulder and body straps control rotation
Immobilises arm and shoulder to aid recovery
Built-in thumb loop limits drop foot
Universal design fits left and right arm
---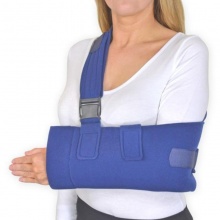 Adjustable arm sling with Velcro fastenings
Designed to provide support for shoulder injuries
Full forearm support from wrist to elbow
Padded, non-stretch straps for extra comfort
---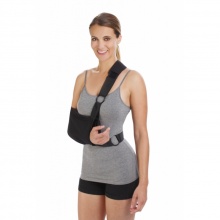 High-quality, durable sling with adjustable shoulder and body straps
Features a comfortable shoulder pad for use over long periods
Suitable for shoulder injuries and to prevent shoulder rotation
Ideal for post-trauma use after shoulder dislocations
---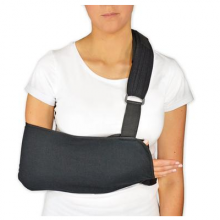 Shoulder immobiliser also suitable as an arm sling
Designed for reducing shoulder pain and discomfort
Strong cotton sling with padded shoulder and body straps
Straps are adjustable for optimal comfort and fit
---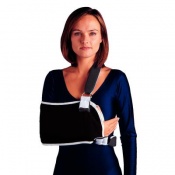 Canvas sling to support arm following injury
Foam waist and shoulder straps provide added comfort
Maintains immobilisation of the arm to prevent knocks
Available in four sizes for a more accurate fit
---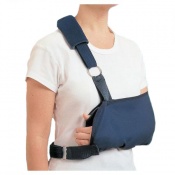 Provides immobilisation of the shoulder.

Comfortable soft neck pad for added neck protection

Waist strap limits shoulder movement to improve security

Thumb loop makes wearing the immobiliser more comfortable