Best Arm Slings
Thursday, 31 May 2018
Are you recovering from a major arm injury? Do you have a repetitive strain injury that has left your arm next to useless? Do you find that the brace or sling that your doctor has provided is uncomfortable, cuts into the neck or doesn't quite fit right? Thankfully, help is at hand as our wide selection of arm slings are proven to alleviate pain, immobilise shoulders and elbows, and allow the arm to breathe giving it the time and space to recover.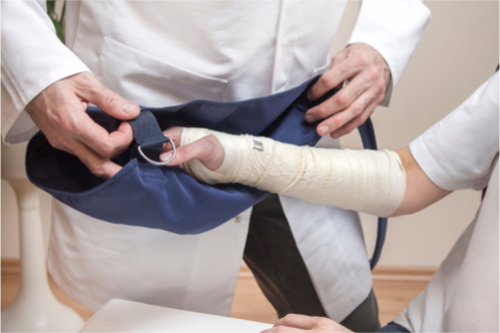 Use an arm sling to recover from trauma, broken bones and strains
We encourage that if you are suffering from arm or shoulder pain to consider buying an arm sling. Leaving it untended can only cause the problem to become worse over time. But we also understand that you may not know which arm sling is the right arm sling. So we've decided to ask our experts and provide a list of the Best Arm Slings available, but don't worry, we've taken into account a wide range of different medical conditions and injuries ensuring that we have the perfect sling here for you.
Universal Pro Arm Sling Standard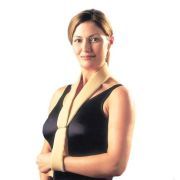 First up is the Universal Pro Arm Sling Standard, which offers high versatility as it is useful for most arm injuries, including a broken wrist, upper arm and forearm. Highly economical the Universal Pro Sling is specially constructed to fit all, with its easy to use Velcro closure that can be readily adjusted. Lightweight, flexible and thin, this small and discreet sling should be your number one choice when recovering from a wide range of arm injuries. Finally the sling is latex free, meaning that the user is protected from allergies during use.
Key Features: Ideal for broken wrists, upper arms and forearm injuries; easy to use; lightweight and discreet design; Velcro closure means one size fits all; stabilising buckle ensures comfort during use.
Procare Blue Vogue Arm Sling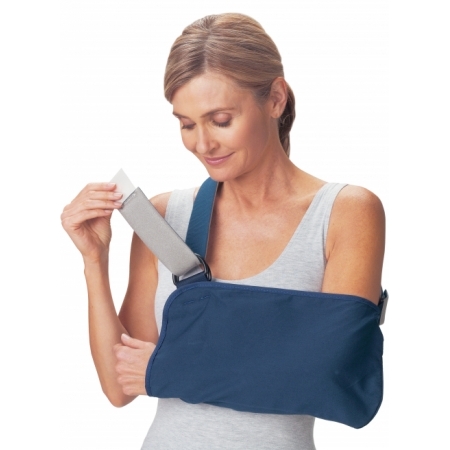 Slightly less discreet and lightweight is the Procare Blue Vogue Arm Sling, that offers the full immobilisation and support of the arm, shoulder and elbow. Fully padded with a two inch wide foam strap for arm protection, the sling ensures the recovery of injuries to the arm, wrist or hand. Available in four different sizes, the Procare Blue Sling can be used as cast support, while a special thumb loop prevents the sling from moving during use. Padded with durable polycotton, the sling provides comfort as well as protection.
Key Features: Ideal for cast support and hand, arm and wrist injuries; offers total immoblisation of the arm; padded with two inch wide polycotton for protection; fits both left and right arms and is available in four sizes; thumb loop prevents sling from moving.
BeneCare Poly Arm Sling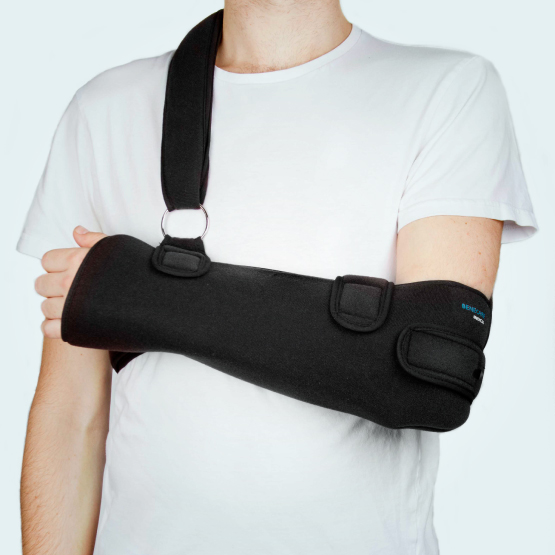 Keeping the arm stable, comfortable and aloft is crucial in recovering from surgery or trauma to the arm, elbow or hand. The Benecare Poly Arm Sling is ideal for just this, as the deluxe shoulder immobiliser is specially designed to restrict movement and provide the integral support your arm needs to recover. It also comes with the option to raise your arm, can help to relieve you from pain, and uses an adjustable shoulder to ensure long-lasting comfort. The sling guarantees a high-quality performance at an affordable price, with its breathable nylon and foam laminate construction that offers durability. For any serious limb trauma recovery, this should be the sling for you.
Key Features: Well suited to recovery of limb trauma and surgery; deluxe shoulder immobiliser restricts arm and shoulder movement; comes with the option to raise the arm; helps to relieve pain; simple touch and close fastening system; nylon and foam laminate construction ensures comfort and durability.
Lancaster Shoulder Immobiliser Arm Sling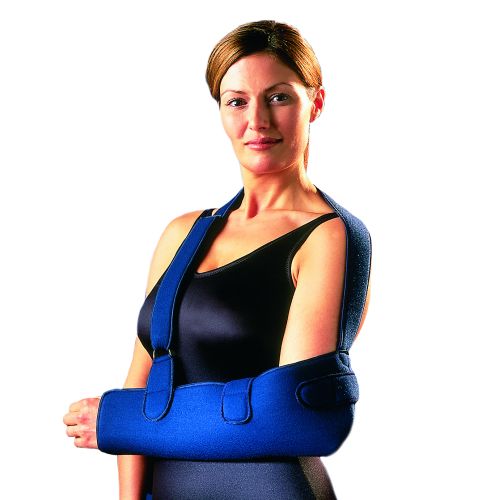 Preventing your arm from moving during the recovery process is integral, and the Lancaster Shoulder Immobiliser Arm Sling offers just that. Perfect for post upper limb trauma and surgery, fracture of the clavicle, or hand surgery, the Lancaster Arm Sling restricts the arm from moving thanks to its immobiliser strap. It comes with two adjustable D-rings, which pinches the sling together at the wrist and enables the shoulder strap and waist immobilisation strap to attach to the sling. This ensures comfort, protection and immobilisation, guaranteeing to aid in recovery. Lastly, the Velcro foam construction is simple to use, making sure that one size fits all.
Key Features: Shoulder immobilising strap prevents arm from moving; foam fabric ensures comfort during use; ideal for recovering from post upper limb trauma and surgery; waist strap prevents movement; supports the arm from the wrist to the upper arm bone.
High Arm Sling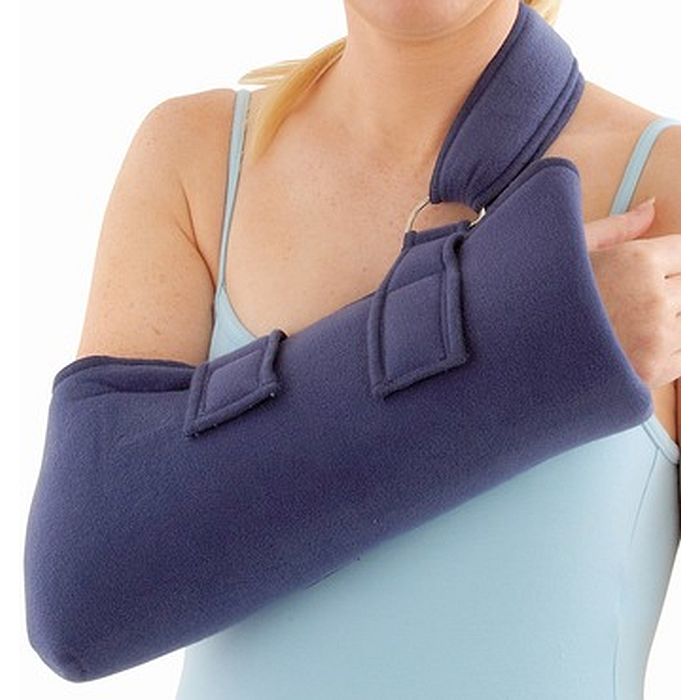 A sling that is specially designed to keep the arm aloft has many benefits. In this case, the High Arm Sling uses adjustable straps to allow for the ideal arm angle for each user, while treating problems such as surgery to the shoulder, arm and wrist, trauma to the shoulder, arm and wrist, strokes and paralysis. To ensure proper immobilisation to the injured area, the sling is equipped with a waist strap that prevents movement, while a breathable design prevents the arm from overheating. It is simple to use, with a touch-and-close fastening system that means one size fits all.
Key Features: Adjustable straps allows user to choose ideal arm angle; suitable for major arm, wrist and shoulder trauma, strokes and paralysis; breathable nylon and foam keep arms cool; ensures arm is immobilised; waist strap provides arm stability.
Our range of arm slings can be used to treat conditions such as paralysis and strokes, or help in the recovery of sprained limbs, broken hands or shoulder discomfort. We have a wide variety and hopefully we have mentioned the sling perfect for you here in our top 5. If not, please call us on 020 7720 2266 or leave a comment and we'll be happy to help. But before you do, check out our range of Arm Slings and Shoulder Immobiliser Slings, where we have slings recommended by experts from across the world.
Tags: Arm Slings, Rehabilitation, Top 5 Guides
Shop Related Products