How to Improve Your Posture with the Posture Medic Posture Brace
Thursday, 4 January 2018 | Paul
Whether you're slouched at your desk or hunched up while you relax, poor posture can result in severe pain, particularly for the back, neck, and shoulders. Poor posture can also lead to more serious health conditions, so it's important to take every step you can to improve your posture.
The Posture Medic Posture Brace can help you take your first steps towards better posture, and it's even available in an Extra-Strength version to accompany you once you're ready to perfect your posture even further. Whether you're motivated by existing pain caused by poor posture or you're looking to take preventative measures against an aching back and neck, the Posture Medic Posture Brace can be there for you.
Who Can Use the Posture Medic Brace?
Before we take a look at how the Posture Medic Posture Brace works, it will be useful to check if it's suitable for you. Due to the versatile nature of the brace, it's been designed to support virtually anybody and with any body type, from children over 12 to adults and seniors. The brace is also suitable for practically any lifestyle, from inactive lifestyles to active and athletic lifestyles, as it can be used accordingly to offer you the tailored support you need.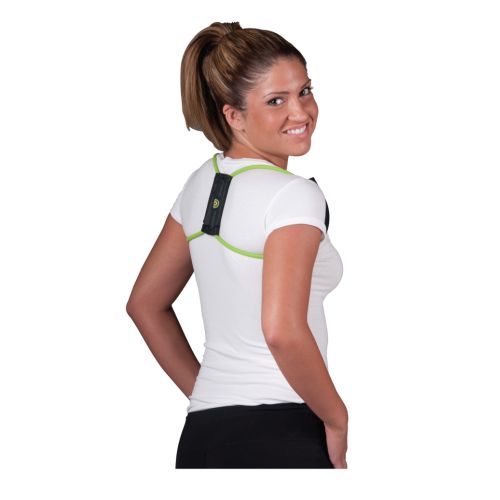 Do I Have Bad Posture?
Once you've established that the Posture Medic may be your ideal solution for improving posture, you may begin to wonder whether you even need to improve your posture. Chances are you will be able to benefit from the brace as, due to our modern lifestyle, we often find ourselves sitting for prolonged periods, or repeating the same activities over and over again, which can have a negative impact on our health. The following list of common activities that cause poor posture is not exhaustive, but highlights some of the main causes of pain and complications as a result of slouching or resting awkwardly.
Computer Work: If you work in an office or at a desk, you may be spending as many as seven hours a day in a similar position. Keeping your hips in line with your shoulders, and the information on the computer screen at eye level, may help to reduce pain from occurring, but training your posture to naturally rest in a healthier position is key for ongoing pain-free posture.

Driving: You may feel comfortable in the driver's seat, but it's possible that you're not sitting in the most effective way for your health. This is true for casual drivers, but will be particularly true if you often drive long distances.

Laptop Work: Unlike a desk computer, where an office chair and foot rests can help keep your posture under control, laptops practically encourage slouching. Their portable nature and tilting screens make it easy to curl up on the sofa or lounge on the floor with it positioned at an angle that may feel comfortable enough at the time, but if you find yourself using a laptop this way frequently then you may find that you begin to develop back and neck pain.

Watching Television: If you enjoy resting for an evening in front of your favourite programmes, it can be all-too-easy to lie comfortably across the sofa. Several hours later, when you get up to go to the toilet, you may be overcome with stiffness, back pain, or discomfort in your neck. You don't need to let this recurring pain stop you from doing what you love though; training your posture will help you to prevent that pain from occurring.

Sleeping: There's nothing more rewarding than a blissful night of undisturbed sleep. While you may wake up with your mind feeling refreshed, for your body it could be an entirely different story. Whether you're a back sleeper, side sleeper, or stomach sleeper, lying at night with an insufficient pillow or at a disjointed or unsupported angle can have severe health ramifications. By training your posture, existing pain from sleeping can be minimised while you also work to keep new or recurring discomfort at bay.
These are just some of the activities that may, if done while slouching or for extended periods, result in poorer posture. Many of our daily activities can contribute to back and neck pain, and training your posture can help you to fight against that.
How Does the Posture Medic Posture Brace Help?
Okay, so you've decided that your posture could do with a little work, but how exactly will the Posture Medic Posture Brace help you? In short, the Posture Brace will help you to stretch, strengthen, and stabilise your posture. This is done through a series of activities, and both frequency and intensity will differ depending on your lifestyle - this helps to make sure that the Posture Brace can cater to your own desires and requirements.
Stretching Exercises
Stretching with the Posture Medic Posture Brace is recommended for several times a day, and this can be increased over the course of several weeks as your posture and abilities improve. Your Posture Medic Posture Brace will be provided with a handy easy-to-follow exercise booklet, with a series of stretches for you to complete accordingly.
These exercises range from neck stretches and shoulder stretches to work on the upper body, to lat stretches to focus on the back. These stretches are performed by gripping onto the handles of the Posture Medic, and as these are extra comfortable to hold onto you don't need to worry about generating new pain while you work to get rid of existing aches!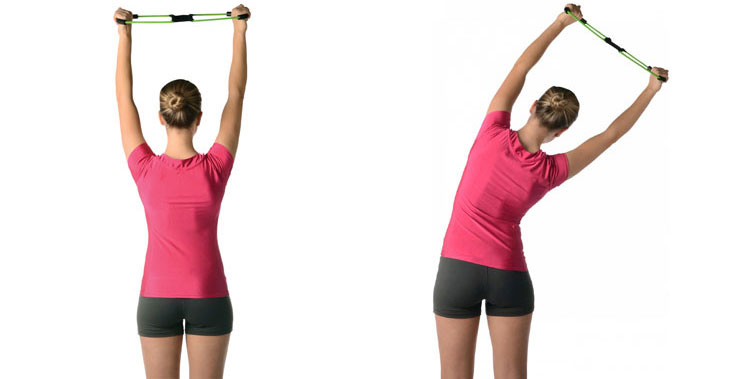 The Posture Medic being used for stretching exercises
Strengthening Exercises
If you're starting out with an inactive lifestyle, you will be able to progress to strengthening exercises at a later date as you build up your stamina. If you're already able to participate in strengthening exercises though, these can help you to increase your strength and improve your posture as a new addition to your regular workouts.
Four strengthening exercises are suggested: Rear Delt Fly, External Rotation, Rotator Cuff, and the Posture Medic Punch. As with the stretching exercises, these require you to hold onto the two handles of the Posture Brace, and then working on your shoulders, arms, and back. By doing varying reps over a four-week course, these exercises will not only increase your fitness, but they will also help to strengthen the muscles, which in turn will reduce slouching.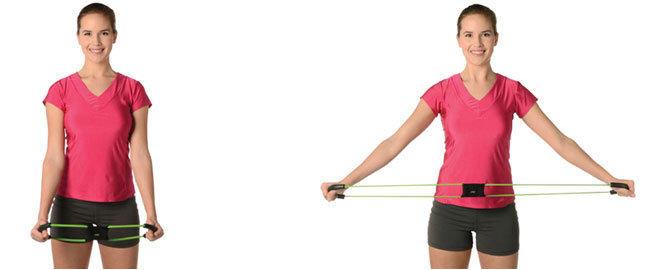 The Posture Medic can also help with strength-based exercises
Wearing the Posture Brace
While the Posture Medic Posture Brace is ideal for stretching and strengthening exercises, it is also suitable for wearing throughout the day. This is good news for anybody who may feel put off by the thought of starting with exercises immediately, as wearing the Posture Brace first will help you to build up confidence and work on training you to remember to straighten your posture.
It is recommended that the Posture Brace is initially worn for intervals of 15 minutes, two to three times per day. This can be done while you're sitting at your desk, relaxing at home, or even taking an afternoon stroll. This frequency can then increase as and when required, ensuring you can receive the support that is right for you. Simply slip the brace over your hands and up onto your shoulders, with the handles facing forward and the stabiliser resting comfortably between your shoulder blades, and you're ready to begin your journey to healthier posture!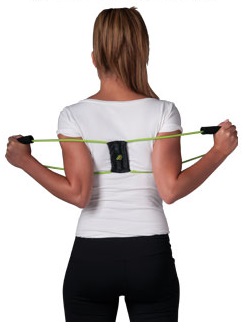 Wearing the Posture Medic Posture Brace can remind you
to improve your posture
How Long Does It Take to Work?
The length of time the Posture Brace will take to work will depend on how much time you can spend with it, and also what your present posture is like. For example, if you're already very active and have reasonably good posture, then wearing the brace a few times each day may be all you require to remind you to sit and stand more suitably. However, if you're fairly inactive and find you slouch a lot, then you may need to dedicate a little more time to the brace.
The exercise regimes are specified for a four-week period, and, providing that they do not bring about any unwanted pain or discomfort during reps, following these instructions and progressing accordingly can help you to improve your posture at a steady rate. Please note that wearing the Posture Medic Posture Brace alone will only encourage you to remain mindful of your posture; performing the exercises will be required for physical improvement.
How Else Can the Posture Brace Help?
While pain and discomfort may be your main reason for seeking improved posture, did you know that good posture can actually have other health benefits too? The list below outlines just some of the health benefits that may arise as you improve your posture:
Increased blood flow to and from the heart
Reduced blood pressure and increased circulation
Improved breathing and diaphragm function
Opening the throat and windpipe
Increasing range of motion (ROM)
Reducing fatigue and improving sleep
Promoting proper growth development in adolescents
Reducing the pressure on internal organs
Reducing the risk of osteoarthritis and joint damage
With those health improvements in mind, it may be worth considering if you can afford not to work on your posture! Whatever your current lifestyle and posture stage, there is sure to be an area of your health with which the Posture Medic Posture Brace can help.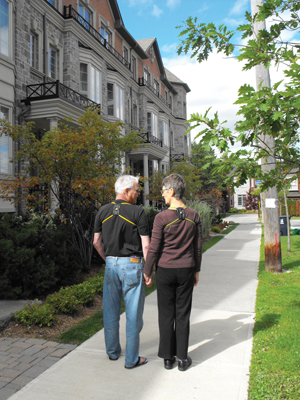 The Posture Medic Posture Brace can be worn in the office, at home,
or even while out and about!

Discover More
For even more information about the Posture Medic and how it may help you, give the video below a watch. It also outlines different kinds of posture to help you identify what your current posture positioning most resembles, an indicator of how far you have to go to improved posture!
Where Can I Buy the Posture Medic Posture Brace?
Here at Health and Care, we put the individual needs and health of our customers at the forefront of everything we do. That's why we offer the Posture Medic Posture Brace in two different strengths to ensure you can find the perfect posture-training tool for you. For beginners, we recommend the Posture Medic Standard-Strength Posture Brace. If you're already very active and feel like taking it up to the next level, then the Posture Medic Extra-Strength Posture Brace may be the one for you!
Have you tried the Posture Medic Posture Brace? We'd love to hear how you found the experience! Let us know in the comments below, or find us on Twitter and Facebook!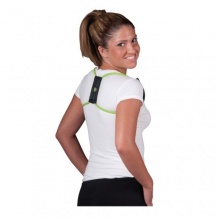 Posture Medic posture corrector brace helps to improve posture
Can be worn while sitting at a desk, in the car, or relaxing
Versatile brace suitable as part of an exercise program for posture
Available in a choice of sizes for the best possible posture support
---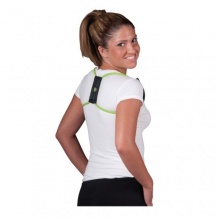 Extra-strength Posture Medic posture corrector helps to improve posture
Can be worn while sitting at a desk, in the car, or relaxing
Versatile brace suitable as part of an exercise program for posture
Available in a choice of sizes for the best possible posture support