Special Offer on the Thuasne LombaStab Lumbar Belt
Thursday, 29 March 2018 | Paul
Back pain can affect anyone, from the highly active to those with a desk job. Although there are a wide range of solutions out there you can try, the prospect of forking out hundreds of pounds on something that might not work can be daunting.
Thankfully, we have a great deal on the Thuasne LombaStab Lumbar Belt, which we think is perfect for you! With a 20% discount, you can save your back and your wallet! Read on to find out more.
On Offer For a Limited Period
For a limited time only, the LombaStab Lumbar Belt has a whopping £20 off, making it one of our lowest-priced high-quality back supports. Originally listed at £99.99, the brace is now available for £79.99, allowing you to get the support you need without the high price.
How Can the LombaStab Belt Help You?
The LombaStab is ideal for a number of conditions. If you're experiencing lower back pain, this product can help stabilise the area to prevent further discomfort. Conditions the support can be used for include the following:
Common lower back pain
Moderate to intense activity
Moderate to intense pain
Recurrent lower back pain
Situational pain
Adjusts with Precision
Unlike most supports that use Velcro straps or lacing, the Thuasne LombaStab Belt is designed with an advanced pully-like system to provide stronger and more even compression around the spine. The support uses a quick lacing system that makes adjusting the belt just one quick move away. This means you don't have to spend a great deal of time adjusting the belt before you're ready to go out.
Reduces Pressure on the Abdomen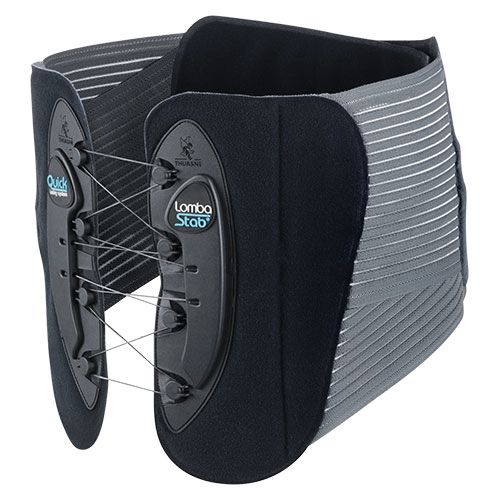 All too often, back supports will dig into your skin and put pressure on your body, particularly on your abdomen when you're sitting down. The LombaStab Belt works without restriction to ensure it doesn't exert pressure on your back or abdomen, making it highly comfortable even over long periods of time.
The belt is also made with an anatomical design, featuring curved hips and inset abdominal padding for an excellent fit and improved comfort. This makes the support suitable for all day wear, allowing you to get even more value out of the brace at its reduced price!
Splints the Spine
One of the most effective methods of long-term treatment is holding the area in a neutral position. This helps reduce the likelihood that you'll suffer from a condition caused by poor posture or continued malalignment. The sturdy composition of the Thuasne LombaStab Belt effectively splints the spine, holding it in the correct position for improved stability and support.
Take a Closer Look Here
Find out more by watching this short video. We're sure you'll be amazed by its extensive number of features!
Tailored Fit
Available in four different sizes and two heights, the LombaStab Belt offers a tailored fit. This is one of the reasons it feels so comfortable to wear. With a waist circumference across all sizes ranging from 75 to 140cm, the support shouldn't feel too tight around your waist.
Take Advantage of the Special Discount Now!
Sadly, the Thuasne LombaStab Belt won't be on offer forever. Take advantage of this great deal while it lasts! If you've made the leap to make gains for your health, let us know what you think in the comments, on Facebook or on Twitter.
Evenly distributes pressure around the spine and reduces pressure on abdomen
Uses an advanced, pulley-like system to provide strong compression
Premium back support adjusts with precision throughout the day
Uses a quick lacing system for easy application and removal