Get ready for the ski season with the Donjoy Armor Knee Brace with Fourcepoint
Wednesday, 29 August 2012 | Paul
Key product: Donjoy Armor Knee Brace with Fourcepoint

The ski season is not too far away and it is never too early to get prepared for your holiday with all the right equipment. For skiers who have suffered an ACL injury to their knee, the most important piece of equipment has to be a suitable knee brace. The Donjoy Armor Professional Knee Brace with Fourcepoint has been designed specifically to protect the ACL and is the ideal knee brace for skiing.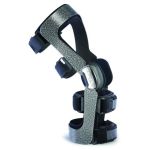 Donjoy Armor Knee Brace with Fourcepoint
The Donjoy Armor with Fourcepoint Knee Brace is the strongest off the shelf knee brace available on the market and enables the wearer to ski with confidence in the knowledge that their knee is protected. Exceptionally strong and lightweight, the Donjoy Armor Knee Brace is made from light aircraft grade aluminium making it ideal for a range of sporting activities including skiing, motor-cross, football and tennis. This ski knee brace protects the ACL and against hyperextension injuries and with its universal design can be worn by both men and women.
ACL injuries are a particular problem for the skier as injury to the ligament causes more knee instability than damage to any other knee ligament. For a skier, injury to the ACL is a common injury and can prevent some people from ever skiing again. ACL injury generally occurs when the knee receives direct impact from the front of the leg while the leg is in a stable position and the knee is forced to make sharp changes in movement.
The Donjoy Armor Knee Brace with Fourcepoint is a solid, hinged ski knee brace featuring Donjoy's fourcepoint hinge technology. It is the spring loaded hinges that keep the hamstring in constant tension. The tension in the hamstrings helps to protect the knee from ACL injury by keeping the knee stable and almost eliminating the chance of an ACL injury. The Donjoy Armor Knee Brace with Fourcepoint is an ideal knee brace for skiing as its resistance can be adjusted to suit the wearer's needs. The fourcepoint hinge technology within the Donjoy Knee Brace has been designed to reduce extension shock and increase posterior tibial loads.
The Donjoy ACL Knee Brace comes in 7 sizes and is designed with a short calf for ski boot clearance. The anatomical design of the ski knee brace along with the adjustable straps enable the ski brace to fit the wearer like a custom made knee brace. Not only is the Donjoy Armor with Fourcepoint Knee brace suitable for skiing, it is also an ideal knee brace for football, tennis, golf and cycling.