Zederna Insoles
The hand-crafted cedar wood insoles made by Zederna are a unique innovation. Made from 100% natural materials – cedar wood and cotton – they guarantee your feet and shoes stay dry, fresh and healthy. For more information or a recommendation from the product experts in our Customer Care Team, you can get in touch over the phone at 020 7720 2266 or email us at helpdesk@healthandcare.co.uk.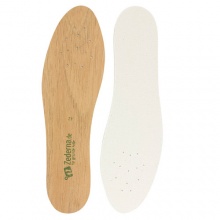 Natural cedar wood insoles for sweaty feet
Ideal for all shoes, with or without socks, on anyone who has sweaty feet
Moisture absorbing and antibacterial for reducing foot odour and bad smells
Naturally shoe deodorising for a pleasant cedar scene
If you're interested in learning more about insoles, why not have a look at www.shoeinsoles.co.uk, our sister website dedicated to all things feet?