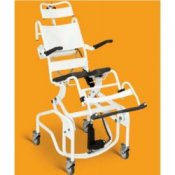 HT-cover material;

30° tilting operation by gas spring;

Hinged soft toilet seat with open front;

Adjustable headrest;
---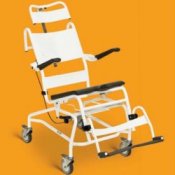 HT-cover material;

30° tilting operation by gas spring;

Hinged soft toilet seat with open front;

Adjustable headrest;
---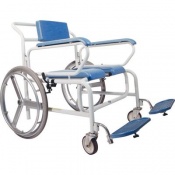 Available in two seat widths (610mm and 710mm) to suit all users
Has 'Butterfly' armrests that add 100mm (4") to the seating width
Self-propelled chair that's ideal for the more independent user
Can be used as a shower chair, commode or over the toilet
---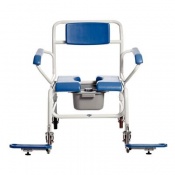 Extra wide, strongly built and designed to be comfortable for larger users
Available in two seat widths (610mm and 710mm) to suit all users
Has 'Butterfly' armrests that add 100mm (4") to the seating width
Can be used as a shower chair, commode or over the toilet
---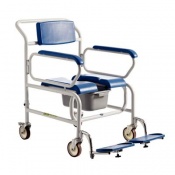 Extra wide, strongly built and designed to be comfortable for larger users
Available in two seat widths (610mm and 710mm) to suit all users
Solid one-piece handle bar ensures carer can maintain a good grip
Can be used as a shower chair, commode or over the toilet
---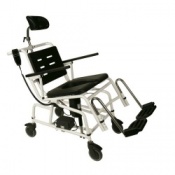 Smooth start and stop actuator function

Makes caring for heavier users easier

Effortlessly tilts backwards or forwards
Carer can position them self around the chair
---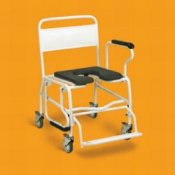 Maximum user weight of 300kg

Reinforced frame

Flip-down locking armrests

Hinged soft toilet seat
---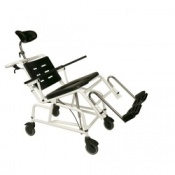 Activated by hand lever at rear;

Makes caring for heavier users easier;

Effortlessly tilts backwards or forwards;

Carer can stand at rear or side to operate.
---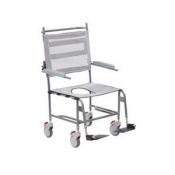 Shower chair to assist those with reduced mobility when showering and using a bidet
Designed for use with the Bio Bidet
Height is adjustable
Hygienic and easily washable
---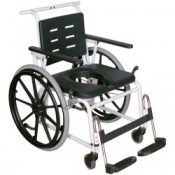 Provides increased independence;

Easy to manoeuvre for user and carer;

Fold-up armrests for easy side transfer;
For users who are able to propel themselves.
---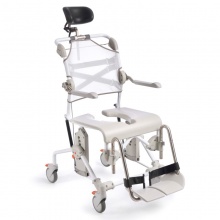 Adjustable shower commode chair
Ideal for supporting both carers and disabled users
Unique tilt feature of -5° to +35° increases accessibility for carer
Soft quick-drying backrest and curved footrests increase user comfort
---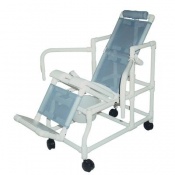 Can be used as a commode chair when pan attached

Ideal for those who tend to lean or slide forward

Made of easy-to-clean and durable PVC plastic

Reclining ability with four recline positions
---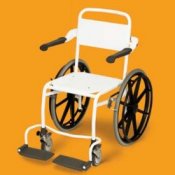 Two 24" moulded self propelling wheels

Independent swivel armrests

Adjustable swing-up footrests

Available in two heights
---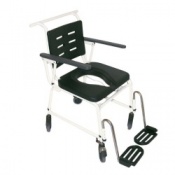 Height adjustable;
Durable non-slip materials;
Detachable seat and backrest;
Fold-up armrests for easy side transfer.
---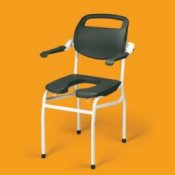 Independent swivel armrest;

Detachable toilet seat;

Ergonomically shaped backrest;

Detachable rails for bedpan;
---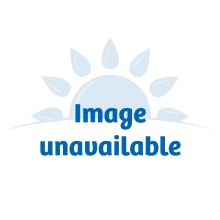 Heavy-duty chairs have a large seat (560mm) to support more weight
Brakes on all four wheels for additional security and independence
Lightweight aluminium frame that's rust free and high strength
Shower Commode Chair can be propelled by yourself
---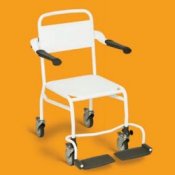 Four stainless steel wheel castors

Independent Swivel armrests

HT-cover material backrest and seat

Available in two heights
---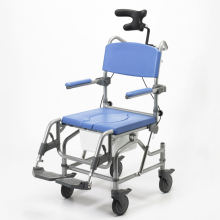 Chair tilts to provide you with secure, comfortable positioning
Ideal for those with more complex support requirements
Neck support can be positioned at any angle
Padded neck support is fully adjustable
---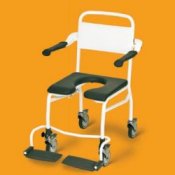 Wheel castors to provide mobility

Independent Swivel armrests

HT-cover material backrest

Hinged soft toilet seat
---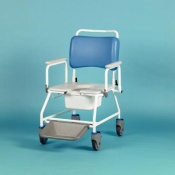 Manufactured from durable plastic-coated steel
Shower Chair specifically for bariatric users
Has footrests for additional user comfort
Ideal where infection control is an issue
---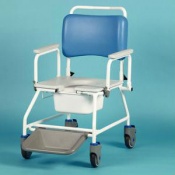 Manufactured from durable plastic-coated steel
Toilet roll holder is supplied with shower chair
Shower chair includes footrests for comfort
Ideal where infection control is an issue
---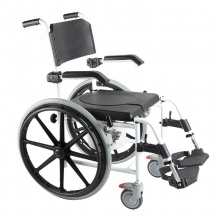 Three-in-one chair: Shower, Commode and Over-Toilet Pedestal
Comfortable seat with a removable section for personal cleaning
Large, quick-release rear wheels allowing self-propulsion
Height-adjustable seat and detachable footrests to fit a variety of users
---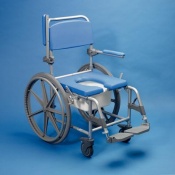 Swing-away, detachable footrests provide comfort and support
Self-propelled Shower Commode Chair with adjustable height
Brakes on all four wheels for security and peace of mind
Armrests can be flipped back to facilitate side transfer
---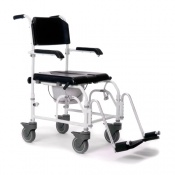 Three-in-one chair: Shower, Commode and Over-Toilet Pedestal
Comfortable seat with a removable section for personal cleaning
Designed to be manouevered by an attendant
Height-adjustable seat and detachable footrests to fit a variety of users
---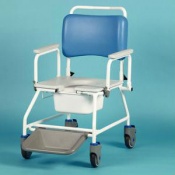 Manufactured from durable plastic-coated steel
Toilet roll holder is supplied with shower chair
Shower Chair specifically for bariatric users
Ideal where infection control is an issue
---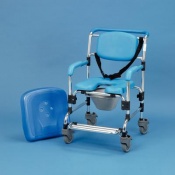 Padded backrest and armrests for support and comfort
Frame can be dismantled for transport and storage
Made from durable, corrosion-resistant materials
Has a comfortable contoured horseshoe seat
---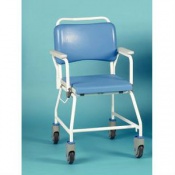 Includes a disposable pan rack for better hygiene
Manufactured from durable plastic-coated steel
Toilet roll holder is supplied with shower chair
Ideal where infection control is an issue
---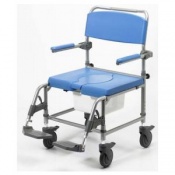 Heavy-duty chairs have a large seat (560mm) to support more weight
Brakes on all four wheels for additional security and independence
Lightweight aluminium frame that's rust free and high strength
Swing away, detachable footrests offer comfort and support
---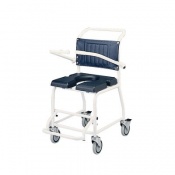 Features an attendant pushing handle and can be wheeled over toilet
Multi-functional chair can be used as shower chair or commode
Has flip-back gull wing style armrests and comfortable seat
Made from durable, plastic-coated steel tubing
---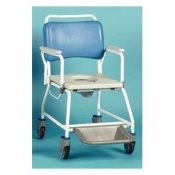 Manufactured from durable plastic-coated steel
Supplied with footrest and disposable pan rack
Toilet roll holder is supplied with shower chair
Ideal where infection control is an issue
---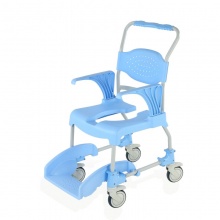 Three chairs in one for showering, toileting and transfers
Ideal for care homes looking to maximise on value and space
Seamlessly adapts to different functions with removable parts
Easily manoeuvrable and simple to clean
---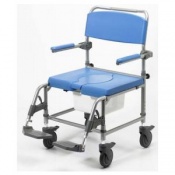 Brakes on all four wheels for additional security and independence
Heavy-duty chairs are larger than usual to support higher weight
Lightweight aluminium frame that's rust free and high strength
Swing away, detachable footrests offer comfort and support
---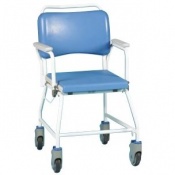 Manufactured from durable plastic-coated steel
Toilet roll holder is supplied with shower chair
Stylish chair that's easily manoeuvrable
Ideal where infection control is an issue
--- ---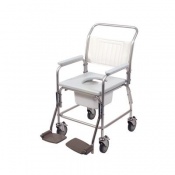 Blow-moulded seat can easily be removed for cleaning
Rust-proof frame made from anodised aluminium
Incorporates pushing handle and swivel castors
Lightweight, mobile shower commode chair
---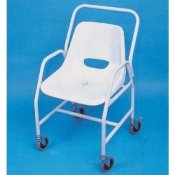 ---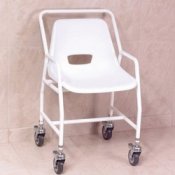 Manufactured from tubular steel

Mobile Design

Comfortable polypropene seat

Adjustable height
--- Adapts the Ocean and the Ocean XL
Comes with 24 inch wheels for increased mobility
Comes with everything required to adapt the chair
Axle is removable for greater convenience
---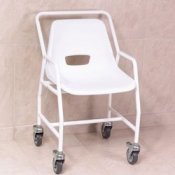 Manufactured from tubular steel

Supports a user weight of 140kg

Comfortable polypropene seat

'H' section base for support
---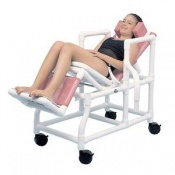 Head Support for the Dura-Tilt Shower Commode Chair
Provides additional support to your client's head
Ideal for those who tend to lean or slide forward
Reclining chair has four recline positions
---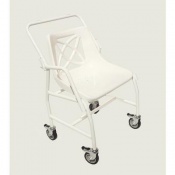 Pushing handle enables chair to be manoeuvred into place
Has a back and armrests so client remains comfortable
Features detachable armrests for easier side transfer
Four castors have brakes for additional safety
---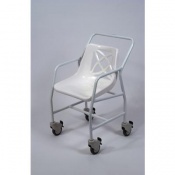 Attractive, plastic-coated, steel-framed shower chair
Useful to transfer client from one place to another
Has four swivelling, braked castors for safety
Pushing handle for your convenience
--- Pair of castors for Coopers Shower/Commode Chairs
Converts the Self-Propelled Chair into an Attendant-Propelled Chair
Improves the manoeuvrability of your existing chair
Can also be used as spare or replacements
--- Soft seat for the Alerta Aqua Shower Chair
Ideal for providing added comfort to patients
Enhances comfort for toileting and transfers
Available in either a closed or open design
--- Spare backrest for the Etac Swift Mobile Commode Chair
Easy to use and easy to fit
Provides stable support during washing
Suitable for use as a spare in case your existing backrest is damaged
---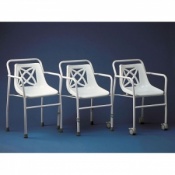 Features a curved seat to provide comfort
Available with a number of different features
Comfortable and sturdy shower chair
Holes in seat to drain excess water
--- Seat belt for the Alerta Aqua Shower Chair
Provides added security to patients and users
Ideal for peace of mind during patient transfers
Suitable for use during toileting and shower procedures
---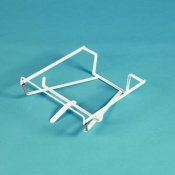 Perfection Pan Rack for the Homecraft Atlantic Range
Allows you to use the re-usable bed pan with your chair
Chair is ideal for use in the shower and is easy to clean
Ideal where infection control is an issue
---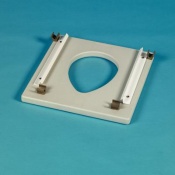 Designed for the Homecraft Atlantic Commode Shower Chair
Seat can be removed for cleaning or storing away
Shower Chair allows you to go to the toilet easily
The Chair's Aperture Seat is a hygienic clip on
---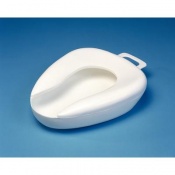 Perfection Bed Pan for the Homecraft Atlantic Range
General purpose bed pan made from polypropylene
Can be cleaned by steam, hot water or chemicals
Perfection Bed Pan has a capacity of 1 litre
---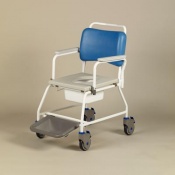 Standard Square Bowl for the Homecraft Atlantic Range
Ideal for those who need help showering and toileting
Reusable bowl that can easily be cleaned
Large Square Bowl has a high capacity