Wheelchair Trays and Tables
Welcome to our range of Wheelchair Trays and Tables. Find attachable tables suitable for a variety of activities like eating or writing, as well as stand alone tables that are able to accommodate wheelchairs or standing frames. Choose from round or rectangular designs with models available for both adults and children.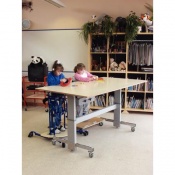 Highly accessible table for standing frames and wheelchairs
Tilts to vertical position for easy storage in any environment
Height adjustable from 67 - 100cm with the push of a button
Features battery back-up for use away from mains power
---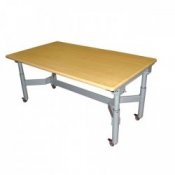 Features a laminate finish tabletop
Easily height adjustable with hand crank
Can accommodate up to four wheelchair users
Available in Standard or Junior versions
---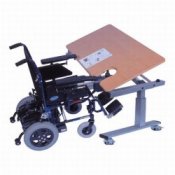 Adaptable and adjustable table for activities
Features access for powered wheelchairs
Fully height adjustable with 70° of tilt
Locking castors for safe manoeuvrability
---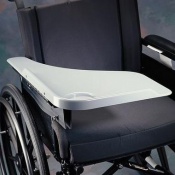 Designed to accommodate an active and functional lifestyle
Easily lifts up and out of the way during transfers
Made from scratch resistant plastic for durability
Available in two colours and for the Left or the Right side of the chair
--- Side panel and armrest only.
Detachable armrest.
For the Lomax 9HD wheelchair.
Replacement part.