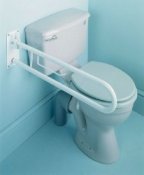 Epoxy coated steel rails;
Four mounting points for secure wall fitting;
Fold away design;
Non slip rubber ferrule.
---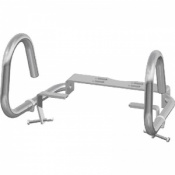 Designed for use with the Bio Bidet Toilet Seat Raiser Spacers
Helps those with mobility issues to use the toilet
Three in one design with an adaptable position of the handles
Detachable and removable for convenience
---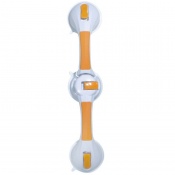 Can be installed and removed without tools or professional assistance
Uses suction cups that adhere to walls, so doesn't damage property
The Grab Bar's large suction cups provide an extremely strong hold
Red/green indicator shows "safe secure" suction or "re-affix" suction
---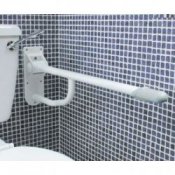 High quality steel grab rail

Easily folded up and down

Oval tube for comfort

Maximum user weight 125kg
---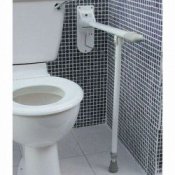 High quality powder coated steel rail

Easily folded up and down

Height adjustable supporting leg

Maximum user weight 190kg
---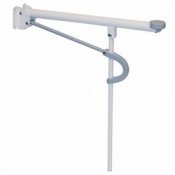 Modern design grab rail

Easily folded up and down

Supporting leg provides stability

Maximum user weight: 150kg
---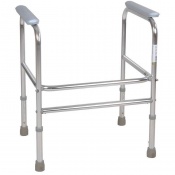 Provides support to patients while using the toilet
Helps with sitting down, standing up and staying secure
Adjustable height from 640mm to 740mm
Provides a safe height for the majority of users
---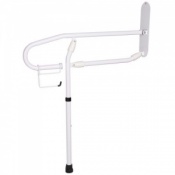 Wall mounted, folding support rail.
For added support during sit to stand transfers.
Suitable to be used next to a toilet.
Height adjustable.
---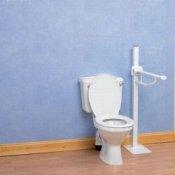 Support rail for installing in the bathroom beside the toilet
Provides stability when accessing and sitting on the loo
Light yet strong aluminium provides reliable support
Mounts on the floor for optimal positioning
---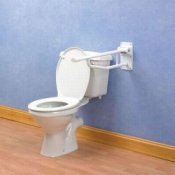 Support rail for installing in the bathroom beside the toilet
Provides stability when accessing and sitting on the loo
Light yet strong aluminium provides reliable support
Elliptical arms provide ultimate comfort and grip
---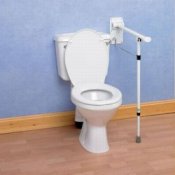 Support rail for installing in the bathroom beside the toilet
Provides stability when accessing and sitting on the loo
Light yet strong aluminium provides reliable support
Leg allows for height adjustment to suit most users
---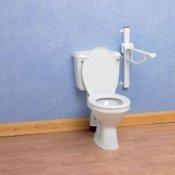 Support rail for installing in the bathroom beside the toilet
Provides stability when accessing and sitting on the loo
Light yet strong aluminium provides reliable support
Adjustable height ensuring it is suitable for most people
---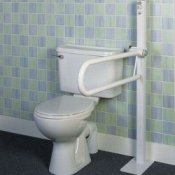 Folding support rail for installing in the bathroom beside the toilet
Mounted to a floor fixing post for versatility in positioning
Clamping arrangement enables adjustable height alteration
Available in two lengths to suit most people
---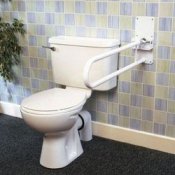 Support rail for installing in the bathroom beside the toilet
Provides stability when accessing and sitting on the loo
Affixes to the wall beside the toilet for convenient location
Held upright with a spring loaded cam and easily folded
---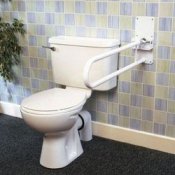 Support rail for installing in the bathroom beside the toilet
Large diameter for stability when accessing and sitting on the loo
Affixes to the wall beside the toilet for convenient location
Held upright with a spring loaded cam and easily folded
---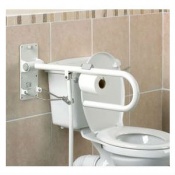 Toilet roll holder for use with Devon MKII and Floor-Mounted Rails
Attaches to the tube for convenient positioning and easy access
Reduces the risk of the toilet roll straying from sight
Ensures the toilet roll can always be located in the same place
---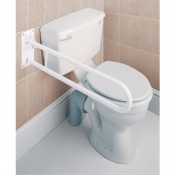 Grab rail for installing in the bathroom beside the toilet
Supportive rail for assisting with lowering and rising
Affixes to the wall for assured stability
Rail is held in upright position when not in use
---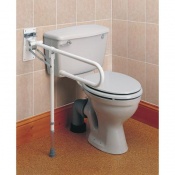 Grab rail for installing in the bathroom beside the toilet
Supportive rail with slip-resistant rubber tips
Affixes to the wall for assured stability
Adjustable height to cater for most people
---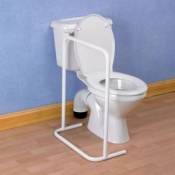 Side-section rail for use beside a toilet, sink, or bath
Screws to the floor for maximum stability
Suitable for use with the left or right hand
Assists with lowering to and rising from bed or toilet
---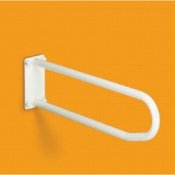 Unique design fixed support rail

Manufactured with coated steel

Available in 5 Lengths

Maximum user weight: 150kg
---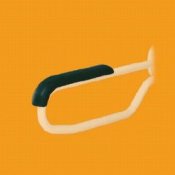 Comfortable Polyurethane Armrest

Fits the Linido Hinged & Fixed arm support

Available in black

Includes adhesive
---