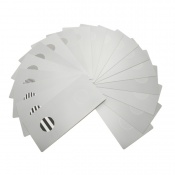 Apparatus for testing visual acuity levels
For testing infants, toddlers and young children
Suitable for testing individuals with intellectual impairment
Test kit includes 18 cards with gratings of varying frequencies
---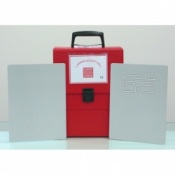 Designed specially for children ages six month to three years
Relies on observation of the subject, rather than understanding
Effectively tests irrespective of child's or adult's developmental stage
Recommended by leading paediatric vision consultants worldwide
---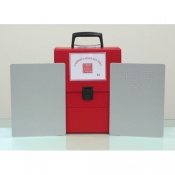 A visual testing kit designed to determine contrast sensitivity
Designed for testing toddlers and young children
Suitable for older children/adults with intellectual impairment
Kit consists of 36 laminated cards with images
---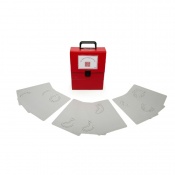 Developed to test vision in toddlers (ages one - three years)
Suitable for older children and adults with intellectual impairment
Supports testing from 20/320 to 20/640 (6/96 to 6/192)
Kit includes 45 laminated cards with images
---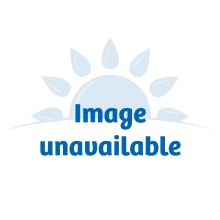 Cost-effective alternative to the Cardiff 4740R Standard Acuity Test
Suitable for testing visual acuity in children ages one to three years
Provides a rapid and accurate method for quantifying visual acuity
Consists of 30 laminated cards with printed optotypes
---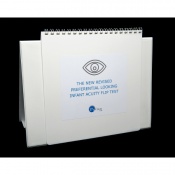 Chart for testing visual acuity in infants and toddlers
Can be used to test anyone with intellectual impairment
Enables visual acuity to be quantified accurately
Flip chart design for convenience and ease of use
---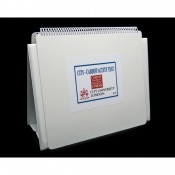 Kit for testing visual acuity in infants
Uses a clinically validated technique
Flip chart design for easy preparation
Display stand for more convenient use
---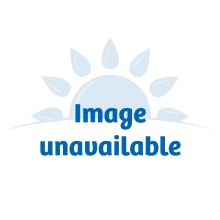 A cost-effective alternative to the Cardiff 4740R Standard Acuity Test
For testing visual acuity in children ages 12 months to three years
Can be used to test older children/adults with intellectual impairment
Pack consists of 30 testing cards in a handy carry case
---
Grating test kit made up of 10 cards
For testing visual acuity in infants/small children
Uses the Preferential Looking technique
Enables visual acuity to be quantified
---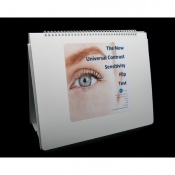 Kit for testing contrast sensitivity
Includes cards with pictures and letters
Can be used to test subjects of all ages
Portable and easy to use flip chart design
---
Accurate method for testing visual acuity
Designed specifically for testing infants
Uses grating patterns to assess vision
Consists of eight acuity testing cards
---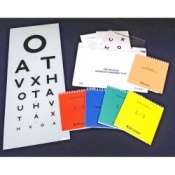 Designed for children
Suitable for disabled people
Includes Orthoptic Booklets
Multiple chart types
---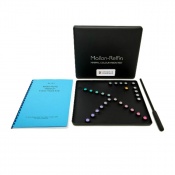 Quick and simple test to detect colour deficiencies
Can be used to test children, adults and the elderly
Can be used to detect problems in colour differentiation
Can be used to diagnose colour blindness
---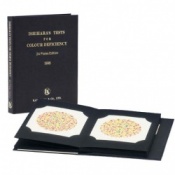 Differentiates between congenital and acquired defects
Made for a red/green colour vision deficiency
Available in 10, 14, 24 and 38 plate editions
Efficient colour blindness test for children
---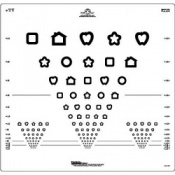 Logmar eye tests;
3 metre distance;
Patti Pics style;
3 formats available.
---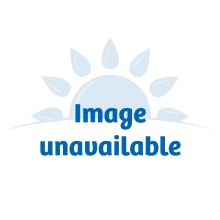 Add-on cards for the Cardiff 4740R Standard Acuity Test
Consists of nine laminated cards and two dividers
Adds three cards at each visual acuity testing level
Cards are laminated to extend their life
---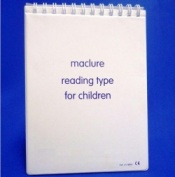 Designed for children
Ages graded 1 - 7
Multiple chart types
Differentiates between sight and reading
---
Cards for accurately testing visual acuity
Suitable for testing children ages three and up
Consists of nine cards with vanishing optotypes
Contains three cards at each acuity testing level
---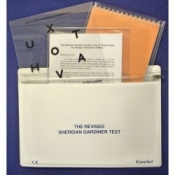 Designed for children
Suitable for disabled people
Based on shape matching
Multiple chart types
---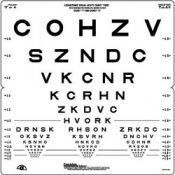 Helps determine the smallest letters your patient can read
Designed to help diagnose patients with eyesight issues
Foldable in design so you're able to travel with the chart
Ideal for optometrists to use with patients
---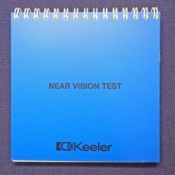 For use in Sheridan Gardiner Test
---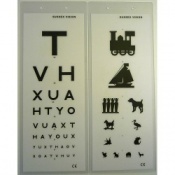 Laminated;
3M distance;
Test type TVH
With children's picture chart.
---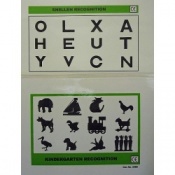 Pitutre recognition test.