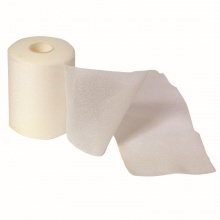 Thin hypoallergenic polyurethene wrap
For use before applying tape or bandages
Protects skin from painful effect of removing tapes
Can be used as a pre-tape in orthopaedic casting
---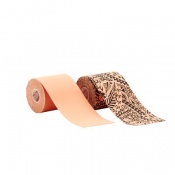 Reduces the perception of pain while assisting the rate of recovery
Assists co-ordination, proprioception, balance and timing of activation
Uses multi-directional elasticity which reduces workload on the body
Ensures athletes retain their full range of motion
---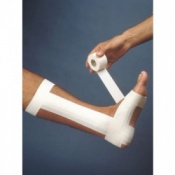 Preferred choice of Zinc Oxide taping

Efficient stabilisation of joints

Hypoallergenic coating avoids reactions

Available in four sizes
---
Helps improve traction on skin for adhesive bandages and tapes
Protects skin from painful effect of removing tapes
Spray leaves a clear protective film
Use before applying tape or bandages
---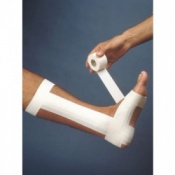 Preferred choice of Zinc Oxide taping

Efficient stabilisation of joints

Hypoallergenic coating avoids reactions

Available in four sizes
---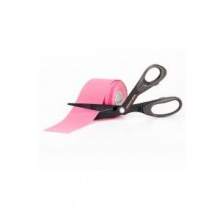 Specially coated for a clean cut

Super sharp

Prevent you from wasting tape
---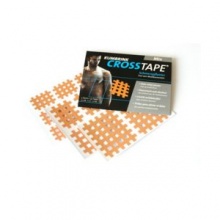 Cross tape patches for pain relief
Medication free
Can stimulate acupuncture points
Available in 3 sizes, or as a mixed box
---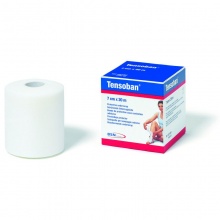 Thin polyurethene wrap provided in a pack of 12 rolls
Protects skin from painful effect of removing tapes
Can be used as a pre-tape in orthopaedic casting
For use before applying tape or bandages
---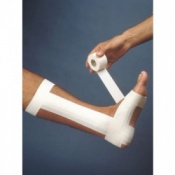 Preferred choice of Zinc Oxide taping

Efficient stabilisation of joints

Hypoallergenic coating avoids reactions

Available in four sizes
---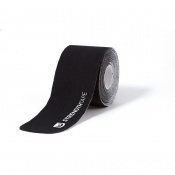 Provides stability and support to injured muscles and joints
Stretchy and breathable to allow for full range of motion
Pre-cut for easy and quick application
Official kinesiology tape of IronMan Triathlon Series
---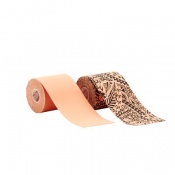 Multi-directional elasticity that is highly beneficial for a multitude of pathologies
Improves blood and lymph circulation to assist rate of recovery and repair
Does not restrict your movement
Assists co-ordination, proprioception, balance and timing of activation
---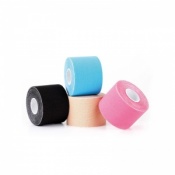 Kinesiology tape to boost sports performance

Ideal for use in sports rehabilitation

Improves muscle, joint and circulation function

Reduces pain
---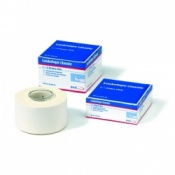 Powerful zinc oxide adhesion;

Excellent support of joints;

Breathable but water-proof;

Hand-teareable 100% cotton.
---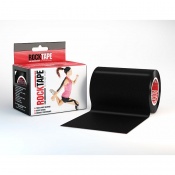 Extra-sticky, hypoallergenic adhesive that won't fall off during exercise
180% stretch, the same as skin, for full range of motion
Double-width rolls for bigger people and areas
Variety of colours and designs available
---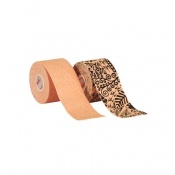 Ideal for professional athletes and physios to treat a range of pathologies
Uses unique, multi-directional elasticity to provide you with flexibility
Improves blood and lymph circulation to assist the rate of recovery and repair
Available in two different designs (Tattoo Tan and Black Tattoo)
---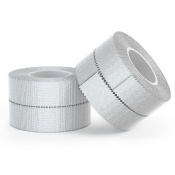 Add stability, strength, support or immobilisation to any area
EasyRip, so no scissors needed
Super sticky and non-latex
Available in 1.25cm (split), 2.5cm and 3.8cm sizes
---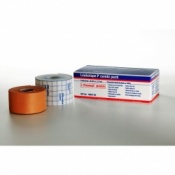 High strength rigid tape;

Versatile support;

Hand-tearable and breathable material;

Available in Combi-pack with protective underwrap.
---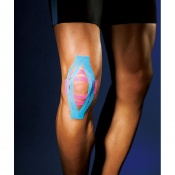 Kinetic tape to lessen pain, provide support and enhance strength
Made with an innovative four-arc pattern for maximum efficacy
Creates an opposite shearing force to provide a deep massaging effect
Supplied in packs of 10 pre-cut strips for easy and quick aplication
---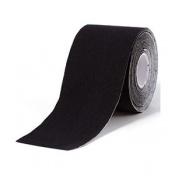 Provide stability and support to injured muscles and joints
Stretchy and breathable to allow for full range of motion
Won't come off in water, and will stay on for up to 7 days
Official kinesiology tape of IronMan Triathlon Series
---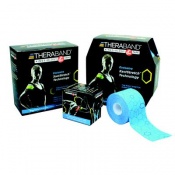 Comes with a unique, hassle-free single roll dispenser for easy dispensing
Exclusive XactStretch Technology eliminates misapplication, even for beginners
Provides durable support for up to five days
Supports muscles and joints while providing pain relief
---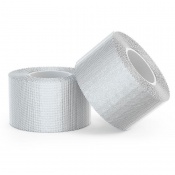 Add stability, strength, support or immobilisation to any area
EasyRip with no scissors needed for easy application
Contains 10 rolls of tape with 1.25cm width to fit any area
Incomplete pack at a reduced price to save you money!
---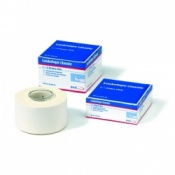 Powerful zinc oxide adhesion
Excellent support and stabilisation of joints
Breathable, yet waterproof
Price is per individual roll
---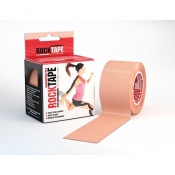 Sticky, hypoallergenic adhesive that won't fall off during exercise
180% stretch, the same elasticity as skin, for full range of motion
Sweat, water resistant for longer lasting use
Variety of designs and colours available
---
Elastic reusable bandage for recovery and relief
Ideal for active people who require pain relief
Provides firm and even support to affected area
Reusable bandage for prolonged usage
---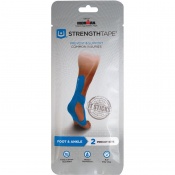 Provide stability and support to injured muscles and joints
Stretchy and breathable to allow for full range of motion
Pre cut specially for foot and ankle taping
Official kinesiology tape of IronMan Triathlon Series
---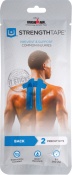 Provides stability and support to injured muscles and joints
Stretchy and breathable to allow for full range of motion
Pre-cut specially for back taping
Official kinesiology tape of IronMan Triathlon Series
---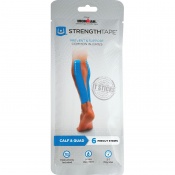 Provide stability and support to injured muscles and joints
Stretchy and breathable to allow for full range of motion
Pre cut specially for calf and thigh taping
Official kinesiology tape of IronMan Triathlon Series
---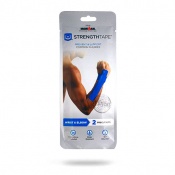 Provide stability and support to injured muscles and joints
Stretchy and breathable to allow for full range of motion
Pre-cut specially for elbow and wrist taping
Official kinesiology tape of IronMan Triathlon Series
---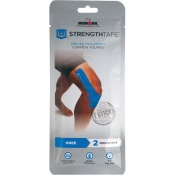 Provide stability and support to injured muscles and joints
Stretchy and breathable to allow for full range of motion
Pre-cut specially for knee taping
Official kinesiology tape of IronMan Triathlon Series
---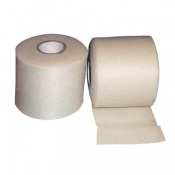 Made from high quality foam
Helps to prevent chafing on your skin
Can be applied before you use tape
Foam is soft against your skin
---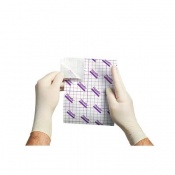 Hypoallergenic tape for sensitive skin that reacts easily to allergens
Air and moisture permeable to let skin breathe and prevent maceration
Ideal for securing dressings and electrodes
Conforms well to your skin for optimal comfort
---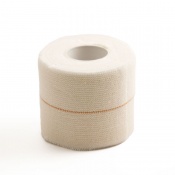 Elastic cotton bandage with strong adhesive
Ideal for ankle, knee, hand and wrist taping
Prevents sports injuries and secures weak joints
Available in three widths: 2.5cm, 5cm and 7.5cm
---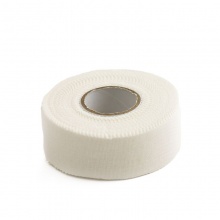 Ideal for prevention and treatment of ligaments sprains
Especially suitable for use on wrists and fingers
Can be used for preventing blisters and calluses
Available in three widths: 2.5cm, 3.5cm and 5cm
---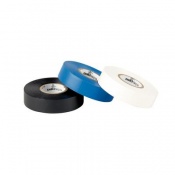 Available in four different colours
Small and lightweight, so easy to keep in your sports bag
Helps keep bandages in place while you exercise
Supplied in long-lasting, 33m long rolls
---
Elastic cotton bandage with strong adhesive
Ideal for ankle, knee, hand and wrist taping
Suitable for tearing with hands for quick aid if needed
Available in three widths: 2.5cm, 5cm and 7.5cm