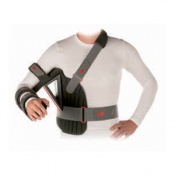 Post-Op/ Post Trauma of Shoulder

Subcapital Fractures of Humerous

Abduction of 0°, 15°, 30°, 60° + 90° degrees

Easy to fit/ washable covers
---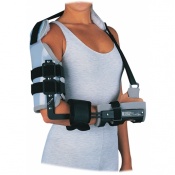 Crafted with three points of stabilisation to support you
Low-cost and time-efficient alternative to serial casting
Designed with full-circumference shells and padding
Ideal for immobilising your arm following an injury
---
Enables full range of motion at elbow

Sleeve can be trimmed for perfect fit

Shoulder cap increases stability

Hook and loop straps maintain compression
---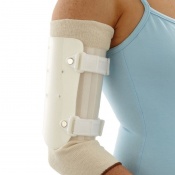 Sarmiento design;

Sleeve can be trimmed and heat moulded;

Universal left/right application;

Full kit for complete applications
---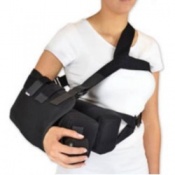 3 point offloading harness;
Excellent support & comfort;
Lightweight breathable fabric;
Contoured 15°& 45° abduction pads.
---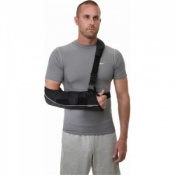 Clever 3 in 1 design provides immobilization and/or abduction
Features optimal comfort and customisable straps
Suitable for soft tissue repairs/strains
Also suitable for shoulder instabilities/injuries
---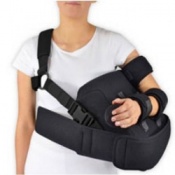 3 point offloading harness;
Excellent support & comfort;
Contoured 45° abduction pad;
Good stability and shoulder fixation.
---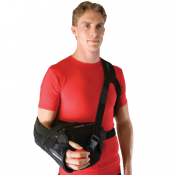 Maintains shoulder and arm in an externally rotated position
Includes a comfortable foam pillow for added compliance
Designed with moisture-wicking fabric for long-term use
Derotational shoulder strap holds the sling in place
---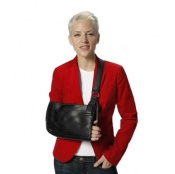 A novel contemporary unisex sling.

Protects the arm following injury or surgery.

Optional waist strap for shoulder injuries.

Padded for comfort, two styles available.
---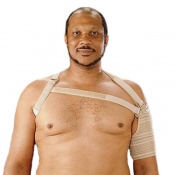 Provides unilateral and anti-subluxation support
Positions the humeral head in the glenoid fossa
Dynamic elastic straps for active movement of muscles
Ideally used following stroke, soft tissue injury, or ligament strain
---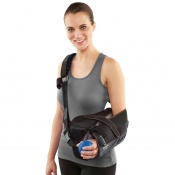 Breathable liner improves ventilation and wicks away sweat
Comfortable arm sling is easy to apply and remove
Supplied with a cushion angled at either 15° or 30°
Three-point strapping reduces stress on the neck
---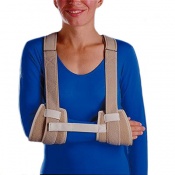 Supportive sling for orthopaedic and neurological conditions
Supports the shoulder, elbow, and forearm
Strapping system helps to distribute pressure
Soft and comfortable strapping material for optimal support
---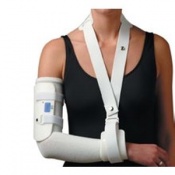 Preformed shell provides rigid support
Soft foam lining for improved protection
Effective support to reduce pain and aid recovery
Includes rigid shell and straps only
---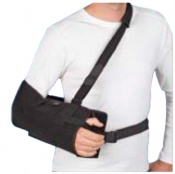 Fixation of the shoulder at 15°;
Adjustable shoulder and waist belt;
Positionable thumb loop;
Comfortable waist cushion.
---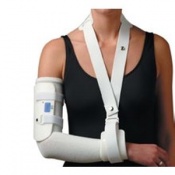 Preformed shell provides rigid support
Soft foam lining for improved protection
Humeral cast socks included for comfort
Foam padded sling for effective immobilisation
---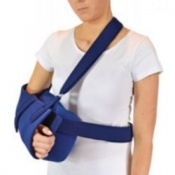 Comfortable;
15° abduction pad;
Shoulder & body straps;
Ideal for many shoulder conditions.
---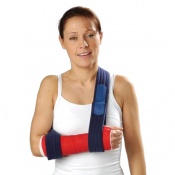 Designed to support arm in combination with a cast
Comfortable immobilisation system for the arm
Suitable for wrist, elbow or shoulder trauma
Easy to use, versatile and effective support
---
Bundle with an arm sling along with one-handed kitchen accessories
Ideal for anyone recovering from a hand or shoulder injury
Allows you to carry out kitchen tasks with only one arm
Makes it safe and easy to eat and cook with an arm sling
---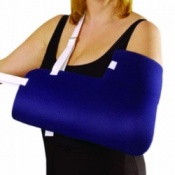 Universal one size fits all

D-ring fitted for drip stand attachment

Fits left or right arms

Shoulder and body straps easily adjusted
---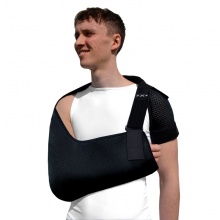 Unisex deep arm sling for excellent arm and shoulder support
Ideal for relieving neck pain caused by wearing a traditional arm sling
Fleece thumb loop provides an excellent hand rest, as well as alignment
Available in three sizes to choose from
---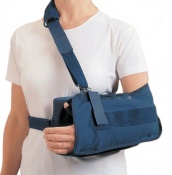 Provides shoulder abduction positioning with support

For separations, dislocations and strains and other shoulder injuries

Pillow portion rests on waist to support weight of arm

Fits left or right arm, available in three sizes
---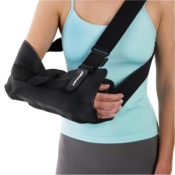 Available with an abduction pillow for angled support
Limits posterior arm mobility to reduce discomfort
Ideal for injuries to different areas of the arm
Provides secure arm and shoulder support
---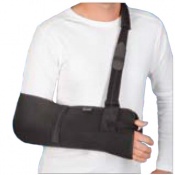 Fixation of the arm to the body;
Puts shoulder in internal rotation;
Adjustable shoulder;
Positionable thumb loop.
---
Bundle with an arm sling and cast protector
Provides arm immobilisation and protection in the shower
Limbo Cast Protector keeps cast dry in shower and bath
Comfortable Blue Vogue Arm Sling provides reliable immobilisation
---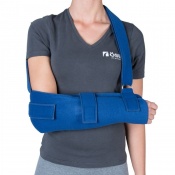 Holds your arm in a raised position to facilitate healing
Immobilises your arm following an injury or surgery
Works to reduce inflammation and protect the area
Aids healing to help you return to your routine
---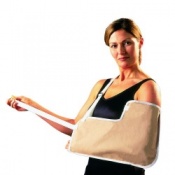 Adjustable shoulder and body straps;

Made from coutil cotton;

Universal size and fits both arms;

D-ring strap for drip stand fitment.
---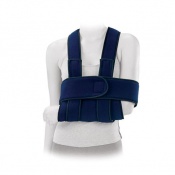 Suitable as a shoulder immobiliser or arm sling
Designed to immobilise the shoulder or arm
Leaves the neck free to avoid discomfort
Suitable for upper extremity trauma
---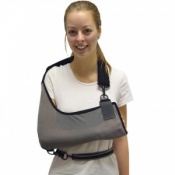 Waist strap secures arm to the body to prevent it from swinging out
Sling pocket provides shoulder support and prevents elbow from slipping out
Padded neck strap enables arm height adjustment
Velcro at cuff opens at either side for ease of use
---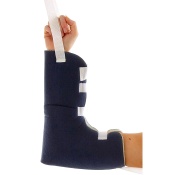 Universal fitting for left or right arms
For elevation and normal sling use
Breathable foam laminate
Ideal for use after trauma, surgery or for Oedema control
---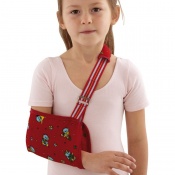 Adjustable shoulder strap ensures comfort
Immobilises the shoudler for smoother recovery
Machine washable for hygiene maintainance
Suitable for post-surgery use, sprains and more
---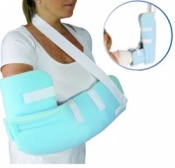 Universal size;

Can be used as a sling or arm elevator;

Quality design and materials;

Easy to use and adjust.
---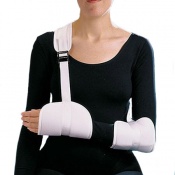 Provides soft cushioning for maximum comfort

Supports the shoulder, hand and arm

Two large cuffs for hand and forearm support

Padded strap provides optimal comfort and support
---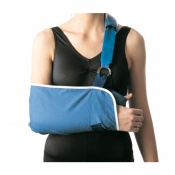 Designed for immobilisation of the forearm, elbow and arm
Full circumferential wrist strap to provide stabilisation of the arm
Breathable lightweight polyester cotton sling minimises skin irritation
Soft padded plush foam straps with easy touch-and-close fastenings
---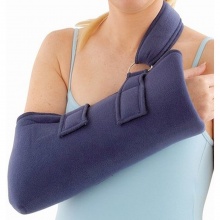 Adjustable sling that can be used as a arm sling or shoulder immobiliser
Treat trauma and injuries to the hand, wrist, elbow, arm, shoulder and collarbone
Velcro strap keeps arm, shoulder and wrist immobilised against the body
Strap on the shoulder allows you to position the arm to your needs
---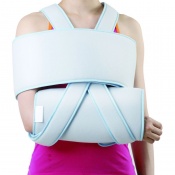 Can be used as either a shoulder immobiliser or arm sling
Wraparound application for a secure fit
Soft padded shoulder straps for comfort
Universal size and fits either shoulder
---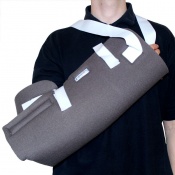 Versatile arm sling for single patient use
High quality foam construction for comfort
Holds the arm in an elevated position
Can be used with or without a neck strap
---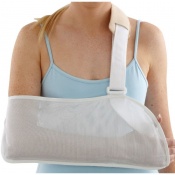 Arm and elbow immobilisation

Lightweight mesh helps air circulate

Thumb loop limits wrist drop

Universal design for left and right arm
---
Suitable for upper limb trauma/surgery;

Durable cotton;

D-ring adjustment straps;

Available in four sizes.
---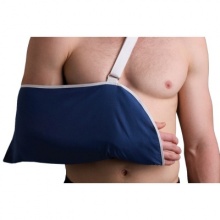 Provides support and elevation

For arm and wrist related injuries

One size fits most

Adjustable shoulder strap
---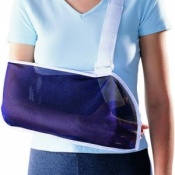 Immobilises the arm and shoulder to promote healing
Includes a deep breathable pocket for great comfort and fit
Features a hook and loop closure to allow adjustment
Made with special netting material to prevent overheating
---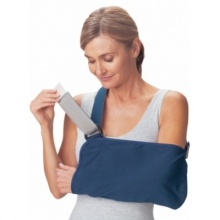 Ideal for cast support, injuries to the arm, wrist or hand
Suitable for immobilisation and support of the arm, shoulder and elbow
Fully padded 2" wide foam strap with easy adjustment and application
Generous size envelope constructed of poly/cotton providing a comfortable fit.
---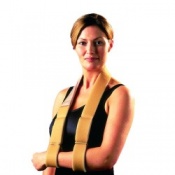 ---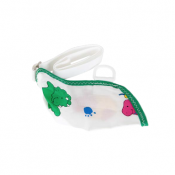 Sling for supporting and positioning the child's arm or shoulder
Fun and colourful dinosaur design to reduce distress
Polycotton fabric with a padded strap for enhanced comfort
Machine washable to ensure the child can remain active and play
---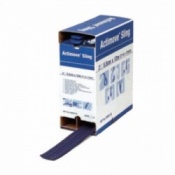 ---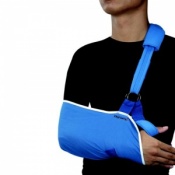 Foam padded straps prevent chafing and rubbing on neck
Luxury nylon fabric remains comfortable against skin
Immobilises the shoulder, elbow and arm during use
Fully adjustable in design for an improved fit
---
Effective immobilisation;

Padded sling and swathe;

Universal to fit left and right;

Available in four size options.
---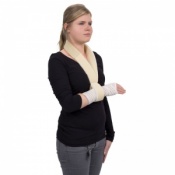 Arm sling carries full arm weight
Helps recovery after an injury
Adjustable height for comfortable position
Easily donned or removed