Sorbothane Range
By studying how our bodies actually move, Sorbothane have developed advanced support, alignment and cushioning insoles that offer stabilisation exactly where it is needed most. Their shock absorbent designs are changing the game for sports insoles. For more information or a recommendation from the product experts in our Customer Care Team, you can get in touch over the phone at 020 7720 2266 or email us at helpdesk@healthandcare.co.uk.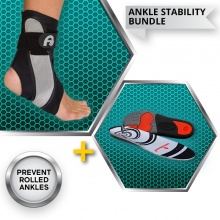 Combines two products for superior ankle stability
Ideal for supporting injured ankles following injury
Ankle support prevents rollover while insoles align feet
Two supportive items supplied together at a reduced price
---
Combines biomechanical pronation control with unrivalled shock impact protection
The professional's choice of insole for preventing foot and leg discomfort
Features a heel cup and stabilising arch that both help cradle your feet
Ensures that feet are correctly supported, aligned and cushioned
---
Features targeted Sorbothane protection with moulded heel cups and arch support
Ideal for any activity where the forefoot and heel are subject to the most impact
Suitable for all sports, hiking, walking, leisure activities and everyday use
In-built arch support prevents and alleviates arch pain and fallen arches
---
Suitable for high impact sports such as running, aerobics, tennis and more
Contains antibacterial top sheet and moisture-wicking technology
Can be used to help a number of conditions, including heel pain
Ideal for activities where the whole foot is subject to impact
---
Ideal for activities where the heel is subject to the most impact
Helps prevent and alleviate arch pain and fallen arches
Features a moulded heel cup and integral arch support
Has an antibacterial, anti-odour top sheet
---
Uses nano silver antibacterial technology
Provides effective support and comfort
Effective with every stride you take
Suitable for a wide range of shoes
---
Provides pure shock absorption at the heel
Ideal for light sport and everyday use
Easy to fit in all types of footwear
Provides firm support and comfort
If you're interested in learning more about insoles, why not have a look at www.shoeinsoles.co.uk, our sister website dedicated to all things feet?