Low profile slimline cushion for convenient daily use
Suitable for those at very high risk of pressure ulcer development
Made with a slim shaped foam base topped with dual gel sacs
Gel sacs provide relief for the ischial and sacral area
---
Pressure relief rating: At risk
Made with soft CMHR foam for pressure relief
Includes a waterproof cover for protection and comfort
Available in a wide range of sizes to suit different users
---
Pressure relief rating: High risk
Memory foam adjusts to user's body type for custom support
Includes waterproof cover for protection and comfort
Available in a wide range of sizes to suit your needs
---
Pressure relief wedge cushion for At Risk to Very High Risk
Designed to relieve pressure on the heels
Ideal for bed-ridden and immobile patients
Easy to clean for essential hygiene maintenance
---
Pressure relief rating: High risk
Designed to "remember" the shape of the user, providing greater comfort
High levels of pressure relief delivered using dry flotation technology
Features a thickness of 10cm and is available in 19 different sizes
---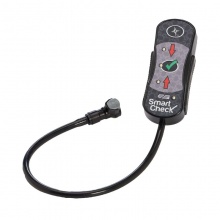 Electronic safety device for monitoring cushion inflation level
Suitable for those who want to measure their own pressure relief level
Easy to use and enables monitoring at the touch of a button
Suitable with Roho Sensor Ready Pressure Cushions
---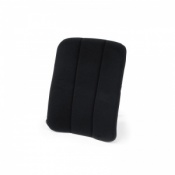 Back support which attaches to car seat

Supports entire back

Reduces backache and strain on the spine

Available in three colours
---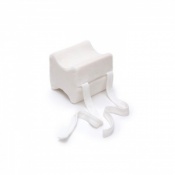 Support cushion placed in between the legs

Reduces knee, leg, hip and lower back strain caused by lying in lateral position

Can work as a positioning aid after hip operations

Reduces sweating
---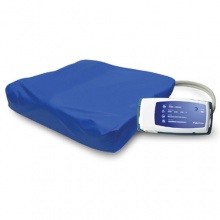 Spare cover for pressure relief cushion
To be used with the BOS Combo Cushion
Protects and keeps the cushion clean
Can be used as a spare or replacement
---
Pressure relief rating: High risk
Designed for use on rise recliner chairs
Set of seat and leg cushions for lower body pressure relief
Straps and anti-slip covers provide stability and resist forward sliding
---
Portable alternating pressure relief cushion for high risk users
Ideal for wheelchair users who need dynamic relief on the go
Powered by a lithium-ion battery to provide over 24 hours of operation
Easy-to-use settings allow carers to set up the cushion in minutes
---
Combination pressure relief pillow with portable design
Ideal for providing pressure relief on the go, such as for wheelchair users
Includes pressure-relieving foam with air-alternating section
Targeted pressure relief ideal for higher risk areas
---
Soft, contoured foam to comfort and relieve patients
Cover can be wiped clean or removed to machine wash
Distributes weight for excellent pressure reduction
Suitable for low to medium risk patients
---
Can fit both round and oval rings

Cotton and elasticated

Machine washable for lasting hygiene
---
---
Moulds to body's shape;

Great comfort and support;

Pressure relieving properties;

Available in PU or Vinyl.
---
Basic pressure relief for wheelchair and seated users
Ideal for those with low risk of developing pressure sores
Distributes the user's weight evenly to reduced pressure
Covered in a wipe clean nylon stretch material
---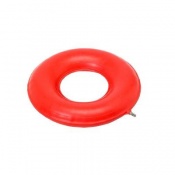 Inflatable ring cushion perfect for travelling
Able to be inflated by mouth or bicycle pump
Patterned surface to avoid user from slipping
Takes pressure off the lower back and tailbone
---
Moulded from visco elastic memory foam.

Allows the user to sit for longer periods.

Disperses heat and relieves pressure.

For users at high risk of pressure sores.
---
Great all round cushion

High grade nodular foam allows air to circulate freely.

Lightweight and easily transportable.

For users at low risk of developing pressure sores.
---
Provides pressure relief for those at very high risk of pressure sores
Contoured to conform to the body while improving comfort and posture
Maximises contact surface area for excellent pressure distribution
Firm density to suit users up to a maximum weight of 108kg (17 stone)
---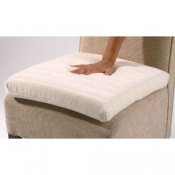 Square cushion designed for users at high risk of pressure sores
Made from visco elastic foam to relieve pressure
Coated in a polyurethane cover for shear and friction reduction
Supportive and comforting for those who require relief
---
Provides relief suitable for those at high risk of pressure ulcer development
Features dual layer foam for improved support and longevity
Made with castellated foam on top of a high density foam base
Moves with the client to reduce shear and friction forces
---
Pressure relief sole protector to minimise the risk of pressure sores
Ideal for bed-ridden and immobile patients
Suitable for community and acute bed frames
Easy to clean for essential hygiene maintenance
---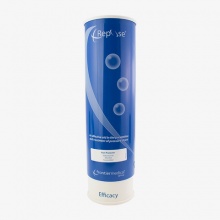 Spare pump for inflatable Repose products
Ensures you can keep your pressure relief inflated
Smart Valve technology for reliable inflation
Exhausts excess air for maximum patient support
---
Pressure relief rating: Low risk
Suitable for low risk pressure risk patients
Easy to set-up, inflate and adjust
Designed for use as an incontinence cover
---
Pressure relief rating: High risk
Superb pressure relief cushion
High levels of pressure relief due to dry flotation technology
Features a thickness of 6cm and is available in 20 different sizes
---
Pressure relief cushion providing dynamic pressure therapy
Suitable for those at high risk of pressure sore development
Provides alternating therapy to reduce high-pressure zones
Automatically detects weight and adjusts pressure
---
Spare cover for the Repose Pressure Relief Cushion
Ideal for replacing an existing cover during washing
Blue colour to minimise stain visibility
Easy to replace your existing cushion cover
---
Suitable for users at medium risk of pressure sore development
Removable central pad for use on commode chairs
Cushion is filled with extremely comfortable viscoelastic gel
Features a 100% impermeable membrane for hygiene and durability