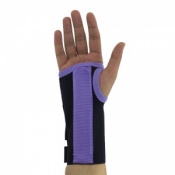 Colourful attractive desgin

Available in 3 sizes

Bar support on back of wrist

Easy to slip on and off
---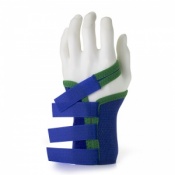 Allows full hand function;

Removable aluminium palmar bar;

Colourful Paediatric wrist brace;

Available in 3 sizes.
---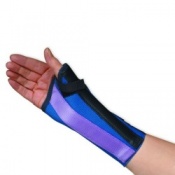 Colourful attractive desgin

Available in 3 sizes

Bar support on back of wrist

Additional thumb support
---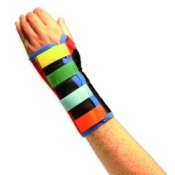 ---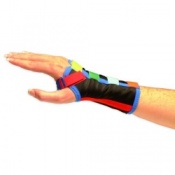 ---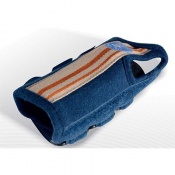 Radio-transparent immobilising palmar stay
Provides wrist support and stabilisation
Conformable and X-ray friendly brace
Tightening straps are easy to use
---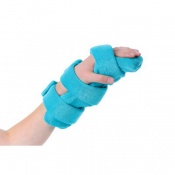 Three sizes designed for paediatric patients
Supports weak or deformed wrists, hands, and fingers
Deviation enables lateral and medial movement
Reinforced spine bends and adjusts for better use
---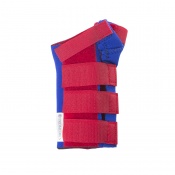 Metal thumb and wrist stays;

For relief of Juvenile Chronic Arthritis;

Can be cut down to suit without fraying;

Excellent thumb and wrist support.
---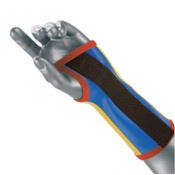 Comfortably soft for children

Suits a range of wrist conditions

Many sizes available

Provides good support
---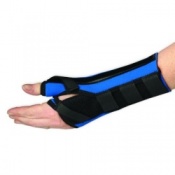 Durable comfortable Neoprene

Vibrant colours available

Easy to use Velcro fastening

Designed for children
---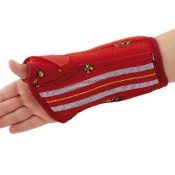 Suitable for children with rheumatoid arthritis

Soft 10mm foam provides cushioning and comfort

Hook and loop straps for easy and secure fastening

Colourful red colour with elephant illustrations
---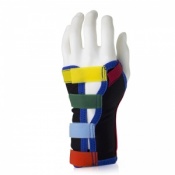 Suitable for children with wrist pain;

Touch and close fastening;

Colourful lycra fleece material;

15cm long.
---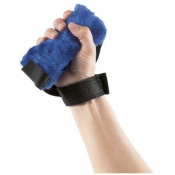 Improves volar hygiene and unloads pressure from fingers
Designed for geriatric and paediatric patients with mild to severe contractures and spasticity
Bladder can be used separately for pressure absorption and finger extension
Wider straps with microfibres for enhanced comfort
---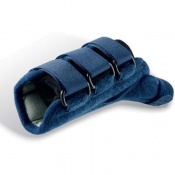 Easy-to-use tightening straps for quickly putting on the brace
Conformable and X-ray friendly with radio-transparent stays
Comfortable, foam-lined material used in the support
Provides wrist and thumb support and stabilisation