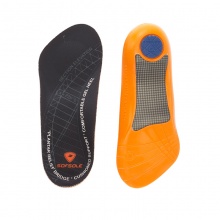 Pair of insoles for plantar fasciitis pain relief
Comfortable solution for men with plantar fascia pain
Relieves heel spur pain thanks to gel in the heel
Fits most footwear types thanks to a ¾ length design
---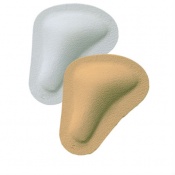 T-shaped pads to relieve symptoms caused by splayfeet
Supports feet in the most stressed areas for optimal benefit
Assures correct positioning of the metatarsals
Self-adhesive T-shaped pads are easy to apply
---
Slimflex Simple High Density 3/4 Length Insoles
High density version for extra support
For heavier patients and harder wearing patients
Increased general control
---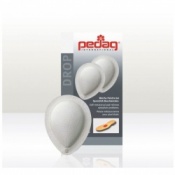 Drop shaped metatarsal pads;
Alleviates symptoms of splayfoot;
Genuine leather;
Self-adhesive.
---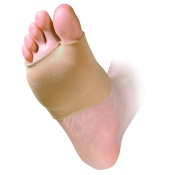 Helps to reduce pain and discomfort in the ball of the foot
Anatomically designed gel pad covers all five metatarsal heads
Serves as a soft tissue supplement when the fat under the foot wears away
Silipos gels protect the foot against impact, pressure and shear forces
---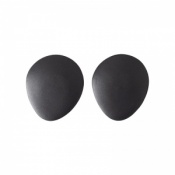 Broad metatarsal pads in A30 shore EVA
Secure MicroGrip fastening to prevent movement in shoes
Compatible with most off-the-shelf insoles
Supplied as a pair
---
Full length, high-density insoles
Provides extra support
For heavier and harder-wearing patients
Increased general control
---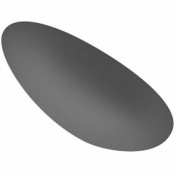 Can be applied to a range of orthotics;
Adhesive-backed;
3 sizes available;
Available in packs of 2 or 10.


---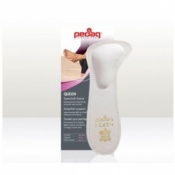 Soft latex forefoot supports;
Relieves symptoms of splayfoot;
Extra narrow size;
Self-adhesive.
---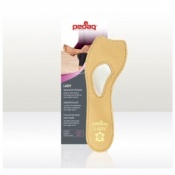 Soft latex ball of foot supports;
Prevents symptoms of splayfoot;
Regulates foot temperature;
Self-adhesive.
---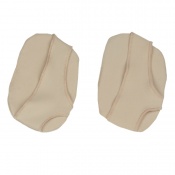 Discreet fabric and gel metatarsal pads
Absorb shock, reduce pressure and cushion
Designed to be used with most everyday footwear
Supplied as a pair of pads
---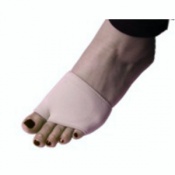 Elasticated fabric sleeve with a silicone gel pad
Cushions and protects the metatarsal heads
Reduces pain and discomfort in the ball of the foot
Supplied as a pair of sleeves
---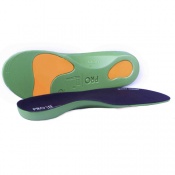 Quality orthotic insoles designed by leading podiatrists
Ease plantar fasciitis and day-to-day foot pains
Treat over-pronation to relieve foot and body pains
Suitable for work boots and high-impact sports
---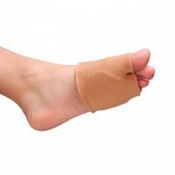 Relieves burning under the metatarsal heads
Suitable for treating a range of conditions
Supports and cushions the foot
Available for either the left or right foot
---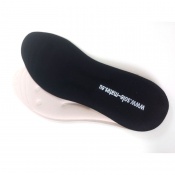 Massages your feet with every step you take
Improves circulation and relieves pain
Moulds to the shape of your feet
Ideal for a number of conditions
---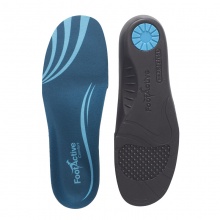 Full-length orthotic insoles that prioritise comfort
Comprehensive support from heel to toe
Shock-absorbing heel minimises stress on feet
NHS approved for your peace of mind
---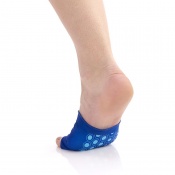 Helps prevent blisters and inflammation on the balls of feet
Absorbs impacts to reduce pain from existing injuries
Anatomical design for left and right feet provides a better fit
Made from washable and reusable silicone for a longer life
---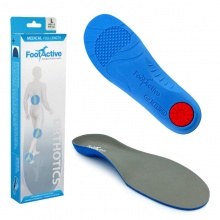 Medical-grade authotic insoles
Ideal for severe overpronation and flat feet
Available in 3/4 length and full length
NHS approved for peace of mind
---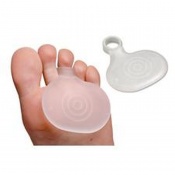 Absorbs the shock from the metatarsal area
Suitable for assisting with a range of conditions
Straightforward and easy to apply
Supplied individually for the left and right foot
---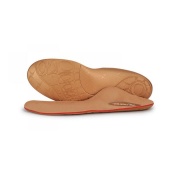 Features advanced tri-density technology
Recommended for medium or high arch feet
Ideal for use with casual and comfort footwear
Redistributes weight and provides metatarsal support
---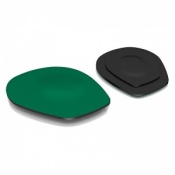 Cushioned layer absorbs impact to the ball of the foot
Additional padding to support the metatarsal arch
Perfect for both athletic and casual use
Antimicrobial layer to prevent blisters and foot odour
---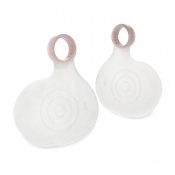 Absorbs shock in the forefoot area

Relieves burning on ball of the foot

Silicone construction with snug fit

Supplied in packs of 2
---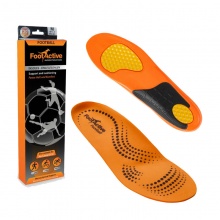 Orthotic insoles designed for sports boots
Suitable for football, rugby, hockey or cycling footwear
Treats overpronation, shin splints and more
Impact-absorbing gel heel and forefoot
---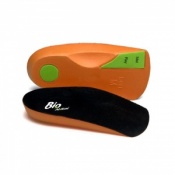 Firm and hard wearing

Maximum control and correction

Contoured arch support

Component kit gives more control
---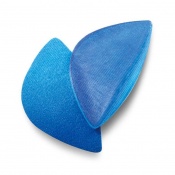 Support the arch to control the position of the foot
Relieve arch pain associated with a lack of support
Help to absorb shock, reduce friction and improve control
Suitable for plantar fasciitis and longitudinal arch cushioning
---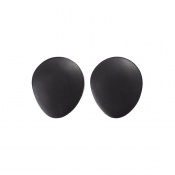 Metatarsal dome with forefoot extension
Ideal for offloading pressure from metatarsal heads
Easily trimmed to offload specific areas
Available in EVA with MicroGrip or PU Gel with self-adhesive
---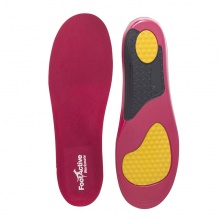 Orthotic shoe insoles designed for work shoes
Ideal for anyone who works on their feet
Gel heel and padded forefoot to protect against impact
Helps to correct alignment for better foot and leg comfort
---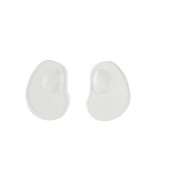 Gel ball-of-foot and arch support inserts
Reduce pain and discomfort
Self-adhesive for reliable support
Supplied as a pair of inserts
---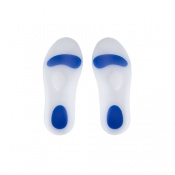 Full-length hypoallergenic silicone gel insoles
Provide shock absorption to reduce impact to feet
Cushion the metatarsals and provide heel support
Can be trimmed at the forefoot for a customised fit
---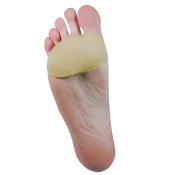 Suitable for everyday footwear, including heels
Washable and reusable for improved hygiene
Relieves ball-of-foot pressure and pain
Supplied in pairs for improved support
---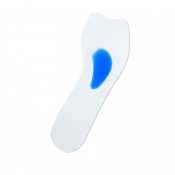 Dual-density silicone gel for excellent cushioning
In-built metatarsal dome that alleviates ball of foot pain
Ideal solution to tired feet caused by constricting footwear
Especially useful for people who are on their feet all day
---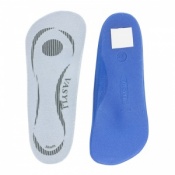 Specially designed to fit ladies' fashion shoes

Features a built-in metatarsal raise to aid alignment

Flexible base for easy contouring of the shank

Reduced rearfoot angle to suit high heeled shoes
---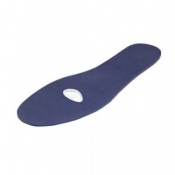 Protects you from metatarsal pain
Can be used with Cambion Full Length Insoles
Protects metatarsal area from the jarring effects of heel strike
Redistributes underfoot pressure so it isn't focused on one area
---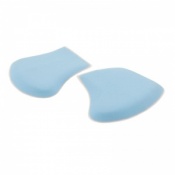 Metatarsal support for metatarsalgia and more
Adhesive backed for easy application
Soft polyurethane construction
Six pairs per pack
---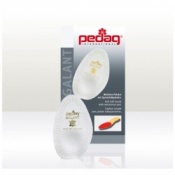 Soft pad for the forefoot;
For severe symptoms of splayfoot;
Additional soft heel pad;
Self adhesive.
---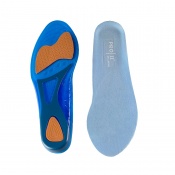 Sturdy and durable gel foam running insoles
Absorb up to 50% of shock upon impact
Provide support to reduce arch pain
Feature a massaging wave system for comfort
---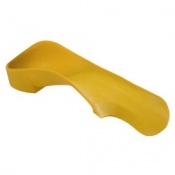 For over-supinated feet;
1st MTH cut-out;
Deep lateral heel cup;
Equinus correction.
---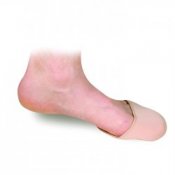 Complete gel toe protection

Cushions the metatarsal heads

Ideal for toe and metatarsal strains

Supplied in pairs
---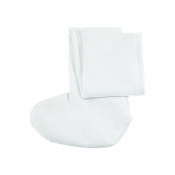 Lined with gel at distal end;
Medical grade mineral oil;
Helps prevent skin breakdown;
Washable and reusable.
---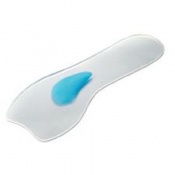 Designed for high heels or tight fitting shoes
Metatarsal rise for relief on the forefoot
Pressure relief and shock absorption
Enhanced comfort and support
---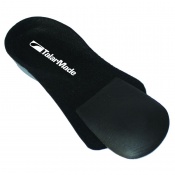 Broad metatarsal pads in A30 shore EVA
Ideal for alleviating hammer or mallet toe deformities
Available with either self-adhesive or MicroGrip fastening
Can be applied to most prefabricated and custom-made orthoses
---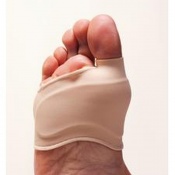 Protects bunion joint to allow healing
Cushions and supports the metatarsal pad
Reversible for continuous use
Comfortable and easy to wear
---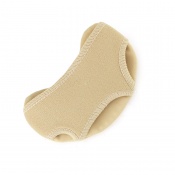 Reduces the pressure and friction associated with metatarsaglia and neuroma
Has two toe loops to prevent slipping
Made from medical grade visco-elastic compounds
Can be washed for reuse on a single user
---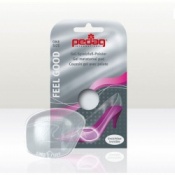 Gel pad with integrated metatarsal support;
Padded wings to cushion the toes;
Ideal for high heeled shoes;
Reusable & washable.
---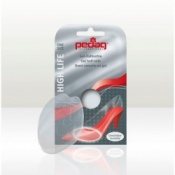 Anatomically shaped gel half sole;
Cushions the ball of the foot;
Improves fit of intermediate sizes;
Removable & washable.
---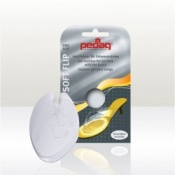 Gel pad for flip flops;
Protects skin between the toes;
Relieves pain in the forefoot;
Reusable & washable.
---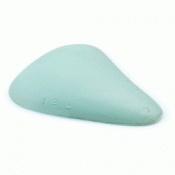 Template insole.
Enables clinicians to make bespoke insoles.
Sold in pairs.
Hardness: A15-20 Shore A.
---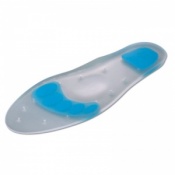 Protection provided from the heel to the forefoot for comfort and support
Raise situated under the metatarsal area to protect it from impact
Vented insoles to improve circulation around the foot
Available in a range of sizes to suit your needs
---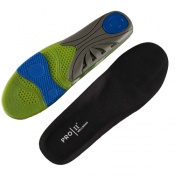 Shock-absorbent comfort insoles for sports
Reduce impact at the heels and forefeet
Heel cup and arch support for maximum comfort
Can be trimmed for a superior fit
---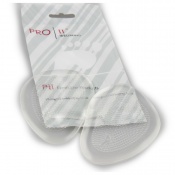 One pair of gel ball-of-foot cushions
Designed for use with high heels
Absorb shock and reduce pressure
Massage forefeet to relieve pain
---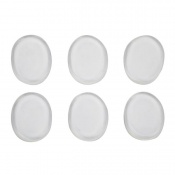 Discreet gel spots to protect feet from rubbing
Prevent calluses, corns, blisters and abrasions
Can be used to add cushioning for greater comfort
Supplied in a pack of 6 spots
---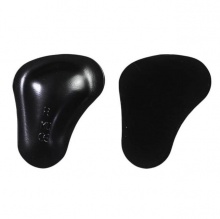 Metatarsal pads for relieving anterior arch pain
Ideal for athletes looking for all-around support
Made with Technogel, a unique gel that absorbs shock
Anatomical T-shape improves fit and function of inserts
---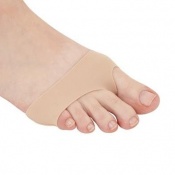 Silicone comfort gel pads for metatarsal relief
Shock absorption for pain reduction
Elastic band provides stable fit
Suitable for arthritis, pain relief and more
---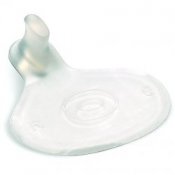 Absorbs shock in the forefoot area

Relieves burning on ball of the foot

Comfortable silicone construction

Supplied in packs of 2
---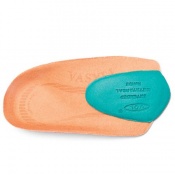 Can be moved if support is needed in a different area
Ideal for those who suffer from forefoot problems
Helps provide metatarsal area with an extra lift
Further supports the structure of foot devices
---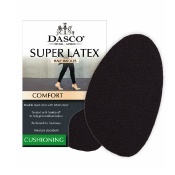 Half-length latex insoles for fashion shoes
Protect against impact and enhance comfort
Treated to prevent bacterial growth and foot odour
Moisture-absorbent for drier, fresher feet and healthy skin
---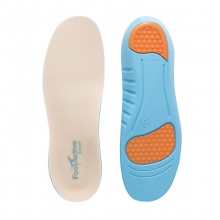 Shoe insoles for people with Diabetes
Helps to prevent conditions caused by foot neuropathy
Maximises comfort for its wearer
Also suitable for general sensitive feet
---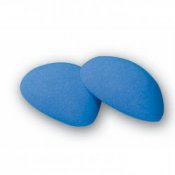 Provides additional support to Formthotics insoles
Self-adhesive materials for easy application
Supports the metatarsal area to increase comfort
Designed for use by a medical professional
---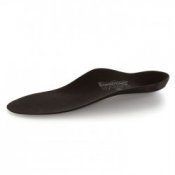 Supportive medium density insole
Designed to support natural shape of feet
Provides good stabilisation and comfort
Available in a range of sizes
---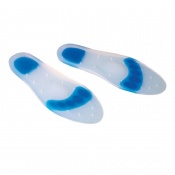 Softer heel and ball of foot for cushioning
Even pressure distribution on plantar surface
Integral metatarsal pad for increased support
Suitable for arthritis, ball of foot pain and more
---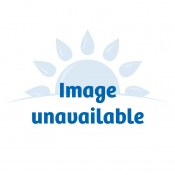 Uses a silicone gel pad that relieves ball of foot pain
Helps lift and align metatarsal heads
Cushions and absorbs shock while alleviating inflammation
Made from stretchable, comfortable and breathable nylon fabric
---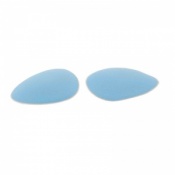 Provides extra protection for metatarsal heads
Adhesive backed for easy application
Soft polyurethane construction
Six pairs per pack
---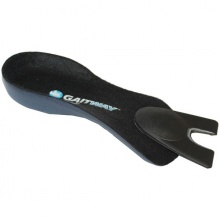 Metatarsal dome with forefoot extension
Ideal for offloading pressure from metatarsal heads
Easily trimmed to offload specific areas
Available in EVA with MicroGrip or PU Gel with self-adhesive
---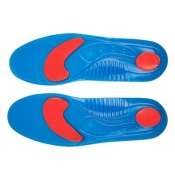 Gel insoles designed to absorb shock during sports
With metatarsal and heel pads for enhanced protection
Contoured design cushions sore and tired feet
Soft fabric upper for improved comfort
---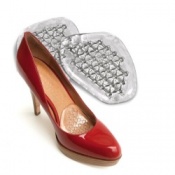 Unique design to absorb shock
Feel like you're walking on air!
Cushions and softens feet
Come as a pair per pack
---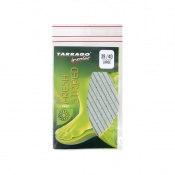 Latex foam half-size insoles for daily use
Reduce impact to the forefoot
Perforated to keep feet cool and dry
Perfect for all seasons and most footwear