Hot washable;

Large size skin;

Dense, durable pile.
---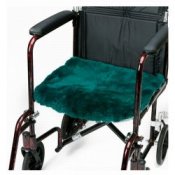 100% natural sheepskin fleece;

Prevents pressure sores;

Washable up to 80C;

Fits all sizes of wheelchairs;
---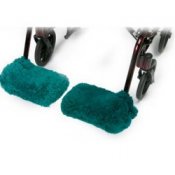 High wool density support;

Prevents pressure sores;

Easy to fit in seconds;

Fits all sizes of wheelchairs;
---
Temperature-regulating wool underblanket

Useful for Raynaud's disease and arthritis

Available to buy in 3 mattress sizes

Pressure relieving for added comfort
---
Wool pile fleece for superior comfort and warmth
Helps to prevent bed sores in bed-ridden patients
Machine washable and suitable for tumble drying
Available in three different sizes
---
Modular foam inner;
Natural pressure relief;
100% wool pile cushion cover;
43 x 41 x 10 cm/17 x 16 x 4 inches.
---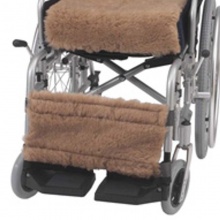 100% pure wool pile enhances both comfort and heat retention
Ideal for wheelchair users who struggle to use exposed footplates
Prevents "pressing back" and the users feet straying off footplates
Affordable alternative to purchasing different style wheelchair parts
---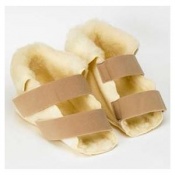 Thick lambswool heel protecting slippers
Adds comfort and protection to heels, ankles and feet
Ideal for nursing homes or extended hospital stays
Two soft and adjustable straps for extra comfort
---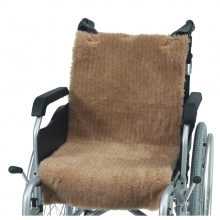 Full back and seat fleece cover for pressure relief
Essential for wheelchair users prone to ulcers and sores
Wool offers comfort and absorbs perspiration
Machine washable for long term usage both inside and out
---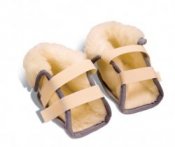 Pure wool
Bound edges for durability
Adjustable straps
Machine washable
---
Pressure relieving real sheepskin heel protectors
Superbly soft pressure distributing natural material
Supplied in pairs with Velcro straps for easy application
Dark in colour for discreet wound risk management
---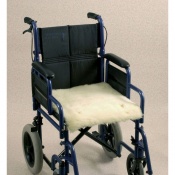 Prevents pressure sores for wheelchair and scooter users
Real lamb's wool prevents perspiration, allows skin to breathe
Both versions fit wheelchairs and mobility scooters
Wool's exothermic quality prevents dampness and cold
--- Pressure reducing wheelchair arm covers
Ideal for people looking to maximise chair comfort
Pure wool design provides lasting quality
Supplied as a pair of rests
---
Suitable for the relief from and prevention of pressure sores and ulcers
Made from 100% pure new wool to absorb perspiration
Ideal for use on beds, chairs, sofas and wheelchairs
Allows the skin to breathe more effectively
---
Lamsbwool heel protectors for bed sores
Suitable for offering pressure relief for heels in bed
One-size fits all for most users
Machine washable for maintaining hygiene and long-lasting use
---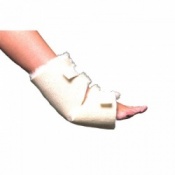 Open toe style booties;
Protects the foot and ankle;
Made in deep pile wool/polyester fleece;
Can be molded around an inflexible ankle.
---
Plush wool pile heel protectors for pressure relief
Essential wear for those with pressure sores or ulcers
Soft strap for extra comfort and an adjustable fit
Sold and supplied as a pair
---
Deep pile 100% polyester bed fleece
Provides comfort to bony parts of the body
Ideal for hospital and community use
Easy to wash and dry for good hygiene