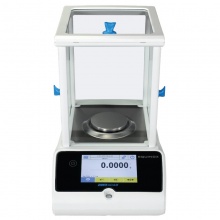 Precise lab balance for professional environments
Self-calibrating design is ideal for busy work settings
Maximum capacity of 510g (0.0001g readability)
Glass shield reduces environmental interference for maximum accuracy
---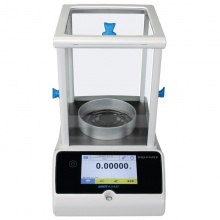 Highly precise lab balance for professional environments
Perfect for use in chemical production or manufacturing
Dual max capacity of 82g/220g (0.01mg/ 0.1mg readability)
Glass draught shield reduces environmental interference for maximum accuracy
---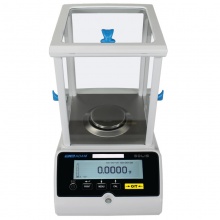 Semi-micro balance for measuring small samples
Ideal for taking precise measurements in busy environments
Maximum capacity of 510g (0.0001g readability)
Glass shield prevents influence of draughts and static
---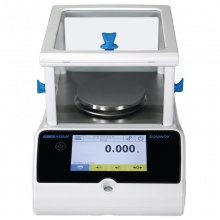 Balance offering high maximum capacity and precision
Ideal for measuring medium-sized loads in lab environments
Maximum capacity of 2100g (0.001g readability)
Shield protects light samples from draughts
---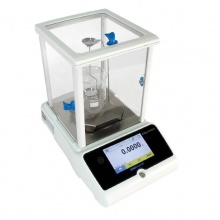 Highly precise lab balance for professional environments
Perfect for use in chemical production or manufacturing
Dual max capacity of 62g/120g (0.01mg/ 0.1mg readability)
Glass draught shield reduces environmental interference for maximum accuracy
---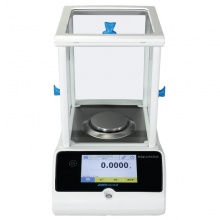 Precise lab balance for professional environments
Self-calibrating design is ideal for busy work settings
Maximum capacity of 410g (0.0001g readability)
Glass draught shield reduces environmental interference for maximum accuracy
---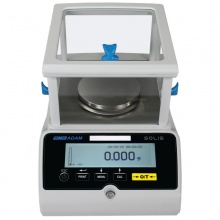 Top loading balance for measuring large loads
Ideal for busy lab environments
Maximum capacity of 2100g (0.001g readability)
Clear display is paired with easy to navigate arrow buttons
---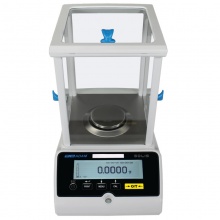 Semi-micro balance for measuring small samples
Ideal for taking precise measurements in busy environments
Maximum capacity of 410g (0.0001g readability)
Glass shield prevents influence of draughts and static
---
Semi-micro balance for measuring small samples
Ideal for taking precise measurements in busy environments
Dual max capacity of 82g/220g (0.01mg/0.1mg readability)
Glass draft shield prevents influence of drafts and static
---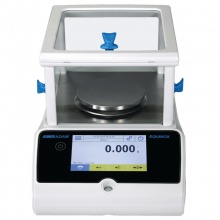 Balance offering high maximum capacity and precision
Ideal for measuring medium-sized loads in lab environments
Maximum capacity of 1200g (0.001g readability)
Shield protects light samples from drafts
---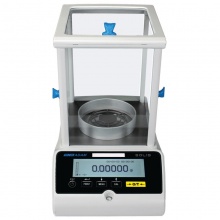 Semi-micro balance for measuring small samples
Ideal for taking precise measurements in busy environments
Dual max capacity of 62g/120g (0.01mg/0.1mg readability)
Glass draft shield prevents influence of drafts and static
---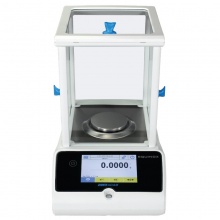 Precise lab balance for professional environments
Self-calibrating design is ideal for busy work settings
Maximum capacity of 310g (0.0001g readability)
Glass draught shield reduces environmental interference for maximum accuracy
---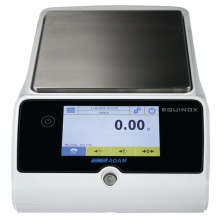 Balance offering high maximum capacity and precision
Ideal for measuring large loads in lab environments
Maximum capacity of 8200g (0.01g readability)
Square 185 x 185 pan can accommodate larger objects
---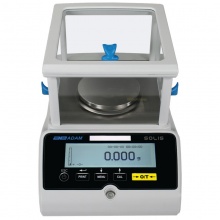 Top loading balance for measuring medium-sized samples
Ideal for busy lab environments
Maximum capacity of 1200g (0.001g readability)
Clear display is paired with easy to navigate arrow buttons
---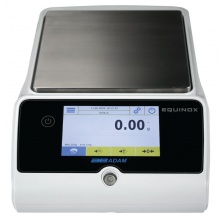 Balance offering high maximum capacity and precision
Ideal for measuring large loads in lab environments
Maximum capacity of 6200g (0.01g readability)
185 x 185mm pan accommodates larger objects
---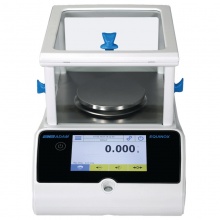 Balance offering high maximum capacity and precision
Ideal for measuring medium-sized loads in lab environments
Maximum capacity of 720g (0.001g readability)
Shield protects light samples from draughts
---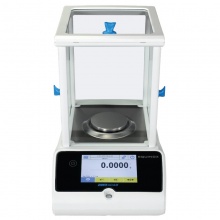 Precise lab balance for professional environments
Self-calibrating design is ideal for busy work settings
Maximum capacity of 220g (0.0001g readability)
Glass draught shield reduces environmental interference for maximum accuracy
---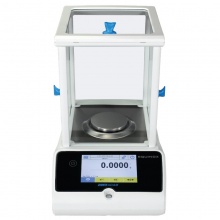 Precise lab balance for professional environments
Perfect for use in chemical production or manufacturing
Maximum capacity of 310g (0.0001g readability)
Glass draught shield reduces environmental interference for maximum accuracy
---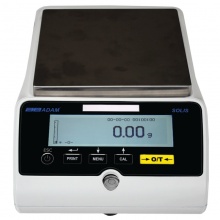 Top loading balance for measuring large loads
Ideal for busy lab environments
Maximum capacity of 6200g (0.01g readability)
Clear display is paired with easy to navigate arrow buttons
---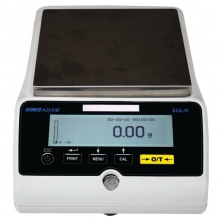 Top loading balance for measuring large loads
Ideal for busy lab environments
Maximum capacity of 8200g (0.01g readability)
Clear display is paired with easy to navigate arrow buttons
---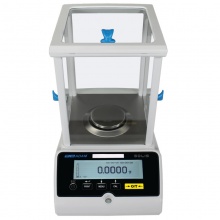 Semi-micro balance for measuring small samples
Ideal for taking precise measurements in busy environments
Maximum capacity of 310g (0.0001g readability)
Glass shield prevents influence of draughts and static
---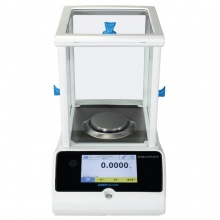 Precise lab balance for professional environments
Self-calibrating design is ideal for busy work settings
Maximum capacity of 120g (0.0001g readability)
Glass draughts shield reduces environmental interference for maximum accuracy
---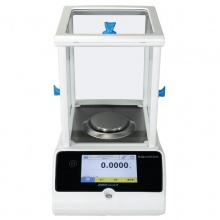 Precise lab balance for professional environments
Perfect for use in chemical production or manufacturing
Dual max capacity of 220g (0.0001g readability)
Glass shield reduces environmental interference
---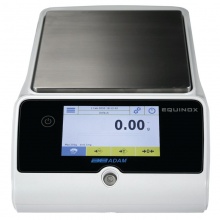 Balance offering high maximum capacity and precision
Ideal for measuring large loads in lab environments
Maximum capacity of 6200g (0.01g readability)
Square 185 x 185 pan can accommodate larger objects
---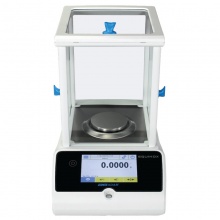 Precise lab balance for professional environments
Perfect for use in chemical production or manufacturing
Dual max capacity of 120g (0.0001g readability)
Glass draught shield reduces environmental interference for maximum accuracy
---
Balance offering high maximum capacity and precision
Ideal for measuring medium-sized loads in lab environments
Maximum capacity of 720g (0.001g readability)
Glass shield reduces environmental disturbances for enhanced accuracy
---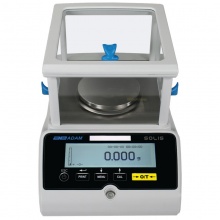 Top loading balance for measuring medium-sized samples
Ideal for busy lab environments
Maximum capacity of 720g (0.001g readability)
Clear display is paired with easy to navigate arrow buttons
---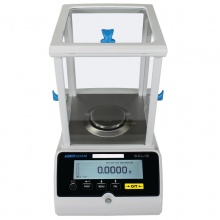 Semi-micro balance for measuring small samples
Ideal for taking precise measurements in busy environments
Maximum capacity of 220g (0.0001g readability)
Glass shield prevents static and draughts
---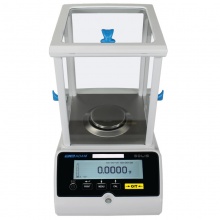 Semi-micro balance for measuring small samples
Ideal for taking precise measurements in busy environments
Maximum capacity of 310g (0.0001g readability)
Glass draft shield prevents influence of draughts and static
---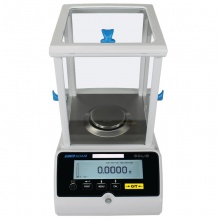 Semi-micro balance for measuring small samples
Ideal for taking precise measurements in busy environments
Maximum capacity of 120g (0.0001g readability)
Glass draft shield prevents influence of drafts and static
---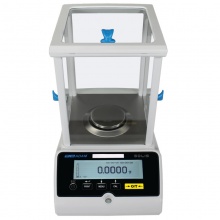 Semi-micro balance for measuring small samples
Ideal for taking precise measurements in busy environments
Maximum capacity of 220g (0.0001g readability)
Glass draft shield prevents influence of draughts and static
---
Balance offering high maximum capacity and precision
Ideal for measuring medium-sized loads in lab environments
Maximum capacity of 360g (0.001g readability)
Shield protects light samples from draughts
---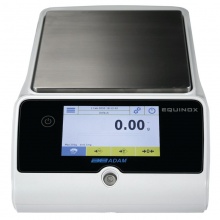 Balance offering high maximum capacity and precision
Ideal for measuring large loads in lab environments
Maximum capacity of 3200g (0.01g readability)
185 x 185mm pan accommodates larger objects
---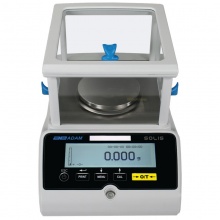 Top loading balance for measuring medium-sized samples
Ideal for busy lab environments
Maximum capacity of 720g (0.001g readability)
Clear display is paired with easy to navigate arrow buttons
---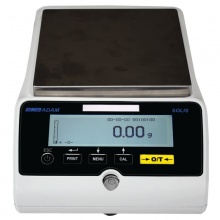 Top loading balance for measuring medium-sized samples
Ideal for busy lab environments
Maximum capacity of 6200g (0.01g readability)
Clear display is paired with easy to navigate arrow buttons
---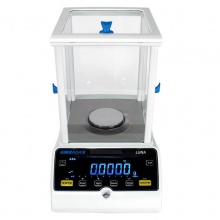 Highly precise scale for measuring fine materials or moving objects
Ideal for measuring liquids or small animals
Maximum capacity of 250g (0.0001g readability)
Glass shield minimises draughts and vibrations
---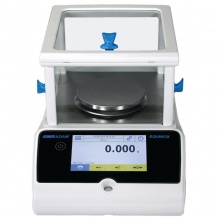 Balance offering high maximum capacity and precision
Ideal for measuring medium-sized loads in lab environments
Maximum capacity of 360g (0.001g readability)
Glass draught shield reduces environmental disturbances for enhanced accuracy
---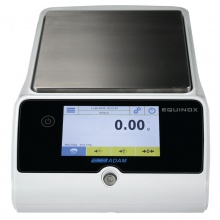 Balance offering high maximum capacity and precision
Ideal for measuring medium-sized loads in lab environments
Maximum capacity of 3200g (0.01g readability)
Square 185 x 185mm pan can accommodate larger objects
---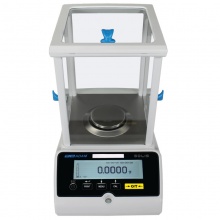 Semi-micro balance for measuring small samples
Ideal for taking precise measurements in busy environments
Maximum capacity of 120g (0.0001g readability)
Glass draft shield prevents influence of drafts and static
---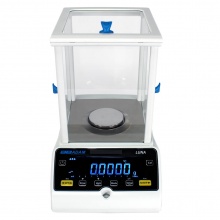 Highly precise scale for measuring fine materials or moving objects
Ideal for measuring liquids or small animals
Maximum capacity of 120g (0.0001g readability)
Glass shield minimises draughts and vibrations
---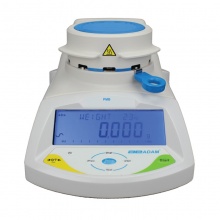 Analyser for determining moisture levels in substances
Designed for efficient moisture analysis
160g capacity with 0.001g / 0.01% readability
Three heating settings for customisable testing
---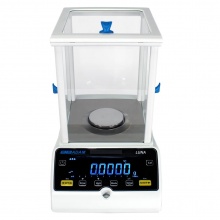 Highly precise scale for measuring fine materials or moving objects
Ideal for measuring liquids or small animals
Maximum capacity of 210g (0.0001g readability)
Glass shield minimises drafts and vibrations
---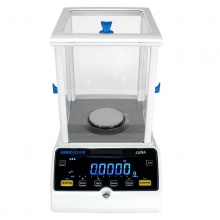 Highly precise scale for measuring fine materials or moving objects
Ideal for measuring liquids or small animals
Maximum capacity of 250g (0.0001g readability)
Minimises draughts and vibrations for improved accuracy
---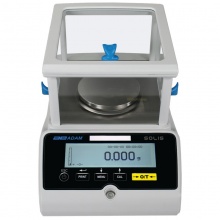 Top loading balance for measuring medium-sized samples
Ideal for busy lab environments
Maximum capacity of 360g (0.001g readability)
Clear display is paired with easy to navigate arrow buttons
---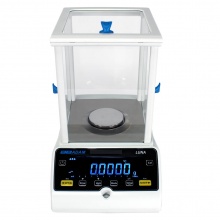 Highly precise scale for measuring fine materials or moving objects
Ideal for measuring liquids or small animals
Maximum capacity of 80g (0.0001g readability)
Glass shield minimises draughts and vibrations
---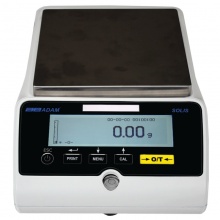 Top loading balance for measuring large loads
Ideal for busy lab environments
Maximum capacity of 3200g (0.01g readability)
Clear display is paired with easy to navigate arrow buttons
---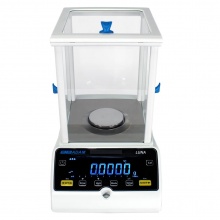 Highly precise scale for measuring fine materials or moving objects
Ideal for measuring liquids or small animals
Maximum capacity of 210g (0.0001g readability)
Glass shield minimises draughts and vibrations
---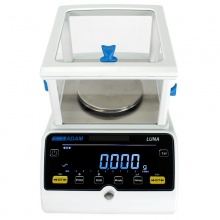 Top loading balance for measuring medium-sized samples
Ideal for use in production and manufacturing
Maximum capacity of 820g (0.001g readability)
Optional internal automatic calibration
---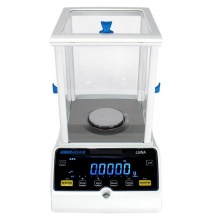 Highly precise scale for measuring fine materials or moving objects
Ideal for measuring liquids or small animals
Maximum capacity of 120g (0.0001g readability)
Glass shield minimises draughts and vibrations
---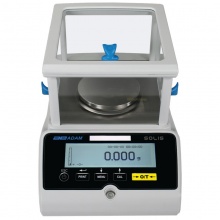 Top loading balance for measuring medium-sized samples
Ideal for busy lab environments
Maximum capacity of 360g (0.001g readability)
Clear display is paired with easy to navigate arrow buttons
---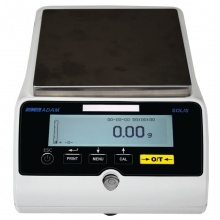 Top loading balance for measuring medium-sized samples
Ideal for busy lab environments
Maximum capacity of 3200g (0.01g readability)
Clear display is paired with easy to navigate arrow buttons
---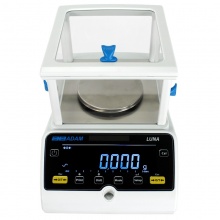 Top loading balance for measuring medium-sized samples
Ideal for use in production and manufacturing
Maximum capacity of 620g (0.001g readability)
Optional internal automatic calibration
---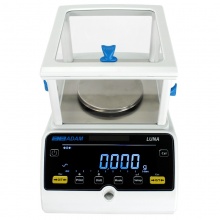 Top loading balance for measuring medium-sized samples
Ideal for use in production and manufacturing
Maximum capacity of 820g (0.001g readability)
Sealed keypad and stainless steel pan protect against mess
---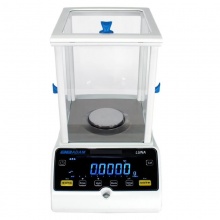 Highly precise scale for measuring fine materials or moving objects
Ideal for measuring liquids or small animals
Maximum capacity of 80g (0.0001g readability)
Minimises draughts and vibrations for improved accuracy
---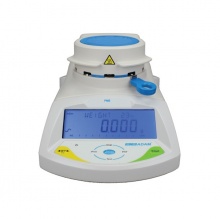 Analyser for determining moisture levels in substances
Designed for efficient moisture analysis
50g capacity with 0.001g / 0.01% readability
Three heating settings for customisable testing
---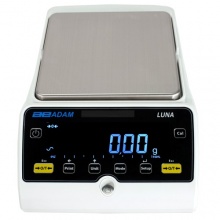 Top loading balance for measuring large samples
Ideal for use in production and manufacturing
Maximum capacity of 6000g (0.01g readability)
Sealed keypad and stainless steel pan protect against mess
---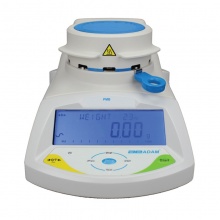 Analyser for determining moisture levels in substances
Designed for efficient moisture analysis
200g capacity with 0.01g / 0.05% readability
Three heating settings for customisable testing
---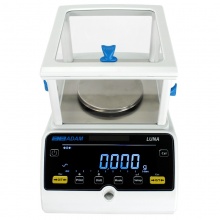 Top loading balance for measuring medium-sized samples
Ideal for use in production and manufacturing
Maximum capacity of 620g (0.001g readability)
Sealed keypad and stainless steel pan protect against mess
---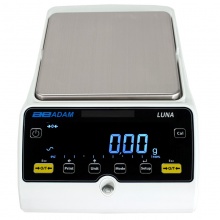 Top loading balance for measuring large samples
Ideal for use in production and manufacturing
Maximum capacity of 4600g (0.01g readability)
Sealed keypad and stainless steel pan protect against mess
---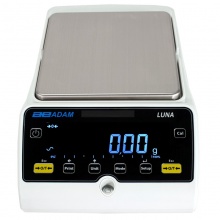 Top loading balance for measuring large samples
Ideal for use in production and manufacturing
Maximum capacity of 6000g (0.01g readability)
Sealed keypad and stainless steel pan protect against mess
---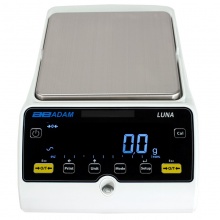 Top loading balance for measuring large samples
Ideal for use in production and manufacturing
Maximum capacity of 15000g (0.01g readability)
Sealed keypad and stainless steel pan protect against mess
---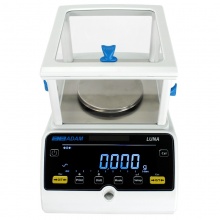 Top loading balance for measuring medium-sized samples
Ideal for use in production and manufacturing
Maximum capacity of 420g (0.001g readability)
Optional internal automatic calibration
---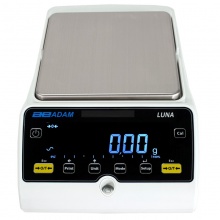 Top loading balance for measuring large samples
Ideal for use in production and manufacturing
Maximum capacity of 3600g (0.01g readability)
Sealed keypad and stainless steel pan protect against mess
---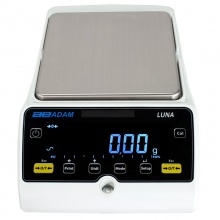 Top loading balance for measuring large samples
Ideal for use in production and manufacturing
Maximum capacity of 4600g (0.01g readability)
Sealed keypad and stainless steel pan protect against mess
---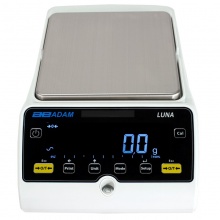 Top loading balance for measuring large samples
Ideal for use in production and manufacturing
Maximum capacity of 12000g (0.01g readability)
Sealed keypad and stainless steel pan protect against mess
---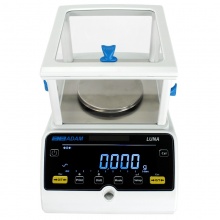 Top loading balance for measuring medium-sized samples
Ideal for use in production and manufacturing
Maximum capacity of 220g (0.001g readability)
Optional internal automatic calibration
---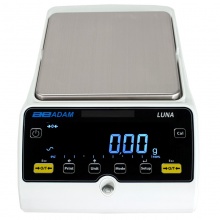 Top loading balance for measuring large samples
Ideal for use in production and manufacturing
Maximum capacity of 2600g (0.01g readability)
Sealed keypad and stainless steel pan protect against mess
---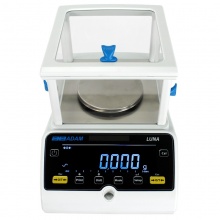 Top loading balance for measuring medium-sized samples
Ideal for use in production and manufacturing
Maximum capacity of 420g (0.001g readability)
Sealed keypad and stainless steel pan protect against mess
---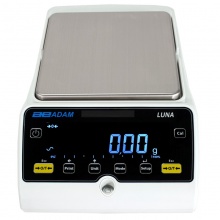 Top loading balance for measuring large samples
Ideal for use in production and manufacturing
Maximum capacity of 3600g (0.01g readability)
Sealed keypad and stainless steel pan protect against mess
---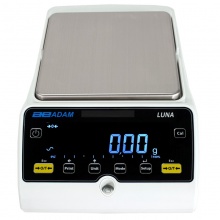 Top loading balance for measuring large samples
Ideal for use in production and manufacturing
Maximum capacity of 2600g (0.01g readability)
Sealed keypad and stainless steel pan protect against mess
---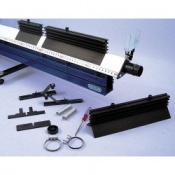 ---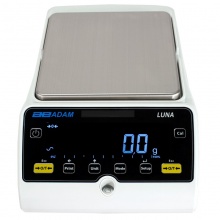 Top loading balance for measuring large samples
Ideal for use in production and manufacturing
Maximum capacity of 6000g (0.01g readability)
Sealed keypad and stainless steel pan protect against mess
---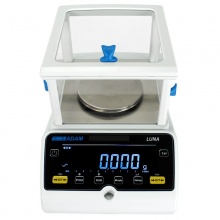 Top loading balance for medium sized samples
Ideal for use in production and manufacturing
Maximum capacity of 220g
Sealed keypad protects against mess
---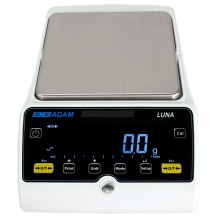 Top loading balance for measuring large samples
Ideal for use in production and manufacturing
Maximum capacity of 6000g (0.01g readability)
Sealed keypad and stainless steel pan protect against mess
---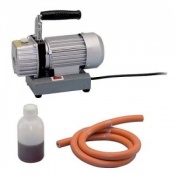 Very quiet;
Easy to use;
Rotary vacuum pump;
Ideal for class use.
---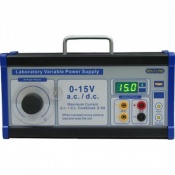 CE marked
5 year warranty;

Safe and compact;

Reliable performance.
---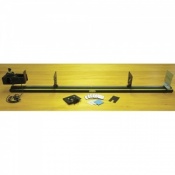 Easy to read scale;

For use in optics experiments;

Light source with mounting rod;

Non-twisting aluminium alloy bench.
---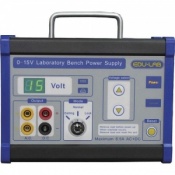 CE marked
5 year warranty;

Safe and compact;

Reliable performance.
---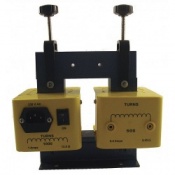 Laminated low-loss core;

Ideal for use in the classroom;

For GCSE & A level physics;

Demonstrates step up & down transformer.
---
Device for measuring AC / DC currents and voltage
Ideal for use in schools and classrooms
In-built protection against excess current
Durable metal casing protects against damage
---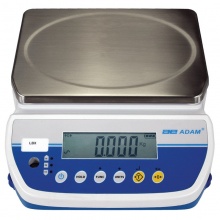 Bench scales for weighing, percentage weighing & counting
Ideal for production, warehouse or field use
Maximum capacity of 12kg (2g readability)
Vivid backlit display and low-voltage USB input for powering
---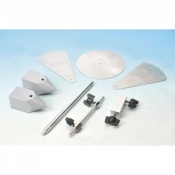 Comprehensive kit

;
Ideal for use in the classroom;

Lenz's law transformer accessories;

Demonstrate production of magnetic fields

.
---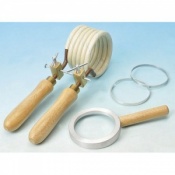 ---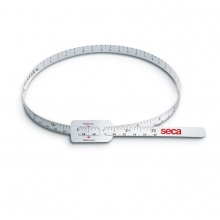 Measuring tape for accurately measuring a baby's head circumference
Disposable design for hygiene and the reduced risk of the spread of germs
Rear side of the tape designed for taking facial symmetry measurements
Colour-coded markings on tape for easier reading of results in cm and inches
---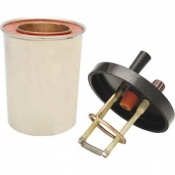 Nickel plated copper

;

75 x 50mm (diameter);

With stirrer & socket terminals;

Constantan wire heating coil.
---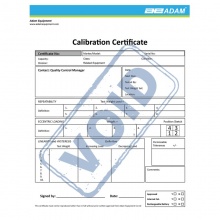 Calibration certificate for Adam Equipment scales and balances
Provides information on a device's accuracy
Required by companies with ISO Quality Systems
Must be purchased with an Adam Equipment balance or scale
---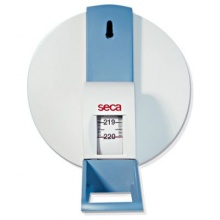 Roll-up measuring tape with one-screw wall attachment
Designed for accurately measuring patient height
Metal tape is durable for improved longevity
Roll-up mechanism good for saving space
---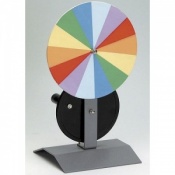 Well finished

;

Multi coloured disk;

Rotates by hand driven wheel;

Demonstrate white light composition.
---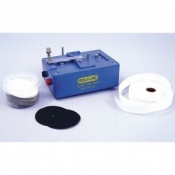 6V unit;
Ideal for use in the classroom;

With 4mm terminal sockets;

Measures velocity & acceleration

.
---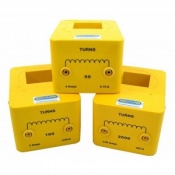 7 options available;
50 - 2000 turn sizes;
Can be used witht he U-Core;
.Use with Demountable Transformer kit
---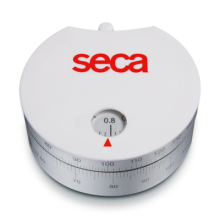 Ergonomic measuring tape for precise patient body measurements
Facilitates waist-to-hip ratio calculation for improved patient data
WHR ratio for indirect method of determining abdominal fat tissue
Retractable tape ideal for measuring patients during mobile use
---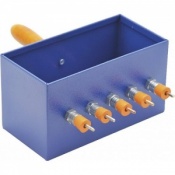 Size = 150 x 90 x 100mm

;

Demonstrates rates of conductivity

;

Rates of melting ve be compared with wax;

Aluminium, brass, copper, zinc & iron

roads.
---
Borosilicate glass;

With a filling funnel

;

Shows convection in liquid;

Tube only without clamps.
---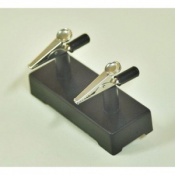 Pack of 8

;

Mounted clips

;

Can be used for a variety of experiments;

For use in in physics investigations.
---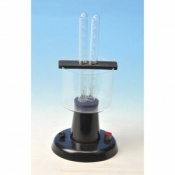 Platinum electrodes.
Two granduated test tubes.
10ml capacity test tubes.
Mounted on base with terminals.
--- Sliding glass front;

Candle holder fixed to base

;

Two detachable glass chimneys

;
Metal box = 220 x 100 x 165mm

.
---
Ideal for use in the classroom;

50mm long fine capillary tube

;

Available for many different gases

;

Use with the Spectrum Tube Holder.
---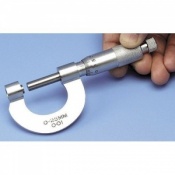 Nickel plated brass;

With ratchet top

;

Stainless steel rod

;

Precision = 1/100mm.
---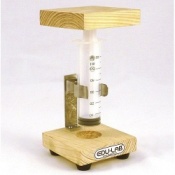 Sealed syringe

;

Simple and economical;

Demonstrates Boyle's Law;

Loaded with different masses

.
---