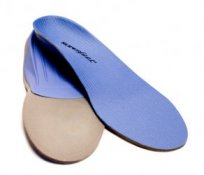 Our most versatile and easy-to-fit insole.
60 day comfort guarantee
---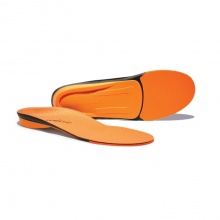 Ideal for men who run, walk or stand for extended periods of time.
60 day comfort guarantee
---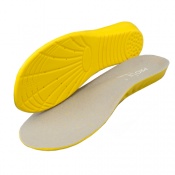 High-density memory foam insoles for everyday use
Mould to the shape of your foot for a superior fit
Absorb shock at the heel to prevent pain and injury
Redistribute weight to reduce the pressure of standing
---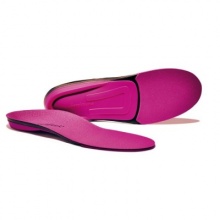 Improves shoe fit and comfort for women who walk or stand for extended periods of time.
60 day comfort guarantee
---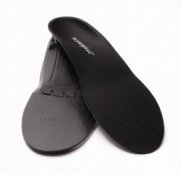 Ideal for slim, tighter fitting footwear.Perfect for people with flat and extra sensitive feet.
60 day comfort guarantee
---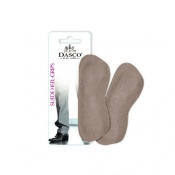 Suede heel grips to improve shoe fit
Prevents slippage and rubbing at the heel
Strong self-adhesive backing for secure fit
Will fit most boots and closed-back shoes
---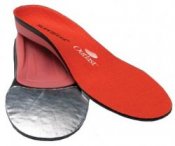 The unique forefoot technology of Superfeet Red Hot provides optimum cold-weather performance and precision fit. For footwear with removable insoles. Recommended for snowboard, ski and wintersport footwear.
60 day comfort guarantee
---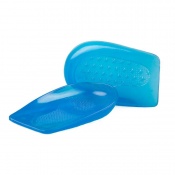 Soft and thin heel cups
Suitable for treating and preventing injury
Reduce pressure and shock at the heels
Correct over- and under-pronation
---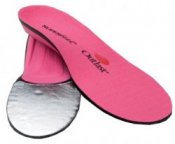 Ideal for women's snowboard, ski and winter sport footwear. Regulates temperature for cold weather comfort. For footwear with removable insoles.
60 day comfort guarantee
---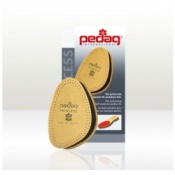 Improves fit of intermediate sizes;
Cushions the forefoot;
Genuine sheepskin;
With Active Carbon.
---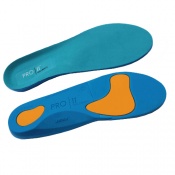 Insoles designed for walking, running and sports
Provide shock absorption to prevent pain and injury
Reinforce the heel for better stability and balance
Non-slip base keeps insoles securely in place
---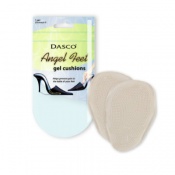 Ultra-thin gel ball-of-foot cushions
Prevent pain when wearing high heels
Washable for better hygiene
Will fit most high heels and sandals
---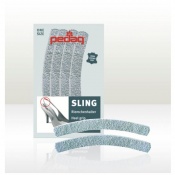 Heel grips for sandals and slingback shoes
Prevents blistering on sensitive heel skin
Keeps straps in place and prevents friction
Soft leather is comfortable to wear while walking
---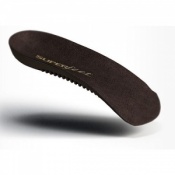 Three quarter;
Ideal for work shoes;
Plush microsuede & foam top layer;
60 day comfort guarantee.
---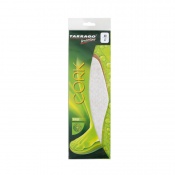 Cork and cotton insoles for daily wear
Reduce impact and prevent foot fatigue
Absorb perspiration to prolong shoe life
Suitable for most footwear types
---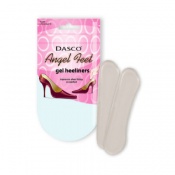 Lightweight silicone gel heel liners
Prevent shoes from slipping off heels
Enhance comfort and shoe fit
For most sizes and shoe styles
---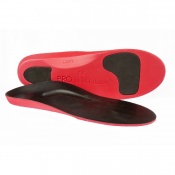 Affordable over-the-counter orthotic insoles
Correct foot posture to reduce foot and body pain
Heel cups cradle heels and protect against impact
Provide excellent arch support
---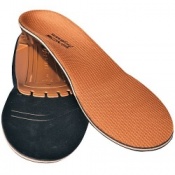 Naturally moulds to your foot shape;
Gives personalised fit without heat;
Supports and stabilises;
For all foot types.
---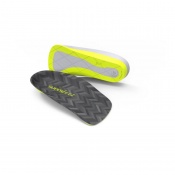 Three-quarter length insoles for tight-fitting footwear
Ideal for business, dress and casual shoes
Flexible heel cradle to help absorb impact
Suitable for those prone to over-pronation
---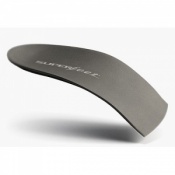 Three quarter;
relieve pressure under the forefoot;
Plush microsuede & foam top layer;
60 day comfort guarantee.
---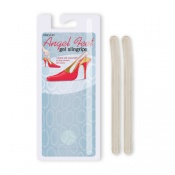 Lightweight gel strips to line shoe straps
Prevent straps from slipping for better comfort
Stop shoe straps from rubbing on foot skin
Sold in packs of two pairs (four strips in total)
---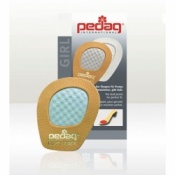 Made of fine, vegetable tanned leather
Available in one size to fit most users
Provides additional grip in high heels
Ideal for those wearing sheer tights
---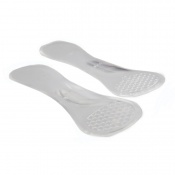 Thin and discreet gel comfort insoles
Prevent rubbing on the balls of feet
Self-adhesive for a firm hold
Suitable for most high heels
---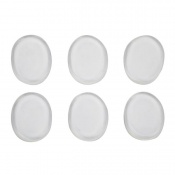 Discreet gel spots to protect feet from rubbing
Prevent calluses, corns, blisters and abrasions
Can be used to add cushioning for greater comfort
Supplied in a pack of 6 spots
---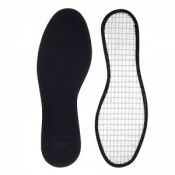 Extra-warm fleece insole
Natural charcoal layer for odour prevention
Perfect for winter wear
Aluminium layer to lock in heat
Available in sizes 3 - 12
Sold in convenient pairs
---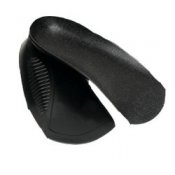 Fits into tighter fitting dress shoes. No trimming required.
60 day comfort guarantee
---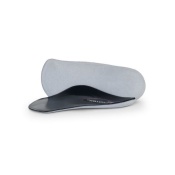 Three-quarter insoles fit for dress shoes
Features tri-density advanced technology
Recommended for medium and high arch feet
Provides maximum foot comfort and protection
---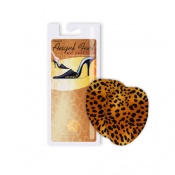 Ultra-thin gel ball-of-foot cushions
Prevent pain from wearing high heels
Soft fabric cover for added comfort
Will fit most high heels and sandals
---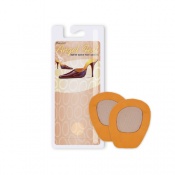 Genuine leather and latex ball-of-the-foot cushions
Contoured and padded for superior comfort
Prevent pain associated with wearing high heels
Will fit most high heels and sandals
---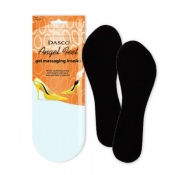 Advanced gel cushioning technology
Prevent pain under heels and balls of feet
Soft fabric cover for added comfort
Will fit most high heels and sandals
---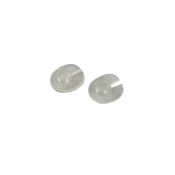 A single pair of discreet toe post guards
For flip flops and sandals with toe posts
Protect and massage between the toes
Non-slip design for enhanced comfort
---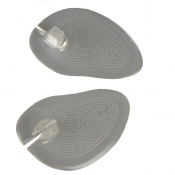 Single pair of discreet toe post guards
Suitable for flip flops and sandals with toe posts
Prevent rubbing of posts between toes
Metatarsal pads cushion the balls of the feet
---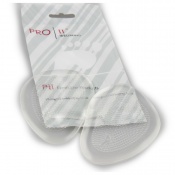 One pair of gel ball-of-foot cushions
Designed for use with high heels
Absorb shock and reduce pressure
Massage forefeet to relieve pain
---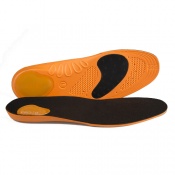 Insoles for high-impact sports
Reduce pressure on the balls of the feet
Absorb shock to reduce impact on joints
Heel seats ease pain and prevent injury
---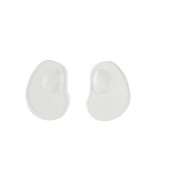 Gel ball-of-foot and arch support inserts
Reduce pain and discomfort
Self-adhesive for reliable support
Supplied as a pair of inserts
---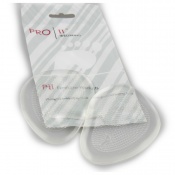 Pair of gel cushioning ball-of-foot pads
Reduce pressure and impact to prevent pain
Ultra thin to allow 25% more space in your shoes
Non-slip technology provides a secure fit
---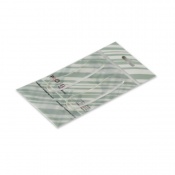 Two small and discreet gel pads
Reduce friction at the heels
Prevent feet from slipping forward
Self-adhesive for a secure fit
---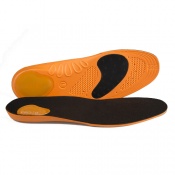 Insoles for high-impact sports
Reduce pressure on the balls of the feet
Absorb shock to reduce impact on joints
Heel seats ease pain and prevent injury
---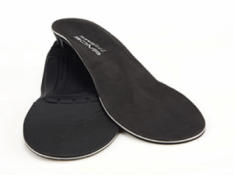 A unique 3 layer foam system features Superfeet's new Dynamic Moulding Process to provide comfort and support for sensitive feet.
60 day comfort guarantee
---
Relieves pressure and distributes weight from the forefoot
Insoles designed for heeled shoes one inch or over
Long-lasting odour control that eliminates bacteria
No break-in period or trimming down required
---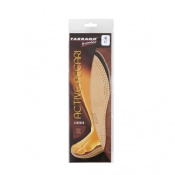 Made from natural sheepskin leather
No chemicals, varnishes or dyes added
Anti-skid latex base keeps insoles in place inside shoes
With activated carbon to absorb moisture and prevent odour
---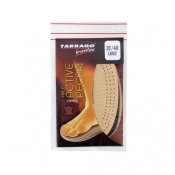 Forefoot insole made from sheepskin leather
Natural with no chemicals, varnishes or dyes added
Anti-skid latex base keeps insoles in place inside shoes
With activated carbon to absorb moisture and prevent odour
---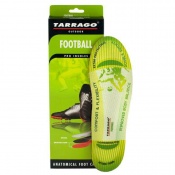 Insoles for football and rugby players
Protect the heels against impact
Prevent the loss of excess energy
Keep feet cool, dry and comfortable
---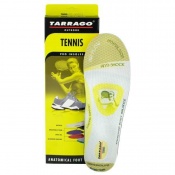 Anatomically-designed insoles for tennis shoes
Absorb shock to reduce trauma and fatigue
Quick-wicking and quick-drying fabric cover
Latex layer enhances propulsive function of metatarsals
---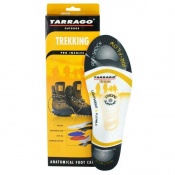 Insoles to protect and support feet when walking and hiking
Improve body posture to increase endurance and muscle strength
Absorb shock to reduce foot fatigue and prevent pain and injury
Anti-slip technology prevents friction and reduces energy loss