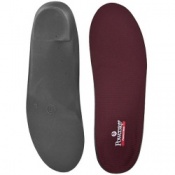 Stabilising heel cup and platform;

Hypurcel foam for plush cushioning;

Micro thin, mildly angled heel platform;

Relief and prevention for over pronators.
---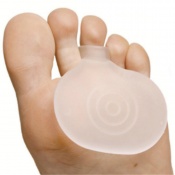 Comfortable and discreet gel metatarsal pad
Shields against impact and redistributes pressure
Reduces pain and fatigue in the ball of the foot
Suitable for use with most closed shoe styles
---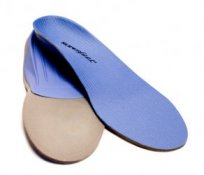 Our most versatile and easy-to-fit insole.
60 day comfort guarantee
---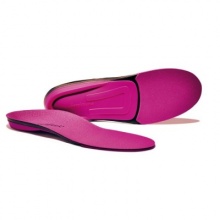 Improves shoe fit and comfort for women who walk or stand for extended periods of time.
60 day comfort guarantee
---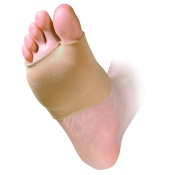 Helps to reduce pain and discomfort in the ball of the foot
Anatomically designed gel pad covers all five metatarsal heads
Serves as a soft tissue supplement when the fat under the foot wears away
Silipos gels protect the foot against impact, pressure and shear forces
---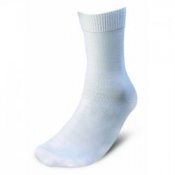 Provide optimum protection for nerve-damaged feet caused by arthritis and diabetes
Help to reduce friction, abrasion and shear forces while preventing calluses
Serve as a soft tissue supplement where the fat under the foot has worn away
Gel cushioning provides pressure relief, pressure distribution and comfort
---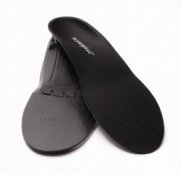 Ideal for slim, tighter fitting footwear.Perfect for people with flat and extra sensitive feet.
60 day comfort guarantee
---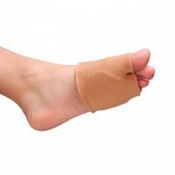 Relieves burning under the metatarsal heads
Suitable for treating a range of conditions
Supports and cushions the foot
Available for either the left or right foot
---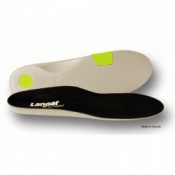 Offers support and control;

Provides shock absorbency;

Contoured arch support;

Controls over pronation.
---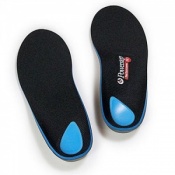 Firm but flexible arch support;
Deep heel cup with a 2-degree medial post;
Shock absorbing cushioning for enhanced comfort;
Ideal for mild to severe over pronation, metatarsal pain, heel or arch pain.
---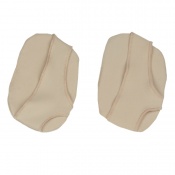 Discreet fabric and gel metatarsal pads
Absorb shock, reduce pressure and cushion
Designed to be used with most everyday footwear
Supplied as a pair of pads
---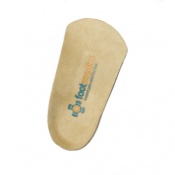 ---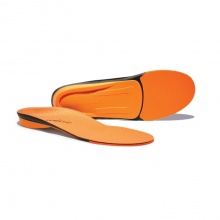 Ideal for men who run, walk or stand for extended periods of time.
60 day comfort guarantee
---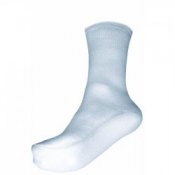 Single layer sock with 6mm of gel

Excellent protection from friction

Massaging fluid like gel

Supplied in pairs
---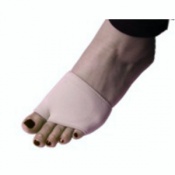 Elasticated fabric sleeve with a silicone gel pad
Cushions and protects the metatarsal heads
Reduces pain and discomfort in the ball of the foot
Supplied as a pair of sleeves
---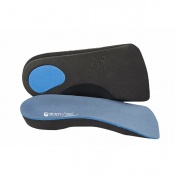 High-quality, firm density EVA insoles
Reduce pressure when standing
Absorb shock to reduce impact
Provide longitudinal arch support
---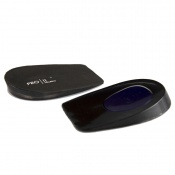 Shock-absorbing silicone heel pads
Reduce heel pain and prevent injury
Alleviate plantar fasciitis and achilles tendinitis
Antibacterial velour cover for reduced odour
---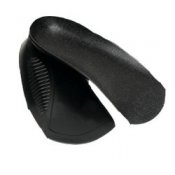 Fits into tighter fitting dress shoes. No trimming required.
60 day comfort guarantee
---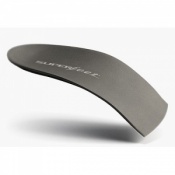 Three quarter;
relieve pressure under the forefoot;
Plush microsuede & foam top layer;
60 day comfort guarantee.
---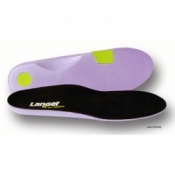 Durable with moderate control;

High level of shock absorption;

Contoured metatarsal support;

Metatarsal support.
---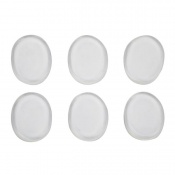 Discreet gel spots to protect feet from rubbing
Prevent calluses, corns, blisters and abrasions
Can be used to add cushioning for greater comfort
Supplied in a pack of 6 spots
---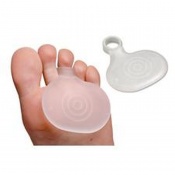 Absorbs the shock from the metatarsal area
Suitable for assisting with a range of conditions
Straightforward and easy to apply
Supplied individually for the left and right foot
---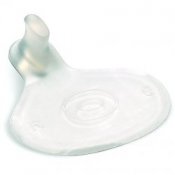 Absorbs shock in the forefoot area

Relieves burning on ball of the foot

Comfortable silicone construction

Supplied in packs of 2
---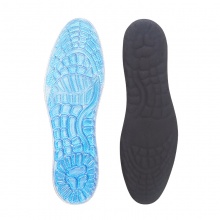 Pair of men's insoles with massaging gel cells
Suitable for most footwear types for versatile use
Ideal for improving comfort while walking
Improves blood flow and soothes heavy leg sensation
---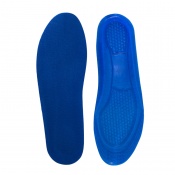 Anti-shock zones help relieve pain and distribute the body weight
Cushioning pads provide comfort where it is most needed
Slim design fits into most shoes
Ideal for prolonged walking and combating fatigue
---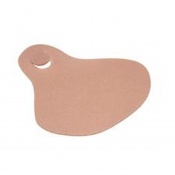 Relieves burning sensation under metatarsal heads
Suitable for a range of different conditions
Comfortable to wear, easy to apply
Supplied in pairs in a range of sizes
---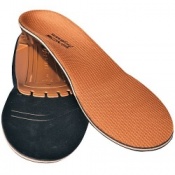 Naturally moulds to your foot shape;
Gives personalised fit without heat;
Supports and stabilises;
For all foot types.
---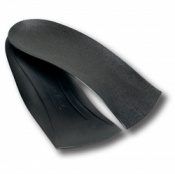 Designed for high heels;
Light-weight & slim-fitting;
Increases stability;
Cushions heel impact.
---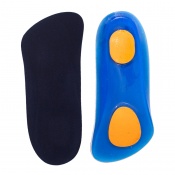 Dual-density medical grade gel provides cushioning to foot
Strategically placed double-comfort zones to offer extra relief
Absorbs shock and cradles the heel to prevent excess pronation
Microfibre top cover allows customisation with Talarmade's foot orthosis additions
---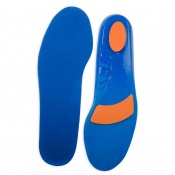 Dual density gel for excellent cushioning
Built-in arch support to prevent excess pronation
Ideal for heel and arch pain
Microfibre top cover, allowing use with Talarmade's foot orthosis additions
---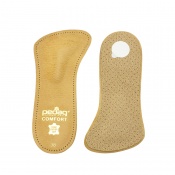 Anatomically correct insoles support the metatarsus for added stability
Thin fit is suitable for use in a wide range of shoes, including flats
Prevents and relieves pain caused by splayfoot and fallen arches
Absorbs impact to alleviate heel and joint issues
---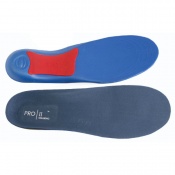 Orthotic insoles designed to fit sports shoes
Suitable for high-impact sports activities
Absorb shock and reduce pressure
Flexible arch strip prevents arch pain and injury
---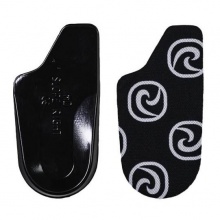 Highly durable heel pads to absorb shock and unload pressure
Ideal for athletes suffering from heel issues like a ruptured fat pad
Supports the midfoot and unloads heel-related issues
Made with Technogel to absorb high levels of shock
---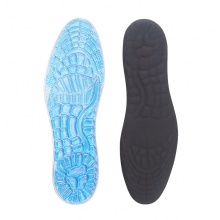 Pair of women's insoles with massaging gel cells
Suitable for most footwear types for versatile use
Ideal for improving comfort while walking
Improves blood flow and soothes heavy leg sensation
---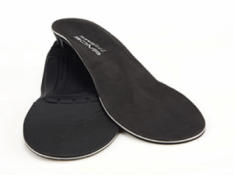 A unique 3 layer foam system features Superfeet's new Dynamic Moulding Process to provide comfort and support for sensitive feet.
60 day comfort guarantee
---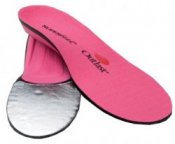 Ideal for women's snowboard, ski and winter sport footwear. Regulates temperature for cold weather comfort. For footwear with removable insoles.
60 day comfort guarantee
---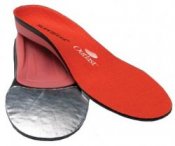 The unique forefoot technology of Superfeet Red Hot provides optimum cold-weather performance and precision fit. For footwear with removable insoles. Recommended for snowboard, ski and wintersport footwear.
60 day comfort guarantee