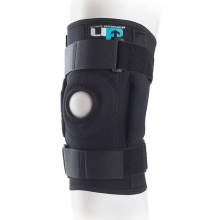 Hinged knee brace for maximum support
Ideal for people with advanced arthritis and knee instability
Fully tailored design with an adjustable strap system
Tri axial hinge protects from hyper extension
---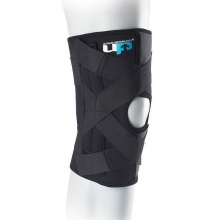 Wraparound neoprene knee brace for instability
Ideal for people with arthritis or knee instability and pain
Neoprene compression allows for improved healing
Steel springs provide stability without loss of movement
---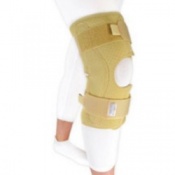 Easy to use & comfortable;
Reduces moisture build up;
For mediolateral instability;
Towel-lined latex free neoprene.
---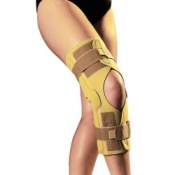 Long 41cm metal hyperstop hinges;

Easy to open tabs and Velcro straps;

Available in a range of sizes;

Specific Left and Right variations for improved fit.
---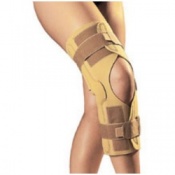 41cm long;
Metal hyperstop hinges;
Medial and lateral support;
For unstable valgus/varus knee.
---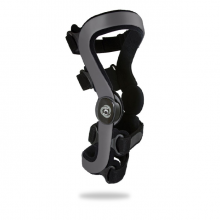 Adjustable active thigh cuff for ultimate suspension and protection
Posterior calf cuff reduces tibia pressure
Medial relief reduces clearance issues and improves thigh comfort
Aerospace grade aluminium frame is strong yet allows customisation
---
Rigid anterior thigh cuff for firm support
Posterior calf cuff reduces tibia pressure
Medial relief reduces clearance issues and improves thigh comfort
Aerospace grade aluminium frame is strong yet allows customisation
---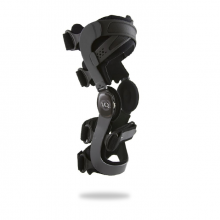 Q-hinges provide varus/valgus angle adjustment to optimise pain relief
Corrects for either medial or lateral compartment osteoarthritis
Low profile, adjustable active thigh cuff for ultimate suspension and protection
Anterior tibial cuff curved to comfortably provide stability to the knee
---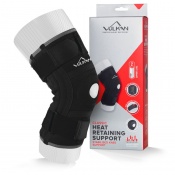 Provides the highest level support to relieve knee pain and discomfort
Supports the patella with adjustable tension straps for added compression
Neoprene that combines therapeutic heat retention and breathability
Available in four sizes, from Small to Extra Large
---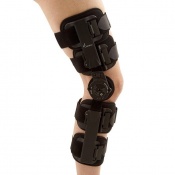 Telescoping hinge bars for custom fit
ROM hinge 0° to 120° flexion, -10° to 30° extension
One touch drop lock for easy ROM setting
Cool wrap design for improved breathability
---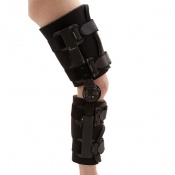 Telescoping hinge bars for custom fit
ROM hinge 0° to 120° flexion, -10° to 30° extension
One touch drop lock for easy ROM setting
Full wrap design for improved support
---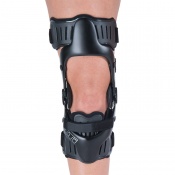 Durable design ideal for use with extreme sports
Suitable for ACL, LCL and MCL sprains and tears
Stabilises and protects ligaments and cartilage
Carbon fibre construction for rigid support
---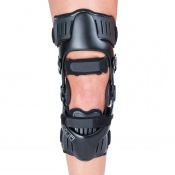 Designed for extreme sports for durability
Suitable for ACL, LCL, MCL and PCL sprains and tears
Stabilises and protects ligaments and cartilage
Carbon fibre construction for rigid support