Pure wool inner;
Slippy blue outer;
Adjustable velcro strap;
Eases moving of patient in bed.
---
Wool pile heel protectors
Add comfort and protection to heels
Soft strap for extra comfort
Supplied in a pair
---
Washable;
Hook and loop fastening;

Gives maximum protection;

Held in place with soft strapping.
---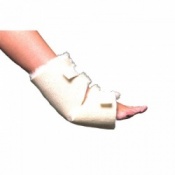 Open toe style booties;
Protects the foot and ankle;
Made in deep pile wool/polyester fleece;
Can be molded around an inflexible ankle.
---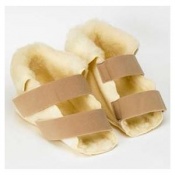 Thick lambswool heel protecting slippers
Adds comfort and protection to heels, ankles and feet
Ideal for nursing homes or extended hospital stays
Two soft and adjustable straps for extra comfort
---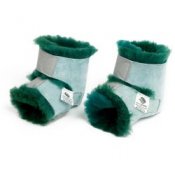 Ideal for those at risk from leg and foot ulcers;

Recommended for diabetic foot care;

Excellent for persons with poor circulation;

Ideal for post operative care;
---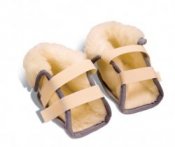 Pure wool
Bound edges for durability
Adjustable straps
Machine washable