(21)
Heel Pressure Relief Fleece Protectors (Pair)
£24.99
more info
Wool pile heel protectors
Add comfort and protection to heels
Soft strap for extra comfort
Supplied in a pair
---
(26)
Slippy Heel Protectors with Lambswool - Pair
£21.99
more info
Pure wool inner;
Slippy blue outer;
Adjustable velcro strap;
Eases moving of patient in bed.
---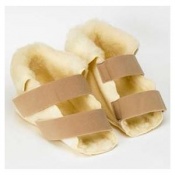 (1)
Fleece Pressure Relief Open Slippers
£37.99
more info
Thick lambswool heel protecting slippers
Adds comfort and protection to heels, ankles and feet
Ideal for nursing homes or extended hospital stays
Two soft and adjustable straps for extra comfort
---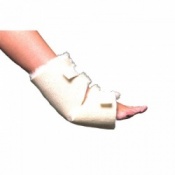 (1)
Fleece Open Toe Slipper Booties
£14.99
-
£24.99
more info
Open toe style booties;
Protects the foot and ankle;
Made in deep pile wool/polyester fleece;
Can be molded around an inflexible ankle.
---
(5)
Real Sheep Skin Heel Protectors
£27.99
more info
Washable;
Hook and loop fastening;

Gives maximum protection;

Held in place with soft strapping.
---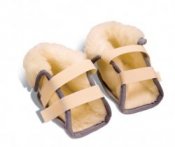 (4)
Fleece Heel Protectors - Pair
£34.99
more info
Pure wool
Bound edges for durability
Adjustable straps
Machine washable