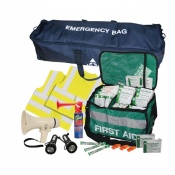 Complete kit of accessories for an evacuation situation
Ideal for large incidents and emergencies
Lightweight and durable case able to survive unforgiving environments
Contains a British Standard Compliant First Aid Kit
---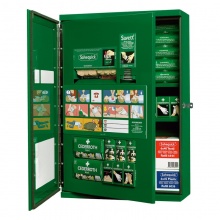 Double-door metal cabinet for first aid supplies
Ideal for any workplace including offices and schools
Fully lockable design for added security
Protects its contents from dust, dirt, and moisture
---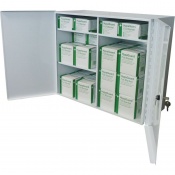 Cabinet contains 240 emergency foil blankets
Blankets suitable for use in survival, emergency and first-aid situations
Recommended for hostels, student accommodation and outdoor events
Cabinet is lockable for added security
---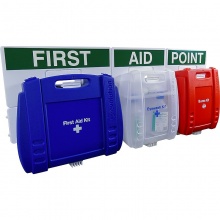 Wall-mounted station, including burns, eyewash and first aid kits
Suitable for any professional catering environment
Compliant with British first aid standards
Photoluminescent bracket header for increased visibility
---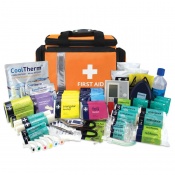 Enables effective management of major traumas
An extensive variety of high quality HSE matierals
Numerous storage chambers for easy organising
Contained in a resilient Pursuit Pro high-vis bag
---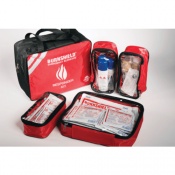 First aid kit specifically for the treatment of burns
For use in the Ambulance and Fire Services
ISO 9001 EN 46001 CE accredited kit
Contained in a grab-bag for quick response
---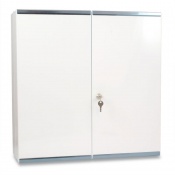 Large capacity first aid storage
Adjustable shelves in the interior
Lockable metal cabinet with white enamel finishing
Doors feature refrigerator-style storage
---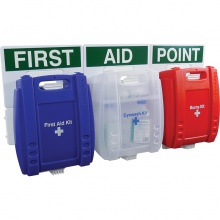 Wall-mounted station, including burns, eyewash and first aid kits
Suitable for any professional catering environment
Compliant with British first aid standards
Photoluminescent bracket header for increased visibility
---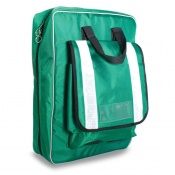 Designed for major incident scenarious
Exceptionally large storage for full product capacity
Colour-coded internal compartments for efficient organisation
Can be worn as a rucksack or used as a carry bag
---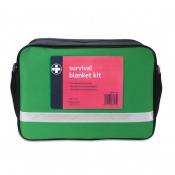 Bag containing 100 emergency foil blankets
Recommended for outdoor and sporting events
Blankets suitable for use in emergency and first aid situations
Portable carry bag ideal with reflective strip for easy identification
---
Fully-stocked first aid point
Ideal for any workplace emergencies
Fully compliant with British standards
Contains biohazard clean-up supplies
---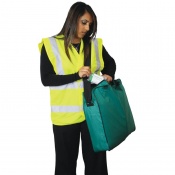 Holdall contains 100 emergency foil blankets
Blankets suitable for use in survival, emergency and first-aid situations
Recommended for hostels, student accommodation and outdoor events
Portable holdall perfect for mass evacuation scenarios
---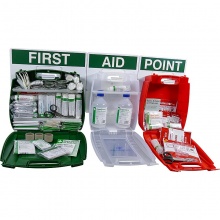 Evolution Comprehensive First Aid Point
Suitable for use in the catering industry
Full compliant with British standards
Easily wall-mountable using the brackets provided
---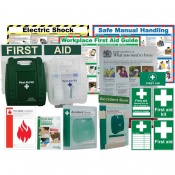 British Standard Compliant first aid pack
Designed to be the complete starter pack for beginners
Contains over 15 items including first aid and eyewash kits
Great value for money
---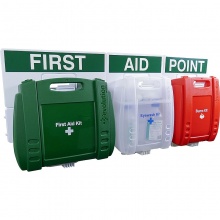 First aid, eyewash, and burns kits
For use in higher-risk workplaces
Completely compliant with British Standards
Comes fully stocked and with brackets, labels, and a header
---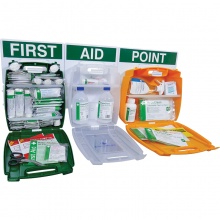 Fully-stocked first aid point
Ideal for any workplace emergency
Fully compliant with British standards
Contains biohazard clean up supplies
---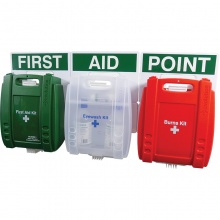 First aid station including burns, first aid and eye wash kits
Suitable for use in the catering industry
Fully compliant with British standards
Easily wall-mountable using the brackets provided
---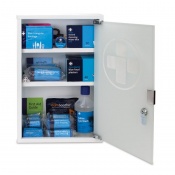 Ideal for use in catering environments
Contains blue gloves and plasters to meet Food Safety Standards
Strong, lockable glass door to provide secure storage of supplies
For use in both low risk (one kit per 100 staff) and high risk (one kit per 25 staff) sites
---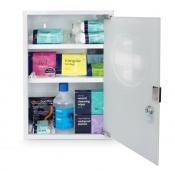 Ideal for use in a designated treatment area
Contains additional first aid items to exceed BSi standard
Strong, lockable glass door to provide secure storage of supplies
For use in both low risk (one kit per 100 staff) and high risk (one kit per 25 staff) sites
---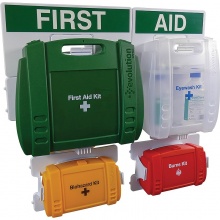 Fully-stocked first aid point
For any workplace with a large number of employees
With supplies for first aid, eye washing, burns, and biohazards
Developed specifically for the UK
---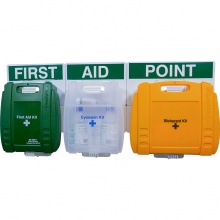 Fully-stocked first aid point
Ideal for any workplace emergency
Fully compliant with British standards
Contains biohazard clean up supplies
---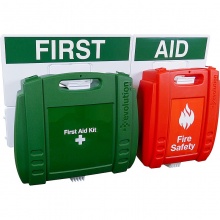 First Aid and Safety Point Kits
For workplaces with risk of fire
Fully British standard-compliant
Easily fixes to walls for increased visibilty
---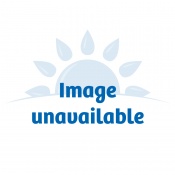 Secure wrap for rigid support to restrict mobility - a great alternative to adhesive tapes
Reusable and durable, made to last
Made from a breathable and comfortable blend of nylon and Lycra
Dimensions: 2.5cm x 4.5m
---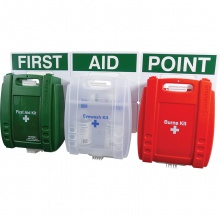 First aid station including burns, eye wash and first aid kits
Suitable for use in the catering industry
Fully compliant with British standards
Easily wall-mountable using the brackets provided
---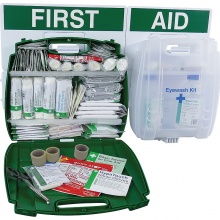 Catering First Aid and Eye Wash Point
Perfect for any professional kitchen
Supplied with blue plasters for food preparation
Includes brackets for easy wall-mounting
---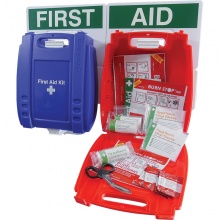 Station with first aid and burn kits
Specifically created for the catering industry
Fully British standard-compliant
Supplied fully-stocked and with wall brackets
---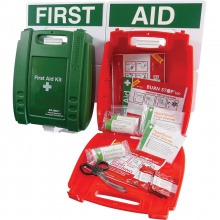 Station including first aid and burns kits
Suitable for any professional catering environment
Contains blue plasters for food preparation
Easily mounted on a wall with brackets included
---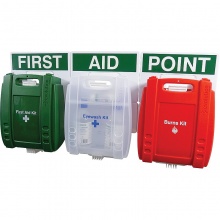 First Aid, Eyewash, and Burns Kits
For use in higher-risk workplaces
Completely compliant with British Standards
Comes fully stocked and with brackets, labels, and a header
---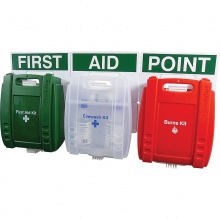 First aid, eyewash, and burns kits
For use in higher-risk workplaces
Completely compliant with British Standards
Comes fully stocked and with brackets, labels, and header
---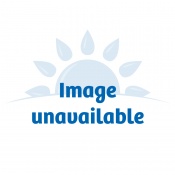 Secure wrap for compression wraps, customised supports and knee wraps
Knitted blend of nylon and Lycra with a patented foam lining
Delivers the most strength with minimal elasticity and medium conformability
Available in three different sizes
---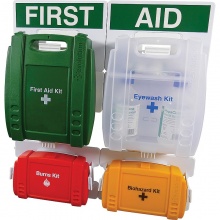 Comprehensive British standard first aid point
For any workplace with a large number of employees
With supplies for first aid, eye washing, burns, and biohazards
Developed specifically for the UK
---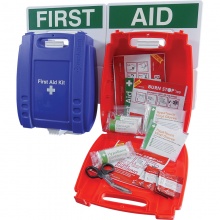 Station with first aid and burns kits
Specifically created for the catering industry
Fully British standard-compliant
Supplied fully-stocked and with wall brackets
---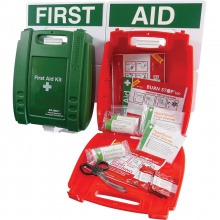 Station including a first aid kit and burn kit
Suitable for any professional catering environment
Contains forty blue, washproof plasters
Easily mounted on a wall with brackets included
---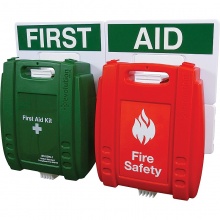 First Aid and Fire Safety Point Kits
For workplaces with risk of fire
Fully British standard-compliant
Easily fixes to walls for increased visibilty
---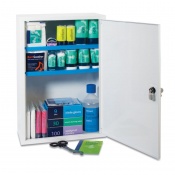 Metal cabinet with white enamel finishing
Lockable to provide secure storage of supplies
Contains additional first aid items to exceed BSi standard
For use in both low risk (one kit per 100 staff) and high risk (one kit per 25 staff) sites
---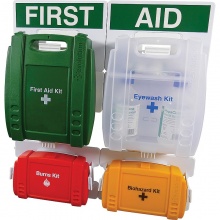 Fully-stocked first aid point
For any workplace with a large number of employees
With supplies for first aid, eye washing, burns, and biohazards
Developed specifically for the UK
---
First aid and biohazard kit point
Ideal for workplace injuries and cleaning body-fluid spillages
Fully British Standard-compliant
Comes with brackets, labels and headers for wall-mounting
---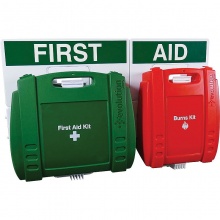 Fully-stocked first aid and burns point
Ideal for workplaces with a higher risk of burns
Comes with brackets for easy wall-mounting
Treat burns instantly with the BurnStop products included
---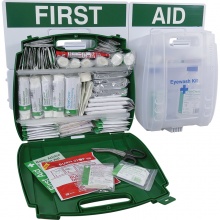 Products to treat injuries and eye contaminants
Essential first aid products for the workplace
Supplied fully-stocked and ready to use
Contains unique brackets, labels, and photoluminescent headers
---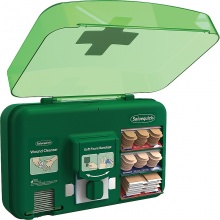 Everything you need for minor wounds in the workplace
Wall-mountable for easy access
Comes fully stocked with over 100 plasters, wipes, and bandages
Plastic cover protects contents from dust and moisture
---
First aid and biohazard kit point
Ideal for workplace injuries and cleaning body-fluid spillages
Fully British Standard-compliant
Comes with brackets, labels and headers for wall-mounting
---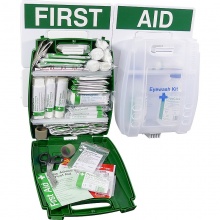 Catering First Aid and Eye Wash Point
Perfect for any professional kitchen
Supplied with blue plasters for food preparation
Includes brackets for easy wall-mounting
---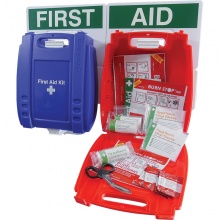 Station with first aid and burns kits
Specifically created for the catering industry
Fully British standard-compliant
Supplied fully-stocked and with wall brackets
---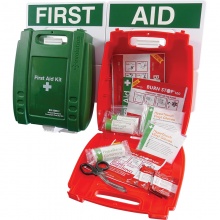 Station with first aid and burns kits
Suitable for any professional catering environment
Contains blue plasters for food preparation
Easily mounted on a wall with brackets included
---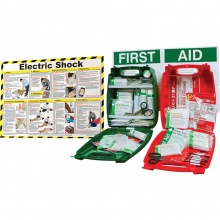 Everything needed to deal with first aid and burn emergencies at work
Perfect for any workplace with a risk of electric shocks
Supplied with full guidance on how to treat burns
Fully British standard-compliant
---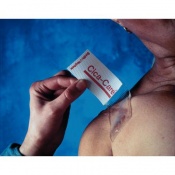 Effective in the improvement of red, dark or raised scars
Self adhesive for quick and easy placement
Features a washable and reusable reinforcing membrane
Available as a single sheet or in a pack of ten sheets
---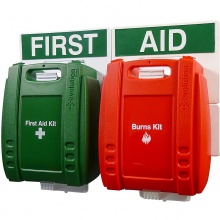 Fully-stocked first aid and burns point
Ideal for workplaces with a higher risk of burns
Comes with brackets for easy wall-mounting
Treat burns instantly with the BurnStop products included
---
Metal cabinet with white enamel finishing
Lockable to provide secure storage of supplies
Professionally chosen first aid contents
Perfect for use in first aid rooms or designed treatment areas
---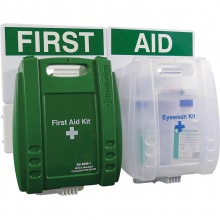 First aid and eyewash station
Essential first aid products for the workplace
Supplied fully-stocked and ready to use
Contains unique brackets, labels, and photoluminescent headers
---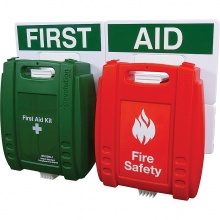 First Aid and Safety Point Kits
For workplaces with risk of fire
Fully British standard-compliant
Easily fixes to walls for increased visibilty
---
Catering First Aid and Eye Wash Point
Perfect for any professional kitchen
Supplied with blue plasters for food preparation
Includes brackets for easy wall-mounting
---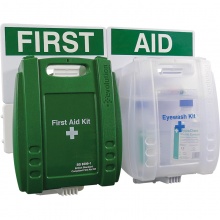 First aid and eyewash station
Essential first aid products for the workplace
Comes fully-stocked and ready to use
Contains unique brackets, labels, and photoluminescent headers
---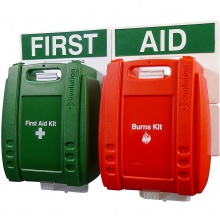 Fully-stocked first aid and burns point
Ideal for workplaces with a higher risk of burns
Comes with brackets for easy wall-mounting
Treat burns instantly with the BurnStop products included
---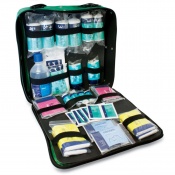 Devised for major incidents and emergencies
Multiple store compartments with adjustable straps
A considerable range of high quality HSE products
Caters for many different accident scenarios
---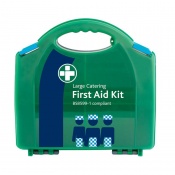 Complies with food hygine regulations; BS 8599-1 compliant
Fully stocked with first aid provisions approved by HSE
Comes in a stylish carry case that includes a blue intergrated bracket
For use in both low risk (one kit per 100 people) and high risk (one kit per 25 people) sites
---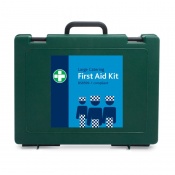 Complies with food safety regulations; BS 8599-1 compliant
Fully stocked with first aid provisions approved by HSE
Durable and easy to clean green Cambridge box that is easily recognisable
For use in both low risk (one kit per 100 staff) and high risk (one kit per 25 staff) enterprises
---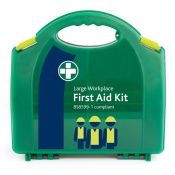 Compliant to the latest BS standard (BS 8599-1)
Fully stocked with first aid provisions approved by HSE
Comes in a stylish carry case that includes a green intergrated bracket
For use in both low risk (one kit per 100 people) and high risk (one kit per 25 people) sites
---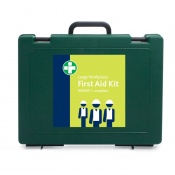 Ensures peace of mind in the workplace, BS 8599-1 compliant
Fully stocked with first aid provisions approved by HSE
Durable and easy to clean green Oxford box that is easily recognisable
For use in both low risk (one kit per 100 staff) and high risk (one kit per 25 staff) enterprises
---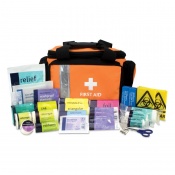 Suitable for small to medium size sports teams
HSE materials specifically picked for sports injuries
Strong material that is water resistant and easy to clean
Supplemented with carry handles and adjustable shoulder strap
---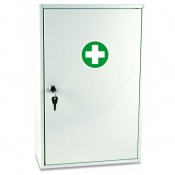 Ideal first aid room cabinet
Metal cabinet with white enamel finishing
Secure and lockable to provide safe storage of supplies
Durable stove-enamelled construction
---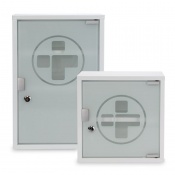 Metal cabinet with white enamel finishing
Toughened and durable glass door
Lockable to provide secure storage of supplies
Ideal to use in first aid rooms or designed treatment areas
---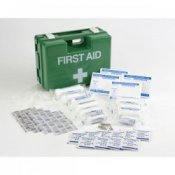 Comprehensively stocked;

Compliant with Health& Saftey regulations;

Available for 1-10, 11-20, persons;

Shatterproof ABC case with wall bracket;
---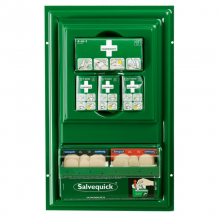 Portable first aid kit for when you're on the go
Ideal for workplaces or vehicles
Comes fully stocked with plasters, wipes, and bandages
Plastic lid makes it easy to see when to restock
---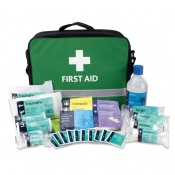 Ideal for general incident scenarios
Perfect for use in large, high risk work environments
Contains an exhaustive range of comprehensive products
Comes in a functionally designed shoulder bag
---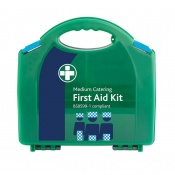 Complies with food hygine regulations; BS 8599-1 compliant
Fully stocked with first aid provisions approved by HSE
Comes in a stylish carry case that includes a blue intergrated bracket
For use in both low risk (one kit per 100 staff) and high risk (one kit per 25 staff) sites
---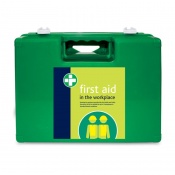 A first aid kit that fits HSE standards
All content based on ACOP 1997
Kits to cover up to 10, 20, or 50 people
Comes in tough Milano box that can be wall mounted
---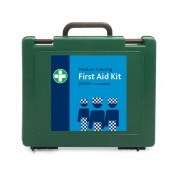 Complies with food safety regulations, BS 8599-1 compliant
Fully stocked with first aid provisions approved by HSE
Durable and easy to clean green Oxford box that is easily recognisable
For use in both low risk (one kit per 100 staff) and high risk (one kit per 25 staff) enterprises
---
Compliant to the latest BS standard (BS 8599-1)
Fully stocked with first aid provisions approved by HSE
Comes in a stylish carry case that includes a green intergrated bracket
For use in both low risk (one kit per 100 people) and high risk (one kit per 25 people) enterprises
---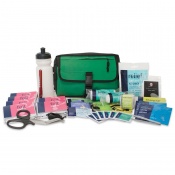 A compact outdoor sports first aid kit
Available in a choice of green or orange Strasbourg bag
Includes first aid materials catering to typical injuries
Also contains contents specific for outdoor activties
---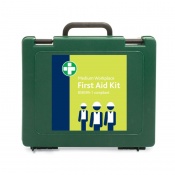 Ensures peace of mind in the workplace, BS 8599-1 compliant
Fully stocked with first aid provisions approved by HSE
Durable and easy to clean green Oxford box that is easily recognisable
For use in both low risk (one kit per 100 staff) and high risk (one kit per 25 staff) enterprises
---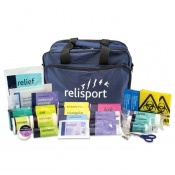 Designed to meet the need of small sports teams
A wide range of first aid materials approved by HSE
Comes in a stylish blue Toulouse bag
Multi-compartmental for easy storage
---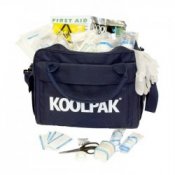 Ideal for large sports clubs
Contains a full range of first aid supplies to treat a wide range of sports injuries
Includes a greater amount of products compared to our other kits
Bag features specially designed compartments to keep essential items at hand
---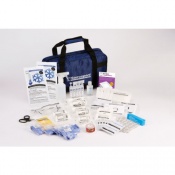 First aid kit for treating football injuries
Contained in a durable fold-out carry bag
Transparent pouches for easy item location
Nylon bag is resistant to dirt and water
---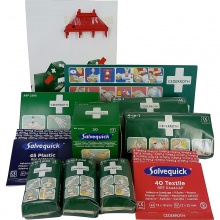 Complete First Aid Station refill
Includes supplies for any workplace First Aid emergency
Over 100 pieces of First Aid equipment
Contains a key for a pilfer-proof plaster dispenser
---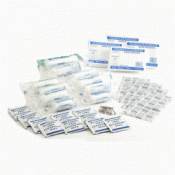 Comprehensively stocked;

Compliant with Health& Saftey regulations;

Available for 1-10, 11-20, and 21-50 persons;

Refill Kit for Standard and Premier HSE First Aid Kit;
---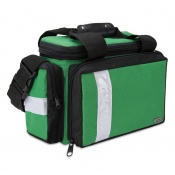 Ideal for paramedics, occupational nurses and first aiders
Protective padded lining with many storage compartments
Made from high quality, water and rip-resistant 600 denier polyester
Supplemented with carry handles and an adjustable shoulder strap
---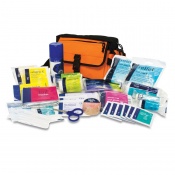 Suitable for moderate sized sports teams or big families
Content chosen by professions to tend to typical outdoor injuries
Comes in a stylish, multi-compartment Strasbourg bag
Strong and water resistant bag that can be worn a variety of ways
---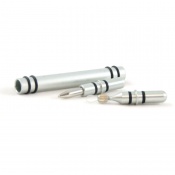 Double ended design aids removing objects from eyes
Soft nylon loop allows non-metallic materials to be removed
Powerful magnet allows the removal of metallic shards or particles
Compact size is ideal for adding to eye wash kits or stations
---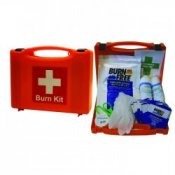 Emergency care for burns, scalds and sunburn
Housed in rugged, stylish case
Ideal for lower risk environments
Burns specific dressings and cooling gels containing Tea Tree Oil to halt burn progression and protect from infection
An effective safeguard to ensure burns can be treated instantly
---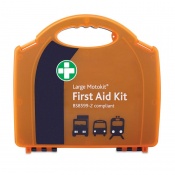 Designed to attend to 16 passengers
Suitable to keep in buses, coaches and other large vehicles
All materials in the kit are BS 8599-2 compliant
Robust and airtight Aura container with integrated handle
---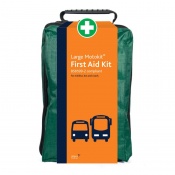 Provides for treatment for up to 16 passengers
Suitable for minibuses, buses and coaches
Comes stocked with BS8599-2 compliant first aid provisions
Large rip-stop bag to protect items from dust and moisture
---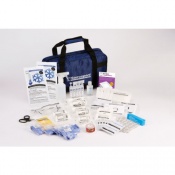 First aid supplies for general sports injuries
Contained in a compact, fold-out carry bag
Transparent pouches make items easy to locate
Nylon carry bag is resistant to dirt and water
---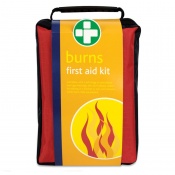 General purpose emergency burns first aid kit
Provides quick and effectual treatment
Contains products specifically for treating burns
Contained in a lightweight but durable red Stockholm bag
---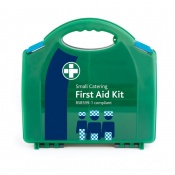 Complies with food hygine regulations, BS 8599-1 compliant
Fully stocked with first aid provisions approved by HSE
Comes in a stylish carry case that includes a blue intergrated bracket
For use in both low risk (one kit per 25 staff) and high risk (one kit per 5 staff) sites
---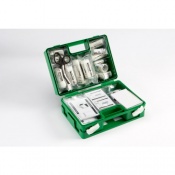 First aid box with several compartments
Internal perspex lid for easy viewing
Comes with a wall bracket for mounting
Measures 28 x 22 x 11.5cm
---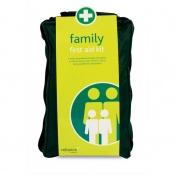 Large capacity family first aid kit
Suitable to tend to common household injuries
Comprehensively stocked with first aid essentials
Packed in a multi-compartment, durable Copenhagen bag
---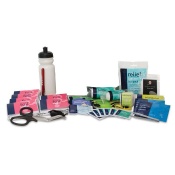 Use as a back up when stocks run out
All first aid materials are HSE approved
An immediate refreshment of your existing kit
Contains both first aid and practical outdoor items
---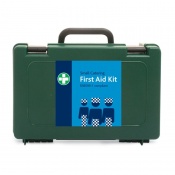 Complies with food safety regulations; BS 8599-1 compliant
Fully stocked with first aid provisions approved by HSE
Durable and easy to clean green Oxford box that is easily recognisable
For use in both low risk (one kit per 25 staff) and high risk (one kit per 5 staff) enterprises
---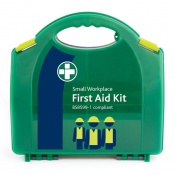 Compliant to the latest BS standard (BS 8599-1)
Fully stocked with first aid provisions approved by HSE
Comes in a stylish carry case that includes a green intergrated bracket
For use in both low risk (one kit per 25 people) and high risk (one kit per 5 people) environments
---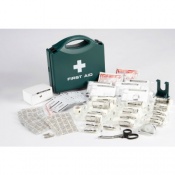 Comprehensively stocked first aid kit
Compliant with BS5899-1
Available in three different capacities
Case features integrated carrying handle
---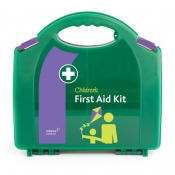 First aid kit suitable for registered childminders
Complies with legal obligations of HSE
Materials selected by professionals specifically for childcare
Compact, modern carry case that can be easily wall-mounted
---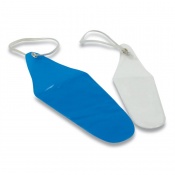 Pack of 10 stall in assorted sizes
Protection for dressed fingers and thumbs
Keeps dressings and bandages clean and dry
Elastic loop fastening for added security
---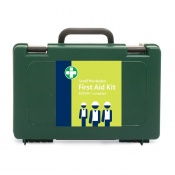 Compliant to the latest BS standard (BS 8599-1)
Fully stocked with first aid provisions approved by HSE
Durable and easy to clean green case that is easily recognisable
For use in both low risk (one kit per 25 staff) and high risk (one kit per 5 staff) enterprises
---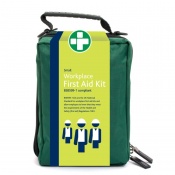 Ensures peace of mind in the workplace, BS 8599-1
Fully stocked with first aid provisions approved by HSE
Soft multi-compartment carry bag suited for small storage spaces
For use in both low risk (one kit per 25 staff) and high risk (one kit per 5 staff) enterprises
---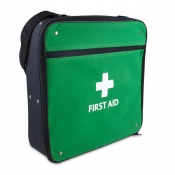 Large zipped first aid bag with central storage
Adjustable strap and carry handles for user convenience
Internal elasticated loops for storing a variety of first aid products
Added exterior zipped compartment for storing smaller items
---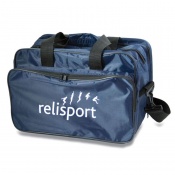 Outstanding sports bag for emergency use
Large and customisable storage options
Multiple zipped sections to store items
Tough grab handed and shoulder strap included
---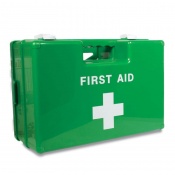 Industrial size, robust carry case
Made from heavy-duty ABS plastic
Adjustable inner compartments for varied storage
Comes with a bracket for wall mounting
---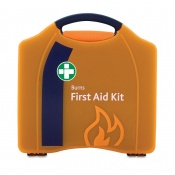 General purpose burns emergency kit
Includes various size burn dressings
Provides quick and effectual treatment
Meets the standard currently set by HSE
---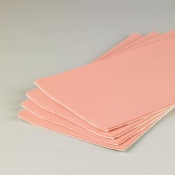 Combines pure wool felt with a latex foam surface
Absorbs pressure and cushions the impact
Sheet size: 22.5 x 45cm
Available thicknesses: 5mm or 7mm
---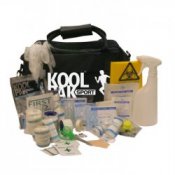 Ideal for any sports club playing at any level.
Comes complete with all the first aid contents needed to treat minor injuries on the field of play, which makes it ideal for any standard of sports club.
Approved by several County Football Associations.
Supplied in a quality waterproof touchline bag which has ample space to carry all your medical supplies.