Drive Medical Bathlifts
Welcome to our range of Drive Medical Bathlifts. Drive Medical (now known as Drive DeVilbiss) are one of the world's leading manufacturers of long-lasting, reliable medical products. You can expect excellent quality and safety from this selection of bath lifts which includes the Bellavita Bath Lift and the Riviera Bathlift. We also stock accessories to replace parts of the Drive Medical bathlifts or to enhace their comfort.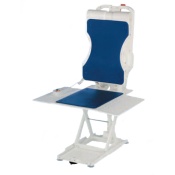 Practical, one simple button push sufficient to fold;

Hygenic, smooth surfaces;

Safer, 'emergency-off' button and long-lasting battery;

Attractive, space-saving slim design.
---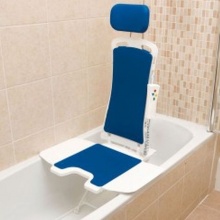 Lightest battery-powered reclining bath lift
Ideal for users requiring greater hip-to-back sitting angle
Lifts from a minimal 6cm to a record 48cm
Offers market-leading 50° backrest recline
---
White cover for the Bellavita Bathlift
Provides a protective cover for the seat and backrest
Improves comfort of the bathlift
Ideal as a spare or replacement cover
--- Pack of spare parts for the Bellavita Bathlift
Four foot grips to replace damaged parts
Help to provide stability to your bathlift
Foot grips in a clear toggle wraparound design
--- Spare part for the Bellavita Bathlift
Single screw foot grip to replace a damaged part
Helps to provide stability to your bathlift
Screw onto the bottom of your Bellavita Bathlift