Doro Cordless Telephones
Welcome to our selection of Doro Cordless Telephones. Leading telephone manufacturer Doro produces easy to use, cordless phones (also known as DECT phones) designed for the hard of hearing, visually impaired or those who require security features. In our range, you can find a phones with larger text, clearer sound and ringers up to 90dB, so you can make and recieve calls more confidently than ever.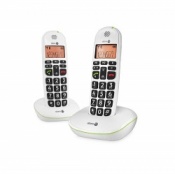 Cordless phone twin pack;
Easy to read large display;
Handset volume up to 30dB;
Audio boost button.