Why Use a Shower Seat?
Tuesday, 7 November 2017 | Paul
If you suffer from mobility or balance issues, taking a shower can be a challenging, tiring and even dangerous task. One way to make showering safer, more comfortable and more convenient is to use a shower seat to take pressure off your limbs while washing. Using a shower seat can potentially create an easier and more enjoyable bathing experience for both the user and their carer.
The Different Types of Shower Seats
Shower seats come in a variety of styles and sizes, and are usually built for a specific weight capacity. Shower chairs can be padded or unpadded, wall-mounted or free-standing, and can be a simple bench seat or a chair complete with a backrest, armrests and footrests.
Full Shower Seats
Both free-standing and wall-mounted shower seat designs have their advantages. The appeal of a wall-mounted shower seat is that it can be folded flush against the wall when not in use for quick and convenient storage. These seats are easy to install – usually bolting onto the wall – and many have adjustable legs so that the seat height can be tailored to suit the user. If a seat cannot be installed in the shower area permanently, a free-standing seat, such as the Linido Shower Chair, is ideal. Many free-standing shower seats are mounted on casters with wheels for ease of transfer. Having a shower seat on wheels can also make it easier to move the seat about when it is not in use. Some free-standing shower chairs, such as the Combi Manual Tilt Shower Commode Chair, include a tilt function to assist with washing of the face and hair.
How to Choose the Right Shower Seat
Your choice of shower seat should be based on the size and capacity of seat that you require, the size of the area where it will be used, and your personal preferences. A good-quality shower seat will have a strong, rust-proof aluminium frame, a waterproof vinyl or moulded plastic seat for easy cleaning, and rubber feet or braking casters (if it is mounted on wheels) to prevent it from slipping on wet surfaces.
Always check the maximum weight capacity before buying a shower seat. This will usually be specified by the manufacturer and should be adhered to for safety reasons. Extra-wide chairs are available for larger users. These include the Extra Wide Wheeled Shower Commode Chair, the Extra-Wide Bariatric Bedside Commode and Shower Chair and the Heavy Duty Bariatric Shower Chair. When buying a shower seat with armrests, larger users may find that butterfly armrests, which are angled to provide extra seating space, or removable armrests are most suitable.
Buy a Shower Seat from Health and Care
Need a shower seat? At Health and Care we have a wide selection of affordable shower seats with free UK delivery. Browse our full range of shower seats here.
Shop Related Products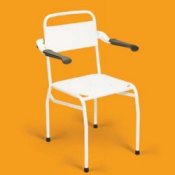 Independent Swivel armrests

HT-cover material backrest and seat

Available in two heights
---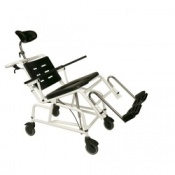 Activated by hand lever at rear;

Makes caring for heavier users easier;

Effortlessly tilts backwards or forwards;

Carer can stand at rear or side to operate.
---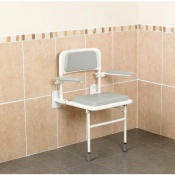 Seat, backrest and armrests are padded with cellular moulded foam

Manufactured from corrosion-resistant epoxy-coated aluminium

Arm rests are easily flipped up and back to allow side transfer

Can support a maximum user weight of 25 stone (160kg)
---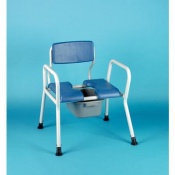 Has a cut-out seat for improved personal cleaning in the shower
Suitable as a chair, bedside commode and shower chair
Has 'butterfly' armrests so body doesn't get squeezed
Provides a comfortable seat for bariatric users