Why Should I Use Hand Sanitiser?
Tuesday, 24 March 2020 | Paul
In light of the recent coronavirus outbreak, practising good hygiene has never been more important. While staying at home and avoiding all contact with infected individuals is the best way to protect yourself, you'll likely need to leave your house every now and then to pick up food and other essentials, which can put yourself and your family at risk.

Sanitising your hands can kill lingering bacteria
Soap and water aren't always available in such situations, so the Centers for Disease Control and Prevention (CDC) recommends you use a hand sanitiser with at least 60% alcohol to lower your chances of infection instead.
How Does Coronavirus Spread?
You can catch coronavirus if you breath in the vapour of an infected person, or if you come into contact with their bodily fluids. The virus can live on surfaces for several hours, so you may not even realise when you've picked it up on your hands. If you don't wash your hands immediately afterwards, you may infect yourself or pass the virus on to someone else. As such, to prevent the virus's spread, it's recommended that you:
Wash your hands for at least 20 seconds with soap and water
If there is no soap or water, use alcohol-based hand sanitiser
Avoid touching your face and mouth
Many hand sanitisers can be found in small bottles containing around 100ml, so they can be comfortably carried in a pocket or bag and easily accessed whenever you suspect you've come into contact with infection.
How Effective Is Hand Sanitiser at Preventing Coronavirus?
While washing your hands with soap and water for at least 20 seconds is the best way to clean your hands, alcohol-based hand sanitisers are a suitable alternative and can reduce the amount of harmful pathogens that may be living on your skin. According to the CDC however, hand sanitiser must be properly applied to yield effective such results.
Using Hand Sanitiser Correctly
For hand sanitisers to provide sufficient protection, they must be used correctly. To ensure you're killing as many of the germs on your hands as possible, you should:
Check the hand sanitiser's label top find the correct amount
Squeeze the solution onto the palm of one hand
Rub the sanitiser onto all parts of your hand
Continue to rub in the sanitiser until it's fully dried
If you use too little product or rub it off before its fully dried, your hand sanitiser may not work as well as it should. If your hands are particularly dirty, you may need to use more of the solution than usual.
The Best Hand Sanitiser for Coronavirus
Physicool Corona-Chex Max Hand Sanitiser Balm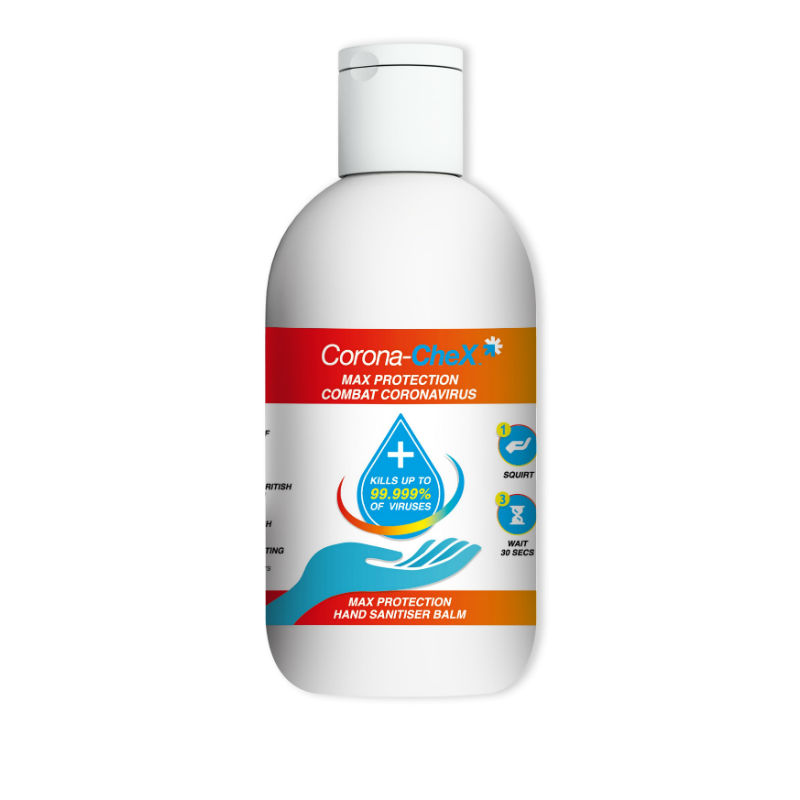 The CDC recommends you use alcohol-based hand sanitiser to protect yourself from coronavirus. However, the Physicool Corona-Chex Max Hand Sanitiser Balm (100ml) is ethanol and alcohol-free has been specifically designed for combating coronavirus.
It is our experts' pick for the best anti-coronavirus hand sanitiser as it has been shown to be both more effective and longer lasting than alcohol based alternatives. It is able to kill 99.999% of viruses, bacteria, fungi, moulds, yeasts and spores in under 1 minute and offers 4 hours of protection afterwards. Unlike alcohol based sanitisers, it is gentle on the skin so it can be applied frequently without causing any dryness or irritation.
What Else Can It Protect Me From?
The Physicool Corona-Chex Max Hand Sanitiser Balm is designed to tackle influenza-like viruses and is particularly effective against:
Coronavirus
SARS
The common cold
For Best Results
To get the most out of Physicool Corona-Chex Max Hand Sanitiser Balm, follow the instructions for correct hand sanitiser above, then wait 30 seconds for the solution to work. Only a small amount is needed thanks to this hand sanitiser's powerful antiviral composition.
Refer to Official Guidelines
It's important to remember that while using hand sanitiser can help to lower your risk of infection, nothing will offer complete protection from coronavirus. Follow these steps, stay at home as much as possible and keep yourself updated on current government guidelines. In the meantime, you can browse our Coronavirus Protection range for other ways to reduce your chance of infection.
Tags: Coronavirus Information, Viruses