Why Everyone's Talking About Copper Face Masks
Information on face masks seems to be changing on a daily basis these days, and it's hard to avoid getting swept up in the hype. Lately, the antimicrobial properties of copper fabrics are a hot topic, and many are touting copper fabric as the best available for virus protection face masks. Here, we'll examine some of the facts about copper, and look at the new Reusable Copper-Infused Face Mask.
Can Copper Kill Viruses?
The antiviral properties of copper are nothing new, and everyone from medical professionals to NASA have been using copper and copper fibre to stave off infection and odour for years. In our new age of increasing literacy about viruses, studies have even found that coronavirus is killed by copper on surfaces, as detailed in a study published by the New England Journal of Medicine. This all seems very promising for the efficacy of copper face masks, but how do these masks actually compare to those made of standard materials?
How Effective Is the Copper Mask for Particle Filtration?
The copper mask we're examining here has been tested to GB 2626 - 2006 and has been proven to filter more than 99% of airborne particles, which is equivalent in filtration to recommended KN99 and FFP3 rated masks. The copper mask has also been shown to provide a higher level of protection than that of 3-ply N95 surgical masks. On top of the antiviral protection inherently provided by the copper material, this makes it hard to argue that the copper mask isn't a safer option than standard masks.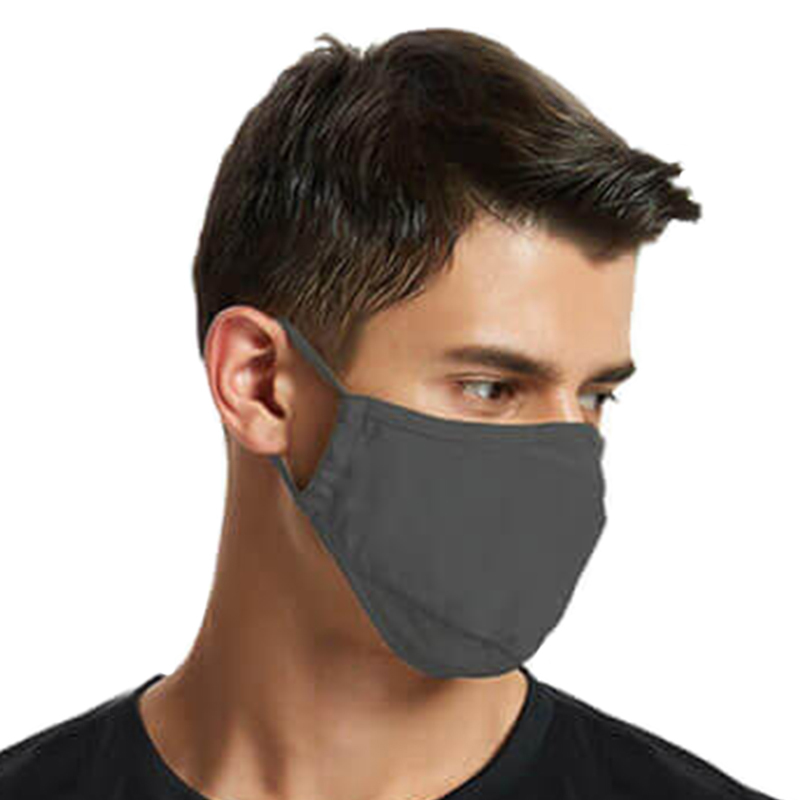 This copper face mask is gaining popularity thanks to inherent antimicrobial properties
What Kinds of Bacteria Can Copper Fibre Kill?
Published medical journals have proven that copper fabrics can kill a range of viruses including Influenza (H1N1 / H9N2) in under 20 minutes, and a 2014 study by Copper Clothing Ltd showed that copper-infused fabric achieved a 99.9% reduction and destruction of a bovine coronavirus within 10 minutes.
Please note that the copper fabric used in this mask has not yet been tested against the current COVID-19 strain of coronavirus.
How Does Copper Kill Bacteria?
The graphic below provides a simplified explanation of how copper ions can kill harmful viruses and bacteria.

How Many Layers of Protection Does the Copper Mask Provide?
The Antimicrobial Copper Face Mask is made with four layers, with copper-infused fabric used for the outermost layer. These layers provide the mask with remarkable filtration efficiency, while the copper fabric layer has been shown to destroy bacteria and viruses, including the the bovine coronavirus, with 99.99% efficiency.
Can I Wash My Copper Face Mask?
Luckily, these masks can be washed without hurting their efficacy, which is great news for those of us who have been spending a lot on disposable masks. To wash your mask while retaining filtration efficiency, follow the steps below. The mask must be washed in distilled or cooled boiling water to ensure hygiene is maintained. DO NOT use washing liquid or detergents.
Place the mask in a bowl ensuring that the elastic ear loops and toggles are outside
Add distilled water or boiled water left to rest for 15 minutes to the bowl
Soak the face mask for at least 5 minutes while GENTLY massaging the material
Squeeze out excess water and lay the face mask flat to dry naturally
Should I Buy a Copper Face Mask?
It can be hard to separate fact from fiction these days, but all signs we can find point to copper face masks being a promising new asset in the world of virus protection. While the most popular masks can sometimes be hard to come by, it seems as if there's currently a good supply of the mask from Copper Clothing Ltd, so we'll be getting ours while we can! If you'd like to pick up your own copper face mask, they're currently in stock as the Reusable Copper-Infused Face Mask for Virus Protection.
Has this article provided you with the information you were looking for? Let us know in the comments below or via our Facebook or Twitter!
Tags: Coronavirus Information, Viruses, General Health, Medical Supplies