Which Sigaris Style Opaque Compression Stocking Do I Need?
Thursday, 8 October 2020 | Paul
The Sigvaris Style Opaque Range is ideal for those looking for an especially resilient pair of compression tights or stockings in an opaque design. Made from a combination of polyamide and elastane, they are soft yet insulating, and great for use in colder winter months.
If you're interested in this line, but aren't sure which style would suit you best or if the correct compression class is available, have a quick look through our guide.
What Makes the Sigvaris Style Opaque Range Different?
The high denier of the Sigvaris Style Opaques really sets them apart from the other compression garments in the Sigvaris range. Not only does this allow them to provide more warmth and insulation for use in cold weather, it also means they are less likely to rip than other Sigvaris hosiery. On top of all this, their bold, block coloured style ensures you'll always make a statement with your outfit.
Click the button below to skip straight to our full range of Sigvars Style Opaque compression garments.
Table of Contents
Knee High Compression Stockings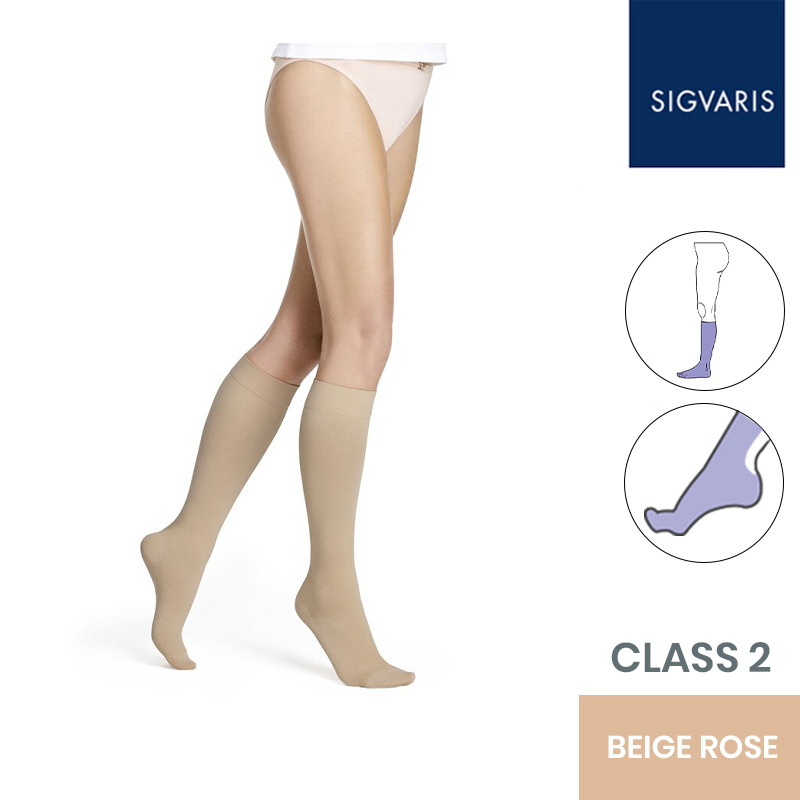 Class 2 (15 - 20mmHg)
Knee High Compression Stockings with Open Toe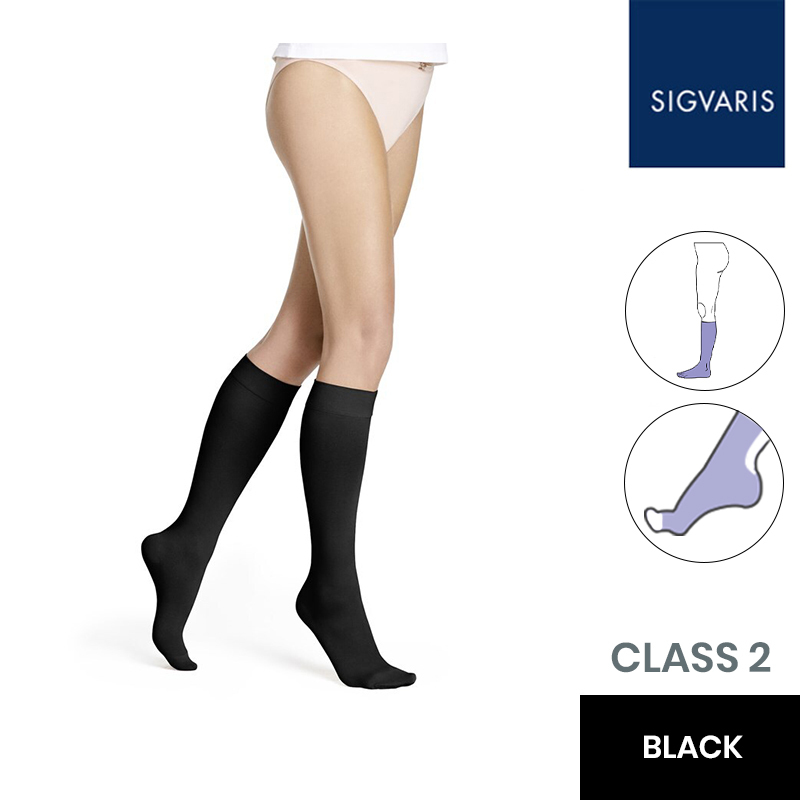 Class 2 (15 - 20mmHg)
Thigh High Compression Stockings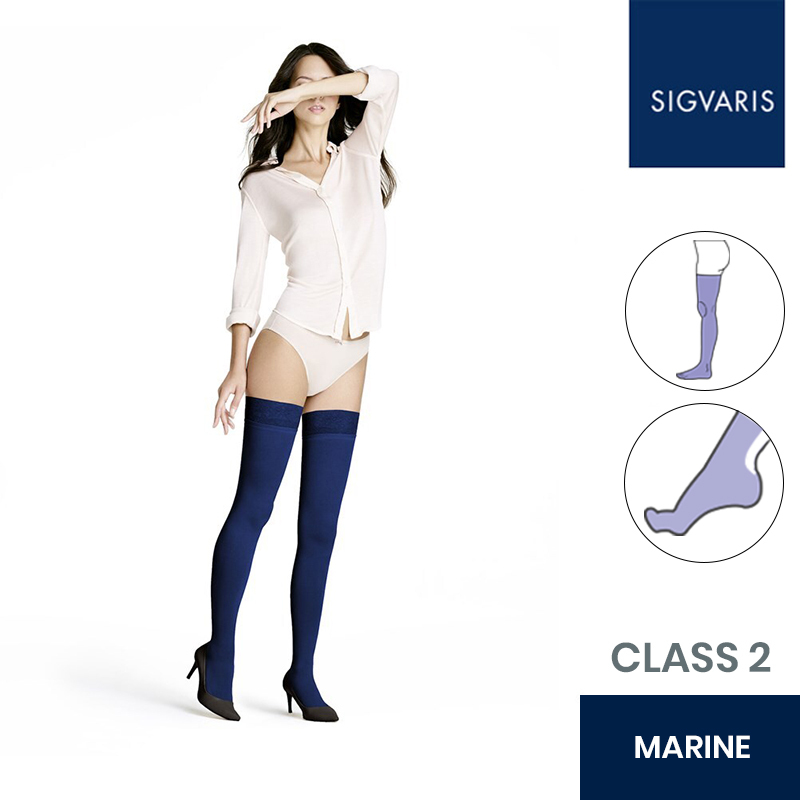 Class 2 (15 - 20mmHg)
Thigh High Compression Stockings with Open Toe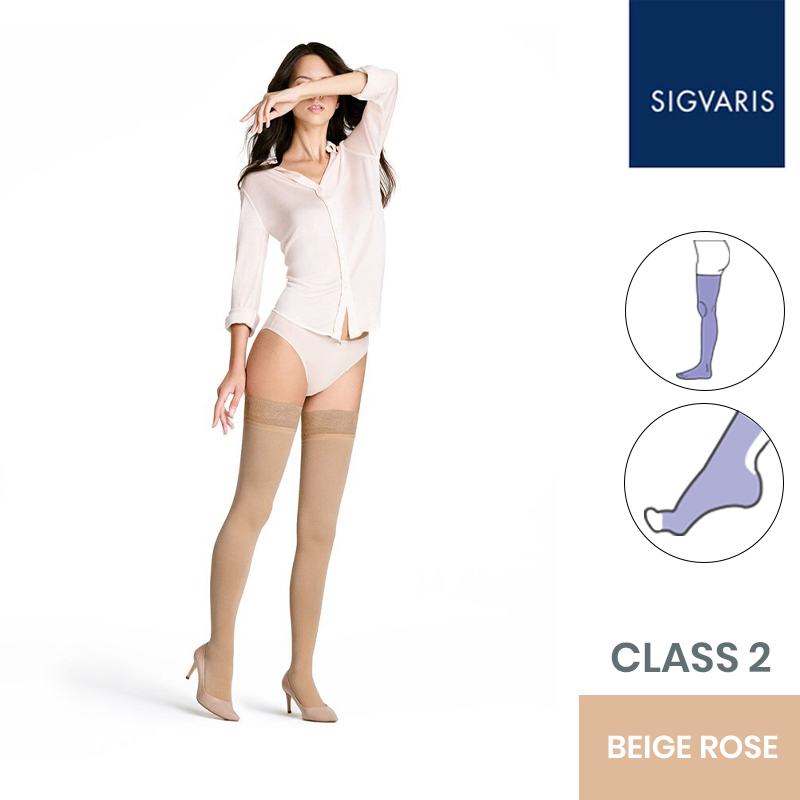 Class 2 (15 - 20mmHg)
Which Class Do I Need?
The Sigvaris Style Opaque Compression Stockings are only available in Afnor Class 2. This class provides 15 - 20 mmHg of pressure, which is considered a light to moderate level of compression and therefore might not be suitable for very severe conditions. Indications that these Sigvaris garments can be used to treat include:
Tiredness or fatigue in the leg
Mild varicose veins in pregnancy
Mid varicose veins and oedema
Poor circulation during travel
We recommend that you always consult a medical professional if you aren't sure which compression class you need for your condition or if you suspect your condition is severe. If you need a higher class than is available in this line, you can also take a look at the Sigvaris Essential Semitransparent range, which feature Afnor Class 3 garments.
Choosing the Right Style for Every Season
First and foremost, when considering the right style for you, you should determine which part of your leg requires treatment. Some conditions may predominantly affect the calf for example, while others need compression in the majority of the leg.
Next you can consider which look you prefer, and which season you'll be wearing your stockings in. Due to the thicker denier of these garments, they are generally a good choice for winter months. However, you may still find you get a little too cold with the limited coverage offered by the knee high versions, and might also want to keep a pair of thigh highs handy.
Open or Closed Toe?
Compression garments are made to be tight-fitting and can feel a little constricting at times. If your condition doesn't affect your feet and if you find pressure in this area uncomfortable, we recommend you opt for an open-toe version. Of course some people still prefer closed toe compression hosiery, as they offer more warmth during cold seasons.
Ready to shop?
Now that you're a little more familiar with this line, you can browse the full Sigvaris range, or have a look at the other compression garment brands on our site using the button below.
Tags: Brand Focus, Compression Stockings