What are the Best Pillows for Sitting Up in Bed?
Monday, 2 October 2017 | John
At some point in your life, you've probably sat up in bed. Maybe to read a book, maybe to watch TV – maybe even to get some work done before nodding off. The chances are also good that you've found your bed's headboard to be less than comfortable.
If you're looking to upgrade your experience of sitting up in bed, wedge pillows like the Harley Bed Relaxer are a great place to start. They put your back at an angle and provide fantastic comfort to you while you're sitting in bed.
Why a Bed Wedge?
Compared to other cushions and pillows, wedge cushions offer a range of advantages. The right-angled design of a wedge cushion ensures that it stays in place against your bed's headboard, and the high incline helps keep your back at a comfortable and supportive angle, no matter how long you're sitting up.
It's worth noting that lying down in bed to read or watch TV can put your back in an awkward and uncomfortable position, negating the comfort your bed provides, so proper support is vital to help prevent back pain.
Sit Up With Ease
The back support and cushioning provided by a wedge cushion like the Harley Bed Relaxer is ideal for propping yourself up in bed. It provides a comfortable backrest for beds – ideal for reading, watching TV or whatever else your pre-sleep routine involves – while also being great for sleeping on once you're ready to enter the land of nod.
Highly Versatile – Great for Sitting and Sleeping
Sitting up in bed isn't the only use for wedge cushions – they're incredibly versatile. While they're great for keeping you comfortable while sitting up in bed, they're also great for use while sleeping. Used in place of a conventional pillow with the long side facing down, they offer exceptional comfort.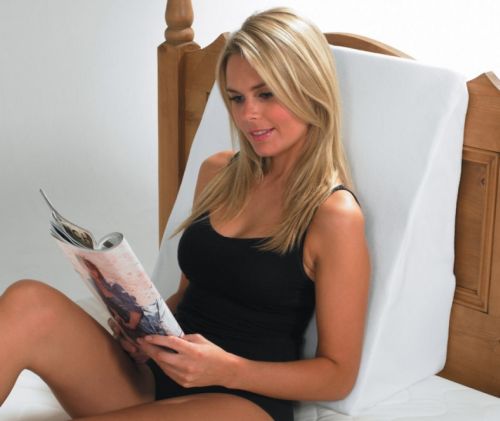 The Harley Bed Relaxer provides great support and comfort while reading in bed
By keeping your head at a slight incline, the wedge cushion helps to keep your airway open. This helps you breathe more easily while you sleep, and can even help to stop snoring. Keeping your head at an incline is also ideal if you suffer from acid reflux, as it enables gravity to stop stomach contents from entering the oesophagus.
Buy the Harley Bed Relaxer from Health and Care
If you want to take full advantage of the benefits a wedge cushion can offer, the Harley Bed Relaxer is a great place to start. Fantastically comfortable with a soft and protective cover, it's a perfect companion for your late-night watching or reading habits. There's a range of colours to choose from to best fit in with your style:
Even better, all products at Health and Care feature FREE UK Delivery, giving you peace of mind that what you see is what you'll pay. If you've found success with the Harley Bed Relaxer, let us know in the comments or find us on Twitter and Facebook!