What are the best insoles for my feet?
Friday, 14 September 2012 | Paul
Key product: Silipos Full Length Gel Insoles

If you are suffering from foot pain or find that your shoes are not providing enough support for your feet, an insole can extremely useful and can help relieve foot pain. There are a number of foot conditions which can benefit from a specialist shoe insole including plantar fasciitis, flat feet and metarsalgia (ball of foot pain). For sports and other high impact activities a shoe insole can be helpful in absorbing shock and relieving pain. We will look at the range of insoles and orthotic insoles that are available and which ones are designed for these foot conditions.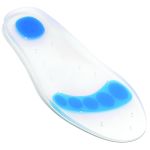 Silipos Full Length Gel Insole
Having flat feet is a relatively common problem affecting the arch of the foot. People with flat feet have a low foot arch or no arches at all. The condition of flat feet can also be referred to as having fallen arches. Having a low foot arch or fallen foot arches can be painful and special foot arch support insoles are designed to support the fallen arch and relieve pain. The Spenco RX Orthotic Arch Support Insoles come with a heat mouldable arch insert which helps to control the position of the foot and support the arch. These Spenco Foot Arch Support Insoles come with a unique cushioning system which helps to absorb shock and improve the overall comfort of the foot. The Prostep Arch Support Insole has been designed to correct low arch feet. These Prostep Insoles for flat feet are available in two different densities suitable for heavier or lighter people. The flat foot insoles also come with heel cupping for calcaneal stability and the reduction of hallux valgus.
Fallen arches may result in pain on the inside of the ankle, the foot arch, calves and also the hips and knees. Having flat feet can place extra strain on muscles and ligaments resulting in leg pain when walking. Flat feet can develop due to a foot injury, illness or through continued stress on the foot. To identify if a person has fallen arches, check the inner arch of their foot whilst standing. Flat foot is present if the inner arch is lowered or completely flat and the foot may also rollover to the inner side. This rollover is known as over-pronation.
Plantar Fasciitis is an extremely common foot condition which can be very painful and difficult to treat. Symptoms of plantar fasciitis, also known as policeman's heel, include heel pain, pain when stretching the foot and foot arch pain. There are a number of causes of plantar fasciitis such as activities which involve running, dancing or jumping. People whose foot over-pronates are also at risk of developing plantar fasciitis. The Quadrastep F Orthosis Insole is suitable for true flat feet and also plantar fasciitis. It is advised the Quadrastep F Orthosis is fitted by a qualified healthcare professional. This Quadrastep Insole features a deep heel cup and also helps to relieve symptoms of tarsal tunnel syndrome, splayfoot and hallux valgus.
Metatarsalgia is pain which occurs in the ball of the foot (the metatarsal region). The causes of metatarsalgia are numerous and include overuse of the ball of the foot, being overweight, wearing high heels, diabetes and gout. One the most recommended treatments of ball of foot pain include the use of shock absorbing insoles and metatarsal cushion pads. The Orhtaheel Slim Fit Insoles feature an inbuilt metatarsal raise to relieve ball of foot pain and allow for the correct alignment of the foot and ankle. The Spenco Ironman Gel Metatarsal Arch Cushions provide effective shock absorption and relieve pressure on the ball of the foot. The Silipos Ball of Foot Gel Cushions provide protection against friction and pressure and deliver a gentle massage to the bottom of the foot. These Silipos Ball of Foot Gel Pads can be used as a soft tissue supplement for the pain in the ball of the foot.