Vape Comparison: Vuse ePen vs Vuse ePod 2
Thursday, 12 May 2022 | Alex
With so many different e-cigarettes and vapes available on the market today, it can be very difficult to know which is the best for your needs. If you like the look of the Vuse E-Cigarettes, but don't know whether the Vuse ePen or the Vuse ePod 2 is best for your needs, our e-cig experts have got you covered.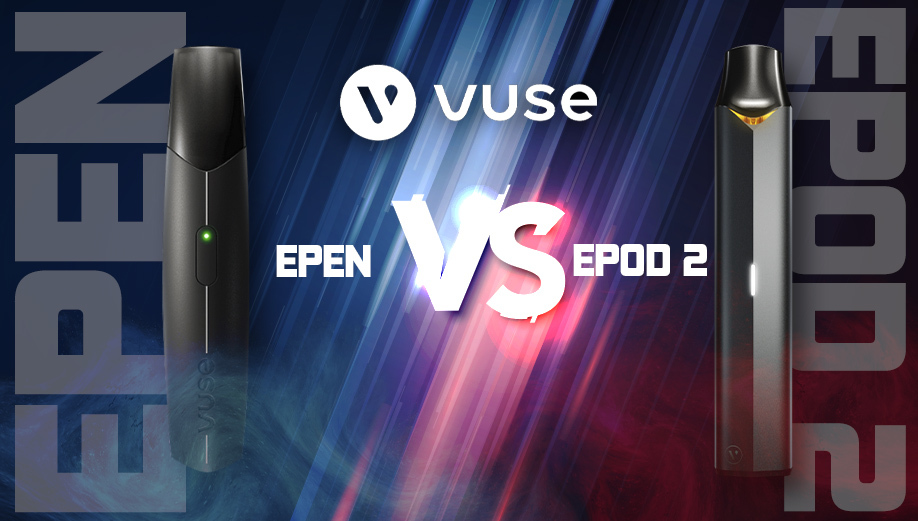 What Is Covered in This Guide?
We're here to answer all of your questions about the Vuse ePod 2 and the Vuse ePen, including:
Why Choose Vuse?
Vuse, formally known as Vype, is one of the most popular and best-known electronic cigarette brands in the UK. They have gained a substantial following by keeping things simple – they bring innovative and high-quality vaping products to the high street at a price that isn't too hard on your pockets.
To ensure that their vapes are as good as possible, every Vuse product goes through thousands of hours of testing by fifty scientists before they are on the shelves. To add to this, all e-liquid from Vuse is made with food-grade flavourings that are thermally stable when vaporised, combining maximum safety with the best possible flavour.
Which Vuse Device Is the Most Stylish?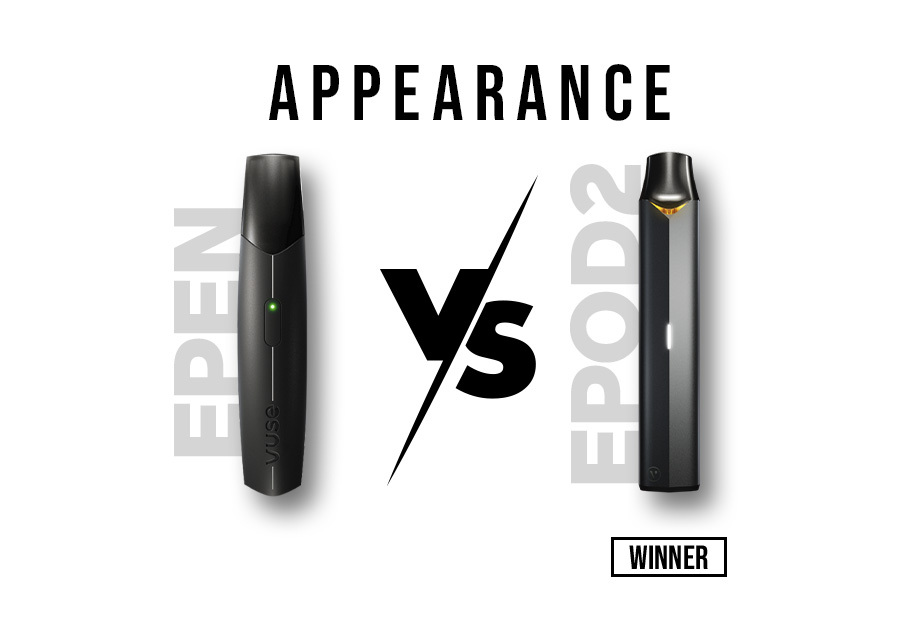 Our Winner: Vuse ePod 2
Our Decision: While the ePen is no slouch in the looks department, the Vuse ePod 2 has a sleek and compact design that is very futuristic and subtle. In addition to this, the buttonless, which adds to its clean appearance.
ePen 0 - 1 ePod
Which Vuse Device Is Available In More Colours?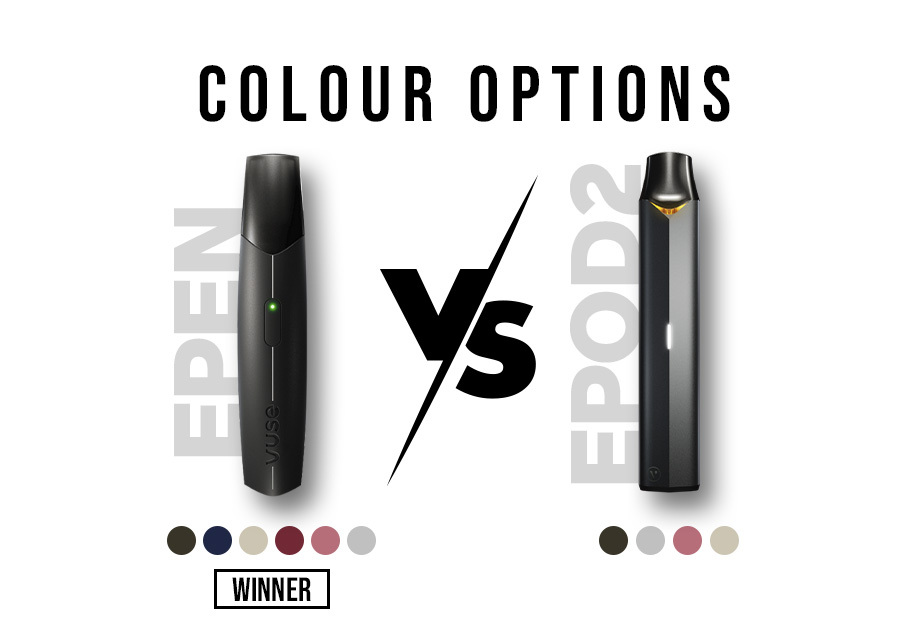 Our Winner: Vuse ePen
Our Decision: While e-cigarettes used to be like a Model T – available in any colour that you like, so long as it's black – manufacturers are now wising up to the idea that vapers like a little more choice when it comes to their devices. While the ePod 2 is available in 4 metallic finishes, the ePen is available in 6 colours, including everything from a subtle black design to a bright red.
ePen 1 - 1 ePod
Which Vuse Device Has a Longer Battery Life?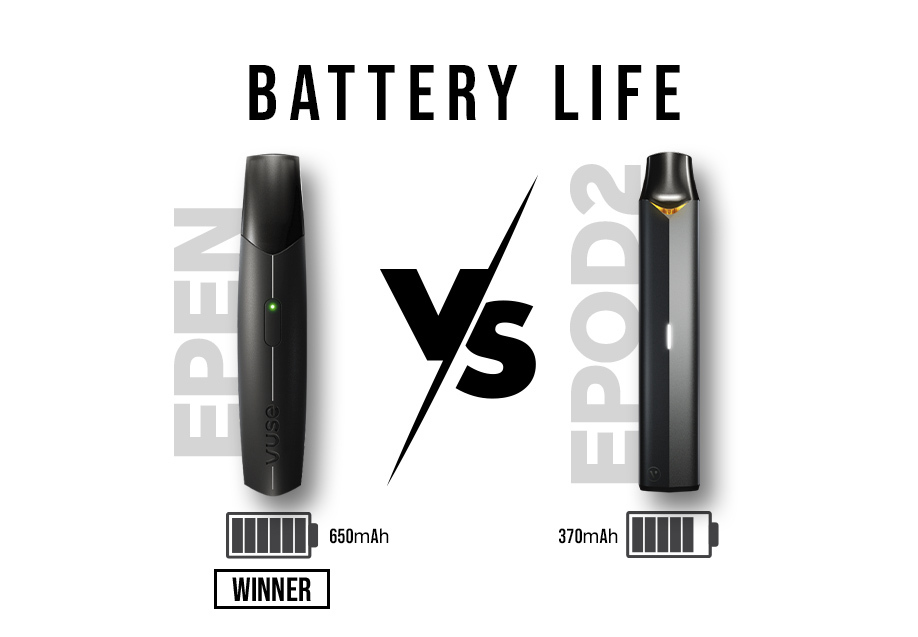 Our Winner: Vuse ePen
Our Decision: When it comes to batteries, it's always a trade off between size and power. While the Vuse ePen is a little more bulky than the ePod 2, it uses this size to its advantage to provide a 650mAh capacity (as opposed to the still-respectable 370mAh of the ePod 2). In layman's terms, the Vuse ePen will allow you to vape for longer without having to recharge and amazingly, the battery can charge up to 80% in only 30 minutes.
ePen 2 - 1 ePod
Which Vuse Refills Last Longer?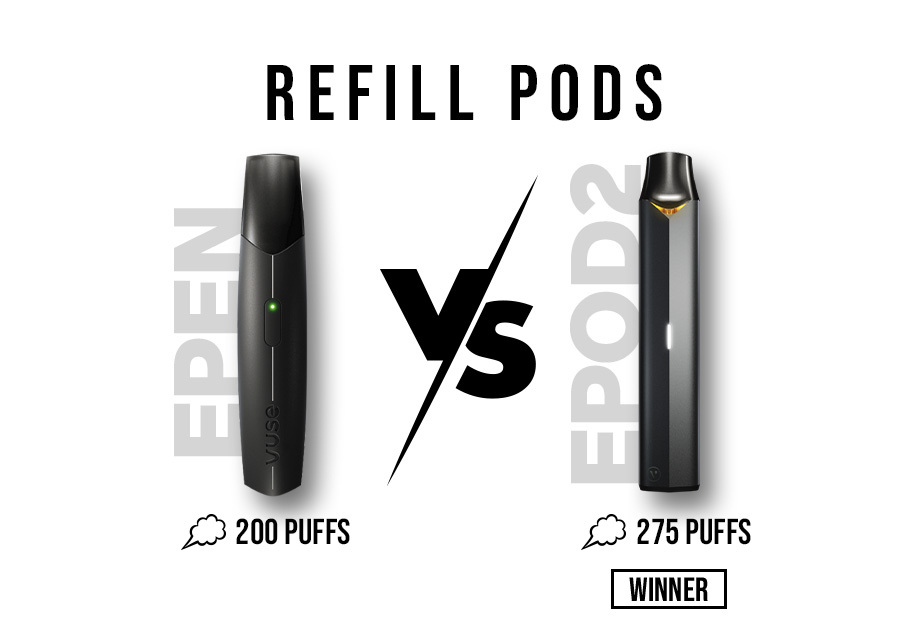 Our Winner: Vuse ePod 2
Our Decision: One of the biggest advantages that vaping has over smoking is how much money you can save, and both Vuse closed-capsule systems provide fantastic value to help on this front. There can only be one winner, however, and our choice is the ePod 2, with each refill providing 37.5% more puffs than an ePen equivalent.
ePen 2 - 2 ePod
Which Vuse Refills Are Available in the Most Flavours?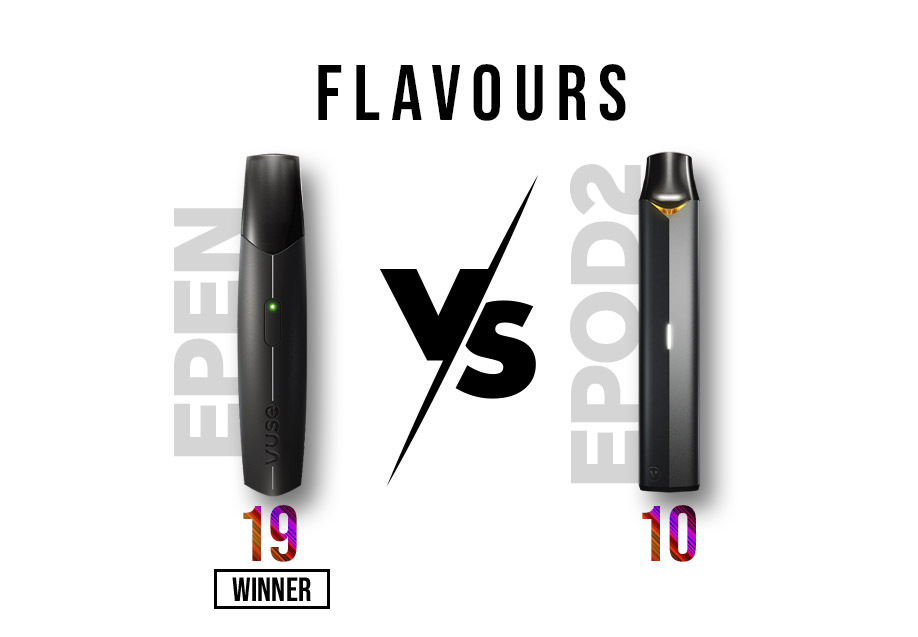 Our Winner: Vuse ePen
Our Decision: If you're the sort of person that likes to mix-up your flavours, the Vuse ePen is the perfect option. Including four tobacco, four menthol and eleven fruit flavours, there is likely to be an ePen flavour to suit every vaper. The ePen offers both standard refills and special "nic salts" refills that provide a level of intensity and satisfaction while vaping that is much closer to using a traditional cigarette than other e-liquid.
ePen 3 - 2 ePod
Which Vuse Device Is More Compact?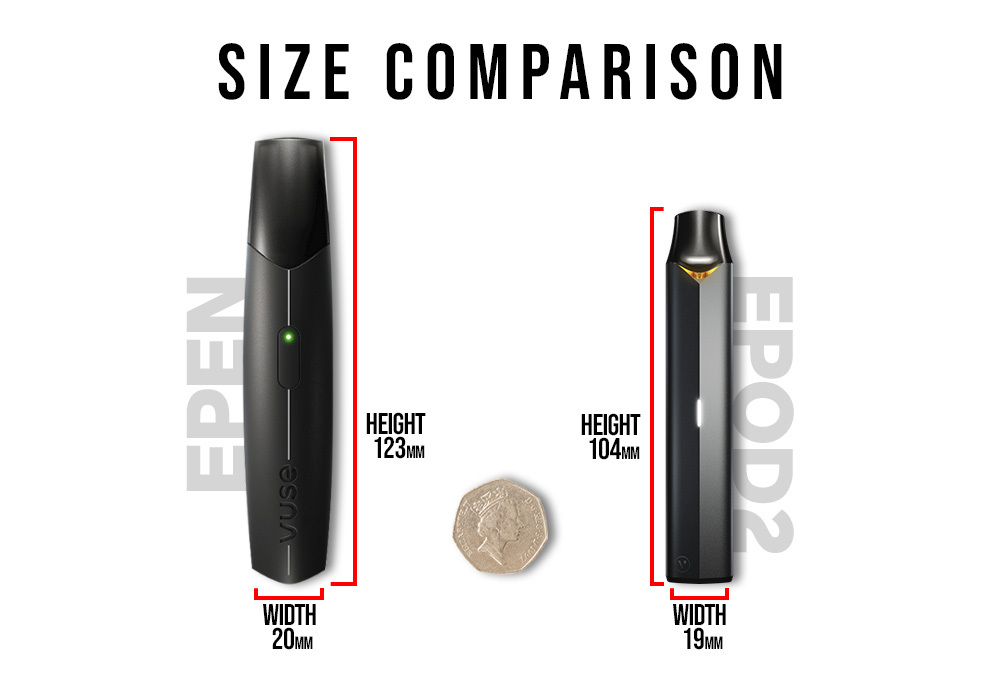 Our Winner: Vuse ePod 2
Our Decision: Bigger doesn't always mean better, especially when you're looking for an e-cigarette that doesn't take up too much room in your pocket or handbag. Both Vuse devices are small enough to keep on you with ease, but the ePod 2 just shades it in terms of compactness.
ePen 3 - 3 ePod
Which Vuse Device Is Lightest?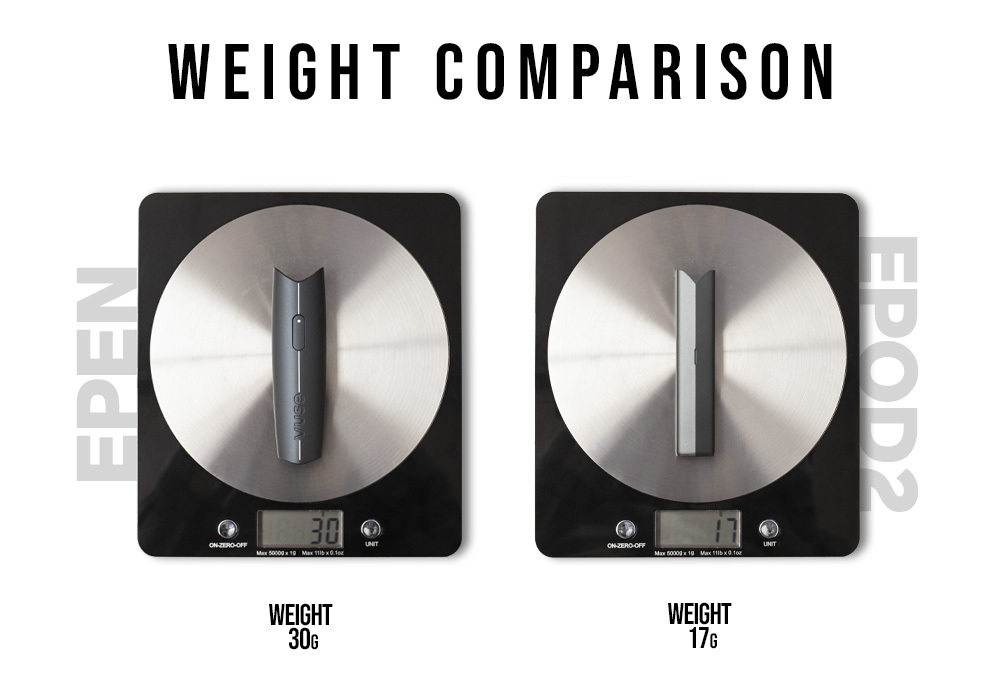 Our Winner: Vuse ePod 2
Our Decision: It may seem obvious, but the smaller ePod 2 is lighter than the Vuse ePen, by a significant 43% as well. While neither device is likely to put your arms under any real strain, the ePod 2 is so light that you can almost forget that you're carrying it!
ePen 3 - 4 ePod
Vuse ePen vs ePod 2 At a Glance
| | Vuse ePen | Vuse ePod 2 |
| --- | --- | --- |
| Available Colours | 6 | 4 |
| Battery Power | 650mAh | 370mAh |
| Refill Lifespan | 200 Puffs | 275 Puffs |
| Size (LxW) | 123 x 20mm | 104 x 19mm |
| Weight (Without Refill) | 30g | 17g |
| Flavours Available | 19 | 10 |
| Wick Style | Cotton | Ceramic |
| Splash Proof? | ✘ | ✔ |
| Vape While You Charge? | ✘ | ✔ |
| Charger Type | USB | Magnetic |
| Closed System | ✔ | ✔ |
Our Final Verdict
As with most things in life, there's not an answer on which Vuse device is best, only which Vuse device is best for you. We usually recommend that the ePod 2 is the perfect place for new vapers to start, giving them an easy introduction into the world of vaping that is convenient, easy to use, and effective. The Vuse ePen, on the other hand, is a better choice for those that want a little more from their vape – yes it's larger, but it packs more of a punch and it will allow you to explore the world of vaping in greater depth.
Have you tried using a Vuse electronic cigarette? What did you think of it? Let us know in the comments below or on Facebook or Twitter.
Tags: Electronic Cigarettes, Smoking Alternatives, Vuse E-Cigarettes