Types of Arm Slings
Thursday, 13 December 2018
Slings are generally used to aid in the recovery of shoulder, arm and wrist injuries. They keep the shoulder or arm immobilised by holding the arm in a raised position while preventing either the wrist, elbow or shoulder from moving. This limited movement helps to alleviate the pressure that is forced on arm muscles, bones and tendons, giving the affected area the time and space to heal.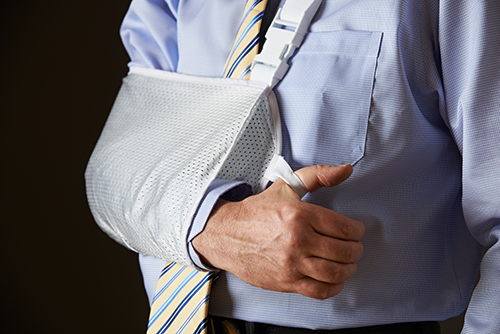 Choosing the right arm sling can speed up recovery
There are many different types of arm sling available, but it's important that you don't jump in and buy the first arm sling that you find. Different types of arm slings are designed for different reasons, some are for shoulder pain, others wrist injuries, and others might work best for treating a painful elbow. This article explains the different types of sling available, describing what they are for and how they can help treat specific injuries.
What Types of Arm Slings Are There?
We've narrowed down the different types of arm slings and placed them into three simple categories, the Standard Arm Sling, the Elevated Shoulder Sling, and the Collar and Cuff Sling. So without further ado, we will now explain the various arm sling types, what they are used for, and whether or not they are right for you.
The Standard Arm Sling
A standard arm sling is used to treat forearm injuries such as fractures, sprains, strains and broken bones. It is common for the standard arm sling to immobilise the arm and hand, but they can also consist of a simple belt that is placed around your arm and over the opposing shoulder. Generally, the standard arm sling can be supported by a bandage over the arm, while the fabric of the sling rests underneath the arm to keep it raised.
Used for: Arm trauma, forearm injuries, fractures, sprains, wrist injuries.
Our Top Standard Arm Sling
The Actimove Arm Sling is designed to offer support to the arm in combination with a cast. It includes a simple piece of fabric that is placed under the arm and over the shoulder, helping to keep it elevated in a raised position that reduces pressure on the arm. Its soft and comfortable design is perfect for post-injury support to the wrist, elbow or shoulder.
The Elevated Sling or Shoulder Immobiliser Sling
Elevated immobiliser slings or shoulder immobiliser slings aim to provide immobilisation to the shoulder. They are generally used for serious arm fractures, repetitive strain injuries and injuries to the shoulder, and consist of material that is wrapped around the elbow on the injured side and is then placed over the opposing injury-free shoulder. Depending on the injury, shoulder immobiliser slings can differ in the degree of immobilisation, and can also provide either mobility or immobility to the arm.
Used for: AC joint fractures, bicep injuries, clavicle fractures, elbow support, humerus fractures, overuse injuries, shoulder dislocations, shoulder immobilisation.
Top Shoulder Immobiliser Slings
This high quality and comfortable sling offers exceptional support to shoulder injuries by preventing shoulder movement and shoulder rotation. The ProCare Clinical Shoulder Immobiliser Arm Sling works to stabilise your shoulder with a comfortable polycotton construction, while contact closure adjustment on the shoulder and body straps enable a catered fit. A top seller among shoulder immobilisers, the ProCare Sling is ideal for most shoulder injuries.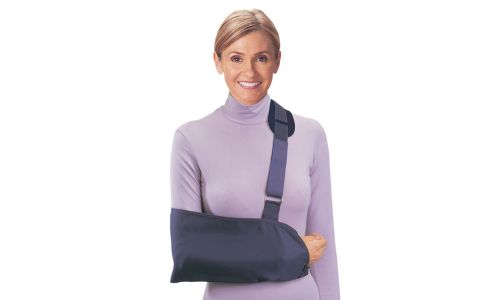 ProCare Clinical Shoulder Immobiliser Arm Sling
As mentioned previously, shoulder immobilisers differ in their level of mobilisation depending on your injury. The Aircast Arm Immobiliser limits arm mobility to reduce discomfort, which helps to relieve pressure on your shoulder. Featuring an innovative tri-strap design and engineered for comfort, this arm immobiliser is ideal for shoulder, elbow, proximal, mid-humerus and wrist injuries.

The Collar-and-Cuff Sling
Collar-and-cuff slings provide more mobility and are suitable for use without a bandage to treat collarbone injuries and less serious arm injuries. Designed using cloth or a belt, the arm is elevated by placing the fabric under the arm, which is then wrapped around the neck. The opposing arm hangs comfortably, while the injured arm is given the elevation required to recover.
Used for: Collarbone injuries, broken forearm, broken upper arm, broken wrist.
Our Top Collar-and-Cuff Sling
The Universal Pro Collar and Cuff Sling offers freedom of movement, comfort and elevates your hand into a comfortable position that gives it space to recover. Suitable for broken wrists, upper arms and forearms, this simple hook-and-loop fastening sling is easy to use from home, with its adjustable design promising a fit for most users.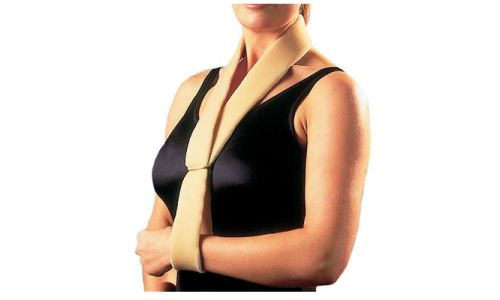 Universal Pro Collar and Cuff Sling
What Else is Available?
Here at Health and Care we stock a wide variety of slings and some are highly versatile that are suitable for more than one type of injury. We're particularly proud of our Sling and Swathe range, which offers support to either the shoulder or arm depending on your injury. For a good example, see the Donjoy IMMO Sling and Swathe which is simple to fit while reducing discomfort in the neck.
Alternatively, the Boscombe Double Arm Sling is an advanced version of a collar and cuff sling, using double arms that offer support from your wrist to your elbow at the same time. Comfortable to use and adjustable, this sling provides support when recovering from injured arms, wrists and elbows.
Recover in Comfort at Home
Slings enable you to recover in comfort at home. If you haven't found what you are looking for here or want to browse some more arm slings, take a look at our Arm Slings and Shoulder Immobilisers category, where we offer the best in arm and shoulder recovery.
Do you have any questions about our arm slings and shoulder immobilisers? Let us know in the comments, or find us on Facebook and Twitter!
Tags: Arm Slings, Pain Management, Shoulder Pain, Wrist Supports and Braces.
Shop Related Products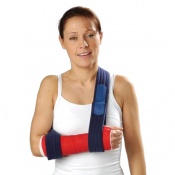 Designed to support arm in combination with a cast
Comfortable immobilisation system for the arm
Suitable for wrist, elbow or shoulder trauma
Easy to use, versatile and effective support
---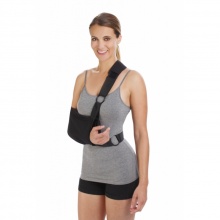 High-quality, durable sling with adjustable shoulder and body straps
Features a comfortable shoulder pad for use over long periods
Suitable for shoulder injuries and to prevent shoulder rotation
Ideal for post-trauma use after shoulder dislocations
---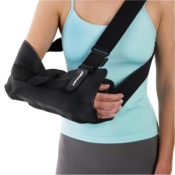 Available with an abduction pillow for angled support
Limits posterior arm mobility to reduce discomfort
Ideal for injuries to different areas of the arm
Provides secure arm and shoulder support
---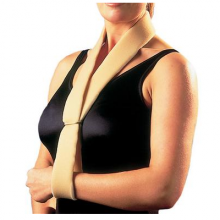 Great-value collar-and-cuff sling

Suitable for broken wrist, upper arm or forearm

Universal design for ease of application

Secures in place with hook-and-loop fastening
---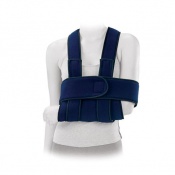 Suitable as a shoulder immobiliser or arm sling
Designed to immobilise the shoulder or arm
Leaves the neck free to avoid discomfort
Suitable for upper extremity trauma
---